Subaru Impreza

Debut: 2007
Maker: Subaru
Predecessor: Impreza Mk2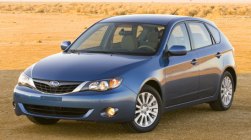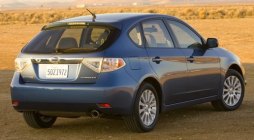 Subaru Impreza used to occupy the niche side of C-segment. By emphasizing unique boxer engine and all-time 4-wheel-drive, it successfully distinguished itself from those mainstream Corolla, Civic, Sunny, Lancer, Familia etc. Those purchasing Impreza are mostly hardcore drivers. They usually choose the turbocharged WRX or STi instead of the bread-and-butter 1.5-liter model. Unfortunately, this means sales figure is far below its mainstream rivals. To increase sales, Fuji Heavy Industry determined to make the 3rd generation Impreza more mainstream – more space, more ride comfort, more refinement and easier to drive. Fuji hopes this will lure more female buyers from its mainstream rivals and boost sales of the basic model. Will it succeed ? We are not sure, but what we feel certain is that the new Impreza has lost its sparkle. This starts from its new clothes…

The new Impreza might be less wierd than the early second generation, but it lacks its own character. In sedan form it looks just like any cars from Chinese or Malaysian car makers. You can't tell its brand, not even its nationality. The hatchback – which replaces the previous Wagon - is slightly more stylish, but it looks too much like other mainstream hatchbacks, especially Mazda 3. Both hatchback and sedan feature a new wing-shape grille and headlights integration, but unfortunately they add nothing to beauty. I actually prefer the in-your-face grille used in R1, R2 and Tribeca, at least it distinguishes the Subarus from other makes.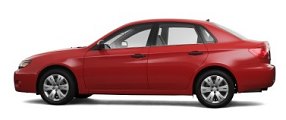 The new Impreza is longer, wider and taller than the outgoing car. Its wheelbase gains 95 mm to 2620 mm, matching most other C-segment rivals. The longer wheelbase intends to improve interior space as well as ride quality. The front suspensions continue to be MacPherson strut type, but the rear ones switch to double-wishbone type for several reasons: 1) improves geometry hence road holding; 2) improves ride comfort; 3) reduces intrusion into the boot hence boosting luggage space. Despite of the larger size, the new car weighs about the same as before due to clever structural design and the use of high-strength steel.

Sadly, the powertrain is largely unchanged from the old car as Fuji could not afford a big development budget. This mean the new Impreza continues to offer 3 horizontally opposed engines at its home market:

1.5-liter DOHC 16V with intake AVCS (Subaru's variable valve timing), 110 horsepower;
2.0-liter SOHC 16V, 140 horsepower;
2.0-liter DOHC 16V with dual AVCS and a twin-scroll turbocharger, 250 horsepower. For model S-GT only.

For US market, engines are also familiar to previous owners:

2.5-liter SOHC 16V, 170 horsepower;
2.5-liter DOHC 16V with dual AVCS and a twin-scroll turbocharger, 224 horsepower. For WRX only.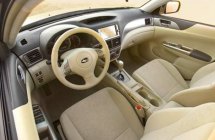 Of course, there are some detailed changes to the engines to improve emission, fuel consumption and tractability. The engines also sit 22 mm lower in the chassis to improve handling (we'll leave the handling aspect to the separate report of WRX and S-GT). Nevertheless, there is no improvement to performance. One of the reasons is the use of old gearboxes - 5-speed manual and 4-speed automatic. They are one gear short of the industrial norm.

Cabin space and quality used to be a weakness of the Impreza. Given a much longer wheelbase, the new car finally offers competitive space for four adults. The dashboard is also made of better plastics, although its design is uninspiring and fit and finish remains poor. Traveling in the Impreza will find a much smoother ride and a great deal less noise thus long journey becomes much more relaxing. Yes, Impreza has finally grown up, so matured that you won't believe it is an Impreza. To ordinary drivers considering the basic Impreza, the new car is definitely better than ever. However, to keen drivers, it has lost the edge of the old car. Now being closer to mainstream than ever, they have fewer reasons to stay with Subaru.


The above report was last updated on1 Sep 2007. All Rights Reserved.
Impreza WRX / S-GT

Forget the bread-and-butter naturally aspirated Impreza, what car enthusiasts concern is the turbocharged version. This starts from the S-GT and WRX, and is going to be toppled by STi next year.

Strangely, in the new generation, the traditional nameplate WRX has been replaced by S-GT for Japan market. The reason is unknown, but someone suggest that the rename reflects the change of character of the car from a hardcore driver's car to a more rounded hot hatch. Another noticeable change is the shape of the car, from 4-door sedan or 5-door wagon to a single body style - 5-door hatchback. Externally, the S-GT distinguishes from the regular car by more aggressive air dam, skirts, spoilers and an air scoop over the bonnet to draw cold air towards the intercooler. Under the intercooler sits a 1994 cc boxer engine with AVCS intake and exhaust variable valve timing and a turbocharger. Max horsepower and torque are actually the same as the last generation WRX, i.e., 250 horsepower and 246 lb-ft. Are you satisfied ? probably not after waiting for 7 long years. However, Subaru would tell you the torque comes earlier and the torque curve becomes flatter, thanks to revised intake manifolds and a new twin-scroll turbocharger.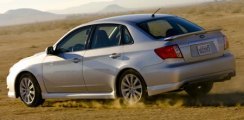 For overseas market – most important of which is the United States, Subaru continues to use the WRX nameplate. It is available in both hatchback and sedan form. As usual, the overseas WRX employs a larger, 2.5-liter version of the boxer engine but runs at a lower turbo boost. It produces 224 horsepower at 5200 rpm and 226 lb-ft at 2800 rpm. The peak output is slightly down on the old car but they arrive lower down the rev. Both S-GT and WRX engines mate with the old 5-speed manual gearbox whose shift action is slightly notchy. It transfers power to all 4 wheels via a center differential with viscous coupling differential lock. The torque split is 50:50 front to rear.

On the road, both WRX and S-GT felt more relaxed than the old car due to the improve torque. Overtaking no longer requires downshifting so much, this mean it is easier to drive for most of the time. Nevertheless, when the driver wants to have fun, the linear power delivery works in the opposite way. It has lost much of the mid-range explosiveness of the old engine and therefore doesn't feel as powerful as it ought to be. In short, it trades excitement for refinement.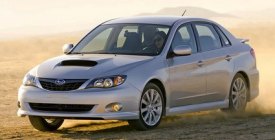 As a driver's car, we also concern how fast it is against the clock. The WRX does 0-60 mph in around 5.8 seconds while the more powerful S-GT should return 5.5 seconds. These figures seem excellent for any hot hatches, but remember, 4-wheel-drive machines always display superior standing-start result due to the extra traction. A better indicator to its performance is 0-100 mph, for which the WRX takes 16.2 seconds. This is almost two second slower than an European Renault Megane R26 and Opel Astra OPC. Again a huge disappointment to the supporters of Impreza.

The story about its handling and ride mirrors that of its power – more refinement and less excitement. Sadly, the suspension tuning biases towards the comfort side, ditto the narrow and high-profile tires (205/50R17). Compare to the old WRX, the new car understeers more and rolls more in corners. In return, it rides and insulates from noise and harshness million miles better, even the characterful song from the boxer engine is toned down. The new steering setup is lighter for the taste of ordinary drivers. It also feels less precise than before. That said, the new Impreza still shines in 4-wheel traction and the ability to adjust its line by throttle. Its handling is still predictable and faithful. Its deadly sin is just going too soft and too civilized. If you are a keen driver, you will prefer more sharpness from its chassis and more power from its engine, just like the first and second generation WRX. Now only the flagship STi version could save the reputation of Impreza…


The above report was last updated on 1 Sep 2007. All Rights Reserved.
Impreza WRX STI

| | |
| --- | --- |
| | After 2 generations and many small evolutions, STI suddenly becomes a hatchback ! |

The name STI, short write for "Subaru Technica International", is no stranger to our readers. It is the motorsport arm of Subaru as well as its performance division. In the road car side, its core business is to modify Impreza (as well as a handful of Legacy and Forester) into the high-performance STI versions. Since its birth in 1994, this car had won so many praises from car enthusiasts all over the world and has been regarded as one of the greatest A-to-B cars in history. Its fame matches the great Audi Quattro and Lancia Delta Integrale, which says a lot.

Now let's turn to the new generation Impreza WRX STI. The biggest change you will notice is its form - bye bye the 3-box sedan chassis, enters the 5-door hatchback body. While fans may criticize it for becoming too European mainstream, Subaru would be glad to point out that a hatchback is shorter (by 50mm) than a sedan thus lowers polar moment of inertia - the key measurement for agility. This is also why its WRC rivals (Ford Focus, Citroen C4 and Peugeot 206) performed better in recent years.

Going from the regular WRX to STI is about as different as from Audi S4 to RS4 - you can feel the former is mass production while the latter is truly exclusive. Observing from outside, the STI looks really fire-breathing. It has muscular fender extensions, large air intakes and vents, wide air dam, large tailgate spoiler and eye-catching 18-inch alloy wheels shod with 245/40 rubbers. Front and rear tracks have been widened by 45 mm and 40 mm respectively, while the overall width is 55 mm wider than WRX. In addition to the longer wheelbase and shorter overhangs sharing with the new Impreza, this car gives you a sense of immense stability that the last generation car lacked of.


| | |
| --- | --- |
| | Longer wheelbase and wider tracks give you a sense of immense stability... |

Open the bonnet, you will see a familiar boxer engine with intercooler sitting atop. The Japanese version still displaces 1994 cc thanks to 92 mm bore and 75 mm stroke. Compare with the old car, it has the following enhancement: 1) Exhaust valves also get AVCS variable valve timing; 2) Turbocharger gets reshaped compressor wheel for higher efficiency; 3) Enlarged intercooler and enhanced air flow through the engine compartment improves cooling efficiency; 4) Exhaust muffler gets larger and is now mounted transversely to reduce backpressure. Quad tailpipes have similar effects. 5) Twin-scroll IHI turbocharger eliminates interferences among exhaust flow from different cylinders. Overall, the Japanese motor generates 308 horsepower at 6400 rpm, 28 more than before. Also worth noting is that it no longer follows the domestic voluntary limitation at 280 hp. Maximum torque remains unchanged at 311 lb-ft / 4400 rpm, though the torque curve is flatter, with at least 90 percent of the max value from 2400 rpm.

The export version (USA, Europe and Australia) continues to employ a larger 2457 cc block with 99.5 mm bore and 79 mm stroke. Thanks to the additional capacity, it can employ a single-scroll turbocharger running at lower boost pressure without hurting performance. Max power and torque are 305 hp / 6000 rpm and 290 lb-ft / 4000 rpm respectively for the USA market, or 300 hp / 6000 rpm and 300 lb-ft / 4000 rpm respectively for Europe. Of course, it loses some of the high-revving excitement of the 2.0-liter engine, which is evident from its 7000 rpm cut-out instead of the Japanese motor's 8000 rpm. In return, it compensates with stronger mid-range torque and, perhaps most important to Subaru's engineers, the ability to comply with the stricter emission standards in Europe and USA. Surprisingly, according to factory figures, the 2.5-liter engine is actually more frugal.

Both engines have added SI-Drive, a selectable engine mapping which has been overstated by Subaru recently. While most other "comfort / normal / sport mode" systems alter throttle response, suspension damping and steering assistance simultaneously, the Subaru system affects only the engine. It offers 3 modes - "Intelligent" mode is designed for economy, thus results in softer throttle response and lower rev limit. "Sport" mode releases full rpm and quicken throttle response, while "Sport Sharp" enables even sharper response. Frankly, it is not worth any more descriptions.


| | | |
| --- | --- | --- |
| | | SI-Drive is overstated, but the 308-horsepower boxer is no joke. |

The drivetrain is similar to the old STI. In other words, it employs a 6-speed manual gearbox, Torsen (Helical) front and rear differentials and an active center differential called DCCD (driver controlled center differential). The latter normally distributes 41 percent torque to the front wheels and 59 percent to the rear wheels by means of planetary gears, but its multi-plate clutch can be locked up to send up to 50 percent torque to the front. Through a control button on the center console, the driver can vary the torque split between 41:59 and 50:50 in 6 steps. That is more or less the same as the last generation STI. What really new is the additional Auto, Auto – and Auto + modes. Auto lets the computer to determine the best torque split depending on traction status. Auto – reduces the intervention of multi-plate clutch, thus is easier to oversteer than Auto. In contrast, Auto + tightens the multi-plate clutch, thus shifts more torque to the front and increases understeer.

All these sound sophisticated. However, compare with Mitsubishi's S-AWC system, the Subaru system seems less remarkable. Evo X has active yaw control to vary the torque split between the rear wheels according to needs. In contrast, the STI's Torsen LSD is a mechanical and passive device, therefore it cannot induce understeer or oversteer like the Mitsubishi. Yes, through the active center differential you can still influence the steering attitude, but it is far less effective than an active rear differential, especially that the DCCD can only vary torque split for a very narrow range (from 41:59 to 50:50) - so narrow that the 6 manual steps seem rather unnecessary ! Another advantage for the Evo X is that its S-AWC system integrates ACD and AYC with stability control, while the STI's DCCD and VDC stability control are separated systems. You can see which system is more sophisticated.

Compare with the regular Impreza, the chassis of STI gets some structural reinforcement by means of high-strength steel while the bonnet is converted to aluminum. The engine is rigidly mounted to the chassis to reduce movement. The front suspensions employ inverted dampers for greater rigidity and aluminum lower control arms for less unsprung weight. Like the rest of the range, STI has its engine and center differential mounted lower than the old car to benefit center of gravity. Most important, the new double-wishbone rear suspensions should provide better ride and handling precision than the old MacPherson struts. At 1480 kg, the whole car weighs only 20 kilograms more than the last STI. Such weight control is obviously more successful than Mitsubishi Lancer Evo X, which gained 130 kg. Despite that, the STI still employs powerful Brembo brakes all round.


| | |
| --- | --- |
| | DCCD can vary torque split from 41:59 to 50:50, though it can't suppress understeer as well as Mitsubishi's AYC... |



On the Road



Just as we can predict from the technical specifications, on the road the new STI gives no surprises in engine and performance. Its 2-liter turbocharged engine is quite laggy by today's standard, although not bad for an engine producing 150 horsepower from each liter of capacity. Power delivery feels flat until 3000 rpm, when it starts picking up linearly towards the high 7000 rpm. The 2.5-liter engine is better in this aspect, as it provides more torque low down. It also produces a more satisfying boxer exhaust note than the Japanese motor because of different connection of exhaust pipes.

Against the clock, both 2.0 and 2.5-liter STI accelerate from 0-60 mph in around 4.8 seconds and 0-100 mph in 13 seconds. Top speed is estimated to be 158 mph, mainly limited by the 0.36 drag coefficient. Such performance is still outstanding today, but it represents no progress at all from its remarkable track record. You can find from our Graveyard archive that the STI Version V of 1997 was already capable to do 0-60 mph in 4.6 seconds and 0-100 mph in 12.3 seconds. 10 years have gone and the car stays the same - or even slightly slower ! Can you satisfy ?

Well, this is the same problem Mitsubishi Lancer Evolution is facing. The Japanese have to come up with a new idea how to improve their performance. Otherwise European car makers may catch up quickly. Watch out Audi RS3.


| | |
| --- | --- |
| | STI is still the fastest A-to-B car on the earth beside Lancer Evo X... |

However, drive the new STI through a series of corners and undulations, you will find its biggest improvement is suspension. While the old car used stiff springs to control its body movement, the new car's wheels-at-corner structure and double-wishbone rear suspensions allow much more compliant ride and better refinement while body control is still tight.

As always, the traction and grip from the permanent four-wheel drive system is excellent. You have the opportunity to set the DCCD and stability control to bias towards the safe side or the fun side. At the most rear-biased torque split and VDC at off mode, you can enjoy pushing the car to the limit at each corner until feeling it drift on 4 wheels. The brakes and the steering also give you confidence to attack corners at speed unimaginable in other European hot hatches. Yes, Impreza STI is still the fastest A-to-B car on the earth beside Mitsubishi Lancer Evo X.

Some people may criticize its looks for too ugly, but do they realize the old car was uglier still ? Some people dislike its cheap, hard-plastic interior, but why didn't they say the same things to the old interior, which was even cheaper and more cramped ? The new STI does have some flaws, but they cannot eclipse its exceptional on-road competence and the fact that it is easier to live with than ever. Although I still prefer the early STI based on the first generation Impreza, the latest one undoubtedly deserves our admiration.



Impreza WRX STI vs Lancer Evo X



Impreza STI and Lancer Evo series have always been a legendary rivalry no matter for road cars or rally cars. The first Evo was born in 1992, the same year as the original Impreza WRX. As the Mitsubishi evolved to be more serious, Subaru responded with the STI version in 1994. Since then "Evo vs STI" became the most frequently appeared topic in car magazines. So how are these arch-rivals compare in their latest rematch ?

By figures, the STI has a sizable advantage in power - 308 hp vs 280 hp for Japanese version - and the same torque, but we all know that the Mitsubishi's figure is underrated to satisfy voluntary limit. What really advantage to the Subaru is kerb weight, which is 60 kilograms lighter than the Evo X equipped with 6-speed dual-clutch gearbox. That is why the STI is found to be quicker in straight line. It takes about 4.8 seconds to go from 0-60 mph (Evo X: 5.0 seconds) and 12.9 seconds for 0-100 mph (Evo X: approx. 13.3 seconds). The boxer engine sounds more characterful, but the Mitsubishi inline-4 has quicker throttle response and less turbo lag at low rpm. Mitsubishi's paddle-shift SST gearbox is also a strong advantage, thanks to its easy and uninterrupted gearchange.

Both cars are kings of mountain roads, but the Evo X handles better in various aspects: sharper turn-in, more neutral cornering attitude and slightly more communicative steering. Its integrated S-AWC (including AYC) is proved to be cleverer than the DCCD of STI. Although sometimes it could feel artificial, it places the car more precisely in corners and therefore feels more agile to control. The STI is still a fabulous driver's car, but it often reveals more understeer. On the positive side, it has slightly better ride and braking.

The Evo X shines not only in handling, but also styling and interior quality. It feels much more expensive than the Subaru. Overall, the Evo X is the winner in this contest.



The above report was last updated on 19 Jan 2008. All Rights Reserved.
Impreza WRX 2008 upgrade

| | |
| --- | --- |
| | Which cars at this price could provide 265 horsepower and 4-wheel drive ? |

Subaru Impreza WRX used to dominate a market segment that has few competitors – Mitsubishi Lancer Evo, Audi S3 and Volkswagen Golf R32 are too expensive to be its rivals, while Mazda 3 MPS (Mazdaspeed 3) and Honda Civic Si / Type R are considered to be too down-market as they are front-wheel drive only. However, since earlier this year Mitsubishi is offering a cheaper version of its Evo called Lancer Ralliart, whose combination of 240-horsepower engine and sophisticated 4WD system hits the bull's eyes. To fend off its new competition, Subaru has to upgrade its WRX in late 2008.

Externally, the new WRX looks a lot hotter than its civilized predecessor. It gets the same front grille and rear spoiler as the flagship STI. If you don't notice the different air dam and narrower fenders, you might just confuse it with the STI.

The most significant upgrade is found under the bonnet – the 2.5-liter turbocharged boxer engine received a larger turbo hence higher boost pressure (0.92 bar instead of 0.79 bar). In addition to a larger bore exhaust and smoother catalytic converters, its output increased from 224 hp to 265 hp. Max torque increased from 224 lb-ft to 244 lb-ft. Officially speaking, this improves 0-60 mph to 5.4 seconds, which is comfortably quicker than Lancer Ralliart.

In the chassis side, the suspension's spring rate has been increased by over 40 percent. Larger anti-roll bars and stiffer dampers are used as well. Sportier 225/45R17 tires replace the skinny 205/50R17. The new rubber is also stickier. The steering gets a damper valve to reduce kickback. The 4WD system remains unchanged, which employs viscous-coupling differential lock. Normal distribution is 50:50. The more advanced DCCD and Torsen front and rear LSD are still reserved for the expensive STI.

On the road, the new engine is apparently more willing and acceleration is noticeably stronger. The chassis finally behaves like a real WRX, offering the right grip and body control. There is still more body roll than Lancer Ralliart if you push hard in corner, but in return the WRX provides a more absorbent ride and superior grip simultaneously. Dynamically it is a better bet than Mitsubishi. However, Impreza WRX is still not the ultimate answer in the hot hatch field. There are some rivals sportier still and some rivals more desirable to own. What its rivals couldn't match is perhaps its value for money - which cars at this price could provide 4-wheel drive and 265 horsespower ?


The above report was last updated on 22 Sep 2008. All Rights Reserved.
Impreza WRX STI Spec C

| | |
| --- | --- |
| | Not convinced by the civilized STI ? Spec C is the answer. |

Spec C is a special edition designed to homologate Group N rallying. To do so, Subaru needs to produce 1,000 units of this car. 90 percent of them will be sold in the domestic market, while the remaining 100 units will be exported to Europe. What a pity, because Spec C is actually a lot better than the standard STI. We liked the STI when it debuted two years ago, but we begged for a sharper chassis setup when it was compared against Mitsubishi Lancer Evo X and Ford Focus RS (and lost). Spec C answered our prayer.

On paper, this car does not sound much different from the standard STI. For example, the power output of its 2.0-liter boxer remains the same, i.e. 308 horsepower is released at 6400 rpm, accompany with 311 lb-ft of torque at 4400 rpm. The six-speed manual gearbox remains there, leaving a twin-clutch box as an unfulfilled dream. The chassis seemed to be the same too, keeping the same track width, tire and brake size. Even the exterior looks the same as STI – in fact, you can't find any "Spec C" badge on it. So what has been changed?

Firstly, the Spec C underwent a light diet to get rid of 30 kg of fat. By using an aluminum bonnet, a smaller battery, forged alloy wheels and ditching the spare tire (replaced by puncture repairing kit), kerb weight has been down to 1450 kg. That is 17 kg less than Focus RS, and a lot lighter than Evo X, of course.

Secondly, the Spec C added water spray to its intercooler. You rarely hear such facilities on other turbocharged cars, but for the Subaru boxer engine, its intercooler is located right on the top of the hot engine, so its cooling efficiency is more easily influenced by engine temperature. After a long period of run, intake air temperature could rise to 70°C. With water spray, this can be reduced to 40°C, maintaining good volumetric efficiency and contributing to up to 25 horsepower. While the maximum figure of 308 hp remains unchanged, the output is less prone to decline under hard run.

Thirdly, the engine has switched to a turbocharger with ball bearing. Again, this does not influence the max output figure because the boost pressure is unchanged anyway. However, with less friction to overcome, the turbine gets spinning more quickly, reducing turbo lag and improving engine response.

The chassis also gets some attention. To cope with rally use, the chassis of Spec C gets a reinforced front cross member, while a clutch-type mechanical LSD replaces the standard Torsen. The latter change is more effective to limit wheelspin in the event a wheel is lifted into the air. However, you are unlikely to sense the difference if you drive on road only. More noticeable is the enhanced grip from the Bridgestone Potenza RE070 tires and the stiffer suspension setup. The Spec C employs stiffer springs, dampers, bushings and a thicker rear anti-roll bar. The overall stiffness is 15-30 percent higher than the standard STI. On the road, this change is immediately noticeable in the tighter body control, reduced understeer and sharper steering response. The ride is harsher and noisier, of course, but frankly speaking, owners of the first two generations Impreza STI will find the new Spec C setting more at home. This is the setting that Subaru should have adopted on the standard car from day one !


The above report was last updated on 16 Sep 2009. All Rights Reserved.
Impreza WRX STI sedan

| | |
| --- | --- |
| | Chassis upgrade and sedan body attempt to bring back its glorious days... |

Fans of the first two generations Impreza WRX STi criticized the current car for too tamed - it rolls too much, understeers too early and rides too soft. Some also criticized it for looking too much like European hot hatches. After nearly 3 years, Subaru finally responded with an update. Now the STi is available in hatchback as well as sedan body. American version of the sedan, as pictured here, has a huge rear wing that European version doesn't. It should satisfy the needs for downforce while delivers a strong visual statement that finally matches its performance.

Well, perhaps more than its performance. Disappointingly, Subaru has not touched the powertrain at all. It still cranks out 305hp (SAE) or 300hp (DIN), still goes from rest to 60 mph in 5 seconds or so and, sadly, still trails the first two generations STi. The sedan's boot adds a little bit more weight, so it can get only worse.


| | |
| --- | --- |
| | Lack of performance upgrade is the biggest problem... |

In fact, the mechanical improvements are concentrated on chassis. The new STi, no matter hatchback or sedan, recieved most of the upgrades found on the Spec C, such as a reinforced chassis, stiffer springs (up 16% front and 53% rear), stiffer anti-roll bars and suspension bushings. Ride height has been dropped by 5mm, too. On the road, these translate to tighter body control, better balance, faster steering response and more neutrality. It feels more confidence inspiring to attack corners. Meanwhile, ride comfort suffers not much, so it is still a good companion on B-roads.

For day-to-day driving, the STi is now better than Mitsubishi Lancer Evo. However, that is probably not good enough to bring back its hey days. The market now has many interesting alternatives, e.g. Ford Focus RS500, Renault Sport Megane RS Cup and Volkswagen Scirocco R, while the new Opel Astra OPC is just around the corner. They match the Japanese duo for performance and could teach them a lesson or two for styling and desirability. To lift the game again, the Japanese have to improve their performance considerably. Unfortunately, both Subaru and Mitsubishi lack resources to do so. It is probably impossible to see Impreza and Evo to repeat their glorious days.


The above report was last updated on 15 Oct 2010. All Rights Reserved.
Specifications
Table 1

11

12

13


General remarks
Layout
Chassis
Body
Length / width / height
Wheelbase
Engine
Capacity
Valve gears
Induction
Other engine features
Max power


Max torque


Transmission
Suspension layout


Suspension features
Tires
Kerb weight
Top speed
0-60 mph (sec)
0-100 mph (sec)

Impreza 1.5 (Japan)

Front-engined, 4WD

Steel monocoque
Mainly steel
4415 / 1740 / 1475 mm
2620 mm
Flat-4
1498 cc
DOHC 16 valves, VVT

-
-
110 hp


106 lbft


5-speed manual
F: strut
R: double-wishbones

-
195/65R15
1230 kg
-
-
-

Impreza 2.0RX (Euro)

Front-engined, 4WD

Steel monocoque
Mainly steel
4415 / 1740 / 1475 mm
2620 mm
Flat-4
1994 cc
DOHC 16 valves, VVT

-
-
150 hp


145 lbft


5-speed manual
F: strut
R: double-wishbones

-
205/50R17
1345 kg
120 mph (c)

8.9***
28.8***

Impreza 2.5 sedan (US)

Front-engined, 4WD

Steel monocoque
Mainly steel
4580 / 1740 / 1475 mm
2620 mm
Flat-4
2457 cc
SOHC 16 valves

-
-
170 hp


170 lbft


5-speed manual
F: strut
R: double-wishbones

-
205/55R16
1390 kg
130 mph (est)

7.6* / 8.2**
22.1* / 22.9**
Table 2

21

22

23


General remarks
Layout
Chassis
Body
Length / width / height
Wheelbase
Engine
Capacity
Valve gears
Induction
Other engine features
Max power


Max torque


Transmission
Suspension layout


Suspension features
Tires
Kerb weight
Top speed
0-60 mph (sec)
0-100 mph (sec)

Impreza S-GT (Japan)

Front-engined, 4WD

Steel monocoque
Mainly steel
4415 / 1740 / 1475 mm
2620 mm
Flat-4
1994 cc
DOHC 16 valves, DVVT

Turbo
-
250 hp


246 lbft


5-speed manual
F: strut
R: double-wishbones

-
205/50R17
1360 kg
-

-
-

WRX sedan 2007 (US)

Front-engined, 4WD

Steel monocoque
Mainly steel
4580 / 1740 / 1475 mm
2620 mm
Flat-4
2457 cc
DOHC 16 valves, DVVT

Turbo
-
224 hp


226 lbft


5-speed manual
F: strut
R: double-wishbones

-
205/50R17
1425 kg
140 mph (c)

5.8* / 5.7**

16.2* / 16.1**


WRX sedan 2008 (US)

Front-engined, 4WD

Steel monocoque
Mainly steel
4580 / 1740 / 1475 mm
2620 mm
Flat-4
2457 cc
DOHC 16 valves, DVVT

Turbo
-
265 hp


244 lbft


5-speed manual
F: strut
R: double-wishbones

-
225/45R17
1450 kg
142 mph (c)

4.7* / 5.1**

12.9* / 13.5**

Table 3

31

32

33


General remarks
Layout
Chassis
Body
Length / width / height
Wheelbase
Engine
Capacity
Valve gears
Induction
Other engine features
Max power


Max torque


Transmission
Suspension layout


Suspension features
Tires
Kerb weight
Top speed
0-60 mph (sec)
0-100 mph (sec)

WRX STI (Japan)

Front-engined, 4WD

Steel monocoque
Mainly steel
4415 / 1795 / 1475 mm
2625 mm
Flat-4
1994 cc
DOHC 16 valves, DVVT

Turbo
-
308 hp / 6400 rpm


311 lbft / 4400 rpm


6-speed manual
F: strut
R: double-wishbones

-
245/40ZR18
1480 kg
-

-

-


WRX STI (Euro)

Front-engined, 4WD

Steel monocoque
Mainly steel
4415 / 1795 / 1475 mm
2625 mm
Flat-4
2457 cc
DOHC 16 valves, DVVT

Turbo
-
300 hp / 6000 rpm


300 lbft / 4000 rpm


6-speed manual
F: strut
R: double-wishbones

-
245/40ZR18
1505 kg
155 mph (limited)

5.2*** / 5.1^^^

12.9*** / 12.7^^^


WRX STI (US)

Front-engined, 4WD

Steel monocoque
Mainly steel
4415 / 1795 / 1475 mm
2625 mm
Flat-4
2457 cc
DOHC 16 valves, DVVT

Turbo
-
305 hp / 6000 rpm


290 lbft / 4000 rpm


6-speed manual
F: strut
R: double-wishbones

-
245/40ZR18
1520 kg
150 mph (limited)

5.1* / 5.0** / 4.7^

12.9* / 14.1** / 13.3^

Table 4

41

42

43


General remarks
Layout
Chassis
Body
Length / width / height
Wheelbase
Engine
Capacity
Valve gears
Induction
Other engine features
Max power


Max torque


Transmission
Suspension layout


Suspension features
Tires
Kerb weight
Top speed
0-60 mph (sec)
0-100 mph (sec)

WRX STI Spec C

Front-engined, 4WD

Steel monocoque
Mainly steel
4415 / 1795 / 1475 mm
2625 mm
Flat-4
1994 cc
DOHC 16 valves, DVVT

Turbo
-
308 hp / 6400 rpm


311 lbft / 4400 rpm


6-speed manual
F: strut
R: double-wishbones

-
245/40ZR18
1450 kg
-

-

-


WRX STI sedan

Front-engined, 4WD

Steel monocoque
Mainly steel
4580 / 1795 / 1470 mm
2625 mm
Flat-4
2457 cc
DOHC 16 valves, DVVT

Turbo
-
305 hp / 6000 rpm (US)
300 hp / 6000 rpm (Euro)

290 lbft / 4000 rpm (US)
300 lbft / 4000 rpm (Euro)

6-speed manual
F: strut
R: double-wishbones

-
245/40ZR18
1550 kg (US) / 1525 kg (Euro)

150 (US) / 158 (Euro) mph

5.3* / 5.0^^

14.4* / 13.1^^




Performance tested by: *C&D, **R&T, ***Autocar, ^MT, ^Auto Bild, ^^^Evo

Copyright© 1997-2010 by Mark Wan @
AutoZine