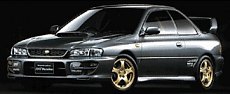 WRX series is a lucky star saving Subaru from losing money. To a car maker as small as Subaru, during the most difficult years since WWII, remaining profitable is simply a miracle. In fact, the much beloved WRX series is not likely to earn money in meaningful amount because of its small scale of production. Its outdated, ordinary Impreza sedan version also couldn't attract customers. However, WRX's driver's car image impresses people as much as BMW's M badge and Audi's Quattro name plate. As an image car, it boosts the sales of those mass production, real money-making models like Legacy and Forester.

Mitsubishi could have done this with its superb Lancer GSR series, but it didn't transfer the technology learned from the GSR to the mass production models. It still let the sporting Galant to have soft spring and light steering, still let the GTO to carry hundreds of extra kilogram, still yet to inject any driver appeal to the European market Carisma, unlike what Subaru did in the Legacy and Forester.

After 15 years of persistence, Subaru declared they had established the winning formula : full time 4-wheel-drive mating with boxer engine. Its 4WD system has no secret - normally a viscous coupling differential lock is employed as center limited slip differential (LSD) to distribution torque between front and rear wheels. The range topping STi version employs a variable torque split multi-plate clutch as center LSD, which was pioneered by Porsche 959. Instead of any technology breakthrough, what makes Subaru succeed is the adoption of 4WD to its whole range of cars, making it the Audi of the East.

The horizontally opposed engine is another feature. Today, Subaru is the only car maker beside Porsche producing boxer engine, which lower the center of gravity thus theoretically improve handling. How much does it improve ? Comparing with Mitsubishi Lancer GSR you won't see any advantage from the Subaru boxer four, it is not smoother either. Show room appeal is likely to be more noticeable.

Since the WRX series has been differentiated into many versions, we're go through them one by one. You may click the following link to read the one you're interested in.

Impreza = a boring sedan
Impreza WRX = an exciting sports sedan
Impreza Turbo = European market's WRX but with less power
Impreza WRX Type RA = light weight and cheaper version of WRX
Impreza WRX STi Verion V = a faster and hotter WRX, prepared by STi division
Impreza WRX STi Type RA Version V = lightweight version of WRX STi Version V
Impreza WRX STi Type R Version V = 2-doors version of WRX STi Type RA Version V
Impreza 22B STi = wider, limited produced version with 2.2 litres engine


Normal WRX and WRX Type RA
The first Impreza WRX appeared in around 1992-93, powered by a turbocharged 2-litre 16 valve boxer four capable of 240hp. Gradually the engine was upgraded to the 280hp domestic limit, that means a very high specific output of 140hp per litre ! In then, Ford Escort RS Cosworth managed merely 227hp from the same engine capacity.

Today, the "normal" WRX remains at the 280hp, but torque has been improved to 250 lbft. Apart from 4-doors sedan version, there is a 5-doors hatchback (or you can call it Estate if you don't mind little load space) as well as a light weight version called WRX Type RA. By deleting most of the equipments, ABS, the rear wing and by installing small diameter wheels, WRX Type RA saves 60kg. Of course, the already bargain price becomes even more attractive.
Impreza Turbo
Instead of WRX, the Europe market is offered with a less powerful version called Impreza Turbo. The mechanical layout is the same, so is the driving pleasure. 215 horsepowers guarantee 0-60mph in 5.3 seconds and 0-100mph in less than 15 seconds. It is really a giant killer ! As the price in UK is just £20,000, it was named by Autocar as the best buy of 1998.
WRX STi Version V
The STi badge represents the involvement from the special vehicle department, Subaru Technical International. To those working in the STi department, the normal WRX seems like any mass production Ford, while the STi cars are Rolls Royce. Give them a WRX, they replace the cast iron pistons with hand-beat forged pistons. Combustion chamber and pistons also received careful polish by human hands. Then there is a larger intercooler to raise the volumetric efficiency. Power still bound to 280hp, but peak torque reaches 260 lbft, or 10 lbft more than the normal WRX. Of course, higher performance brakes are fitted to cope with the improved performance.

Another special feature is the use of multi-plate clutch center LSD. It consists of 6 discs, actuated by hydraulic and controlled by electronics, responsible for distributing torque between front and rear axle in variable amount. Normally some 65% of torque is transferred to the rear wheels to avoid understeer. In case the driver want involvement, he can adjust the switch in the center console to achieve at most 50% torque directing to the front wheels. Without this LSD, Collin McRae's car would have no chance of winning.

A close comparison between Version IV and Version V finds little difference. In fact, the power unit is unchanged. New items are limited to a big rear wing, revised bumper which improves air flow to the brakes and finally, inverted dampers, which are said to provide higher resistance to lateral force. Those who've tested it reported smoother ride than the Version IV.
WRX STi Type RA and Type R Version V
While the European market is limited to the "normal" STi Version V, domestic market also gets a lightweight version called STi Type RA Version V. Weight saving of 30kg is implemented by deleting equipments.

A 2-doors coupe version, STi Type R Version V, is also offered for the purpose of homologation. It looks nearly the same as the WRC racer. Chassis rigidity should be better than the 4-doors, so handling is likely to be better.
22B STi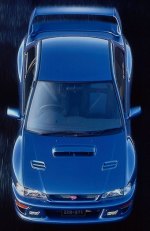 Subaru did not content with the light weight STi. In spring 1998 it produced 424 units of special edition called 22B STi. Each one was priced some 40% above the most expensive STi. Most of them were sold in Japan, while a fraction were privately exported (the first car was exported to Hong Kong in April 98). At the year end, 16 of them reached the shore of England.

22B STi's 2-door body was based on the STi Type R (Version IV), however, wider wheel arches cover the extra 20mm front and 40mm rear tracks. Huge 235/45ZR17 tyres provides even more grip. Massive aerodynamic kits, including deeper air dam and a big, adjustable rear wing, distinguished it from other WRX sisters.

Under the aluminium bonnet, the boxer four was enlarged to 2.2 litres, thus gave the name "22B". Again, maximum power is limited to 280hp. Torque, on the other hand, was improved to 275 lbft, now occurs at just 3200rpm. Racing-styled twin-plate clutch responsible for transferring the power to the wheels via the same multi-plate clutch center LSD as the normal STi.

Despite of the enlarged engine, 22B is unlikely to be faster than the normal STi. Acceleration is offset by 30kg of extra weight, while the larger frontal area may even reduce maximum speed.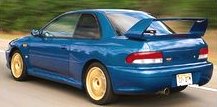 How well does it go ? As in all 280hp Impreza, there is a little bit more turbo lag at low rpm than Lancer GSR Evolution V or VI, although this is still very tractable comparing with many other turbocharged cars. Full boost starts at 2,800rpm, hitting the driver's neck hard on the head rest.
Gear change is tight but short and quick, requires a firm hand. This suit its racing nature. Similarly, the steering is electric quick, offering very sharp turn-in. Ride is very hard, stiffer than both the normal STi and Lancer Evo V or VI.
Without sound proofing, ABS, traction control, air bag etc., 22B STi is a nearly a racing-car-on-public-road. Don't compare it with BMW M3 or Audi S4, they are from two different poles of the world.
Report created on 25 Feb 99. Last updated on 8 Mar 99. All Rights Reserved.