Impreza WRX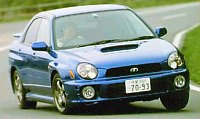 Strangely, the first generation WRX was not a brilliant design in first sight, but the more you looked the more beautiful it grew on you. So after 8 years of falling in love with it, it's hard to accept a successor so ugly. Ugly ! pardon me, I rarely use such a subjective description but I can't help feeling sad about its styling. No matter how many times I saw it, its strangely undynamical rectangular shape, odd big circular headlights and complicated face still conflicts with our inherent sense of beauty.

OK, we don't judge cars purely on styling, especially for this kind of A-to-B driver's cars. Let's see the chassis - 2.5 times as rigid in torsion as the outgoing car guarantees superior handling, ride and of course, should pass the strictest safety regulations. This is what the project manager most proud of. The next thing is improved interior space while preserving a short wheelbase, which grew just 5mm, thus guarantees nimble handling. I'm not too convinced about this one, considering the new WRX has got much longer front and rear overhangs, hence an extra 55 mm of overall length. Worse of all, the bigger and stronger chassis accompany with all other enhancement adds 100 kg to the car, despite of aluminium bonnet. (note: various figures were quoted by different sources because they compare the new WRX with different "old car", say, American sources compared with 2.5RS, UK sources compared with Impreza Turbo. However, according to Japanese official figures the new WRX weighs 1340 kg, versus the 1240 kg of the previous non-STi WRX Version VI)

The suspension is still all struts set up, which has been proved successful by various WRC teams. Yes, in the world of rallying MacPherson strut is more favourable than the mighty double wishbones because it provides better camber control for long-travel suspensions. In the new WRX, the struts are attached to the strengthened body with new front sub-frame and revised geometry. Front suspension lateral links are made of aluminium (excluding US version). The roll center has been raised by 33mm though I have no idea what this suggest. (we do not say roll center the higher the better or the lower the better)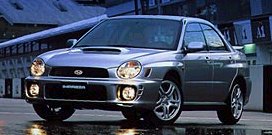 Tracks have been widened as the body is 30mm wider, this should help cornering stability. Wheels are still 16-inch wearing 205 width tyres but there is optional 215/45ZR17 which is also standard in UK's version. Brakes are no pizza size, with diameter just 294mm front and 266mm rear, thus it's still a relatively weak link of WRX. It seems that Subaru has reserved the best brakes for STi version.
What matter most to WRX enthusiasts, however, is the fire-breathing power plant, which gains least improvement or perhaps even a bit deterioration due to stricter emission laws. The basic engine is still that 1994 c.c. boxer 4-cylinder, code name EJ20, still all-alloy design, still having 4 camshafts, 16 valves and a single IHI turbocharger mating air-to-air intercooler. What's new? Subaru will tell you it's 80% new, but more specific wise there are only AVCS variable valve timing at the intake side and a 11% larger intercooler. Thanks to the variable valve timing, Subaru claims the torque curve is much more flatter, with 80% of torque available from 2200rpm. Remarkable? I don't think so. There are some European turbo engines can deliver 90% torque at 2000 rpm. Even the high-boost Audi RS4 can reach peak torque at just 2500 rpm !
Peak power and torque are 250 hp and 246 lbft (both JIS), compare with the last 280 hp Japanese WRX Version VI (still non-STi, remember), there is a deficit of 30 horsepower and a weight penalty of 100 kg ! Blame to the new emission regulations which requires 3 catalytic converters including a close-coupled cat near the exhaust collector (to deal with cold start emission, see Technical School). No matter how flatter the torque curve is, undoubtedly the new WRX will be much slower than its predecessor in acceleration.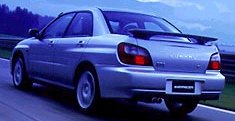 The above applies to Japanese version only. For the first time, UK and US are offered with WRX officially and their output are even lower. UK's car (which is identical to Australia's) has 218 hp / 215 lbft while US version has 227 hp / 217 lbft. Most journalists, such as Car And Driver and Autocar, blamed that to stricter emission requirement but few of them noticed the export engines do not have AVCS while the turbine is also smaller in diameter. The latter means the Japanese pumps out a maximum boost of 17psi instead of the export versions' 14.2psi. When deciding to drop these good things, cost may be the biggest concern. But someone also believe the Japanese prefer to keep the best thing exclusively for themselves ! Lastly, the UK and US versions also differ from the Japanese car by a 8.0:1 compression ratio versus 9.0:1, which is probably because of emission reasons.
The engine still drives through a 5-speed manual to all 4 wheels via 3 differentials, among which the center differential is viscous-coupling LSD while the rear is Suretrac (torque biasing) mechanical LSD by AP. Center LSD normally distribute 50/50 torque to front and rear. In case of wheelspin, it will send more torque automatically (rather brainlessly as well) to the opposite axle which has more grip. Need front LSD ? go for the STi version later. In short, the transmission system remains nearly unaltered from the old WRX.
On the Road
Now let's see how well our technical analysis match the real world experience.
Start the engine, you'll hear the typical boxer noise. Turbine smooth, rev-happy and red-lined at 7,000 rpm seems everything a world-class engine possess, but it lacks one important thing - real power. No matter how it rev and scream, the car does not accelerate like a fireball - a term that used to describe the old WRX. Even compare with the UK-only old Impreza Turbo (215hp), the new UK version WRX (218hp) takes 0.4 more seconds to finish 0-60mph. That's 5.7 seconds (250 hp version claimed as 5.3 sec), not bad, but deterioration is hardly acceptable.
Subjectively, it feels even slower. On the one hand, the so-called improved torque curve can be hardly detectable. On the contrary, the extra 100kg burden even made it worse. Off-boast, throttle response is disappointingly sluggish. Below 3,000 rpm, power delivery is weak and turbo lag is noticeable. However, it revs into live since 3200 rpm where full boast is obtained, then the torque increase linearly and eagerly towards the 7,000 rpm red-line. No matter low or mid-range, however, Audi S3 feels decisively more powerful, flexible and responsive. In reality, S3 also produces stronger mid-range acceleration, in-gear acceleration as well as 0-100 mph. Both cars have more or less the same power rating and kerb weight, so the differences lies on the way they deliver their power.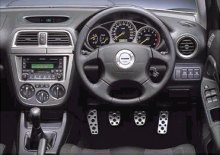 On the other hand, the improved sound-deadening and vibration-free chassis makes the car feel even slower subjectively.
In contrast, handling is benefited by the rigid chassis. The whole structure feels stiffer and more secure. It does not twist or bend like the old car on poor surfaces. As a result, the suspension has been set up to provide compliant ride million miles ahead of the old car which was never praised of ride comfort. This is a road-going rally car you will love to go shopping with.
Is there any improvement in body control or grip? hard to tell, but it is sure that now the car steers more neutrally and display safe understeer much later. There's almost no understeer unless reaching its limit. Throttle steer? no problem. The steering feels a bit too light and not sharp enough in initial feel, but drive it longer and you'll discover it actually provides good communication and accuracy. And there is no kick-back or vibration from steering column which characterised both the old WRX or Lancer Evo.
Gearshift now has less resistance and still a short and snappy throw. Brakes are effective but pedal feel is too light to inspire confidence.
Compare with Audi S3 again, the WRX wins decisively in handling. It has better controlled ride over poor surfaces, better high speed body control, more steering feedback and more fluent control overall.
In the end, the WRX is still the ultimate driver's car in its class. There's nothing can compare with it once in a twisty road. Performance is its biggest weakness, so is look and packaging. In my opinion, STi or Evo 7 are much better bet and worth the extra money.