| | |
| --- | --- |
| Published on 23 Aug 2013 | All rights reserved. |


Why does this page starts with the name "Skyline V37" instead of "Infiniti Q50"? Because I always prefer to call cars by their domestic names in the first place. Admittedly, the domestic sales of Skyline is so negligible that the Infiniti version is by far more important now. It goes without saying that Nissan wants to promote the Infiniti brand to the level of BMW and Audi in the global market. In the past 2 decades or so it failed to do so. Now it is upgrading its effort. The first move was to relocate its headquarters to Hong Kong (although engineering remains to be carried out in Japan). The second was to establish its own design studio so that it is given a unique design language. The third is to increase its presence in Europe by offering diesel engines and a hatchback model (this will be achieved by the collaboration with Mercedes). Lastly, the new marketing decided to adopt a new nomenclature to give its cars clearer identities. From now on all model names will start with the letter Q and follow by a double-digit number which represents its class. As a result, the outgoing G37 Sedan becomes Q50. The G37 Coupe will become Q60 and M-series will be renamed to Q70. SUVs and crossovers will start with QX, but that will be a story that I am not going to touch.

The new Q50 can be described as an old wine in new bottle. It is derived from the existing platform which could be traced back to the V35 Skyline of 2001. Its basic layout is carried over, such as a long-for-the-class, 2850 mm wheelbase, front-mid-mounted VQ-series engine, rear-wheel drive (AWD is optional), double-wishbones and multi-link suspensions. Enclosing them is a new body shell styled with strong influence from the earlier Essence concept. Its special grille, sculpted front end and twisted C-pillars try very hard – probably too hard – to distinguish itself from the mainstream. Some might find it overstyled in some areas, but the general proportion and tail are quite conventional and it fails to match its German rivals for character.


Size-wise, the car is a little longer, wider but slightly lower than the car it replaces. Unsurprisingly, the body is made of more high-strength steel to improve rigidity, crash safety as well as NVH suppression. Nissan stressed that the car has excellent aerodynamics – drag coefficient is 0.26 while both front and rear lift are zero. In fact, as far back as 2001 the Skyline V35 already achieved the same figures (see my old report). Sometimes progress does not happen as fast as we anticipated.

Inside, the Infiniti continues to offer remarkable space for its class, thanks to its long wheelbase. The added width now brings increased shoulder room, whereas thinner seats improve front and rear legroom a little bit. The 500-liter boot is also among the largest in class. The main structure of the cabin remains but its packaging is all new. Build quality and materials have been vastly upgraded such that there is no longer much to complain about. The twin-touch screen center console looks modern and functions well. The upper screen displays navigation map while the lower one controls audio, air-con and other functions. It is intuitive to use. More problematic is the interior design, which is rather old-school. It might look acceptable today, but I am sure in a couple of years time it will become outdated beside its new generation rivals.


The Q50 offers 3 engines: a 170 hp 2.1-liter turbo diesel four-pot supplied by Mercedes (the "220CDI" engine), a 328 hp 3.7-liter VQ37VHR V6 (carried over from the old car) and a 360 hp hybrid powertrain consisting of a 3.5-liter V6 and a 67 hp electric motor (transplanted from M35h). The diesel serves the European version only, while American market is available with the other two. Largest selling should be the VQ37VHR. As always, it is strong on top end power (thanks partly to the VVEL variable valve lift) but low-end torque is weak by the class norm. In the old car, the latter problem might be overcome by opting the good six-speed manual gearbox. Unfortunately, the new car has the manual abandoned and made the 7-speed automatic compulsory. While it isn't a bad tranny, its gearshift is nowhere as responsive as the ZF 8-speed auto that BMW and Audi use. As a result, the car feels slower and is actually slower than BMW 335i and Audi A4 3.0 TFSI. Ditto the four-cylinder diesel. Mercedes reserves the most powerful (204 hp) version for its own, so the diesel Infiniti is not going to challenge the best German diesel rivals for performance.

More special is the hybrid powertrain. As in M35h, its electric motor is housed inside the transmission case. A pair of computer-controlled clutches replaces the conventional torque converter and are used to engage/disengage the engine and motor. Transition between power sources is therefore not as smooth as the CVT camp, but it is quite responsive. Nissan quotes a 0-60 mph time of 4.9 seconds, thanks largely to the additional 214 lbft of low-end torque contributed by the motor. It is also pretty frugal, returning fuel economy figures matching a four-cylinder 328i. Unfortunately, it is too expensive to be competitive on the marketplace. Moreover, carrying 1800 kg it is not as agile as the BMW.


The handling of Q50 is not bad actually. In Sport trim (with firmer suspensions and wide rubbers) it balances and grips quite well, but the ride is not composed enough to rival the German cars, Lexus IS or Cadillac ATS. The lack of adaptive dampers hurts.

Ridiculously, Nissan opted to spend money on the sophisticated Direct Adaptive Steering. It is the world's first steer-by-wire system. There is no mechanical linkage between the steering rack and the steering wheel (note: it does have a mechanical backup system that works when electronics fail, but in normal condition it is decoupled by a clutch). Electronic sensors detect the steering wheel angle and signals the electric motor to turn the steering rack. Meanwhile, an actuator mounted at the steering wheel column generates resistance and self-centering forces and feedback to the driver. In short, it answers a question nobody asks, creating an extra layer of isolation between man and machine. What benefits does it give? Well, it manages to eliminate unwanted noises like kickback and vibration, and the steering might be a bit more accurate because the rack can now be hard mounted on the chassis without using bushings. However, on the road the steering feels cold, and the feedback it brings is very artificial. Not only it fails to inspire driving pleasure but it sometimes brings doubts about who is actually guiding the car, because the DAS allows the intervention of lane-departure prevention system to correct the steering. Like many first generation new technologies, it is a failure. Maybe the next generation will be better, but at this moment it serves only to ruin the car.

You cannot avoid DAS on the Hybrid, but on other models it is optional. However, even without DAS fitted I suppose the new Infiniti Q50 is not going to rock the leading status of its German rivals. Neither can it match the more versatile Lexus IS and charismatic Volvo S60. There is still a long way to go to promote the Infiniti brand to world class.

Verdict:



| | |
| --- | --- |
| Published on 9 Mar 2016 | All rights reserved. |
Q50 Red Sport 400


2 years ago, Nissan created the Infiniti Q50 Eau Rouge concept by installing a 560 hp GT-R engine under its bonnet. It thrilled many motoring journalists and became the most anticipated model from the brand. However, I have never believed in the idea. In my opinion, it made little commercial sense thus had no chance to win the approval of Carlos Ghosn. My prediction turned out to be true, unfortunately, when Nissan announced its cancellation last autumn. However, what we didn't know then was that at the same time Infiniti was working quietly on a cheaper, more down-to-earth performance version of Q50. It would be named Red Sport 400. You may call it simply RS400. Doesn't it sound exotic?

The RS400 sees the first application of VR30DDTT engine, a 3.0-liter direct injection twin-turbo V6. It replaces the naturally aspirated VQ37VHR on Q50 and is slated to replace all the aging VQ-series V6s of Nissan. The new V6 is pretty lightweight at 221 kg (including turbos and intercoolers), thanks in part to using plasma-sprayed cylinder coating instead of cast iron liners. It also employs modern features like integrated exhaust manifolds, electrical VVT and direct injection. The V6 offers 2 states of tune: the base version runs a maximum turbo boost pressure of 0.6 bar, produces 300 hp and 295 lbft of torque, while the hotter version of RS400 employs 1.0 bar to achieve 400 hp at 6400 rpm and 350 lbft of torque from 1600 to 5200 rpm. It is both powerful and flexible.

400 hp is a lot of power for a performance sedan not destined to rival the likes of M3, C63 or RS4. Instead, the Red Sport 400 targets at the cheaper 340i, C43 or S4. Compared with these rivals, its engine output is clearly superior. Nevertheless, its home-grown 7-speed automatic is disappointingly slow-reacting. The car is also a little overweight at 1700 kg, even before adding AWD hardware. Therefore, its straight line performance is no quicker than its less powerful German rivals. Moreover, it doesn't feel very quick subjectively, blame to a dull and understated exhaust note.

Disappointment can be found in the chassis as well. The Red Sport's 265/35R19 run-flat rear tires look wide enough, but provide limited traction and grip. It slips on full-throttle acceleration and slides abruptly if you are aggressive in slow corners. The electronic stability control works overtime to save the game. Nissan should have given it better tires.

Better is the suspension, which finally gets adaptive dampers. It is slightly firmer than desired in Sport modes, but keeps the car stable in corners.

However, any hope for an above-average rating is once again washed away by the DAS steer-by-wire system. Nissan said it has revised its control logic and fine tune its characteristics to deliver a response "more akin to conventional steering". If so, why not simply revert to conventional power steering? On the road, it does feel a bit more direct and better weighted, but still fails to match the consistency, precision and feedback of conventional steering. That said, you might choose DAS over the standard electrical power steering, because the latter is even worse on the Q50. Its engineers seem to confuse "feedback" with "vibration", letting a constant stream of vibration passing through the steering wheel to your hands without delivering any true information. As long as Infiniti is developed by someone knowing little about driving pleasure, it is hopeless to see a world-class Infiniti performance sedan, no matter how many horsepower it possesses. Perhaps it is time to bring in the GT-R team.

Verdict:


| | |
| --- | --- |
| Published on 6 Oct 2016 | All rights reserved. |
Infiniti Q60


Who says the mid-size coupe market is dying? Apart from traditional players BMW 4-Series, Mercedes C-class Coupe and Audi A5, in the last couple of years the class is joined with Cadillac ATS, Lexus RC and, lately, Infiniti Q60. Can the new comers really catch enough sales to make money? I doubt, but to the car buying public more choices and more competition should be only good news.

Like most rivals, Infiniti Q60 sells mainly for its looks. Mechanically, it is largely the same as its sedan sibling, Q50, even sharing the same 2850 mm wheelbase. The engines, transmission, steering and suspension are all carried over, as is much of the interior with the exception of rear seats, of course. Ridiculously, deleting two doors and downsizing rear passenger space actually adds weight. According to official figures, a Q60 with 2-liter turbo base engine tips the scale at an incredible 1690 kg, 200 kilos heavier than a Mercedes C300 Coupe which shares the same motor (remember, Mercedes supplies the M274 motor to Nissan). Meanwhile, the range-topping Q60 Red Sport 400 weighs 1750 kg on the kerb, or even 1825 kg with 4WD option checked. This makes the 1555 kg BMW 440i, 1615 kg Audi S5 and 1660 kg Mercedes-AMG C43 4matic look like flyweight in comparison. Moreover, the Infiniti coupe does not have its weight distributed evenly between the two axles. Its front-to-rear balance range from 55:45 for the smallest engine model to 58:42 for the most powerful AWD model. All these hard facts put it in an inferior position against its German rivals.


But then the Q60 has a killer look. Yes, its high waistline makes it less sleek than I wished, but it is undeniably a handsome car, with some nice touches in the fine details and a characterful C-pillar design. If mid-size premium coupes are all about styling, then it should have a good chance to succeed. Get inside, it is also nicely crafted, with a build quality and trim materials surpassing the standard of BMW, if not exactly in the league of Mercedes and Audi. The unique sports seats are supportive and comfortable. On the downside, the switches are Nissan-grade rather than top notch, and there are plenty of them to make the interior look busy. Modern interior design should emphasize simplicity by integrating most functions into the infotainment system. The Infiniti just screws up the game by splitting those functions into 2 screens, which is unintuitive or even confusing. Another weakness is rear accommodation. While its German rivals are able to fit people of 5-foot-10 or so, the Q60 manages only 5-foot-6, blame to that sloping roofline which is key to its handsome look.

Since the car is so heavy, it does not feel as quick as its horsepower numbers suggested. The range-topping VR30DDTT twin-turbo V6 is claimed to produce 400 hp, but it never feels that powerful. In fact, a BMW 440i feels quicker off the line, and I suppose the C43 Coupe and new Audi S5 should feel quicker still. Apart from weight problem, Nissan should also tackle the slightly laggy response of its 7-speed automatic gearbox which adds to the impression of soft acceleration. Ditto the V6's lack of exhaust note. Its smoothness and quietness might serve a luxury saloon perfectly, but on a performance coupe claimed to have 400 horsepower, it sounds too tamed, failing to thrill its driver. A variable exhaust could easily solve the problem.


The chassis also lacks sparkles. Like Audi, the Infiniti uses stiffer springs to limit body motions due to its nose-heavy balance. As a result, it rides firmly, even with the adaptive dampers (which is standard on only the top model) left in normal mode. When the road surface gets rougher, the ride becomes uncomfortably stiff, lacking the effortless suppleness you would find on BMW or Mercedes. Body control is about spot-on, but blame to the excessive weight and unideal balance, the car does not feel as agile as you would expect for a coupe. Its turn-in is a bit slow. At the limit, it runs into terminal understeer, giving you no option of power slide. Moreover, it fails to engage its driver through the steering. The standard electrical power steering is saloon-light and delivers limited feel. At least its response is more consistent than the notorious Dynamic Active Steering, which is a US$1000 option. DAS succeeds to mask the real world and let you play virtual reality. It keeps reminding you that the "feedback" is artificial, and sometimes surprises you with unproportionate response. We hate it on the Q50 sedan, and hate it even more on the coupe.

It seems that Nissan fails to figure out which is the best DAS setting, so it simply offers you 7 modes to choose from. On the other hand, the adaptive suspension has 2 modes, the powertrain has 4 modes and the stability control has another 2 modes, so you will have plenty of fun to try all these combinations before reaching the conclusion that none of them could return real driving thrills. Brilliant.

Verdict:












Q50 2.2d



2013

Front-engined, RWD
Steel monocoque
Mainly steel
4790 / 1820 / 1445 mm
2850 mm

Inline-4 diesel


2143 cc
DOHC 16 valves

VTG turbo

CDI

170 hp

295 lbft

7-speed automatic
F: double-wishbone
R: multi-link
-
225/55WR17
1669 kg

143 mph (c)
8.0 (c)

-

Q50S 3.7



2013

Front-engined, RWD
Steel monocoque
Mainly steel
4805 / 1820 / 1445 mm
2850 mm
V6, 60-degree


3696 cc
DOHC 24 valves, DVVT, VVL

-

-

328 hp

269 lbft

7-speed automatic

F: double-wishbone
R: multi-link
-
245/40WR19
1667 kg

155 mph (limited)
5.3* / 5.2**

13.1* / 13.2**


Q50S Hybrid



2013

Front-engined, RWD
Steel monocoque
Mainly steel
4805 / 1820 / 1445 mm
2850 mm
V6, 60-degree, Atkinson cycle + electric motor
3498 cc
DOHC 24 valves, DVVT

VTG turbo

CDI

302 hp + 67 hp = 360 hp

258 lbft + 214 lbft = 402 lbft

7-speed automatic
F: double-wishbone
R: multi-link
-
245/40WR19
1802 kg

155 mph (limited)
4.9 (c) / 5.1**

12.5**









Performance tested by: *R&T, **C&D










Q50 2.0t



2014

Front-engined, RWD
Steel monocoque
Mainly steel
4785 / 1820 / 1445 mm
2850 mm

Inline-4

1991 cc
DOHC 16 valves, DVVT

Turbo

DI

211 hp

258 lbft

7-speed automatic

F: double-wishbone
R: multi-link
-
225/55R17


1663 kg

152 mph (est)
7.2 (est)

-

Q50 3.0t



2016

Front-engined, RWD
Steel monocoque
Mainly steel
4785 / 1820 / 1445 mm
2850 mm
V6, 60-degree

2997 cc
DOHC 24 valves, DVVT

Twin-turbo

DI

300 hp / 6400 rpm

295 lbft / 1600-5200 rpm

7-speed automatic

F: double-wishbone
R: multi-link
-

245/40WR19


1681 kg

155 mph (limited)
5.7 (est)

-


Q50 Red Sport 400



2016

Front-engined, RWD
Steel monocoque
Mainly steel
4805 / 1820 / 1445 mm
2850 mm
V6, 60-degree

2997 cc
DOHC 24 valves, DVVT

Twin-turbo

DI

400 hp / 6400 rpm

350 lbft / 1600-5200 rpm

7-speed automatic

F: double-wishbone
R: multi-link
Adaptive damping

F: 245/40WR19
R: 265/35WR19

1692 kg

155 mph (limited)
4.5*

10.5*










Performance tested by: *C&D










Q60 2.0t



2016

Front-engined, RWD
Steel monocoque
Mainly steel
4685 / 1850 / 1395 mm
2850 mm
Inline-4

1991 cc
DOHC 16 valves, DVVT

Turbo

DI

211 hp

258 lbft

7-speed automatic

F: double-wishbone
R: multi-link

-

245/40WR19


1690 kg

152 mph (est)
7.3 (est)

-


Q60 Red Sport 400 (AWD)



2016

Front-engined, RWD (4WD)

Steel monocoque
Mainly steel
4685 / 1850 / 1385 mm
2850 mm
V6, 60-degree

2997 cc
DOHC 24 valves, DVVT

Twin-turbo

DI

400 hp / 6400 rpm

350 lbft / 1600-5200 rpm

7-speed automatic

F: double-wishbone
R: multi-link
Adaptive damping

F: 245/40WR19
R: 265/35WR19

1751 kg (1825 kg)

155 mph (limited)
4.8 (c) 4.5* / (4.5*)

10.3* (10.6*)










Performance tested by: *C&D









Q50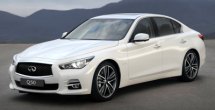 Q50 Red Sport 400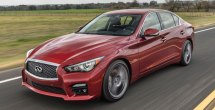 Q60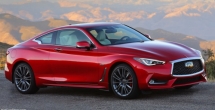 Copyright© 1997-2016 by Mark Wan @ AutoZine