Nissan Skyline V35 / Infiniti G-series

Debut: 2001
Maker: Nissan
Predecessor: Skyline R34 / Laurel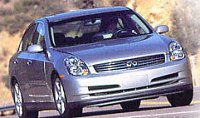 Old Skylines

It is unbelievable that Skyline is 45 years old now and has entered the 11th generation. As I recall from my childhood memory, the first Skyline I saw was the 7th generation, sometime around 1985. It already had those trademark quad circular taillights, slim body profile and RB-series inline-6 engines that characterize the later Skyline R32, R33 and R34. These unique DNA and consistent evolution gave Skyline an unusual status in Japan.

New Skyline, or Infiniti G35?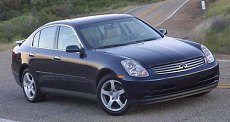 Unfortunately, the new generation Skyline V35 (debuted in June 2001) is not a real Skyline. Infiniti G35 - its alternative name - is perhaps more appropriate to reflect its nature. In fact, when Le Cost Killer Carlos Ghosn arrived Nissan in 1998, he found the Skyline was making loss because it was not sold in sufficient number while sharing little parts with other models. Therefore he decided to combine the Skyline platform with Gloria, Cedric, Stagea (estate version of Skyline), 350Z and GT-R (to be split from Skyline). In this way, the Skyline lost its unique platform and inline-6 engine. The latter is replaced by a more commonly used V6.

Worse still is that Ghosn converted the Skyline into a BMW-style saloon. That is why I said Infiniti G35 is actually a more suitable name. Fans will never approve such conversion, but Ghosn cares more about money. The advantage of a BMW-style Skyline is that it appeals to more customers and can be sold in overseas for the first time in its 45 years history.

For North American market, Nissan named it as Infiniti G35. Basically that is equivalent to the top-of-the-range Skyline sold in Japan. Why not simply call it Infiniti G35 in Japan? because Nissan never sells the brand Infiniti at home, just like Lexus never exists in Japan.

New styling and packaging



From outside, the new Skyline looks really like a Germanic premium car, thanks to the smooth, fat and self-restrained profile. It looks especially handsome from rear quarter (see picture). Nevertheless, I am disappointed with its LED taillights - why not preserve the traditional quad-circular taillights which are far sexier?

Anyway, the Skyline body functions flawlessly. It achieves an outstanding drag coefficient of 0.27 and generates just a little lift at rear. With optional aero pack, drag even drops to 0.26 while lift is completely eliminated.

Price-wise, the new Skyline competes directly with BMW 3-series. Size-wise, it runs closer to the 5-series, having a 30mm longer wheelbase but shorter overall length. This implies a very sporty profile with minimal overhangs.

However, long wheelbase seemed fail to bring higher space efficiency, because rear cabin is still smaller than the 5-series, although well ahead of the cramped 3-series. That said, the Skyline can sit 4 in comfort but not feeling luxurious. Worse is the execution - the dashboard and console look so dull, the plastics, leather and trimming feel so cheap by German car standard, the fit and finish doesn't worth the label "made in Japan". This is a typical Le Cost Killer interior!

New engine and performance

Let us concentrate on the flagship (most powerful) Skyline 350GT and equivalent Infiniti G35. No turbocharging anymore, they rely on a big normally aspirated V6 displacing 3.5 litres, further helped by continuous variable valve timing (VVT) and variable muffler. The end result is 260 horsepower (or 272hp for Japanese version) and 260lbft of torque, beating Acura TL Type S as the most powerful car in class.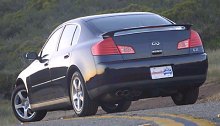 Twist the key and you will find the new engine instantly responsive. Although the automatic gearbox absorbs some of the power, the tremendous torque still provide strong acceleration - 0-60mph can be done in 6.2 seconds. Moreover, the V6 is apparently smoother and quieter than the outgoing inline-6. Read the spec. and you will know why - this is the well-known VQ35DE, famous for refinement and lightweight aluminum construction. Basically the same engine as those serving Altima, Maxima and 350Z, just with different state of tune.

Apart from VQ35DE, Japanese Skyline also offers VQ25DD and VQ30DD, displacing 2.5 and 3.0 litres respectively. They are even more efficient than the bigger engine, generating 212hp and 256hp respectively, thanks to the use of direct fuel injection and electric continuous VVT.

However, the best version of Skyline is undoubtedly 350GT-8. This Japan-only model mates the 3.5-litre engine with a state-of-the-art Extroid CVT gearbox offering a sequential manual mode with 8 ratios. Yes, 8-speed, really that mad! perhaps more than a good driver can cope with, but shifting via the steering column-mounted paddles like Ferrari must be tempting. The stepless automatic mode is smooth yet reasonably responsive. The Extroid CVT uses solid rollers instead of steel belt as means of transmission and ratio variation, no wonder it handles the torquey V6 with ease.

New chassis and handling

One of the benefits of switching to V6 is better chassis balance. A V6 is much shorter than an inline-6, so it can be positioned rearward. In addition to the long wheelbase design, more than half of the engine locates behind the front axle, therefore Nissan calls it as "front-mid engine". Besides, the lightweight of the aluminum VQ engine also help improving weight distribution. The end result is 52:48 front to rear, 2 points better than the old Skyline.


Apart from a balanced chassis, the new Skyline has all the right ingredients for a good sporty saloon, such as rear-wheel drive and all round multi-link suspensions. To improve ride quality, suspension links are even made of forged aluminum.

That's the theory. In reality, the new Skyline never feels as sporty as it should be. Most journalists reported good body control and high-speed stability, responsive steering and strong brakes. At 80% effort, the Skyline feels really like an alternative to BMW 3-series. However, enter twisty roads and you will find it lacks the precise control and feeling of BMW. Its steering is too light and oversensitive to input, making the car harder to place accurately in tight turns. The brakes, though powerful, is far from progressive. This works OK in normal driving, but once you attack corners, you will find it difficult to apply the exact amount of braking force you need. In BMW and Mercedes, all controls work in harmony with human to get the job done in style.

Worse is that the so-called well-balanced chassis does not feel that way. In hard cornering, you will feel the car as large as it is (while a good driver's car should feel smaller than it is). It understeers early, refuses to corner as hard and as accurate as real drivers want. The use of narrow and high-profile tyres (215/55) may be one of the reasons.

In the end, all road testers agreed that the new Skyline or Infiniti G35 is not in the league of BMW 3-series, Audi A4 and Mercedes C-class. It might have the right ingredients, but lack of fine tuning (and perhaps some expensive critical components) to get the last 20 percent done. Disappointingly, while the old Skyline spirit has lost, the new direction is not successful yet. I will miss the real Skyline (1957-2001) forever.

The above report was last updated on 11 July 2002. All Rights Reserved.
Skyline Coupe / Infiniti G35 Coupe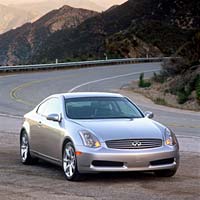 The Coupe version of Skyline / Infiniti G35 retains the same long wheelbase but all sheet metals were changed. Compare with the sedan, it has wider tracks, lower roofline and the overall profile is far sleeker. The conversion is very successful, making it in my eyes the most beautiful mid-price coupe since Peugeot 406 Coupe. Attractive styling is perhaps its biggest advantage.

The Coupe's 3.5 V6 is tuned to deliver 280hp instead of the sedan's 260hp, torque is also up 10 lbft to 270 lbft. We expected the sleeker body slip into airflow more efficiently, but in fact the Coupe's drag coefficient of 0.28 (with spoiler) is 0.02 up from the sedan. We also expected a lower kerb weight, but in fact the Coupe is 40kg heavier than the sedan despite the deletion of 2 doors and reduction of rear accommodation. Fortunately, it has a 6-speed manual gearbox from the 350Z, thus 0-60mph acceleration improves to 6.0 sec. That's quicker than its benchmark rival BMW 330Ci.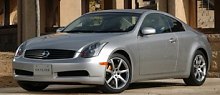 Like the V6 engine, the tuning of suspensions is mid-way between the Skyline sedan and 350Z. It's firm without harsh. Handling is therefore sporty without losing comfort, although 330Ci will beat it in both aspects. Like the sedan and 350Z, it understeers at the limit. With optional Brembo brakes, stopping power is remarkable.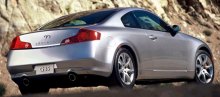 In terms of comfort, Skyline Coupe is not a real 4-seater like Peugeot 406 Coupe. Long wheelbase surely provide abundance of legroom to the rear passengers, but headroom is limited by the steeply raked rear screen like many coupes. We are also disappointed by the looks and feel of the interior design. Basically, it has the same bland dashboard as the sedan, just injected some alloy effect (actually cheap plastic panels). The sharp contrast between the exterior and interior styling and finish is a let down.

BMW 330Ci might be smaller and a little slower, but it is more exciting to drive, more refined to travel in and more satisfying to own thanks to its premium build quality. Good look is not enough to persuade us switching to the Nissan party.
The above report was last updated on 10 Feb 2003. All Rights Reserved.