Nissan Skyline V36 / Infiniti G-series

Debut: 2006
Maker: Nissan
Predecessor: Skyline V35 / Infiniti G-series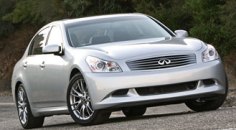 4 years after launch, Nissan Skyline / Infiniti G35 has received a major update and a new codename V36. This update concentrates on 3 areas: 1) power, 2) handling and 3) interior quality. The objective is to close the gap from class-leader BMW 3-Series.

Outside, the Skyline / G35 is not a big departure from the outgoing car. The facelifted nose and tail are more flowing and more dynamic, but its organic shape started looking tired. It lacks the elegance of Audi and Lexus. Even compare with the strange-looking 3-Series, it feels rather bulky. Size-wise, yes, the Nissan remains to be the largest in its class, thanks to the 2850mm wheelbase (3-Series: 2760mm; A4: 2648mm; IS350: 2730mm), but its interior volume is not used very efficiently. In fact, rear headroom has been reduced slightly owing to a faster roofline. Passengers over 6 feet won't fit there comfortably.

Our biggest complaint for the old car was the horribly cheap interior packaging. In the new car, Nissan has partly sorted out the problem by redesigning the whole dashboard and console and by using higher grade plastics. Still, this is not a beautiful design, and there is still a feeling of built to costs. To match the aforementioned rivals, it should employ even higher quality plastics and switch gears, and fit them more solidly in place. Noise insulation and ride quality over small imperfections also need to be improved.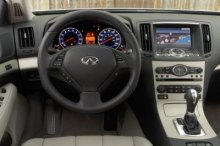 Okay, refinement is not the strongest suit of Skyline / G35, old or new. Its trump card is driver appeal instead. This must thanks to the strong engine and strong chassis. Nissan has updated the VQ series engine to the 4th generation. Now codenamed VQ35HR – in which the HR represents High Revolution – it can spin to 7500 rpm, up from 6600 rpm. This is contributed by the addition of exhaust VVT (continuous type and actuated by electromagnetic like Lexus LS460), smoother exhaust and higher 10.6:1 compression made possible by improved knock control and water cooling. The result is 306 horsepower at 6800 rpm, same value as Lexus IS350, and a max torque of 268 lbft available at 5200 rpm. The latter is not as brilliant as Lexus though. Infiniti claims lower fuel consumption than the outgoing car, but you won't expect much improvement because this engine still comes without direct injection.

However, the power and refinement of the VQ is already impressive enough. On the one hand it can propel the car from rest to 60 mph in a little more than 5 seconds. On the other hand it spins smoothly up to redline, even more so than the old VQ, thanks to a strengthened engine block. Mating with the V6 is either a 5-speed paddle-shift automatic or a 6-speed manual (for Infiniti G35 Sport only), both have satisfyingly smooth gearshift.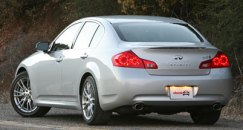 The chassis has received 40 percent increase of rigidity thanks to more spot welding and laser seam welding. The stiffer chassis allows firmer spring and damper setting, especially in G35 Sport. Front and rear tracks have been widened slightly. Front to rear balance remains 53:47, but the engine is now mounted 15mm lower. New viscous coupling limited slip differential helps hard cornering. Besides, the Skyline has 4WS (4-wheel-steering) returned as optional equipment, which steer the rear wheels by up to 1 degree according to steering input and speed. However, the benefit of 4WS is not obvious according to road testers.

In terms of handling, 3-Series is still safely at the top, but Skyline / G35 has become a close second. It can easily outgun Lexus and Audi. We won't have opportunity to see it testing against Alfa Romeo 159 until at least 2009, but it seems that will be a close fight. One thing might not favour the Nissan is: its speed-sensitive power steering continues to feel numb, and the change of weighting is slow and artificial.

As a driver's car, Skyline / G35 has come very close to the top level. What a pity the tight cost control of Nissan prevents it from feeling like a really premium car. The update is successful, but it won't change the "second division" image of the car.


The above report was last updated on 4 Oct 2006. All Rights Reserved.
Skyline Coupe / Infiniti G37 Coupe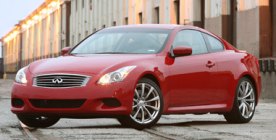 When Nissan introduced the pre-production G37 Coupe to the press in March 2007, it brought a BMW 335i Coupe for them to compare side by side on a test track. Until then, 335i was the benchmark of the class and nobody else could come close to its perfect combination of performance, handling and refinement. Apparently, Nissan was confident to beat the great BMW, otherwise it would not have brought the car there. In the end of the day, none of the American journalists came home without praising the G37 and declaring it beating the 335i.

What made Nissan so confident ? This starts from the handsome design, extends to the 36 percent-stiffer chassis (compare with the old G35 Coupe) and the new VQ37VHR engine. The latter is definitely the highlight of the car. Compare with the VQ35HR used in the G35 sedan, VQ37VHR added not only 200 cc of capacity through longer stroke but also a higher compression ratio (11.0:1) and a continuously variable intake valve lift system called VVEL (Variable Valve Event and Lift). The latter sounds like BMW's Valvetronic, but its mechanism is significantly lighter, smaller, involves less parts and therefore allows the engine to rev to as high as 7500 rpm, equaling the shorter-stroke VQ35HR. It produces 330 horsepower at 7000 rpm, 24hp more than the G35 sedan. Strangely, the max torque barely increases from 268 lbft to 270 lbft at 5200 rpm despite of the increased stroke, implying the engine is tuned for high-end power.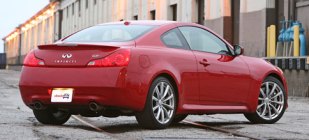 On paper, the Infiniti has everything to beat the BMW. Its chassis is lower and wider, suggesting better handling. If that's not enough, it has bigger brakes inside the larger 19-inch wheels, a limited slip differential and optional electronic-controlled 4-wheel-steering (4WAS). It has an advantage of 30 horsepower and, ridiculously, its high-revving naturally aspirated V6 conforms to the traditional philosophy of BMW more than the twin-turbo six of 335i. In other words, more BMW than BMW.

Unfortunately, when journalists finally drove the production car in late June, their findings were very different from the first impression. This time most people found it didn't really match 335i Coupe. First of all, the BMW's twin-turbo engine feels far more powerful in real world, thanks to its superior bottom end and mid-range torque. VQ37VHR might deliver a little more horses at the top end, but it is neither as smooth nor as melodic as the BMW engine. Couples to the fact that G37 Coupe carries some 140 kilograms more than its rival, it takes an extra 0.4 seconds to do 0-60 mph and as much as 1.1 seconds more to do 0-100 mph sprint, according to the measurement conducted by Car and Driver. In short, 335i knocks out G37 in engine and performance convincingly.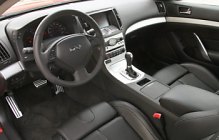 Other aspects are similar. While it matches 335i for body control and comes very close in ride quality, most of its controls lack the fine polishing of BMW – the steering feels numb, the gearshift is a little notchy, the clutch too heavy and abrupt, the brake feels vague and braking performance is no where as good as the lighter BMW. These qualities separate a fine car from a great car. Turn into corners, the G37 understeers a little more than the BMW as well as its predecessor G35 Coupe. It becomes more civilized and, inevitably, delivers less fun.


Can the optional 4WAS system save it from losing ? Sadly, Nissan's engineers forgot how to make a 4-wheel-steering system work like the old Skyline GT-R. In the G37, the system actually introduces even more understeer and makes the steering more unpredictable. In other words, it is a waste of money.

Talking about money, the G37 is cheaper than 335i Coupe, of course, but the latter's superior dynamics, precision, refinement, cabin space and build quality worth even more money. In isolation, G37 is a fine coupe, but to beat the Bimmer it still has a long long way to go.

What we can learn from this lesson is never to trust a car maker who generously offers a rival product for comparison, especially on a test track selected by the car maker. A fair comparison should be conducted on a variety of roads and on production cars without "special treatment". You know what I mean.


The above report was last updated on 5 Jul 2007. All Rights Reserved.
Skyline 3.7 / Infiniti G37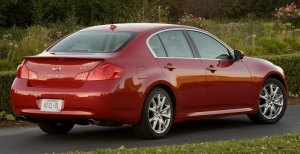 Following Infiniti G37 Coupe, the sedan version has also been upgraded to 3.7-liter engine, hence a new designation G37. This version also signals the first wave of Infiniti invasion into European market. At the moment of writing, the Japaense Skyline sedan has not been updated yet. However, there is no reasons to offer two different engines to different markets, so we expect Skyline will also get the 3.7 upgrade soon.

The VQ37VHR engine has slightly higher capacity and a variable valve timing

and lift

system (VVEL) to generate some 328 horses at 7000 rpm and 269 lb-ft at 5200 rpm. It makes the car even faster, although it still cannot match the lighter and torquer BMW 335i. Another noticeable improvement is the engine's NVH suppression, now closer to the best German engines. As before, keen drivers may choose the 6-speed manual gearbox whose shift quality has been improved. Lazier drivers gets a new 7-speed automatic gearbox, with 2 ratios more than before to enhance fuel economy and acceleration. Overall speaking, G37 sedan is a small and predictable improvement from G35.


The above report was last updated on 3 Oct 2008. All Rights Reserved.
IPL G Coupe

| | |
| --- | --- |
| | Hottest G Coupe is still 70hp down on M3... |

The new IPL nameplate, which stands for Infiniti Performance Line, seems to finally give the Japanese premium brand a performance rival to BMW M-cars, Mercedes AMG and Audi S-line. Sadly, what we found in IPL's first product, IPL G Coupe, is only a mild tuning based on the G37 Coupe. In particular, performance boost is disappointing. Nissan did not touch the engine at all, just installed a higher flow exhaust and remapped its ECU to release another 18 horsepower at 400 higher rpm. That's still 70 hp down on the M3. Just as its extra 6 pound-foot of torque implies, you can't feel the engine any gustier. The only noticeable improvement is sound quality, as the new exhaust no longer boom intrusively at high rev.


| | |
| --- | --- |
| | Launching IPL in this way could be disastrous... |

Rest of the tuning is equally modest: aftermarket-like aero kits, slightly stiffer springs and dampers, new wheels shod with different tires (though at the same sizes). All these made up a little bit sportier driving experience at minimal price increase. So what does Nissan America want to do with IPL ? a half-hearted performance brand never sells. If it wants to build the IPL a real performance brand, then launching the nameplate in this way could be disastrous.


The above report was last updated on 11 Oct 2010. All Rights Reserved.
Specifications
General remarks
Layout
Chassis
Body
Length / width / height
Wheelbase
Engine
Capacity
Valve gears
Induction
Other engine features
Max power
Max torque
Transmission
Suspension layout

Suspension features
Tires


Kerb weight
Top speed
0-60 mph (sec)
0-100 mph (sec)

Infiniti G35 Sport



Front-engined, RWD

Steel monocoque
Mainly steel
4750 / 1773 / 1453 mm
2850 mm
V6, 60-degree

3498 cc
DOHC 24 valves, DVVT

-
-
305 hp / 6800 rpm
268 lbft / 5200 rpm
6-speed manual
All multi-link

-
F: 225/50WR18
R: 245/45WR18

1625 kg
155 mph (limited)
5.5* / 5.4**

13.8* / 13.5**


Infiniti G37 Sport

Front-engined, RWD

Steel monocoque
Mainly steel
4750 / 1773 / 1453 mm
2850 mm
V6, 60-degree

3696 cc
DOHC 24 valves, DVVT, VVL

-
-
330 hp / 7000 rpm
269 lbft / 5200 rpm
6-speed manual
All multi-link

-
F: 225/50WR18
R: 245/45WR18

1680 kg
155 mph (limited)
5.2*

12.8*


Infiniti G37 Coupe Sport

Front-engined, RWD

Steel monocoque
Mainly steel
4650 / 1824 / 1395 mm
2850 mm
V6, 60-degree

3696 cc
DOHC 24 valves, DVVT, VVL

-
-
330 hp / 7000 rpm
269 lbft / 5200 rpm
6-speed manual
All multi-link

-
F: 225/45WR19
R: 245/40WR19

1663 kg
155 mph (limited)
5.3*

13.2*











General remarks
Layout
Chassis
Body
Length / width / height
Wheelbase
Engine
Capacity
Valve gears
Induction
Other engine features
Max power
Max torque
Transmission
Suspension layout

Suspension features
Tires


Kerb weight
Top speed
0-60 mph (sec)
0-100 mph (sec)

Infiniti IPL G Coupe

Front-engined, RWD

Steel monocoque
Mainly steel
4700 / 1824 / 1395 mm
2850 mm
V6, 60-degree

3696 cc
DOHC 24 valves, DVVT, VVL

-
-
348 hp / 7400 rpm
276 lbft / 5200 rpm
6-speed manual
All multi-link

-
F: 225/45WR19
R: 245/40WR19

1687 kg
155 mph (limited)
5.4*

12.9*


Infiniti G25

Front-engined, RWD

Steel monocoque
Mainly steel
4750 / 1773 / 1453 mm
2850 mm
V6, 60-degree

2496 cc
DOHC 24 valves, DVVT

-
-
218 hp / 6400 rpm
187 lbft / 4800 rpm
7-speed automatic
All multi-link

-
225/55R17


1600 kg
155 mph (limited)
7.5* / 7.5***

19.3* / 19.1***




Performance tested by: *C&D, **R&T
Copyright© 1997-2012 by Mark Wan @
AutoZine