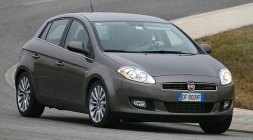 Fiat launched Stilo in 2001 with high expectation. It was supposed to challenge Volkswagen Golf seriously for class leading position, but unfortunately, it turned out to be a big flop and, together with the unpopular Punto Mk2, nearly dragged Fiat into bankruptcy. Stilo was originally planned to survive until 2008, but its poor sales performance meant Fiat had to bring forward its replacement to early 2007. This is the new Bravo.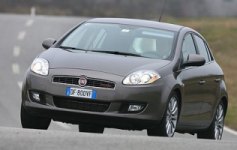 You might remember the first generation Bravo from 1995-2001. It won European Car of the Year Award and was quite successful commercially. Perhaps want to recapture the same success, Fiat reuse the name Bravo for the new car. Note that the old Bravo used to be a 3-door hatch (the 5-door version was Brava), but the new Bravo is a 5-door hatch and won't be available in 3-door form. That is the main difference in their layout. In terms of appearance, the new Bravo does have some resemblance to the old one, especially the strong shoulders at the rear end and the oval design of taillights. Of couse, the new design is more contemporary. It looks like a larger Grande Punto (what about the term "Jumbo Punto" ?), with a long front overhang to enable a sleek nose without being compromised by the high bonnet (by the way, many cars have their styling spoiled by pedestrian safety regulations). The shoulder lines rise handsomely towards the high-set taillights to form a sporty appearance. Well, the Frank Stephenson design is probably not as brilliant as Giugiaro's Grande Punto, but in the field of D-segment family cars, it is one of the best.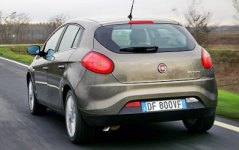 As aforementioned, Fiat needed to bring forward the launch of the car by more than one year. In addition to the conservative sales target at 120,000 units a year, the development must be quick and low cost. To do that, Fiat engineered and tested the car digitally by computer simulations and made small amount of prototypes only at the last stage. This shortened the development time from design freeze to market launch to only 18 months – should be a record for motor industry. Another way to save time and money is through platform sharing. The new Bravo is not a clean-sheet design but a development from the Stilo platform. This allows Fiat to claw back the investment it made in Stilo. Suspensions continues to be strut up front and torsion beam at the rear – no intention to go the multi-link route like Ford and Volkswagen group as it would have cost too much to develop and to produce. However, the suspensions are thoroughly reworked to deliver better ride and handling. There are stiffer anti-roll bars, retuned geometry, lighter wishbones made of stamped steel instead of cast iron, dual-path strut blocks and new hydraulic bushings. The tracks are widened by 20 mm, while the new chassis is so much stiffer – actually, a torsional rigidity at 21,300 Nm/degree is easily class-leading. On the down side, steering continues to employ the "Dual-mode" electric power assistance, which is never renowned for communication.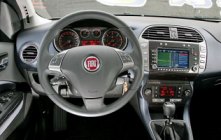 In the cabin, the dashboard employs more soft-touch plastics and soft padding at where your eyes usually notice, but below eye level are hard plastics. Well, Golf also does that to save costs, but its assembly quality and solidity feels better than the Fiat. Apparently, the Italian car did not try very hard to match German cars for quality. Space up front is very good while the multi-adjustable driving position is excellent, having none of the usual long-arm / short-leg tradition of Italian cars. At the back, Fiat claims it is the only car capable of accommodating passengers of 184 cm tall behind passengers of similar height. However, most journalists found that the rear room is actually average for both head and leg room. Blame must go to the 2600 mm wheelbase (unchanged from Stilo) and the coupe-style roof line. On the up side, the luggage room at 400 liters is easily class-leading.

At launch, there are 3 engines available. The entry level is a 90hp 1.4-liter 16V petrol detuned from Grande Punto. Then there are a couple of 1.9-liter Multijet turbo diesel, rated at 120hp for 8V and 150hp for 16V. All three are existing engines from Fiat's parts pool. Later this year will come a new T-JET 1.4-liter turbo petrol, which will produce 120hp and 150hp in different state of tune. To deliver higher mpg and lower CO2 emission, Fiat is not going to offer bigger capacity petrol engines to the Bravo.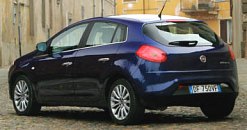 On the road, the new Bravo is quite impressive for its ride quality. Except on the worst surfaces, the fine damping and chassis rigidity smoothen out road irregularities thus return high level of refinement. Way way better than Stilo. On really broken surfaces, however, it cannot match the multi-link Focus and Golf. Handling is also noticeably improved from Stilo. It handles tidily and safely and provides bags of grip. The brake pedal provides excellent feel. The gearshift is slick and engaging. The biggest flaw is still the electric power steering. Although its "parking mode" ease the effort during parking, in regular mode it is thoroughly lifeless, giving the driver no ideas about the grip level on the front wheels. For this reason, Bravo cannot be a driver's car.

Performance range from poor (for the 1.4 16V) to good (for the 150hp 1.9 turbo diesel). Technically, I am most interested in the new 1.4 petrol turbo. On paper, it provides very good output (150 horsepower) and tractability (with 152 lbft of torque at just 2000 rpm, plus a momentary overboost to 170 lbft for overtaking). Its turbo lag is also negligible. However, on the road it does not feel as strong as Volkswagen's twin-charger 1.4, let alone the turbo diesels. Without the turbo diesels' tremendous bottom-end torque, it needs to work hard to deliver respectable performance. On the contrary, the 150hp 1.9 Multijet diesel is always a solid performer, although it is not as quiet at higher rev as PSA / Ford's 2.0HDi / 2.0TDCi. It is the pick of the range.

Overall speaking, Bravo is a fine package and deserve greater success than Stilo. However, in terms of dynamics and quality it is not up to the league of Golf, Focus and Astra. Well, you may also say the same to Grande Punto. So why is it selling so hot ? the key is low price. With low development and production costs very much in mind, Fiat Bravo is likely to be significantly cheaper than its European rivals. That should give it sufficient advantage to make a real presence in the market.