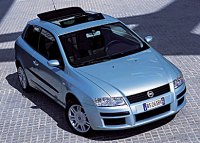 You know what Italian small cars are - look funny, feel unique, aging quickly and have a lot of flaws. You love them because you watch them instead of buy them. If you shop, you will look for a reliable Japanese car or a refined German hatch - most probably named after a ball-playing sport. This is why Fiat failed to grab sales in the practical-minded C segment. The outgoing Brava/o failed to do that excluding in the first year of launch - when it won the ridiculous title "European Car Of The Year 1996". Even Fiat itself admitted disappointment about its performance in the segment where Golf and Focus dominated (now enter 307 and Civic as well). So Fiat decided to dump the funny-unique philosophy and follows the Golf route of conservative-quality.

Like its predecessors, Stilo emphasis differentiation between 3-door and 5-door versions. The 3-door is an immediate darling to eyes, thanks to sporty profile and elegant taillights. The 5-door looks rather conservative but still prettier than Japanese alternatives. Mechanically speaking, the 5-door is the more practical one. Having a MPV profile, it is taller than the 3-door by a full 50mm, thus enabling higher sitting position yet preserve more headroom. In fact, it is even taller than Peugeot 307, the tallest car in class up to now. The 5-door also boost more luggage space because its rear overhang is 66mm longer.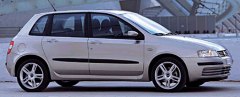 Both Stilo have a wheelbase of 2600mm, about class average now. But the 5-door is very roomy inside, approaching the level of Honda Civic 5-door and is certainly bigger than 307, Focus and Golf. The 5-door also has many MPV functions such as a lot of storage bins and cubbies, a front passenger seat that fold down to be a table to driver, and most important, the rear seat can slides forward and backward to optimize legroom or luggage room depends on needs. This is currently the most MPV-like family hatch. What about the 3-door ? it has enough room, but it mainly sells on look.
The plastic and assembly quality of interior is greatly improved, though not matching Volkswagen and Peugeot 307. But this is already very unusual for Fiat. On the other hand, equipment level exceeds Japanese level, thanks to the adoption of Alfa 147's "Connect" system which incorporates satellite navigation, phone, internet access, MP3 player and voice recognition control. It also offers cruise control, keyless entry and starting
and dual-zone automatic climate control, making it the S-class of family hatches. Value for money is high on Stilo.
The chassis is an innovation for mass production - spaceframe floorpan welded with steel monocoque upper body. It doesn't use full-spaceframe as if Multipla (Fiat's first spaceframe car) because monocoque body will be significantly cheaper to build in larger amount. On the other hand, spaceframe floorpan is highly flexible, allowing deviations in wheelbase, width and mechanical strength out of the same production tooling. While this might not benefit the Stilo duo which have identical wheelbase, the forthcoming Stilo MPV will enjoy longer wheelbase. Expect a 7-seat layout.
In the suspension department, like Punto, Fiat replaced traditional trailing arm rear suspensions with fashionable torsion-beam axle in order to reduce unsprung weight and increase suspension travel.
Under the bonnet is the familiar Super Fire engine family: 1.2-litre 80hp (from Punto, also mate with 6-speed manual), 1.6-litre 103hp (from Brava/o), 1.8-litre 133hp (from Barchetta and Brava/o) and the flagship Abarth 2.4-litre five-pot 170hp (from Lancia Kappa). To overcome Euro 3 emission test, they get drive-by-wire throttle. The 2.4 also gets variable-length intake manifolds to broaden torque delivery. Smaller engines will get Punto's CVT plus sequential mode transmission, the Abarth uses Alfa 147's Selespeed gearbox with paddle shifter.
Both 1.6 and 1.8 are just average in terms of performance and refinement. Even the Abarth 3-door with so much c.c. is no pocket rocket, blame to the kerb weight of 1265kg (1320kg for the 5-door) and somewhat the use of Selespeed gearbox instead of pure manual. However, the balance-shafted 5-cylinder engine is spirited to spin and wonderful to ears, while the Selespeed - with new improvement to shift quality - is smoother than Alfa 147. The extra 400c.c. over rival hot hatches means the Abarth Stilo feels torquey and mature.
Just don't call it hot hatch. Despite of the "Abarth" label, no Stilo is designed to take on Ford Focus. In fact, the suspension setting bias towards the soft side, softer than most European especially German hatches, and something approaching the softness of Japanese cars. This is a big contrast to Brava/o's harshness. The Stilo rides smoothly over surface irregularities, and it damps pretty well. It is just caught out by mid-corner bumps and large ruts and expansion joints. Turn into a corner, it rolls quite a lot initially and then settle. Push harder, it understeers gently and progressively. Back off mid-corner, it remains stable and does not oversteer. It possesses the qualities a matured and refined family car should have. However, that also means it is not a driver's car. Its chassis and suspensions lack the sharpness to inspire driving excitement. For example, it does not change direction as eager as Focus. It does not throttle-steer. Worst of all, the electric power steering is vague and feels artificial.
However, I think Fiat is right this time. The success of Golf and Corolla proves that few car buyers care about first-rate handling. The Stilo rates high in every aspect other than handling. It feels substantial. It feels matured, It feels more expensive than the Fiat logo suggest. In other words, it can earn Fiat more profits than the cheap Punto, Palio and Panda.
The best Stilo is 3-door Abarth and 5-door 1.9JTD. Fiat's common-rail turbo diesel is torquey and quite refined, suiting the character of the car. The 3-door Abarth is also attractive, combining stylish look, characterful engine, a refined packaging and sophisticated equipment means Volkswagen Golf V5 might have to cut price for competition.