Daihatsu K-car platform

Debut: see below
Maker: Daihatsu
Predecessor: see below
Mira (Cuore)

Debut: 2007
Predecessor: Mira (2002)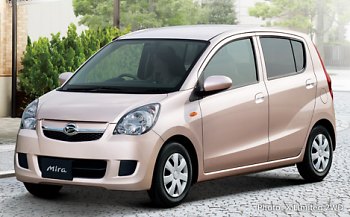 Mira is also known as Cuore in overseas market. It used to be the core member of Daihatsu's K-cars lineup, but in recent years its leading position has been taken over by Move.

Mira is a highly practical city car. Like its siblings, it rides on the company's latest K-car platform with an unusually long, 2490 mm wheelbase. As you can see from the pictures, its wheels are pushed to the extremes, so close that it leaves nearly no space for the bumpers ! Needless to say, its overall length and width are strictly governed by K-car regulations, which means 3400mm and 1480mm respectively. At 1530mm tall, it provides plenty of headroom for passengers yet can slip into the double-decker parking facilities in Japanese cities.

The interior is surprisingly spacious for a car so compact. Thanks to the long wheelbase, its cabin length is a remarkable 2050 mm. The high roof enables the seats to be mounted higher than normal cars, improving visibility as well as legroom. Rear passengers sit even higher than the front's, so they won't find the ambience confined. Besides, a nearly flat rear floor frees up passenger foot room. Overall, the Mira is truly accommodative for four adults, something the similarly-sized European hatchbacks cannot achieve.

What it doesn't do as well as European cars is the presentation. The dashboard has little style to speak about. The blocky center console looks as if an aftermarket add-on. While the high-mounted gear level is convenient, it blocks the air-conditioning control next to it. Finally, the materials leave something to be desired, as shiny hard plastics are still default.

Nevertheless, when it comes to interior flexibility, the Mira is hard to fault. Basically, everything you can find in other versatile city cars is available here: the front passenger seat folds to place long cargo, the rear seats slide, split and fold to alter luggage space. By reclining all seat backs, a double bed is formed. Besides, there are countless of storage cubbies, pockets, cup holders and coat hooks throughout the cabin. Car-sleepers will be comfortable with Mira.


The mechanical side is quite straightforward. Basically, all Daihatsu K-cars share the same engine codenamed KF-VE. It is a 660cc 3-cylinder engine with DOHC 12 valves and dual-variable valve timing. In naturally aspirated form it produces a remarkable 58 horsepower, although this takes some 7200 rpm to realize. Despite of the lack of torque, it is a willing small engine. Turbocharged version produces only 6 more horsepower, as limited by K-car regulations, but it offers way more mid-range torque to relieve your frustration in overtaking. The overseas Cuore does not employ the 660cc class engine, of course. Instead, it is powered by a 1.0-liter version of the DVVT three-pot good for 68 hp and 69 lb-ft. It is actually better mannered and more cost effective than the smaller turbocharged engine. The Cuore also differs from the domestic version in gearbox – the former employs a 4-speed automatic while the latter uses a CVT. However, both offer a 5-speed manual as elementary choice.

All Daihatsu's K-cars share the same platform with MacPherson struts and torsion-beam suspensions. 4-wheel drive is optional in Japan. The compact size means it is an easy drive in urban area, but it is definitely not designed to shine on back roads or highway. Standard safety features include ABS, electronic brake force distribution and twin air bags.

The Mira is a spacious, versatile, easy-going and affordable small car. It deserves consideration from every K-car buyers. However, while it does everything well, it fails to distinguish itself from other K-cars, no matter in styling or interior. As young people dominates the customer portfolio of K-car market, Mira is difficult to match the youthful-minded Move or Suzuki Wagon R in domestic sales chart.


The above report was last updated on 25 Jan 2010. All Rights Reserved.
Move
Debut: 2006
Predecessor: Move (2002)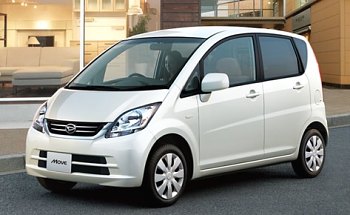 In 2009, Daihatsu sold some 182,000 units of Move in Japan, trailing only Suzuki Wagon R (202,000 units) in the domestic Kei car sales chart. It is once again the best selling model of Daihatsu.

Move is mechanically identical to Mira as well as other Daihatsu K-cars. A 2490mm wheelbase chassis is driven through the front wheels (4WD is optional) by either a continuously variable transmission, 5-speed manual or 4-speed automatic transmission. The 658cc three-cylinder DVVT engine produces 58hp or, in turbocharged form, 64hp. Suspension is provided by struts up front and torsion-beam at the rear. If you have read my report on Mira, you won't be unfamiliar with these specifications.

What makes it more successful than others is the packaging. Compare with Mira, its roof is set 100mm higher, and its hip point (seating level) is set higher as well. This improves its interior space further, liberating more head and leg room. The cabin length is stretched further to 2110mm, up 60mm from Mira, and the maximum interior height is a remarkable 1310mm. Few K-cars can match its spaciousness. On the downside, its excessive height prevents it from using double-story car parks.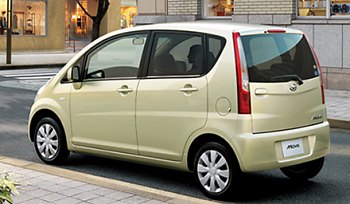 Apart from space, the cabin of Move is also more attractive to eyes than that of Mira. A curvy dashboard runs smoothly from one door to another door. Its two-tone color scheme and centrally mounted instruments look more fashionable, stylish enough to compensate for the low rent plastics. The seats are plusher and more comfortable, too. As in Mira, the seating arrangement is highly flexible. The front passenger seats can fold to hold long luggages. The rear seat can split, recline, fold or slide for a range of 255mm. It may also form a bed together with the front seats. Thanks to the upright tail, it carries more luggages than Mira. Moreover, the large tailgate is side-hinged, so it is easier for ladies to access.

The Move drives somewhat like a minivan due to its tallest. As you sit high, you have a great view on the road and, unfortunately, greater sense of its body roll. Thanks to its small turning circle, it is easy to drive and to park in congested urban area. Out on motorway, the small engine is a little breathless due to its extra weight and aerodynamic drag. This is also why its sales is bounded in Japan.


The above report was last updated on 25 Jan 2010. All Rights Reserved.
Esse
Debut: 2006
Predecessor: no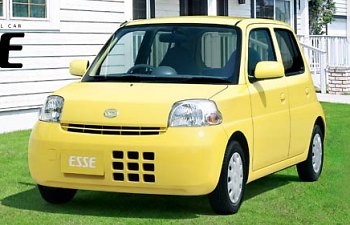 Esse is the oldest and cheapest one in Daihatsu's K-car lineup. It rides on the last generation, 2390mm-wheelbase platform and is powered by only the naturally aspirated 660cc three-cylinder DVVT engine. CVT is not available to it yet, so you must choose between 5-speed manual and, as most buyers do, 4-speed automatic gearbox. The bodyshell is also the smallest among its siblings - although overall length and width are stretched to the legally allowed maximum, it is neither as tall nor as boxy as others.

Every Daihatsu K-car has its own target audience. The Esse is designed for young single women. That's why it has a funky and retro look, which is probably inspired by the old Renault 5. Its interior is also designed to please ladies, which is evident in its simplicity - see that centrally-mounted single-gauge instrument - and female color scheme, i.e. cream white dashboard / door panels and body-color surrounds. The interior design is more tasteful than most other Daihatsu small cars. On the negative side, its cabin is not that spacious, and the seating / luggage arrangement has little flexibility to speak about. The tailgate is small and the load sill is high, so it is not supposed to carry large luggages. This is the elementary model in Daihatsu's K-car range.


The above report was last updated on 25 Jan 2010. All Rights Reserved.
Cocoa
Debut: 2009
Predecessor: Mira Gino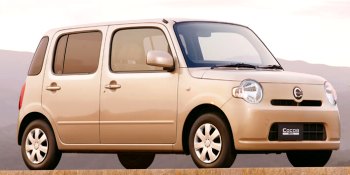 Cocoa succeeds Mira Gino as the niche model of Daihatsu's K-car family. It's nice to see the Japanese company finally abandoned the copycat of British Mini and comes up with its original design. Like Esse, Cocoa is a retro-looking small car targeting at female drivers. However, it is more upmarket, more spacious and even more stylish. The attention to details and surface treatment are more elegant than Esse as well as other Daihatsu K-cars. Circular headlights and round windows appeals to women, as are the piano-white dashboard, circular air vents and plush fabric on seats and door grab handles. Its design philosophy is very much like Suzuki Lapin, another lovely K-car.

Packaging aside, the rest of the car has nothing special. Its mechanicals are the same as other Daihatsu K-cars. A 58hp naturally aspirated 660cc motor provides limited punch to the 4-speed automatic gearbox. However, as the car weighs only 780 kg, it fulfills the expectation for a tiny city car, especially to female drivers.


The above report was last updated on 25 Jan 2010. All Rights Reserved.
Conte
Debut: 2008
Predecessor: no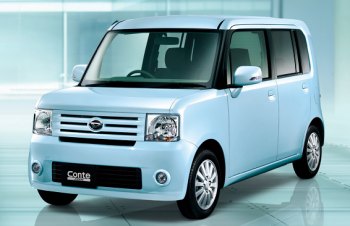 Conte is a derivative of Move. Its bold, rectangular design is a response to Toyota bB and Nissan Cube, though in a much smaller package and lower price point. It seems to be more substantial than Move, thus could be more appealing to male drivers.

Inside, the Conte is not as attractive as Move. Its dashboard design is bland. Its column shifter makes it look like a commercial minivan. Thick electric power seats are welcomed features, but they eat into rear passenger knee room. Speaking of room, the boxy car seems maximized for interior space, but in fact it is no where as spacious as Move. Cabin length is reduced from 2110 to 2000mm because its rear seats cannot slide back and forth. Rear legroom suffers the most as a result. Elbow room is also less generous, as it lacks the concave door panels of Move. The only advantage is cabin height, helped by the car's exaggerate profile. However, I don't think this height is really useful, at least in the absence of extra legroom.

The underpinning is again that 2490mm-wheelbase chassis driven by the little three-pot engine. Both naturally-aspirated and turbocharged version are available. Performance is even weaker than Move owing to its 30kg extra weight and larger frontal area. Style aside, Conte has no reasons to exist.


The above report was last updated on 25 Jan 2010. All Rights Reserved.
Tanto
Debut: 2008
Predecessor: Tanto (2004)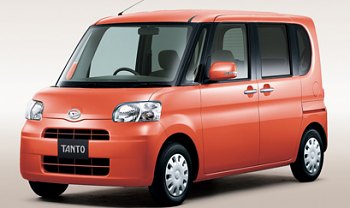 A-segment minivans are unique to Japan. No where else is able to create minivans so small yet so accommodative, so versatile and so decent to look and to own. Among these cars, Daihatsu Tanto is clearly the current leader. In 2009, it sold 145,000 units in Japan, easily surged to the 3rd position of domestic K-car sales chart, trailing only Move in Daihatsu's lineup.

Suzuki Palette might be the trend setter of K-car minivans, but Daihatsu Tanto takes it to another level with its cult design and higher quality packaging. However, the most special feature is the sliding rear door on its left side (conventionally hinged door is used at the other side). What is so special ? unlike others, it does not have B-pillar at that side. Once you open the front door and slide back the rear door, you get a very large opening to access to the rear seats. Moreover, the front passenger seat can slide forward by 280 mm to ease rear passenger access. As a result, Tanto is especially convenient and safe to carry children. To make the B-pillarless structure possible, Daihatsu strengthened the front and rear doors, so its protection against side impact is not deteriorated.

Apart from ease of access, Tanto also offers the most spacious cabin among Daihatsu's K-cars. Its interior length (2160mm) and height (1355mm) are unmatchable, while its width (1350mm) equals to that of Move, thanks to concave door panels. Seating arrangement is also the most versatile. The rear seats not only split, recline and slide back and forth, but also drop onto the floor and fold completely flat to form a large loading area. The front passenger seat folds and becomes a table, great for placing food and drink. Storage space is aplenty, including a box mounted on the rear roof. Because of these utilities, its buyers are willing to accept its extra weight (900kg for 58hp engine or 960kg for the top turbo engine) and very limited performance.


The above report was last updated on 25 Jan 2010. All Rights Reserved.
Exe

Debut: 2009
Predecessor: no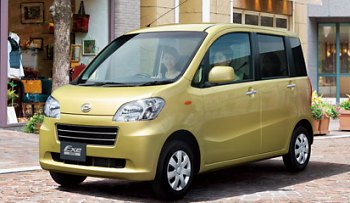 You may question the need of creating Exe, which is acutally a repackaged Tanto. The emphasis here is not space or flexibility, but a more upmarket 2-tone interior. The upper half of the dashboard is made of higher quality textured plastic. Blue glow ambient lighting is available at various places. Besides, 4 comfortable, well-bolstered chairs replace the flat ones in Tanto. Predictably, the thicker rear seats cannot fold flat onto the floor - their cushions remain in place, only the seat backs fold down - therefore cargo volume is smaller than Tanto. The sliding left rear door is also reverted to hinged door.

Mechanical-wise, there is little to separate the two. Needless to say, power comes from that 660cc three-cylinder engine again, with 58hp or 64hp depending on turbocharged or not. CVT is standard, while 4WD is optional. I wonder how many people will choose Exe over the cheaper Tanto, and whether the additional sales could justify the additional development and tooling costs. Time will tell.


The above report was last updated on 25 Jan 2010. All Rights Reserved.
Specifications
General remarks
Layout
Chassis
Body
Length / width / height
Wheelbase
Engine
Capacity
Valve gears
Induction
Other engine features
Max power
Max torque
Transmission
Suspension layout


Suspension features
Tires
Kerb weight
Top speed
0-60 mph (sec)
0-100 mph (sec)

Mira

Front-engined, FWD

Steel monocoque
Mainly steel
3395 / 1475 / 1530 mm
2490 mm
Inline-3
658 cc
DOHC 12 valves, DVVT

-
-
58 hp

48 lbft
5-speed manual (CVT)

F: strut
R: torsion-beam

-
145/80SR13
750 kg (780 kg)

-
-
-

Mira Custom RS

Front-engined, FWD

Steel monocoque
Mainly steel
3395 / 1475 / 1540 mm
2490 mm
Inline-3
658 cc
DOHC 12 valves

Turbo
-
64 hp

76 lbft
CVT

F: strut
R: torsion-beam

-
165/55VR15
840 kg

-
-
-

Esse



Front-engined, FWD

Steel monocoque
Mainly steel
3395 / 1475 / 1470 mm
2390 mm
Inline-3
658 cc
DOHC 12 valves, DVVT

-
-
58 hp

48 lbft
5-speed manual

F: strut
R: torsion-beam

-
155/65SR14
720 kg

-
-
-

General remarks
Layout
Chassis
Body
Length / width / height
Wheelbase
Engine
Capacity
Valve gears
Induction
Other engine features
Max power
Max torque
Transmission
Suspension layout


Suspension features
Tires
Kerb weight
Top speed
0-60 mph (sec)
0-100 mph (sec)

Move

Front-engined, FWD

Steel monocoque
Mainly steel
3395 / 1475 / 1630 mm
2490 mm
Inline-3
658 cc
DOHC 12 valves, DVVT

-
-
58 hp

48 lbft
5-speed manual (CVT)

F: strut
R: torsion-beam

-
155/65SR14
820 kg (840 kg)

-
-
-

Move Custom RS

Front-engined, FWD

Steel monocoque
Mainly steel
3395 / 1475 / 1615 mm
2490 mm
Inline-3
658 cc
DOHC 12 valves

Turbo
-
64 hp

76 lbft
CVT

F: strut
R: torsion-beam

-
165/50VR16
880 kg

-
-
-

Cocoa



Front-engined, FWD

Steel monocoque
Mainly steel
3395 / 1475 / 1530 mm
2490 mm
Inline-3
658 cc
DOHC 12 valves, DVVT

-
-
58 hp

48 lbft
4-speed automatic

F: strut
R: torsion-beam

-
145/80SR13
780 kg

-
-
-

General remarks
Layout
Chassis
Body
Length / width / height
Wheelbase
Engine
Capacity
Valve gears
Induction
Other engine features
Max power
Max torque
Transmission
Suspension layout


Suspension features
Tires
Kerb weight
Top speed
0-60 mph (sec)
0-100 mph (sec)

Conte

Front-engined, FWD

Steel monocoque
Mainly steel
3395 / 1475 / 1645 mm
2490 mm
Inline-3
658 cc
DOHC 12 valves, DVVT

-
-
58 hp

48 lbft
CVT

F: strut
R: torsion-beam

-
155/65SR14
850 kg

-
-
-

Tanto

Front-engined, FWD

Steel monocoque
Mainly steel
3395 / 1475 / 1750 mm
2490 mm
Inline-3
658 cc
DOHC 12 valves, DVVT

-
-
58 hp

48 lbft
4-speed automatic

F: strut
R: torsion-beam

-
145/80SR13
900 kg

-
-
-

Exe Custom RS

Front-engined, FWD

Steel monocoque
Mainly steel
3395 / 1475 / 1730 mm
2490 mm
Inline-3
658 cc
DOHC 12 valves

Turbo
-
64 hp

76 lbft
CVT

F: strut
R: torsion-beam

-
165/55VR15
920 kg

-
-
-
Performance tested by: -
Copyright© 1997-2010 by Mark Wan @
AutoZine