Daihatsu Mira / Charade

Debut: 2002
Maker: Daihatsu
Predecessor: Cuore / Move (1998)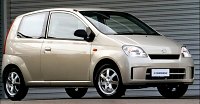 This generation Mira was born in late 2002 in Japan. As before, it falls within the scope of K-cars thus it is primarily designed for the Japanese market. However, it is also sold in European and Australian market as Charade, taking advantage of the more recognizable name to overseas buyers. There is no big difference between the Japanese and overseas version except that the latter has a 1.0-litre engine while the former is limited to 0.66-litre due to the K-car regulation.

We used to have little knowledge about K-cars because of language barrier. Thanks to the availability in European market, we can understand how Mira / Charade compare with other cars in the world. If Mira / Charade wants to be respected, if Daihatsu really worth the reputation of "Small Car Expert", then the car must beat its competitors in the price range, namely, Hyundai Getz, Daewoo Matiz, Fiat Seicento and Seat Arosa. What about Ford Ka, VW Lupo, Skoda Fabia and Daewoo Kalos etc.? they are considerably more expensive than the little Daihatsu thus are out of the scope.

In terms of packaging efficiency, no one can match the Japanese. 2 decades of K-cars experience teach them how to squeeze maximum passenger room out of limited exterior size. However, even compare with other K-cars, the Mira / Charade (and its sister car Move) is still the King of space efficiency. All K-cars are no more than 1475mm wide, but the little Daihatsu manages to make the doors so thin (and still complies with safety reg) that the cabin width measures 1300mm. All K-cars are no longer than 3400mm, but again the Mira has the longest wheelbase at 2390mm. That's longer than many cars a class above, including Toyota Yaris and Daihatsu's own Sirion. This makes Arosa's 2320mm shame and Seicento's 2200mm laughable. Only Hyundai Getz - which actually belongs to a larger class but equipped with a cheap and underpowered 1.1 engine - offers more cabin space.

In real world, such dimensions translate to a cabin that sits 4 people in comfort, with vast of legroom and shoulder room front and rear. On the other hand, the tall roof enables abundance of headroom for even the tallest people. Seating position is as high as any modern city cars. The dashboard is simple and easy to use. You will neither describe it as stylish nor elegant, but build quality is surprisingly high for this price - the dashboard is made of decent plastic and is well screwed together. Fabric and trimming are also very good for the class.

Predictably, the Mira chassis is not designed for keen drivers - it rolls heavily if rush into corners because it is not equipped with anti-roll bars. It runs into understeer early. Its speed-sensitive electric power steering provides artificial feel. However, the car is easy to drive at speed most people concern. Furthermore, the ride is supple for a car so small, thanks to soft suspension setup and long travel, also fine choice of damping. It copes easily with bumpy roads. To mini car buyers, comfortable ride is certainly more important than cornering ability.

It also does very well in motorway cruising, thanks to the use of tall gearing and an engine that is surprisingly refined and quiet at high rev. The engine on offer in Europe is a 1.0-litre 3-cylinder engine similar to Sirion's. With twin-cam 12 valves and variable valve timing, it delivers useful torque across the rev, although maximum power of 58hp is unremarkable. Because the car weighs just 720kg, it accelerates to 60mph in just 12 seconds, easily leading the class. The Japanese Mira uses a similar 659cc triple, also with VVT, so we can expect similar refinement, if not similar performance. Anyway, for those who need more power, Daihatsu also offers a turbocharged version.

The biggest weapon is still price. A fully-equipped Charade is sold at the same price as the cheapest Seat Arosa. This could be another Bargain of the Century. For a car so pretty, so well-built, so roomy and so comfortable, it could ask for much more. Now Daihatsu has a winning car.
The above report was last updated on 14 Jun 2003. All Rights Reserved.
Move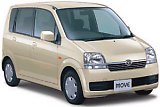 How to describe Move? basically, it is a roomier and more versatile version of the Mira. Both cars share the same floorpan and even up to all essential dimensions excluding height, which the Move is 130mm taller than Mira. To most people, the extra headroom is meaningless because Mira is already a very tall car. However, the even higher roof does enhance the feel of roominess even though it is rarely put in use.

Like a mini-MPV, the Move offers quite a lot of versatility: the rear seat can slide back and forth by 250mm to alter the distribution of passenger room and luggage room - just like Toyota Yaris; the front and rear seat can be converted into a pair of bed; there are also much more storage space, cup holders and coat hooks throughout the cabin. Moreover, the steering-mounted gear lever enables front seat lateral walk-through. Like the Move, the rear seat is 50-50 split and can fold down to become cargo loading area.

As it has higher center of gravity and carries around 100kg more weight than the equivalent Mira, Move copes with corners even worse and goes slower in straight line. Therefore, unless you need those extra versatility, Mira is definitely a better bet. It is cheaper to buy and more economical to run too.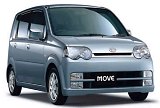 The top Move RS (see picture at the left) is powered by a 4-cylinder turbocharged and intercooled engine instead of the Mira's 3-cylinder. Despite of an extra cylinder, it delivers the same 64 horsepower and even slightly less torque. Power band is narrow thus unsuitable to the compulsory 4-speed automatic transmission. It has a sporty exterior design including big air dam and a pair of stylish headlights. Sporty suspensions tuning - with the ride height lowered by 20mm - limit body roll pretty effectively. However, it is still a disappointing car - slow, uninvolving, understeer a lot when the turbo is ON, harsh ride, a lot of suspension noise and engine noise.
The above report was last updated on 15 Jun 2003. All Rights Reserved.
Max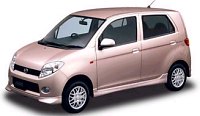 Space is always the first priority for developing K-cars. Daihatsu Move has vast of space, but it is considered too tall for the arising popular tower parking in Japan's cities. This is the primary reason of developing the Max. At 1550mm, Max is the tallest allowed by tower parking. That make it between Move and Cuore. However, to maximize space (the name Max means exactly this), Max has stretched wheelbase slightly and gets 35mm more interior length than the previous generation Move on which it is based. By thinning the doors, it gets another 55mm interior width to free shoulder room. The otherwise mechanicals are the same as Move, including suspensions, engines and transmission, so we are not going to discuss here.
The above report was last updated on 25 Nov 2001. All Rights Reserved.
Kei-car
In Japan, a category calls K-Car was established since the mid-80s. Cars with dimensions fall within 3300mm of length and 1395mm of width, with engine capacity not exceeding 660c.c. (original regulation was 550c.c.) and max. output not exceeding 64 hp will be benefited by lower tax. Nearly all car makers build such cars because they suit big city like Toyko very well - easy parking, need not to be fast because of traffic jam.

Based on this dimension, most K-cars use space efficiently by locating the wheels right at the corners, then extend the height which is not restricted by the regulation. Power all come from 4-valves engine, some even with turbocharger and intercooler to compensate the lack of capacity. The main selling point is price and running cost, but fun factor is also important. Recent K-Cars usually offer Recreation Vechicle-like cabin layout flexiblility plus a lot of storage space and funny styling. Most customers are young people.

In recent years, K-Car sales boomed because of economic depression. Suzuki Wagon R and Daihatsu Move both ever topped the domestic sales chart, beating the mighty Toyota Corolla. Since 1999, the regulation was loosen further to 3400mm length and 1475mm width, hopefully K-Car will be more popular.
The above report was last updated on 17 Feb 99. All Rights Reserved.