BMW 1-Series (E81/87)

Debut: 2004
Maker: BMW
Predecessor: 3-Series Compact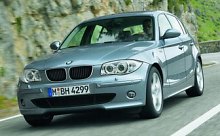 Since the mid-90s, BMW realized it needs to expand its model line-up to lower segment than the 3-series in order to steal sales from the likes of Volkswagen Golf. It therefore developed the Compact version of the 3-series. The 3-series Compact was the only rear-drive family hatch in the world but it was too close to the 3-series (including price) such that there were not many reasons to buy it. After 2 generations of attempt, BMW is finally giving up.

Former chairman Dr. Joachim Milberg understood that to broaden the range of BMW, a 1-series must be added. It will also reduce the risk of over-reliance on the 3-series, which accounted for more than two-third of the company's sales before the launch of Mini. 3 years ago, before his retirement, Dr. Milberg greenlighted the 1-series project.

The 1-series substitutes the 3-series Compact as the world's only rear-drive family hatch. Rear-wheel drive has its advantages and disadvantages. On the plus side, it handles better than front-wheel-drive cars, because the front wheels are responsible for steering only. This improves steering feel, reduce understeer and eliminate torque steer. Moreover, with the differential and drive shafts relocated to the rear, it is easier to achieve better chassis balance. In the 1-series, BMW also shifts the battery to the rear, under the boot floor. Furthermore, it mounts the longitudinal engine far back in the long engine compartment. As a result, the 1-series really achieves 50:50 balance (at least for 4-cylinder petrol engine versions), while most other family hatches have 2/3 of their masses over the front wheels.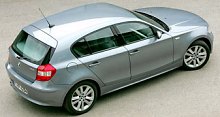 On the road, the 1-series really handles fantastically. Its balance and body control is even better than the widely acclaimed Ford Focus, while steering is feelsome, precise, linear and well-weighted. We are glad that for the driver's sake BMW did not switch to electrical (like Volkswagen) or electro-hydraulic steering (like Ford), because they never match the steering feel of a pure hydraulic system like the BMW's. The good impression does not stop there. All controls on the baby BMW are superbly refined - the gearchange is slick, the brake pedal is linear and well weighted.... they deliver a quality feel not found in this segment, Volkswagen Golf and Audi A3 included. In short, the 1-series replaces Ford Focus as the best handling, the most fun to drive family hatch in the world. The only area it does not match Focus is the ability to throttle steer, because its chassis was designed to handle more power than the current 4-cylinder engines can offer.

Strictly speaking, 1-series has its own platform, but as much as 40% components are shared with the next generation 3-series. This include the front MacPherson strut and rear 5-link suspensions. To reduce the weight at nose, the front suspensions employ aluminum links and aluminum sub-frame on which they are mounted. The rears are made in steel - in contrast to aluminum of 3-series - to reduce cost. On the road, it rides with big car feel - smooth, quiet and refined. No surprise, because its suspensions are easily the most sophisticated (and expensive) in this segment.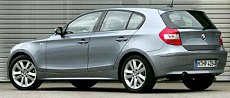 The 1-series is powered by some very good engines. At launch, only 4-cylinder engines are available, but its long engine compartment was designed to take on 6-cylinder engines also, no wonder a 180hp 2.2 inline-6 has been rumored. There are 2 petrol and 2 diesel engines. The cheaper petrol engine is a 1.6-litre 16V with 115hp and 111lbft. Another is a 2.0-litre Valvetronic 16V with 150hp. Amazingly, this larger engine actually drinks less fuel than the 1.6, thanks to the Valvetronic throttleless control. Moreover, it runs smoothly and sweetly at all rev, thanks to twin-balance shaft. The 2-litre engine work in companion with a slick-changing 6-speed manual transmission. It has tall gearing to enable relaxed cruising rather than outright acceleration, so the powertrain does not feel as sporty as, say, Alfa Romeo's 2.0 JTS engine. However, as 120i weighs just 1260kg, it can still accelerate from rest to 60mph in 8.2 seconds and reach a terminal velocity of 135mph.

In the diesel side, the 1-series offers a couple of 2.0-litre common-rail turbo engines. The so-called 116d employs an ordinary turbocharger and produces 122hp and 206lbft. 120d uses variable-geometry turbocharger to produce 163hp and 251lbft. This make it even faster than the petrol 120i, capable of topping 137mph and reaching 60mph in 7.5 seconds. The tall gearing of 6-speed gearbox suits this torquey diesel very much. Using second-generation common-rail injection means the BMW diesels are quieter and more refined than Volkswagen group's pump-injection diesel which you can find under the bonnet of Golf and Audi A3.
So, is it a winner?

Not exactly. For the best handling, 1-series pays the price in its cabin space. Rear-wheel-drive not only introduces a thick transmission tunnel to the rear passenger compartment, limiting the car to 4-seater, but it also requires longitudinal engines, which occupy a lot more space than transverse engines that its FWD rivals employ. To achieve 50:50 balance, BMW pushes the engine even far back, reducing the cabin length further. As a result, 1-series has to sacrifice rear passenger space to please the driver. Rear legroom is by far the tightest in the C-segment. Shame that BMW's press release claimed it "offers ample shoulder and legroom for rear passengers". In fact, it is suitable to children or short adults only. The boot is also the smallest in its class.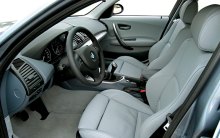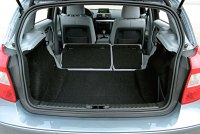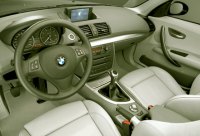 Perhaps this explain why since Alfasud and Golf brought FWD to the family hatch segment in the 70s all other players in the field followed suit immediately. Cars this small cannot afford the penalty brought by RWD, unless they have a strong favour in driver appeal like the BMW. Admittedly, RWD is the only layout the 1-series can afford. As Dr. Milberg said, without sharing extensive components with 3-series it would be impossible to make money from the 1-series.
The interior of 3-series gives us a mixed impression. While the materials and build quality is fine, the dashboard and console looks too simple, Z4-like, without the attractiveness of Alfa Romeo 147 or the attention to details of Audi A3.

However, the most disappointing is the odd-ball styling, again by Chris Bangle's team. The basic profile is actually conventional - not unlike Alfa Romeo 147, but Chris Bangle ruined it with odd-ball headlamps and complex curvature called "flame surfaces". The result is the ugliest BMW beside X3. The only success is to achieve a low drag coefficient of 0.29.

This question again: is it a class winner?

No. To a family hatch, I guess a decent cabin space for 4 adults is a must, no matter how good it drives. Maybe it will make more sense in coupe form (rumours to be called 2-series), but then again it will need a prettier styling to attract the niches.
The above report was last updated on 16 Jul 2004. All Rights Reserved.
130i

The previous generation 325ti Compact had a 192 hp 2.5-litre straight-6. That was already a fast and fun small car. Now put a 265 hp 3.0-litre straight-6 into the smaller 1-Series body, what will it be? A flagship 1-Series? A mini rocket? An Alfa 147GTA and Golf R32-beater? Or simply a thinly disguised M-car?

To call it the M-version of 1-Series is probably too exaggerate – though some magazines prefer exaggerate headlines. The 130i has a mass production engine like all mainstream BMWs, so it won't be qualified as an M-car. Moreover, it lapped Nurburgring in 8 min 35 sec, some 21 seconds trailing the E46 M3, which sounds not very Motorsport indeed.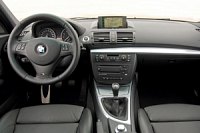 However, by hot hatch standard it can easily shine. The 130i is powered by the company's masterpiece – the lightweight magnesium block 3-litre inline-6 with Bi-Vanos, 3-stage variable intake and Valvetronic to achieve class-leading power and low fuel consumption simultaneously. Unusually to BMW, this engine gets additional tweaks such as enhance breathing and cooling to raise its power (265 hp) and torque (232 lbft) above the standard engine (258 hp and 221 lbft). That is the most powerful 3-litre engine since the original 270 hp Honda NSX. Even compare with 147GTA and Golf R32's larger 3.2-litre V6, the BMW engine delivers 15 more horsepower. No wonder it claims 0-60 mph taking only 5.8 seconds, beating its rivals by 0.1-0.2 seconds, and then reaching a true regulated top speed of 155 mph. Officially, the 130i carries 75 less kilograms than its big brother 330i, which recorded 0-60 mph in sub-6 seconds by some magazines, so the aforementioned performance is every bit believable.

On the road, the 130i's power delivery is smooth and linear. Working with the sweet 6-speed gearbox, you can easily squeeze 7,000 creamy rpm from the engine. Perhaps too smooth, you are confused whether it is a flagship premium car or a super hot hatch. A little bit temper, a little more sudden power boost could be more interesting.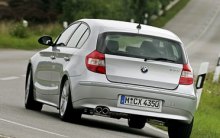 The same goes for handling and ride. The standard 130i receives no suspension upgrade, riding on the same ride height and 205/50 R17 tires as lesser models. Apart from the increased performance, it feels little difference from 120i. Admittedly, we said the 120i chassis could handle more power, so here is what we asked for. 130i benefited from the inherent advantage of the rear-wheel-drive, 50:50 balance and low polar moment of inertia, therefore it handles agilely and accurately without resorting to stiff suspensions. The result is much better ride comfort than 147GTA and Golf R32.

Of course, you can pay extra money to get harder suspensions, bigger 18-inch wheels, sports seats and extra body kits in the "M Sport" package. But it has serious trade-off in ride quality, thus it is better to save the extra money and choose the standard 130i.

Money is working against the 130i. In Europe, Alfa 147GTA and VW Golf R32 are sold at E32,000, while 130i asks for E38,000, and that does not include sport seats. In fact, for the same money you can buy a Mitsubishi Lancer Evo IX or a Subaru Impreza STi, both capable to do 0-60 mph in 4.6 seconds. In terms of speed, they are simply in another class. In terms of driving fun, the BMW hot hatch cannot match them either because it is too civilized, lack of 4-wheel traction and limited slip differential. This means it can never catch the Japanese rally cars in the twisties.

And don't forget it is very ugly. This is absolutely a factor everybody should consider.
The above report was last updated on 10 Sep 2005. All Rights Reserved.
Facelift 2007 and 3-door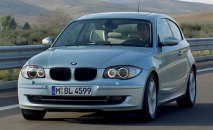 The 1-Series has received a facelift and an additional 3-door version recently. For the facelift, you will be difficult to spot the differences. The answer is a slightly larger double-kidney grille and larger air intake at the front bumper. As a tradition of BMW, they prefer mild styling changes.

Regarding the 3-door version, naturally, it looks cleaner and lighter than the 5-door, but it is by no means as different as, say, from Opel Astra 5-door to Astra GTC. It does not possess the beauty to justify the scarification in accessibility to the already cramped rear cabin. So who will want this car ? the answer is: if you don't like to take your mother-in-law to picnic in weekends, you might just want this car.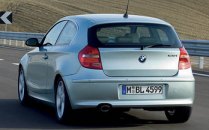 Obviously, the main purpose of this facelift is neither the facelift itself nor the addition of 3-door, but to make the 1-Series greener. Like all major European car makers, BMW promised EU legislators to meet the average car CO2 emission target at 140g /km by 2008. To achieve this, the 1-Series will be very important. BMW introduces various fuel-saving technology to the facelifted 1-Series: 1) all petrol engines bar 130i now employs direct injection, making the less efficient Valvetronic no longer neccessary; 2) all diesel engines now employs higher pressure second or third-generation common-rail injection; 3) all manual cars bar 130i gets automatic start-stop system to save fuel in urban driving; 4) Brake Energy Regeneration* system uses the braking energy to charge up battery for electrical systems to use; 5) Air-conditioning is now electric-powered, thus no longer consumes engine power all the time. 6) Fuel-saving electric power steering replaces the outgoing hydraulic-assisted rack.

Summing all up, the new 1-Series has its fuel consumption improved significantly. For example, the 120i returns 44.1 mpg instead of the previous 37.7 mpg. Carbon dioxide emission is reduced from 181g/km to 152g/km. At the same time, direct injection added 20 horsepower to the engine (now 170hp) thus performance is improved too. Diesel engines have similar improvement. For example, 120d now produces 177hp (from 163hp), returns 57.6mpg (from 49.5mpg) and emits 129g/km (from 152g/km).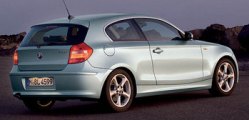 Unfortunately, the superb dynamics of the 1-Series is compromised by the new steering. Electrical assistance robs it of feel. Given the experience of Z4, BMW should have predicted this long ago. Disappointingly, this time it puts emission & fuel consumption on higher priority than driving pleasure. What message does Munich want to send ? I am a little confused…



*

Brake Energy Regeneration

: its concept is not unlike hybrid cars - instead of losing energy in engine braking, the system uses the alternator to convert the kinetic energy from the drivetrain into electricity, charing up an "Absorbent Glass Mat battery". But unlike hybrid cars, the resultant electricity will not be used to pull the car, but to supply the electrical systems and air conditioning. Besides, the intelligent alternator is normally disconnected from the drivetrain and only engage under braking, so it won't consume horsepower like conventional alternator. BMW claims the brake energy regeneration system contributes to a fuel saving of 3 percent.
The above report was last updated on 6 Mar 2007. All Rights Reserved.
1-Series Coupe

| | |
| --- | --- |
| | 1-Series Coupe has a long bonnet and short trunk, a proportion so wrong... |

The relationship between 1-Series and 3-Series is always questionable. They are too close in size, price and even performance because they share basically the same mechanicals. As a result, most customers still prefer the larger car. Last year, BMW sold some 500,000 units of 3-Series, versus 150,000 units of the 1-Series. That is not to say the baby BMW were a failure. It just hasn't realized its potential. To broaden its appeal, since earlier this year BMW is introducing more derivatives of the car – the first was a 3-door hatchback, the second is a 2-door coupe, and then there will be a 2-door convertible. The latter two are especially important, as they will bring the 1-Series to the United States market for the first time, even though 3 and a half years have already passed since the birth of the 1-Series !

How to market the 1-Series Coupe is a headache. Considering the car costs just 5,000 Euro less than the equivalent 3-Series Coupe – for example, 135i Coupe costs 44,000 Euro while 335i Coupe costs 49,000 Euro – the baby Coupe doesn't have much marketing advantage. BMW America calls it a "modern-day 2002", because the compact performance car image of the 2002 is still strong in the mind of American buyers. European magazines prefer to call the 135i as "junior M3", as they miss the smaller and more agile 6-clinder M3s. Some may also link it with the original E21 3-Series, as both are 2-doors and similarly sized. In theory, the 1-Series Coupe should fill the vacancy left by the larger and larger 3-Series Coupe.


| | |
| --- | --- |
| | The famous, or notorious, flame-surface design is carried over to the Coupe. |

A glance at the specifications will find the baby coupe some 22 cm shorter than the 3-Series Coupe, 3 cm narrower and 10 cm shorter at wheelbase. The shorter trunk reduces luggage space from 430 to 370 liters. Drop in the rear seats and you will find it is more suitable to children than adults unless for very short journey, because legroom is so poor. The room up front is fine, but you will notice the narrower cockpit and cheaper plastic dashboard not as desirable as its bigger brother.

All these sacrifices could be justified if the 1er Coupe were 150 kg lighter than 3er Coupe. Unfortunately, it isn't. Modern cars have most of their weight spent on safety design, insulation, equipment, suspensions and powertrain instead of sheet metals. And these are the areas BMW unwilling to sacrifice in the 1-Series. It has the same powertrain and suspensions as the 3er; it has the same refinement and luxury features; it has the same crash worthiness and active safety equipment. Comparing the remarkably similar 135i Coupe and 335i Coupe will find the former is only 40 kilograms lighter. Yes, 40 kg. As a result, the smaller car is barely faster. 0-60 mph takes 5 seconds dead. Top speed is once again regulated at 155 mph. You can still describe such performance as a junior M3 – especially note that it is now faster than the new Mitsubishi Lancer Evo X which cost the same money to buy – but you can say the same to 335i Coupe. Like the rest of the range, 135i Coupe just fails to realize its potential.


| | |
| --- | --- |
| | If you are looking for a Junior M3, you will be disappointed. This small car is far more matured than you might think. |

The handling of 135i Coupe is also disappointing. Fitted with M-Sport suspensions and wide, low-profile tires (215/40ZR18 front, 245/35ZR18 rear), in addition to the 50:50 weight distribution and a stiffer 2-door bodyshell, it should have delivered excellent handling. Unfortunately, BMW tries too hard to please American customers by setting its suspensions softer and building too much understeer into the chassis (thanks to the narrower front tires and softer rear anti-roll bar). As a result, it is an all-round high-speed cruiser rather than an ultimate driving tool you would expect a "junior M3" to be. The effortless performance from the super-torquey and lag-free twin-turbo direct-injection 3-liter straight-6 adds to this feeling. Yes, this motor is a gem, but a lightweight high-revving four-cylinder motor like the original M3 would suit the 1-Series better and help distinguishing it from 335i.

In fact, BMW does offer a terrific 4-cylinder engine to the 123d Coupe. This is a 2.0-liter (don't fool by its name 123d) turbo diesel 16-valve engine. It employs the latest high-pressure piezo common-rail injection to boost power and economy. It also employs a two-stage twin-turbocharging system like that of the 535d, which uses a small turbo at low rev to quicken response and a large turbo intervenes gradually from mid-rev to completely take over at high rev to boost power. No wonder it produces as much as 204 horsepower and the same torque as the 3.0 twin-turbo petrol. This is the first production diesel engine producing over 100 horsepower per liter. This four-cylinder diesel engine enables the 123d Coupe to do 0-60 mph in an unbelievable 6.6 seconds and reach 148 mph on highway. What a pity the 123d is ruined by a numb steering feel, because it employs electrical steering assistance in the name of energy saving. In contrast, 135i is the only model in the 1-Series family to enjoy the natural feeling of hydraulic power steering.


Apart from these two engines, BMW also offers a 177hp 2.0 single-turbo diesel to 120d Coupe and a 230hp 3.0-liter naturally aspirated six-cylinder petrol to the American-market 128i Coupe. Apparently, there is room for a high-revving petrol four-cylinder to join in the future. This has been implied by the 1-Series Tii concept demonstrated in the Tokyo motor show. I hope BMW will build this car (with hydraulic steering please !), otherwise I don't see there is any good reasons to buy the 1-Series Coupe instead of the roomier, better-built and more graceful-looking 3-Series Coupe.
The above report was last updated on 6 Nov 2007. All Rights Reserved.
1-Series Cabriolet
| | |
| --- | --- |
| | For the same price as Audi A3 Cabriolet, you get a rear-drive chassis, a 6-cylinder engine, a real coupe shape and BMW quality, isn't it a bargain ? |

Last time the 1-Series Coupe didn't impress us very much because it is neither as dynamically well sorted as 3-Series Coupe nor as cheap as it ought to be. This time its Cabriolet version is quite different. BMW sensibly chose a conventional soft top for the little car instead of the folding metal roof employed by 3-Series Cabriolet. As a result, the 1-Series Cabriolet can be priced considerably lower than the equivalent 3-Series Cabriolet. For example, 125i Cabriolet asks for "only" £26,200 in the UK market, compare with £33,300 of 325i Cabriolet. For nearly the same price of an Audi A3 Cabriolet 2.0 TFSI, you get a rear-drive chassis, a desirable 6-cylinder engine, a real coupe shape and the BMW brand, isn't it a bargain ?

Another advantage of the fabric roof is weight. It adds only 120 kg to the coupe, so the weight difference from 3-Series is increased from 40 kg for the coupes to 145 kg for the cabriolets. Of course, less weight translates to higher performance. Take 125i Cabriolet as example again, it can sprint from rest to 60 mph in a brisk 6.5 seconds, compare with 7.2 seconds of 325i Cabriolet. Top speed is 148 mph. By the standard of cabriolets this is very serious performance.

The smaller car does sacrifice something, such as a little bit rear seat space. The legroom is reduced by 18 mm compare with the coupe, while considerable shoulder room is eaten up by the chassis reinforcement. That said, average-size adults are still acceptable at the back. The boot, with 305 liters when the roof is up, can swallow a pair of golf bags.


| | |
| --- | --- |
| | Fabric roof means 145 kg lighter than the equivalent 3-Series, so performance is strong. |

Don't be fooled by its name, the 125i engine is actually a 2996 cc unit. Tuned for fuel efficiency, it produces 218 horsepower instead of 265 / 272 hp and 199 lbft of torque instead of 232 lbft, but it possesses the same rev eagerness, creamy smoothness and musical engine note of traditional BMW straight-6. Other engines include 143 hp 2.0 four, 170 hp direct-injection 2.0 four, 177 hp 2.0 turbo diesel and 306 hp 3.0 twin-turbo six like 1-Series Coupe, but I suppose the 125i engine is the best compromise between price, performance and desirability. In the USA, its position is substituted by 128i whose engine produces 230hp from the same capacity.

Inevitably, the 1-Series Cabriolet doesn't handle as good as its hard top version due to the loss of chassis rigidity as well as the adoption of a softer suspension setting. There is more understeer and less body control in corners, but the ride is supple. However, thanks to 50:50 balance and rear-wheel drive, it is still more neutral and agile than its front-drive rivals like Audi A3 Cabriolet, Volkswagen Eos and Volvo C70. If there were a C-segment cabriolet more entertaining to drive, we haven't discovered yet.
The above report was last updated on 18 Feb 2008. All Rights Reserved.
1-Series M
| | |
| --- | --- |
| | A question of name: isn't it more appropriate to call it M135i ? |

BMW M3 has long been the definitive affordable performance coupe. When the current generation M3 switched to V8 power and pumped up its price to over £50,000, it became out of the reach of the majority. A space is deliberated underneath it and, naturally, filling the space is the M version of 1-Series. BMW refused to call it "M1" as it could have confused with the legendary M1 supercar. Instead, it calls the new car "1-Series M".

Excuse me for expressing more dissatisfaction with the name. This is the first time I heard a BMW model includes the word "Series" in its official name. Theoretically, "Series" means a family of models, so it should not appear on a specific model. Moreover, "1-Series M" sounds neither cool nor romantic. I think a more appropriate name could be M135i. It reflects the fact that the car shares a production engine with 135i, just like the M535i built in 1979-87. However, that is exactly what BMW wants to avoid !

Munich tells us the 1-Series M is a modern-day original (E30) M3. Frankly, apart from their similar lengths (the new car is just 20 mm longer), I found few things common between them. The original M3 was built for motorsport purpose and powered by a 2.3-liter DOHC 16-valve four-cylinder engine designed and built specially by the motorsport department. The 1-Series M is more like a beefed-up 135i Coupe. Although it does have a lot of aero and chassis modifications (we will explore later), its heart is the production N54 3.0-liter biturbo straight six, built on the standard production line without using any special pistons, con-rods or valves. It does produce higher output than that on the regular 135i, but not by much – just 34 horsepower and 37 pound-foot of torque – and the same tuning is already available on a non-M car, Z4 sDrive35iS.


| | |
| --- | --- |
| | N54 biturbo straight six is built on the standard production line, no wonder it lacks a proper M character. |

Most disappointing, the turbocharged straight-six lacks the high-revving character of traditional M-power engines. It produces maximum power at just 5900 rpm, and its torque curve peaks from 1500 to 4500 rpm. The engine can spin to no more than 7000 rpm, a far cry from the M3's 8400 rpm.

In terms of performance specifications, the 1-Series M is remarkably close to the last generation (E46) M3. Both run a straight-six engine with around 340 hp. Both tip the scale at 1495 kilograms. As a result, their performance are closely matched. The E46 accelerated from rest to 60 and 100 mph in 4.8 and 11.5 seconds respectively. The 1-Series M may be a tenth or two quicker to sixty and half a second quicker to the ton. Nevertheless, the way the driver feel could not be any more different. On the old M3, you have to work hard on every gearchange to keep the engine boiling at 7900 or 8000 rpm, which is a joy to keen drivers or tiresome if you are not in mood. On the 1-Series M, thick torque is always available for your disposal, no matter at any rev. Performance is so easy to exploit that the driver finds little merit, hence motivation, to work harder. BMW tuned this version of N54 very well, with a brawnier exhaust note than the regular version. Turbo lag is also minimum, as you can expect on the best modern turbocharged engines. However, the thrill of accessing the engine is somehow lost. Throttle response is no way as sharp as the low-inertia naturally aspirated straight-six on the old M3. The induction noise of the old engine revving at sky-high rpm is also not what the turbocharged motor can replicate. In short, the new motor trades emotion and thrills with better real-world performance and fuel economy.


| | |
| --- | --- |
| | On back roads, the smallest M-car could be faster than the V8 M3... |

Fortunately, the chassis is properly developed. The 1-Series M runs massively wider tracks – 71 mm up front and 46 mm at the rear – than the 135i Coupe. Its suspensions owe a lot to the current M3. The rear suspensions' control arms, dampers, knuckles and subframe are made of aluminum instead of steel on the regular 1-Series. Unsprung weight is further reduced by using hollow anti-roll bars. Ride height has been lowered by 20 mm along with stiffer springs and dampers. The steering, still hydraulic assisted, has been quickened by 22 percent. The 19-inch lightweight alloy wheels come straight from M3 GTS. The brakes are M3-specced: all-round cross-drilled compound discs, 360 mm and 350 mm diameter front and rear respectively. The Michelin PS2 rubbers are also M3-specced. Considering this car is 85 kg lighter than its bigger brother, its handling prowess is not to be doubted.

Most important, the 1-Series M gets Variable M differential lock, something reserved for the M-cars until now. This should keep its handling tidier than any other 1-Series models under hard driving.

Outside, the 1-Series M looks adequately sporty, thanks to its aggressive air dams, large intakes, quad-tailpipes and especially flared wheel arches. It gets more advanced aerodynamics, too. It has the company's first road application of "air curtains" technology, which uses ducts to draw air from the lower front intakes and releases just before the front wheels, generating a curtain-like air stream to cover the spinning wheels, thereby reducing turbulence and drag.



On the Road



On the road, these modifications translate to fabulous handling. The baby M-car is really quick and agile in the twisty. Its weighty steering is responsive and communicative, actually feeling more faithful than that on the current M3. Its nose turns into bends far more eagerly than 135i Coupe, thanks to that quick steering rack as well as massive front end grip. In fact, the grip generated by those Michelin rubbers is stunning for a coupe so compact. It allows the car to carry big speed into corners. The suspension setting hits a balance between tight body control and decent ride comfort. What about the brakes ? simply invincible. They offer huge stopping power and superb pedal feel simultaneously.

On back roads, the smallest M-car could be faster than the V8 M3, believe or not. This is because its engine is so much more flexible, offering significantly more juice at the low end of spectrum. In this way, you can get back into power band more quickly after each bend. On race track, of course, it won't be as quick as the M3.

But the superior low-end torque is not always welcomed. Its combination with a short wheelbase and low weight could sometimes result in a tricky behaviour at the limit. If you apply too much throttle at a low-speed corner, you will find not even the M differential can contain its wheel spin and tame its sideway. In comparison, the linear delivery of traditional M-power is easier to exploit.

However, the biggest downside of the 1-Series M is still its characterless engine. Is it wise to switch to turbocharging ? To the ultimate driving enthusiasts, the answer is negative. Maybe one day somebody would develop a turbocharged engine with 8000-plus rpm redline and instantaneous throttle response using electrically assisted turbine. Before that happen, it is hard to imagine a turbocharged motor could better the previous straight-six, V8 and V10 built by the M division. As a result, the new generation M cars will be very difficult to match their ancestors.

That said, if you can get over the glorious history of M cars, you may still find the 1-Series M a wonderful driving machine. Yes, its packaging might be outdated and its interior is almost spartan compare with Audi RS3 or TT-RS, but judging on driving fun alone, nothing in this segment and at this price can compare to it.

The above report was last updated on 12 May 2011. All Rights Reserved.