Whenever we talk about sports saloon, M5 is always the first label we would think of. Since its birth in 1984, it has been recognized as the benchmark of sports saloon. M5 was not the first sports saloon, but it successfully turned sports saloons from special editions to a sustainable business case. From E28 to the latest E60 M5, 4 generations ran almost non-stop during the past 20 years. It is the purest bloodline in the sports saloon world.
M535i E12 (1979-81)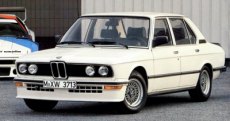 To introduce the M5, we must first go back to 1979. The forerunner of M5 was the 1979 M535i. It was based on the first generation 5-series (E12) saloon and modified by the Motorsport department of BMW. By transplanting the 3453cc inline-6 from 635CSi, BMW created a saloon capable of 218 horsepower, 130 mph and 0-60 mph in 7.3 seconds. That kind of performance was previously unheard for a medium-size saloon. In 3 years, a total of 1410 units were sold.
M535i E28 (1984-87)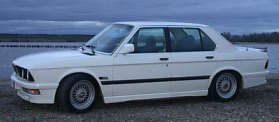 When the E12 was upgraded to E28 5-series, the M535i was also renewed. Massive aerodynamic kits and upgraded suspensions improved its appearance and dynamics, but the 3430cc engine kept horsepower unchanged. Still, at the time Autocar magazine praised its good road manner - fine handling, supple ride, accurate steering and of course, that smooth and flexible straight-6 that characterized all contemporary BMWs. Sales surged to 9483 units because the car was built in the regular production line instead of the inefficient Motorsport department.
M5 E28 (1985-87)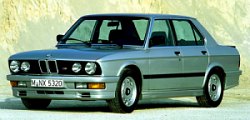 M5 with optional aero kits from M535i

While M535i enjoyed great sales success, the Motorsport department was working on an even hotter car. Strangely, it did not have the aggressive aerodynamic kits like M535i, but under the sheep skin was the same engine as M635CSi - yes, that 286 horsepower 24-valve 3.5-litre straight six which was derived from the mighty M1 supercar ! call it "wolf in a sheep's skin", it could top over 150 mph and storm from rest to 60 mph in about 6 seconds. Yes, actually a bit faster than M635CSi because it was around 50 kg lighter.
As the name "M535i" was already occupied, BMW simply called it M5. This explain why M635CSi and M5 had different name format despite of using the same engine.
When Auto Motor und Sport magazine tested the car in 1985, it found the M5 not only very fast, but also very well mannered - superb road holding, safe handling, good high-speed stability, comfortable ride, flexible and torquey engine, linear power delivery, slick and precise gearshift, light and accurate steering… the only complaint was the excessive wind noise caused by its ancient shape with 0.37 drag coefficient.
With only 2180 cars built in 3 years, the first generation M5 could not be described as popular. This was partly due to the high price, partly due to the existence of M535i and M635CSi. Admittedly, its dull look was also a resistance to its sales, especially compared with the handsome M635CSi.
M5 E34 (1988-95)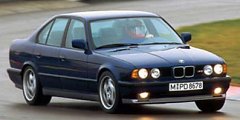 While E28 5-series was an outdated design (its roots could be traced back to E12 in 1972), the all-new E34 5-series was thoroughly modern, handsome and advanced. Its chassis was massively better - much stiffer, better isolated and aerodynamic efficient. It got much more matured and refined.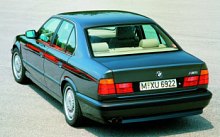 The new M5 was also greatly benefited by the progress of E34. Inevitably, the car got heavier, so the Motorsport hand-built straight-6 received a capacity increase to 3535cc. Now the new engine pumped out 315 horsepower and 266 lbft of torque.


Nevertheless, the extra horsepower was not enough to compensate the 200 kilograms it gained. Magazines found the second generation M5 was actually a little slower than the original, although it took a big leap in ride and handling.
More worrying was the emergence of stiff competitions. In 1989, Lotus converted Opel Omega into a fearsome performance saloon - 377 horsepower, 5.1 seconds from 0-60 and 180 mph top speed. Munich was shocked. Next year, it got another attack from its backyard - Porsche helped Mercedes to produce a V8-powered 500E. Both cars represented serious threat to the M5.

In 1992, BMW Motorsport finally responded by enlarging the engine - both bored out and stroked out - to 3795 cc. This was the largest and also the last evolution of the M1 engine. It pumped out 340 horsepower at 6900 rpm and 295 lbft of torque at 4750 rpm. Now the car could easily reach the regulated top speed of 155 mph. 0-60 mph was reduced to 5.6 seconds. On the other hand, handling was improved by the adaptive damping and the optional "Nurburgring" sport suspension package.
Two years later, the M5 received its first 6-speed gearbox along with stronger brakes and 18-inch wheels. As Autocar found, 0-60 mph reduced further to 5.4 seconds, 0-100 in 13.6 sec and, interestingly, 170 mph top speed. Seems that BMW forgot to install speed regulator to the test car. The M5 might not match Lotus Omega for speed, but its handling and overall fineness was beyond approach. Therefore it regularly topped the performance saloon ranking in magazines' contests.
The E34 M5 was more matured, refined and luxurious than the original yet provided Ferrari-matching performance and handling. This proved to be a winning formula. In 7 years, it received 12,100 orders. Now BMW was getting more and more ambitious…
M5 E39 (1998-2003)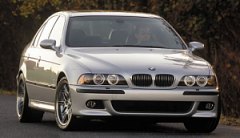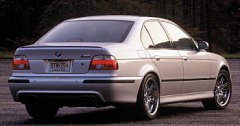 Like the leap taken from E28 to E34, the E39 body was another major advancement over its predecessor. It got bigger, roomier and more aerodynamic efficient. The cabin was stylish, high quality and ergonomically sounded. It employed aluminum Z-axle suspensions instead of the old semi-trailing arm. All suspensions were mounted on NVH-absorbing sub-frames. This mean it rode and handled even better than before.


Because of the sales success of E34 M5, BMW projected to build even more E39 M5. To do that, the new M5 would be assembled in the regular production line instead of M GmbH, although the engine would continued to be hand-built by the latter.
After serving M cars for 20 years, the legendary inline-6 finally retired. Taking its place was a new 4941cc 32-valve V8 derived from the company's mass production 4-litre V8. It got Double Vanos (variable valve timing at both intake and exhaust valves) and electronic throttle. Max power raised to 400 hp at 6600 rpm. At the time being, this was the most powerful production saloon in the world. It could take the heavyweight (1720 kg) M5 from 0 to 60 mph in 5 seconds flat. If deactivated speed regulation, it could top more than 180 mph.
The big V8 changed the character of M5 somewhat. Although it would spin happily towards 7000 rpm, it no longer needed to be revved hard, because there was tremendous bottom end torque and as much as 369 lbft available at only 3800 rpm. This mean the car was more relaxing to drive. However, if the driver really want more thrill, he could press the "Sport" button on the dashboard. This would sharpen the response of the drive-by-wire throttle instantly and weigh up the steering.
Unlike some rivals at the time, the E39 M5 employed conventional suspensions without any electronic damping. However, its tuning made the right balance between sport and comfort, delivering great body control and livable ride. The car was agile and well balanced, so it felt completely at home on narrow B-roads, which was unusual for a big and powerful performance saloon.

However, perhaps most brilliant was its ability to power slide. It took some speed and provocation to do so, but once its tail was sliding, the action was progressive and the driver could easily hold the slide by cooperating throttle and steering. This was a unique feature not found in other contemporary performance saloons. It made the M5 very entertaining to drive.


Since the arrival of Audi RS6 and Mercedes E55 AMG in 2002, BMW M5 was no longer the most powerful nor the fastest sports saloon in the market. Nevertheless, in terms of driving thrill and overall satisfaction, it remained unbeatable during its whole life. 20,500 cars sold in 6 years proved its leading status in the luxurious sport saloon market.


M5 E60 (2004-2010)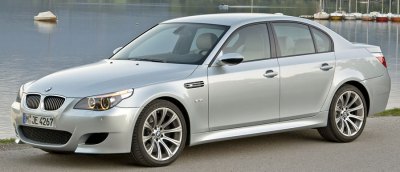 Surprisingly, M5 abandoned 8-cylinder engine after just one generation. The strong challenge from Mercedes E55 and Audi RS6 drove BMW to upgrade its engine again. This time a V10 !

The new V10 was a bespoke development. It displaced and weighed the same as the old V8 yet produced one hundred more horsepower. Lighter valve gears, shorter stroke and racing-style bedplate allowed it to rev to an incredible 8250 rpm versus the outgoing 7000 rpm. An advanced engine management system and ion-current knock sensor allowed 12.0:1 compression ratio. As a result, it unleashed 507 horsepower at 7750 rpm and 383 lb-ft of torque at 6100 rpm. The latter seemed peaky, but 80 percent of which was available from 3500 rpm. Although it wasn't as torquey as its supercharged or turbocharged rivals, the BMW made better use of its torque and rev range through its 7-speed SMG automated manual gearbox. Predictably, performance was startling: 0-60 mph took merely 4.6 seconds and 100 mph was reached in less than 10 seconds. According to BMW, the M5 just might top 205 mph if its electronic speed regulation was disabled !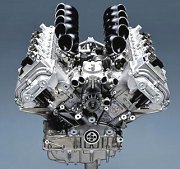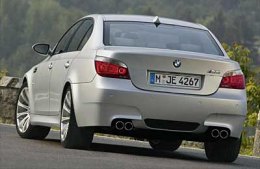 The E60 chassis achieved near-perfect balance thanks to a front structure made largely of aluminum. In addition to a quick steering rack, 3-mode adaptive damping, beefed up suspensions and tires, its handling was first class. Its steering was sharper and more communicative than its rivals. Like E39, it was renowned for controllable power slide. However, the E60 was not flawless. Its ride was less rounded than E39 because of the low-profile run flat tires. Its brakes were relatively weak for its performance level. Besides, to purists it fell victims to its complication - with 11 transmission modes and 3 suspension modes to choose from, you need to sort out which setting satisfy the road condition and driving mood. This mean the E60 wasn't as intimate as previous M5s.

On the plus side, its high-revving V10 was the best engine BMW had ever produced (perhaps with the exception of the V12 built for McLaren F1). Automotive historians will remember it as one of the ultimate high-performance naturally aspirated engines in the world. Following its retirement, future M5s would switch to turbocharged engines, losing the high-revving character and instantaneous throttle response of the E60.