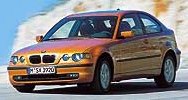 After two failure attempts in producing compact rear-drive hatchback, BMW has learned the lesson. Both the 1600 hatch of the 60s and the previous 3-series Compact were made with cost reduction in first priority, hoping they could compete with regular hatches. That was, of course, nonsense. Take the 3-series Compact as an example, it adopted an old-fashion trailing-arm rear suspension from an older 3-series, ruining handling and ride refinement, then replaced the beautiful dash with a cheap-looking one-piece moulding. The result was a car not worth wearing the double kidney grille. While it didn't feel premium, the rear-drive floorpan prevented it from comparing rear passenger space and boot space with ordinary hatches. Therefore it satisfied nobody.

This time the new 3-series Compact no longer degrade itself. It feels as high quality as the saloon and coupe, riding on the same aluminium Z-axle and powered by the same 192 horsepower 2.5 straight-six - yes, that wonderful six-pot. What's new is a Valvetronic 1.8-litre four-pot, but with all-alloy construction, double-Vanos, dohc 16 valves, roller cam followers, Valvetronic throttleless mechanism and twin-balancer shafts, it is by no means a cheap design to save cost. In fact, it is actually more sophisticated than the 1.9-litre unit using by 318i and 316i saloons. So what measures make it 10% cheaper than the saloons ? It seems that general standard equipment and trimming level are lower, some plastics in the cabin is poorer (but the dash and console remain the same as the saloon), the IS200-lookalike taillights might be cheaper, the reduction of 2 doors might save a bit, but these cannot account for such a price difference. Only BMW's accountants know whether the Compact return the same profit margin as the saloon.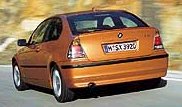 Undoubtedly, the new Compact is a straight conversion from the saloon and coupe. You can see it as a hatchback version of the coupe with some tweaks in styling - such as the unconvincing bonnet-shaped 4 round headlights - hence renewal of nearly all panels. There is no controversy about its styling, because everybody agree that it looks ugly. Ex-BMW top executive Wolfgang Reitzle said if he were still in BMW the Compact would have avoided such a disastrous design. Rollover Chris Bangle !
Nevertheless, to DRIVE the Compact is a revelation, even better than the saloon and coupe. Many journalists used to criticise the 3-series gone soft, no matter in suspension setting and steering rack ratio. Since this new Compact, BMW is going to bring back smile in keen driver's face. All 3-series will be equipped with stiffer springs and more direct steering rack like this Compact. Basically, the previous optional Sport suspension setup becomes standard in the Compact while the new Sport setup is even stiffer. The steering ratio is shortened to cut number of turns from 3.2 to 2.9 while power assistance is reduced to double the effort required for turning every degree. Bushing of the steering rack is also tighter. All these contribute to a steering feel and response now overshadowing Audi A4 and Mercedes C-class, both of them once shamed the BMW temporarily.
Compare with the new Mercedes C230K Sports Coupe and you'll see how superior the new Compact is. It steers more sweetly (and heavier), corners more fluently, balance better at push, provides more front end grip so that understeer later. 325ti Compact has a silky yet super eager engine that shames the Mercedes' supercharged four-pot. Slicker manual gearchange too. The 325ti will hit 60 mph in a little bit more than 7 seconds, a lot quicker than the 10.5 sec of 316ti, which is actually 1.8-litre. However, the smaller engine let the car feels more agile and balanced, while its highly sophisticated design enables turbine-smooth operation and sufficient torque at low and mid rev, although 115hp is a disappointment.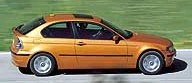 As mentioned before, the 1.8 unit is equipped with Valvetronic, the world's first mechanism replacing throttles. Regular engines have the throttles half-opened or even nearly closed at leisure use, this means the throttles are blocking the intake air flow and generate what engineers called "pumping loss". Valvetronic engines do not have throttles. Instead, it added another camshaft and an electric motor to adjust valve lift. At leisure use, valve lift will be reduced to reduce the amount of air running into the combustion chambers. In this way, engine power can be controlled without throttle, hence reducing pumping loss. In reality, it accounts for 10% reduction of fuel consumption, which is nearly as good as direct injection technology can do.
The Compact provides the same amount of room and same level of comfort as the saloon. The rear accommodation is also similar, as wheelbase and suspensions are unchanged. In other words, it is suitable for 2 passengers up to six feet. It is only a pity that it does not offer a 5-door version to ease rear passenger accessibility. Boot space is better than I originally thought, moreover, fold down the rear seats and the boot space is enlarged to 1100 litres.
In short, the new Compact is the best 3-series at the moment, but it won't be too long. When the saloon and coupe get the same sportier treatment, I'll fall back in love with them. Looks is still an essential element to me.