| | |
| --- | --- |
| Published on 27 Feb 2010 | All rights reserved. |
| | |
| --- | --- |
| | Today's A8 is a mix of art, technology and quality, a showcase of the best bits of the Volkswagen empire... |

22 years ago, Audi built its first ever V8 engine from a pair of Volkswagen 1.8-liter engines. It put the engine into a stretched Audi 100/200 platform to form its first generation luxury car, V8 Quattro. Predictably, few people were impressed by such a small-budget development. Even fewer saw it as a comparable alternative to BMW, Mercedes and Jaguar, especially when brand image was taken into account. However, V8 Quattro showed the way to go. Since then Audi started migrating to a true premium brand.

How time has changed. Today, Audi becomes the most formidable rival to BMW and Mercedes. No one see it as a second-division player again, thanks to its full range of quality saloons, wagons, hatchbacks, crossovers and sports cars. Today's A8 is a mix of art, technology and quality, a showcase of the best bits of the Volkswagen empire. Its styling is tastefully done. Its cabin is impeccably built, better than that of Mercedes and BMW and only lacks the exclusivity of Bentley and Rolls-Royce. It offers any sophisticated safety equipments you can dream of: night vision infrared camera, pedestrian recognition, speed sign recognition, pre-crash safety system, adaptive cruise control, lane departure warning, blindspot warning... In the mechanical side, it is equally impressive. Since the first generation A8, it has been employing aluminum spaceframe chassis and permanent all-wheel drive system. Its suspension has adaptive air springs and dampers. Its "Audi Select Drive" system offers 4 modes for you to alter suspension, throttle, gearshift and steering mapping. In short, it is a technical tour de force.


| | |
| --- | --- |
| | In short, it is a technical tour de force. |

Compare to the last generation, the Mk3 car introduces plenty of improvements. First of all, its ASF chassis is 25 percent stiffer than before thanks to the use of 13 different grades of aluminum alloy instead of the previous 5. The B-pillars are now made of steel to better deal with side impact. Like other members of the ML platform, its clutch has been moved to the back of front axle in order to make its nose a little bit lighter, if not really light. To reduce its inherent understeer, the new Quattro system now sends 60 percent power to the rear wheels, and a torque-vectoring active rear differential is now available as option. Further help comes from a new active steering, whose gear ratio is variable according to speed, angle and driving mode. The aforementioned Audi Select Drive system is also new to the Mk3.

In the powertrain side, all engines get increased power yet reduced fuel consumption. Horsepower of the 4.2 FSI V8 is pumped up from 350 to 372, thanks to reduced friction in chain drive and auxiliaries. The 3.0-liter turbo diesel V6 gets another 10 horses to a total of 250, along with 406 pound-foot of torque. However, the fastest engine at launch is 4.2 TDI V8, now produces 350 horsepower and an astonishing 590 pound-foot of torque from just 1750 rpm to achieve 0-60 mph in 5.2 seconds. Fuel consumption is reduced by an average 15 percent across the range, 6 percent of which is down to the new 8-speed automatic transmission by ZF.


| | |
| --- | --- |
| | Fuel consumption is reduced by an average 15 percent across the range... |

The suspensions are basically the same as the last one, i.e. a 5-link setup up front and a trapezoidal 4-link setup at the rear, all with aluminum control arms. However, to help easing the firm ride of the previous A8, it employs the latest dual-cast brake discs, whose aluminum hubs save 3.75 kg of unsprung weight each corner.

The bodyshell of Mk3 gets smoother, with aerodynamic drag reduced from the already remarkable 0.27 to 0.26, matching that of the class-leading Lexus LS. It also gets larger - some 86 mm longer, 55 mm wider, 16 mm taller and its wheelbase is 48 mm longer - now it is actually bigger than Mercedes S-class and BMW 7-series. Kerb weight has been increased by a fair 55 kg. As much of the aluminum advantage is offset by its compulsory 4-wheel drive hardware, an A8 4.2 FSI is only 45 kilograms lighter than Mercedes S500, despite of its smaller engine. A 5-liter Jaguar XJ, also with aluminum chassis but without the burden of 4WD, is 80 kg lighter. We shall see what it means to performance...



Close Encounter



First impression of the car isn't as convincing as its technical specifications suggested. This is because of its exterior design. While the A8 is still a stylish design, it looks fatter (it is !) and less tasteful than before. Its ever more prominent single-frame grille and angry eyes (now fully made of LEDs) try too hard to tell you its identity, compromising the understated elegance of the previous model. The new A8 also looks far more ordinary than I expected. Basically, it appears to be an enlarged A4 rather than a bespoke luxury car in the same way as BMW 7er and Mercedes S.


| | |
| --- | --- |
| | You swear that no one in the mainstream luxury segment could produce a better cabin... |

This is, of course, a false impression. Once you have sat into the car, all the presumption is washed away by its expensive materials and elegant finishing. You swear that no one in the mainstream luxury segment could produce a better cabin. Like 7-Series, its design is simple and intuitive, but its materials are more tightly assembled, which means the gaps are remarkably narrow and the surfaces are smooth and even. There are also plenty of elegant details, such as the gear lever which might just happen in a multi-million-dollar yacht. The MMI multimedia control now includes a touchpad for writing with your finger. The only small disappointment is the lack of a full TFT LCD instrument panel like Mercedes and Jaguar, but its traditional gauges are easy to read.

Given the extra exterior size, it is a little disappointing to find the cabin not as big as those of Mercedes and BMW. Although it has enough head and leg room for six-foot-plus passengers, it does not deliver the sense of excessive space normally required by the customers of this class.



On the Road



Guide the A8 on highway, you will discover a new found level of refinement in the well insulated cabin. Wind noise is remarkable only for its absence. Tire roar is very well suppressed. Ride quality is as composed as its best rivals, at least on smooth motorway. Undoubtedly, the slippery shape, double-glazing windows and improved suspension plays an important role here.


| | |
| --- | --- |
| | If you regularly drive on roads as smooth as Germany or Japan's, you will be difficult to find a better car than this... |

All three engines are up to the job. The entry-level 3.0 TDI has broad spread of torque to overtake slower cars with no more than a small prod of throttle. A touch more refinement might help it to match the six-cylinder diesel engines of BMW, Mercedes or Jaguar. It is by no means harsh, just not as rounded as its excellent rivals. The V8 diesel is better. Not only hugely powerful, it is very smooth and quiet. No doubt it is the best of the bunch, and the best big diesel engine in the class. This make the petrol V8 a little unappealing. With a much weaker torque delivery, it does not propel the A8 as strong as the 4.2 TDI, nor could it match the larger V8 of Mercedes or the twin-turbo V8 of BMW. Why didn't Audi enlarge it ? Because its 84.5 mm bore is already the maximum allowed by the 90 mm bore center spacing, which is shared with all Volkswagen group modular V6s and V8s. Its 92.8 mm stroke is also the longest possible. Why didn't turbocharge it ? Perhaps Audi wants to save it for the forthcoming S8, which is rumoured to replace the existing V10 with a twin-turbo V8. Anyway, the 4.2 FSI is not slow - nothing capable of doing 0-60 mph in 5.4 seconds could be called slow. It just shows how much its rivals have progressed.

Guide the car to mountain roads and push through a series of bend, you will find its ride and handling character depends very much on the setting of Audi Select Drive. Set it at "Comfort", it rides soft to the extent that doesn't feel connected to the road. The steering is light and relatively slow. Body control is average. Change to "Dynamic" mode, the steering becomes weighty and its response more direct, though the feel is still artificial. Stiffer suspension leads to excellent body control, but ride quality suffers. On coarse surfaces, the A8 rides harsher and noisier than most other luxury cars, a sharp contrast to its composure on highway. This is probably due to a firmer suspension calibration that is necessary to contain its nose-heaviness. Quattro system has its pros and cons. You might praise its extra security in poor weather, but for most of the time it hampers steering feel and ride quality. Is it worthwhile ? Nose-heaviness is another by-product of Quattro. Although the new A8 hides it very well in normal driving, it is still exposed to the driver in the form of understeer when the car is pushed to the limit of adhesion. A rear-drive rival just won't understeer so much.

The A8 is not without its charm. If you regularly drive on roads as smooth as Germany's or Japan's, choose the long-wheelbase A8L with 4.2 TDI engine, you will be difficult to find a better car than this. However, all things considered, the Audi flagship is not yet good enough to challenge for the top of the class, although it is much closer than V8 Quattro did 22 years ago.

Verdict:




| | |
| --- | --- |
| Published on 8 Aug 2010 | All rights reserved. |
A8 W12
| | |
| --- | --- |
| | Slightly less powerful than rivals, A8 W12 still returns more than brisk performance. |

Just as the last two generations, the new A8L W12 is the luxury flagship of Audi. It occupies a very exclusive market segment together with Mercedes S600 and BMW 760Li. Price is some 40 percent higher than A8 4.2 V8. In return, you get a 12-cylinder engine, a longer wheelbase and more back seat luxury features. Every year only a couple of thousands wealthy customers will opt for this model.

As before, the W12 engine is a technical tour de force. It achieves a really compact size by packing 12 cylinders in 4 rows. You may see it as a pair of Volkswagen narrow-angle (15-degree) V6 engines mated at 72 degrees. Only 4 camshafts are used to operate 4 valves per cylinder, all are served with infinitely variable intake and exhaust valve timing. It is amazing how the engineers could put so many things into a space so small. If not the existence of W12, I suppose Audi A8 would not have been possible to accommodate a 12-cylinder engine in front of its front transaxle.


| | |
| --- | --- |
| | Dull-looking engine |

Although rival BMW has switched to turbocharging in its new V12 engine, Audi keeps its unique W12 engine in naturally aspirated form. However, displacement has been enlarged slightly, from 5998 cc to 6301 cc, thanks to a larger bore (86mm instead of 84mm) and marginally longer stroke (90.4mm instead of 90.2mm). The addition of FSI direct injection allows compression ratio to be raised from 11.0:1 to 11.8:1. As result, output increases by 50 horsepower to a neat 500hp. Besides, the new engine also drinks less fuel. Thanks to the direct injection, reduction of friction from crankshaft and timing chains and upgrading to 8-speed ZF transmission, Audi said its fuel consumption has been reduced by 12 percent, making it slightly greener than 760Li and S600.



What it can't quite match its rivals is torque, which is predictable from its lack of turbocharging. The W12 produces 461 pound-foot at a rather high 4750 rpm, whereas 760Li pumps out 553 lb-ft from 1500-5000 rpm. This means on the road it lacks the sensational g-force once you bottom the gas pedal from very low speed. However, the A8 W12 still feels more than brisk, as are any machines possessing 500 horsepower and a quick-reacting 8-speed automatic. Its slightly lighter weight (120kg less than BMW, for example) also helps. This is confirmed by the 0-60 acceleration figure of 4.6 seconds (4.4 sec for BMW).


| | |
| --- | --- |
| | Luxury cabin |

As expected, the W12 is silky smooth throughout the rev range. It spins with near silence until you provoke it, when it emits an enthusiastic roar. The ZF gearbox shifts seamlessly, and responds quickly to your input at manual mode. It does all the clever things you wish: hold gears, rev-match... just like in the case of BMW which shares the same gearbox. The only disappointment is, when you want to see all these fine mechanicals by opening the bonnet, what faces you is a large plastic cover trying but failing to resemble the real engine. Modern insulation robs us of the chance to connect to the machine.

Perhaps the owners of this car are not interested in oily bits, neither do they care how the car feels to drive. They are likely to spend their precious time at the luxurious back seat. Instead of the bench seats in lesser A8s, the W12 has two individual tycoon seats, which have power reclining, heating, cooling and massaging. They also get individual infotainment and climate system, folding tables, a refrigerator and even foot rests in the expense of front seats. Such equipment approaches the level of Bentley, Rolls-Royce and Maybach, although the Audi does not have the sense of occasion in its cabin design and materials. Potential buyers may also dislike its exterior styling, which is too much like other mainstream Audis.
Verdict:



| | |
| --- | --- |
| Published on 9 Nov 2011 | All rights reserved. |
Audi
S8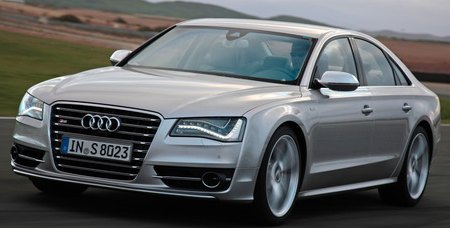 Downsized turbocharged engines have become an inevitable trend of motor industry, as I have pointed out many times in AutoZine. New EU legislation EC443/2009 calls for very stringent carbon-dioxide emission targets. Car makers failing to meet these targets will have to pay heavy penalty for every gram of CO2 per kilometer exceeded. In the USA, tightened CAFE standards also stress manufacturer to lower fleet emission average or face heavy charges. As a result, the only way to lower emission dramatically while maintaining performance will be to use downsized turbocharged engines. Recently, we saw Mercedes and BMW did very well in this respect, producing far greener yet more powerful motors to keep their loyal customers happy. Now Audi also joins the trend with its new S8. Instead of the old car's monstrous 5.2-liter V10 is an all-new 4.0-liter twin-turbo V8. It will be used in S6, S7 and Bentley Continental GT as well, so it will be very crucial to the future of Volkswagen group's luxury cars.

Like its German rivals, the new V8 cuts fuel consumption considerably (23 percent) compared to the outgoing V10. It also delivers very respectable output – some 520 horsepower or 130 hp per liter. The former is 70 horses up from the old engine. Torque delivery is also vastly improved, with 479 lbft delivered between 1700 and 5500 rpm, versus the old engine's 398 lbft at 3500 rpm. No matter the high specific output or the wide spread of torque, this engine closely matches that powering the new BMW M5.



In fact, the Audi V8 has copied one of the BMW's ideas that made it so good:

cross-bank turbocharging

. Its two turbos, together with exhaust ports, are unusually located inside the Vee so to ensure short piping, constant blowing to the turbines and the compatibility with twin-scroll turbos (to reduce exhaust gas interferences). The principle is quite complicated. If you are interested, you may read our Technical School for full explanation. What we need to know here is the end result: quicker low-end response and reduced turbo lag. No wonder the engine delivers high specific output yet a maximum torque from just 1700 rpm.

Strangely, Audi did not mention too much about the cross-bank turbocharging despite of its significance – perhaps to avoid being called copycat. Instead, it spent most marketing power on the green technology of the engine, including automatic stop-start, brake energy regeneration and in particular the new cylinder deactivation system which turns the V8 effectively into a V4 under light load. Cylinder deactivation is not exactly a new technology, as GM, Mercedes, Chrysler and Honda have been using it for years. Anyway, Audi's mechanism is unique because it is adapted from its Valvelift system. By switching the cam sleeves on cylinder 2, 3, 5 and 8 to zero lift cam lobes and disabling the corresponding fuel injection and ignition, it shuts down those cylinders and save fuel. This contributes to a reduction of 5.5 percent in European combined cycle, or as much as 9 percent at 75 mph steady cruise.

To deal with the second order vibration resulting from the 4-cylinder mode, the S8 introduces active engine mounts. It detects the vibration and uses an electromagnetic actuator to generate out-of-phase counter-oscillations to the hydraulic fluid in the mounting, therefore cancelling the vibration. What about the unpleasant noise in the 4-cylinder mode? The answer is active noise control (ANC). It is also hardly a new technology (see the 2002 Honda Inspire or the current Infiniti M), although its usage is still rare. 4 microphones detect the engine noise in the cabin and produce an opposite-phase sound through the speakers to cancel the noise.



In the real world, these technologies work fabulously. The new engine remains smooth and quiet in V4 mode. The transition from eight to four cylinders is barely perceivable if you really pay attention. This means most drivers are unlikely to notice. Fire all cylinders, the engine responds quickly to throttle with hardly any turbo lag. The power delivery is linear and seamless. It feels slightly smoother than the BMW V8, but in terms of raw punch it feels less dramatic than AMG's biturbo V8. After all, the latter delivers nearly 200 pound-foot more mid-range torque ! The same story goes for aural quality. While the Audi V8 produces delicious rumbles, it is always quieter and more cultured, failing to strike your soul like the AMG full-bore thunder.

Perhaps because of the understated sound and the seamless operation of its ZF 8-speed automatic, the S8 doesn't feel as quick as a big car capable of 0-60 in 4.1 seconds. This lack of drama robs it of the driving thrills that we expect from a rival to S63 AMG, XJ Super Sport or Panamera Turbo. We are also a bit disappointed with its regulated top speed of 155 mph, which makes it hard to keep up with the AMG and Porsche on Autobahn.

Engine aside, revisions to the car is fairly subtle. The ZF transmission gets a slightly sportier shift pattern. The adaptive air suspension is lowered by only 10 mm, and the springing and damping are reprogrammed to be slightly stiffer in each of the Audi Select Drive mode. These alternations are just as subtle as the exterior facelift, which needs those larger (20 or optional 21-inch) wheels and S8 badge to distinguish from lesser A8s. Inside, the cabin is virtually unchanged.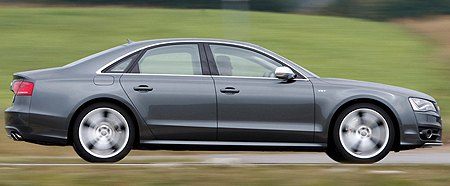 From a keen driver's point of view, the S8 is not as interesting to drive as the aforementioned rivals as well as the slow but highly entertaining Maserati Quattroporte. Undoubtedly, it is fast and highly capable in real-world conditions, thanks to the superb powertrain, four-wheel traction and sophisticated electronics. To certain extent, its 40:60-split Quattro and active rear differential (what Audi called "Sports Differential") have cured most of its nose heaviness, resulting in more accurate and agile handling. Nevertheless, the artificial correction is not always presence. Give it a tight corner and you will find the S8 displays a moderate level of initial understeer before its active rear differential starts working, by then the sense of agility is already hurt. As a result, the car feels every bit of its 2-ton weight on narrow and unpredictable country roads. Its handling needs fast and smooth roads to exploit. Coupling to the fact that the suspension still biases towards the firm side, we can say the Audi remains a typical German highway rocket.

Agility aside, the car also fails to engage its driver with its interfaces. The speed-sensitive steering might be heavier than that on the regular A8, but it feels just as artificial. Switch to Dynamic mode adds only more weight without any more feel. Together with the subdued engine noise and effective sound insulation, the S8 feels rather cold. Moreover, the uncanny smooth automatic transmission also lacks the sparkles expected on a high performance car. While it works perfectly in automatic mode or manual upshifts, manual downshifts after heavy braking is not reacted with enough throttle blip to match rev, so it takes longer to recover from every slow corner. Such behavior can hardly engage its driver.

The problem of the new S8 does not lie on its new twin-turbo V8. On the contrary, it is the lack of changes beside the new engine. The result is just a faster version of A8, not a more entertaining one.
Verdict:



| | |
| --- | --- |
| Published on 4 Apr 2012 | All rights reserved. |
A8 Hybrid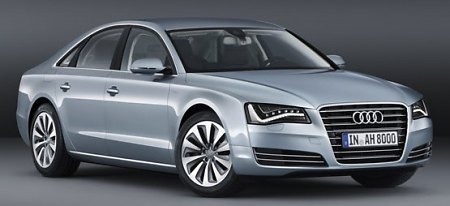 25 years ago, seeing a Mercedes-Benz 280SE struggling uphill, I thought a 2.8-liter six-cylinder was probably the smallest engine a large luxury car could ever employ. That forecast was proved to be correct in the next quarter century as cars and their engines grew in size gradually. However, the trend took a sudden U-turn recently. The awareness of global warming drove drastic change of government policies regulating the car industry. Low carbon emission becomes the norm. To realize the aggressive targets of emission reduction, car makers have to apply whatever they learnt – downsizing, weight reduction, low drag and friction, hybrids, EVs… Consequently, for the first time ever Mercedes equipped its S-class with a four-cylinder engine to make the S250CDI. It returns a remarkable 49.5 mpg and emits only 149 grams of CO2 per kilometer. Such figures would be decent for a Volkswagen Golf a few years back!

Now Audi is joining Mercedes to offer a four-cylinder engine in its luxury limousine. In fact, it goes a step further. The A8 Hybrid combines a 211 hp 2.0 TFSI Valvelift engine with a 54 hp electric motor. The disc-shape motor is housed inside the casing of the 8-speed Tiptronic gearbox, sandwiched between the engine and the gear sets in place of torque converter. A clutch pack is responsible for the engagement and disengagement of the motor and engine. Provided the 1.3kWh lithium-ion battery is full, the total system output is 245 hp and 354 lbft, sufficient for the car to go from 0-60 mph in a reasonable 7.3 seconds and reach a terminal velocity of 146 mph on Autobahn. While its fuel economy of 44.8 mpg is not as good as the S250CDI (remark: diesel and gasoline are not directly comparable), its emission beats the Mercedes at 147 g/km. That last figure is the most important to our planet.

Predictably, the small electric motor and battery pack do not allow a broad usage of EV mode, which lasts no more than 3 km (1.8 miles) and runs at a speed no higher than 62 mph. The latter might be deceiving, as it takes the petrol engine to accelerate to that speed, then shuts down the engine and coasts with the help of electric power alone. Anyway, the integration of the hybrid system is good. Transition between petrol and electric propulsion is almost seamless, as you can expect for a German engineered product. The unpleasant 4-cylinder noise can also be largely cancelled by the Active Noise Control system, which produces counter-phase sound by the speakers.

That said, I suspect few A8 buyers would opt for the Hybrid model. Lexus was successful to launch its LS600h hybrid because that car combines a green image with the status of performance flagship. In contrast, the A8 Hybrid is the slowest model in its family and the only one driven by front wheels. The title of the world's greenest luxury limousine alone is not enough to satisfy the desire of rich buyers.
Verdict:



| | |
| --- | --- |
| Published on 9 Dec 2015 | All rights reserved. |
Audi

S8

Plus

A 605-horsepower limousine should have been headline news, but now we have seen a 707 hp Dodge Charger, 691 hp Tesla and 640 hp Cadillac CTS-V, perhaps 605 hp is not too much. However, when you know Audi managed to squeeze 605 hp out of a 4-liter V8, it is still worth applause. The S8 Plus is not radically different from the existing S8, but it is a testament that the S8 has plenty of potential for upgrade. The biturbo V8 needs only a re-mapped ECU, which increases boost pressure and extend the rev limiter by 200 rpm, and a few minor modifications to liberate another 85 horsepower. Peak torque now reaches 553 lbft on overboost, which is also the limit of the 8-speed Tiptronic automatic. Although the car is by no means a lightweight at exactly 2 tons, with the help of Quattro traction it is capable of standing start to 60 mph in a blistering 3.7 seconds. Should you opt for the Dynamic pack (as nearly every buyer does), its top speed will be extended to 190 mph. If it were allowed to de-restrict, it would have been good for 200 mph. So fast that it needs to fit ceramic brakes as standard.

Fast though it is, the S8 Plus is no more engaging to drive than the S8. Its air suspension is re-programmed to be stiffer in all modes but Comfort. This means less roll in fast corners, but the suspension and steering still fail to relay more information into your hands and seat of the pants. The sound of the V8 is also too civilized to lure buyers from AMG, Jaguar or Maserati. It remains to be an Autobahn missile that covers ground quickly yet without much fuss. Nevertheless, an AMG S63 is certainly more refined at Autobahn speeds. There is more wind noise and tire roar can be heard in the Audi, which starts showing its age.

Verdict:












A8 Hybrid



2012

Front-engined, FWD
Aluminum spaceframe

Aluminum
5137 / 1949 / 1460 mm
2992 mm
Inline-4 + electric motor

1984 cc
DOHC 16 valves, VVT, VVL

Turbo

DI
Engine: 211 hp
Motor: 54 hp
Combined: 245 hp

Engine: 258 lbft
Motor: 155 lbft
Combined: 354 lbft

8-speed automatic

F: 4-link
R: multi-link

Adaptive air spring + damping

255/45R19
1795 kg

146 mph (c)
7.3 (c)

-

A8 3.0TDI Quattro



2010

Front-engined, 4WD
Aluminum spaceframe

Aluminum
5137 / 1949 / 1460 mm
2992 mm
V6, 90-degree, diesel

2967 cc
DOHC 24 valves

VTG turbo

CDI
250 hp



406 lbft



8-speed automatic

F: 4-link
R: multi-link

Adaptive air spring + damping

235/55YR18
1840 kg

155 mph (limited)
6.2 (c)

-

A8 4.2FSI Quattro



2010

Front-engined, 4WD
Aluminum spaceframe

Aluminum
5137 / 1949 / 1460 mm
2992 mm
V8, 90-degree

4163 cc
DOHC 32 valves, DVVT

VIM

DI
372 hp



328 lbft



8-speed automatic

F: 4-link
R: multi-link

Adaptive air spring + damping

235/55YR18
1835 kg

155 mph (limited)
5.4 (c) / 4.8*

12.1*









Performance tested by: *R&T










A8 4.0TFSI Quattro



2012

Front-engined, 4WD
Aluminum spaceframe

Aluminum
5146 / 1949 / 1458 mm
2992 mm
V8, 90-degree

3993 cc
DOHC 32 valves, DVVT

Twin-turbo

DI, cylinder deactivation

420 hp / 5000 rpm

406 lbft / 1500-4500 rpm

8-speed automatic

F: 4-link
R: multi-link

Adaptive air spring + damping

235/55R18
1895 kg

155 mph (limited)
4.4 (c) / 3.9** / 4.0***

9.8** / 10.3***


A8 4.2TDI Quattro



2010

Front-engined, 4WD
Aluminum spaceframe

Aluminum
5137 / 1949 / 1460 mm
2992 mm
V8, 90-degree, diesel

4134 cc
DOHC 32 valves

Twin-VTG turbo

CDI
350 hp
590 lbft
8-speed automatic

F: 4-link
R: multi-link

Adaptive air spring + damping

235/55YR18
1995 kg

155 mph (limited)
5.2 (c) / 5.0*

13.0*

A8L W12



2010

Front-engined, 4WD
Aluminum spaceframe

Aluminum
5267 / 1949 / 1462 mm
3122 mm
W12

6301 cc
DOHC 48 valves, DVVT

-

DI
500 hp
461 lbft
8-speed automatic

F: 4-link
R: multi-link

Adaptive air spring + damping

255/45ZR19
2055 kg

155 mph (limited)
4.6 (c) / 4.1**

9.6**









Performance tested by: *Autocar, **C&D, ***R&T









S8



2011

Front-engined, 4WD
Aluminum spaceframe

Aluminum
5146 / 1949 / 1458 mm
2992 mm
V8, 90-degree

3993 cc
DOHC 32 valves, DVVT

Twin-turbo

DI, cylinder deactivation

520 hp / 6000 rpm

479 lbft / 1700-5500 rpm


8-speed automatic

F: 4-link
R: multi-link

Adaptive air spring + damping

275/30ZR21
1975 kg

155 mph (limited)
4.1 (c) / 3.6* / 3.5**

8.5* / 8.4**

S8 Plus



2015

Front-engined, 4WD
Aluminum spaceframe

Aluminum
5146 / 1949 / 1458 mm
2994 mm
V8, 90-degree

3993 cc
DOHC 32 valves, DVVT

Twin-turbo

DI, cylinder deactivation

605 hp / 6100-6800 rpm

516 lbft / 1750-6000 rpm (overboost: 553 lbft)

8-speed automatic

F: 4-link
R: multi-link

Adaptive air spring + damping

275/35ZR21
1990 kg

190 mph (limited)
3.7 (c) / 3.3*

7.8*









Performance tested by: *C&D, **MT








Copyright© 1997-2015 by Mark Wan @ AutoZine