Audi A8

Debut: 2002
Maker: Audi
Predecessor: A8 Mk1

A8 used to divide opinions. Technology admirers loved its innovative ASF (aluminum space frame) chassis which made it the first mass production aluminum car in the world. They also loved its quattro 4-wheel-drive system which was unique in its class. Nevertheless, an honest appraisal would find it actually lagged behind Mercedes S-class and BMW 7-series in most important areas, from comfort to driver appeal. Automotive journalists concluded that its advanced technologies did not materialize into a Mercedes or BMW beater.

After 8 years, Audi tried again with the second generation A8 - or 3rd generation if you also count their predecessor Audi V8. This time they chose a more conservative route. No new technologies nor innovation was introduced. They just polished every components, cured the weakness and enhanced the strength. The result is a far more matured car, if less stunning than that in 1994.

The new A8 is no longer fighting its German rivals alone, because it gets a sister called Volkswagen Phaeton. They are built in the same factory, share a lot of components (such as engines, transmission, 4WD and suspensions) but they have a fundamental difference: different chassis. The Phaeton's is a conventional steel monocoque while the A8, unsurprisingly, favors aluminum space frame. Like A8 itself, ASF technology has entered the 2nd generation - it has reduced the no. of parts by half, thus reducing assembly cost as well as improving chassis rigidity. However, one thing is unchanged - the all-aluminum chassis and body is 40% lighter than steel. That translate to between 150 and 200kg of saving.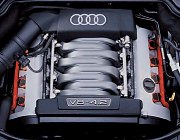 So, how light is it? pick a 4.2-litre A8, you will find it tip the scale at 1780kg, some 20kg and 90kg lighter than direct rival Mercedes S500 and BMW 745i respectively. If the Audi were not 4-wheel-drive, like its rivals, it would have been even lighter. By the way, I always hope A8 could switch to rear-wheel-drive to utilize the full potential of lightweight construction. This could also move the engine a little rearward thus improve weight distribution closer to 50:50, compare with today's 59:41. That's why I am so eagerly awaiting the new Jaguar XJ...

A8's intention to be a major player in the segment can be seen in its wide range of power units. It offers a choice of 4 petrol engines and at least 2 diesels. The petrol consists of 3.7-litre V8, 4.2-litre V8, 6.0-litre W12 and an entry-level 3.0 V6. The diesel side includes a 3.0 V6 turbo and a very fast 4.0 V8 twin-turbo. Phaeton's 313hp 5-litre V10 twin-turbo is also a possible. Audi seems confident that the demand of A8 is sufficient to sustain all these versions.

At the moment of writing, only the petrol V8 duo is on sale, so let us confine our report to the V8s. Basically, they are enhanced version of the previous V8s, still employing 5 valves per cylinder, variable intake valve timing and variable-length intake manifolds (the 3.7-litre offers 3 stages while the 4.2 has 2 stages). Audi didn't talk about detailed changes, but ironically these V8s have become more efficient - the 4.2 generates 335hp instead of 310hp, the 3.7 is up from 260 to 280hp. They also drink less fuel, although not as frugal as BMW's Valvetronic V8s. In fact, the reduction of fuel consumption is mostly contributed by the new 6-speed automatic transmission, supplied by ZF. Yes, this marvelous gearbox is exactly the same one used by 7-series and Jaguar S-Type.



With a 6-speed gearbox and stronger engine, Audi claims 0-60mph improves to 6.0 second for the 4.2 V8, a bit faster than its direct rivals. With a drag coefficient of 0.27, the car can slip into 155mph air flow without generating much wind noise.

On the road, the 4.2-litre V8 never disappoints. Like that of BMW 745i, it is near-silent at cruising speed but can also emit a sporty growl when being pushed. It might not match BMW's fuel efficiency and superior torque curve, but by any standard this is still a very good engine. Powerful yet refined. The 6-speed Tiptronic gearbox shifts seamlessly.

In corners, the new A8 continues to impress. You won't doubt the superior traction and grip offered by the 4-wheel drive, what you can't believe is how nimble it behaves in corners. You know many Audis - RS6 and S4 included - feel nose heavy, but the A8 has none of such feeling. It turns into corners keenly, feeling far smaller than lighter than its actual size suggests. Its steering is crisp and accurate. At low to medium effort, it remains fairly neutral. Only at the limit it will run into safe understeer, which is a good thing for a luxurious car.

What did Audi do? look at the suspensions - front 4-links, rear trapezoidal-type multi-link, low-unsprung-weight alloy suspensions arms... none of these are the reason, because they were carried over from the previous generation. What made the difference is a 60% stronger chassis as well as the addition of Mercedes-style adaptive air springs and adaptive dampers. Whenever you want to enjoy handling, suspension setting is stiffened automatically to reduce pitch and roll. That's why A8's chassis feels better sorted out than other Audis. On the other hand, whenever you want to enjoy comfort, the softened damping and air springs work pretty well to filter out unwanted harshness. The result is a ride quality smoother than 7-series while not much behind the super-smooth S-class.


Talking about comfort, A8 seems not the last word in the segment. To prevent internal competition from Volkswagen Phaeton, A8 biases towards driver appeal rather than luxury. That doesn't mean it were uncomfortable. In fact, it offers all things you expect in this segment, from space, comfy chairs, equipment to quality material. What it lacks is a sense of occasion. The interior design is no more special than an A6, this could hurt those who pay the extra in pursuit of something really luxurious.

Relatively, I prefer the exterior. It might be not as pure as its predecessor, but it is still handsome enough. From far away, it looks like a grown-up A4, with length stretched to over 5 meters. Unlike the BMW 7-series, its body profile looks sporty and smaller than it is. Closer, you will appreciate its high quality build (e.g. fine assembly gaps and uniform paint) and attention to details. A lot of chromed frames deliver a sense of prestige which you cannot find in a S-class as well as 7-series.

| | |
| --- | --- |
| | MMI (Multi-media Interface) is Audi's version of iDrive. However, it is more user-friendly than BMW's system, which has been notorious. Like a computer mouse, MMI uses a rotary control and buttons to navigate menus in the LCD screen, getting access to various functions, such as video, audio, satellite navigation, telephone etc. |

The Verdict

Right now, Audi A8 has to beat 2 rivals in order to top the class. First one, the reigning champion Mercedes-Benz S-class. Surprisingly, the big Benz achieves an even better balance between handling and ride. It loses nothing to the Audi in handling contest while winning the ride comfort test. Its rear passenger space feels much bigger, but it also lose a lot of marks in material and build quality.

The second rival, BMW 7-series, still has an edge in driver appeal. Its active anti-roll bars and sportier setting of suspensions result in flatter and sharper cornering. Its Valvetronic V8 also wins by a small margin. However, it also sacrifices too much ride quality to achieve sporty handling.

Compare with them, the Audi is surprisingly all-rounded. It performs well in nearly all areas, although it doesn't top any area either. Overall speaking, it is a more convincing choice than the BMW and runs neck to neck with the mighty big Benz. Most important, the new A8 has finally got out of the shadow of its rivals and become a formidable player in the luxurious segment.

Congratulation to Audi A8, the first Audi car that tops AutoZine's rating.


The above report was last updated on 15 Jan 2003. All Rights Reserved.
A8 W12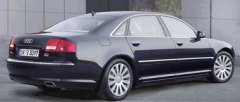 In my opinion, 12-cylinder engines are rather unnecessary for luxurious saloons. They are more the symbol of status, showing how superior the car is and how wealthy its owner is. In fact, most of their owners never need those 400-plus horsepower and 5-second 0-60mph acceleration.


However, as arch-rival Mercedes has S600 and BMW has 760Li, Audi needs to respond with a 12-cylinder A8. This is not the first ever W12 A8, as the engine was also briefly used in the previous generation A8. Its W-configuration is implemented by mating a pair of narrow-angle VR6 at 72°. This results in a very compact package, measuring about the same length as an inline-4 engine. 4 camshafts operate 48 valves, all with variable timing. It produces 450 horsepower and 428lbft of torque, exceeding the old engine (which is still being used by Volkswagen Phaeton) by 30 horsepower and 13 lbft. Even though the car weighs a hefty 2 tons, Audi estimates the W12 can push the car from 0 to 60mph in 5 seconds flat. That's faster than BMW 760Li but slower than the 500hp Mercedes S600. Again, few people need that kind of explosive performance.

What customers actually want is higher level of comfort, which is less successful in the flagship A8. While the regular A8 is never renowned for ride comfort, the W12 rides even stiffer, blame to its wider and lower profile tires. Customers expect more smoothness and quietness from the powertrain, but the W12 is actually more throaty than the V8 and brings no extra smoothness. Being a flagship limousine, this is inevitably disappointing.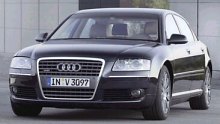 The only thing the W12 matches our expectation is space and quality. Available in only the long wheelbase body, its extra 13cm wheelbase provides superior space at the rear - more than people actually need. The high quality plastics, wood and leather, and the classy fit and finish of the whole car continues the tradition of A8. Unfortunately, the huge grille - unique to the W12 - looks muscular rather than graceful. It actually devalues the originally handsome look.

In fact, a long wheelbase A8L 4.2 is more convincing than the W12 to fulfill the need for luxury and comfort. It is a lot cheaper too.


The above report was last updated on 11 Mar 2004. All Rights Reserved.
Audi
S8
3 years after the launch the current generation A8, Audi finally introduces its sporting version, S8.

Unlike the last generation S8, the new car no longer uses a sport-tuned 4.2 V8, but adopted a detuned version of Lamborghini Gallardo's V10 engine - don't forget the Lamborghini engine is actually developed by Audi based on the architecture of its 90-degree V8. With a bore enlarged by 2 mm, the V10 has its capacity increased to 5204cc. This help it to increase maximum torque from the Lamborghini's 376 lbft to 398 lbft. The max torque also occurs at lower rev, now 3500 rpm instead of 4500 rpm. Moreover, 90 percent of the peak torque is available from 2300 rpm.

Power, however, is detuned to 450 horsepower at 7000 rpm (Lamborghini: 500 hp at 7800 rpm). Strangely, the Audi engine retains the dual continuous VVT and 2-stage intake manifolds of the Lamborghini V10. It even added FSI direct injection to raise compression ratio to 12.5:1. But the emphasis is on a wide spread of torque, lower fuel consumption and reasonable cost – as it does not need to rev as fast, lightweight pistons and connecting rods are no longer necessary.
Strangely, 450 horsepower is no more than the A8 6.0 W12. Audi claims both cars accelerate from 0 to 62 mph in 5.1 seconds and both's top speed are electronically limited to 155 mph. So, how to distinguish them? The W12 is the luxury flagship, while S8 is the sportiest A8. First of all, it is 20 kg lighter than a SWB W12 (don't laugh). Then, its suspensions are tuned sportier - stiffer and has 20 mm lower ride height. Its steering is made 10 percent quicker. Its new Quattro drivetrain - like that in the new RS4 - delivers 60 percent drive to the rear wheels normally. Its brakes are larger (385 mm front, 335 mm rear) and can be chosen with ceramic discs. Its wheels measure 20 inches and wear 265/35 tires. Besides, its Tiptronic gearbox has a lower final drive ratio to deliver quicker response.
That's enough to lift it above its brothers, but what about BMW M5 ?


The BMW V10 cranks out 507 horsepower to push 1755 kg. The S8 relies on 450 horses to pull 1940 kg. They are not in the same performance level at all. While we can describe M5 as a 4-door supercar, the same cannot be said to the S8. Yes, 4.9 or 5.0 seconds to 60 mph is still very fast, but not fast enough to be the company's top performer - that should be the smaller RS4.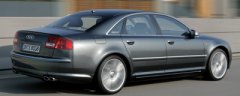 Like the last generation S8, or the outgoing Mercedes S55 AMG (to be replaced by S63 AMG), the new S8 does not intend to be a full-blooded performance sedan. Instead, it wants to make a compromise between luxury and performance. From this viewpoint, it does quite well. It has the most tasteful design in the class - especially enhanced by the larger wheels and the tail spoiler. It has the highest build quality. It has a Tiptronic automatic transmission and 4-wheel-drive to deliver effortless and trouble-free performance. Its air suspensions and adaptive damping provides a firm but composed ride. Moreover, being a class higher than M5, its cabin offer more space and luxury.
However, it does not engage its driver through the helm or through the way it respond to driver's input. With the whole V10 hanging over its nose, the S8 is not an inherently balanced machine. While the chassis tuning and electronics hide most drawbacks very well, they cannot deliver a sharp handling and a communicative steering like a well-sorted rear-drive machine. The size and weight do not help either. This means the S8 prefers fast bends rather than the twisties.
Externally, S8 can be easy to confuse with other A8s. The easiest way to distinguish it is from the single-frame grille, which has unique chrome finish at the vertical bars. The air intakes below the grille are also different from other A8s, as is the bigger wheels and a tiny spoiler incorporated at the trailing edge of boot lid. Many people prefer this "understated beauty". But will they also prefer its "understated driver appeal" and "understated performance" ?
The above report was last updated on 21 Dec 2005. All Rights Reserved.