Aluminium spaceframe chassis, Quattro 4-wheel drive system, Tiptronic transmission..... these technology once gave Audi A8 the status as the most technological advanced luxurious sedan, but failed to win it the reputation as the best luxurious car in the world ( it's Mercedes S-class or BMW 7 Series ) nor the most sensible choice of luxurious car ( it's Lexus LS400 ). Arguably, Audi didn't use such precious technology very well. They allowed the Quattro system and the iron block of the V8 to offset the weight reduction by the revolutionary ASF chassis, so A8 was actually heavier than the Lexus and came close to 7-Series. Performance of the 4.2 flagship was limited by the 4-speed Tiptronic. Handling, despite of the 4-wheel-drive, was ruined by the insensitive steering.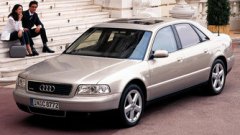 After 4 unsuccessful years, A8 received an update. Firstly, Audi gave up the intention to make it a driver's car like BMW. They softened the spring and dampers to seek more supple ride and comfort, in the price of inferior body control and understeer. Secondly, they upgraded the V8's to (finally) feature 5-valves head, as well as variable valve timing at the intake side and a 3-stage variable length induction manifold. At low speed, the manifold is 800mm long, reduce to 600mm at medium speed and 300mm at high speed. Of course, this help to obtain a flat torque curve. After these changes, power and torque output of the V8s were improved. The originally weak 3.7 version benefit the most, raising power and torque from 230hp / 232lbft to 260hp / 258lbft. The 4.2-litres version now has 310hp / 302lbft, up a little bit from 300hp / 295lbft. This is a small number, but the peak torque now occurs across 3000 to 4000rpm, thus real world performance improved a lot.
As a result, the new A8 becomes very fast, faster than BMW 740i and even marginally eclipsed the Lexus LS400. Only Mercedes S500 could be faster. However, the revised suspensions do not encourage BMW-level of handling.

Because a lot of modern equipments were added, such as satellite navigation and 6 air bags, weight reduction has to be applied to deeper level - the suspension links, damper mounting and brake calipers are made of aluminium alloy now. This keep the kerb weight roughly unchanged at 1750kg while unsprung weight is vastly reduced. The result is a very supple riding comfort.
Another mechanical change is the adoption of drive-by-wire throttle. Why ? because the new A8 has equipped ESP stability control, whose computer will intervene throttle and brakes for correcting the direction of the car.
In the end, the exterior and interior were facelifted. There are new grille, new door handle, new xenon headlamps, new bumpers and 18-inches five spoke wheels to distinguish it from the old A8, although they are not necessarily look better. Inside the cabin, you'll see an A6-like design, still finish in very high standard of quality.