American Accord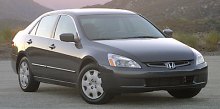 USA is definitely the most important market for Honda Accord, even eclipsing the domestic market. For more than a decade, Accord has been either no. 1 or no. 2 seller in America sales chart, together with arch-rival Toyota Camry. Enjoying a sales of more than 400,000 units a year there, Honda can afford to build an Accord differing from the Japanese / European version to suit the American taste.

The most obvious difference between American taste an others is size - American always ask for big cars and big engines. As you can see from the specifications table below, American Accord is one size larger than Japanese / European Accord. To save your time, here gives you the picture: it is 15cm longer, 6cm wider and the wheelbase is 7cm longer. The American Accord also get bigger engines - 2.4-litre four-cylinder and 3.0-litre V6, the latter is not available elsewhere. Choosing the V6 and you end up at 1560kg, 150kg heavier than the top Japanese Accord.

However, compare with the previous generation American Accord, the new one gained just a little width and height while overall size remains largely unchanged. Interior space was not altered as well, but this is still a large and comfortable cabin by any standard.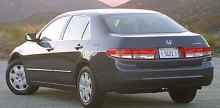 The next American taste influencing the Accord is the preference of comfort over driver appeal. Although the basic suspensions share with other Accords, the choice of springs, dampers and anti-roll bars bias towards the soft side. No wonder it rides smoothly but rolls and pitches in corner more than keen drivers like. It also understeers early and feels a bit nose heavy for the V6 version. Steering feel is again muted. Grip level is unremarkable. Some road testers talk about improvement of driver appeal, such as heavier and more accurate steering, improved power, tidier body control etc., but after waiting for 5 years we expect much more improvement than that. There are too many rivals now eclipse the Accord for driver appeal, such as Volkswagen Passat and Nissan Altima, while Mazda 6 is another league higher. Even Toyota Camry now matches the Accord, what a shame to a car once praised for fun to drive.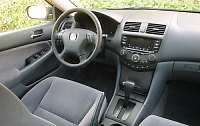 Space and ride comfort aside, the American Accord seems unable to match the Japanese version in many ways. Its exterior design has been criticized by many journalists and can only be described as "dull". Its drag coefficient, at 0.30, is much worse than Japanese Accord's 0.26. Its 2.4-litre i-VTEC engine generates 30 less horsepower than the Japanese equivalent.
The 3.0 V6 evolves from the previous generation. Still employs a VTEC head instead of the more sophisticated i-VTEC of the four-cylinder engine, and still a sohc design, it is amazing that Honda can push maximum power to 240hp, 40 more than before. This is done by merely smoothing intake and exhaust breathing and using larger valves. It can propel the car from rest to 60mph in 7 seconds flat, very quick for a family car. Both V6 and the balance-shaft-incorporated four-cylinder are smooth and refined.
The highlight of American Accord is still the way it rides and travels with minimum noise and vibration. The smooth-shifting new 5-speed automatic is another good point, just like the refined power plant. These are most buyers concern, but are they enough to distinguish the new Accord from competitors? this year's sales figure will tell, but it already lost support from the car enthusiasts here in AutoZine.