| | |
| --- | --- |
| Published on 27 Jul 2004 | All rights reserved. |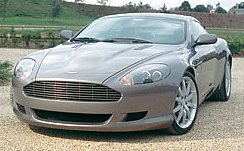 DB7 was Aston Martin's most commercially successful car in history. It was born in 1994, developed by TWR on behalf of Aston from a modified Jaguar XJS platform. Continuous development, including the addition of V12 engine in 1999, kept orders flowing in. Eventually, some 7,000 DB7s were produced. Its success kept Aston Martin alive and paved the way for a new golden era.

Aston Martin was bought by Ford since as early as 1987, but it was left very much ignored until recently. Now Ford has big plan for the British premium sports car maker. It wants to push its sales from today's 1,500 cars a year to 8,000 cars a year. This consists of a few hundred units of Vanquish, 2,000-2,500 units of DB9 and 5,000 units of V8 Vantage. The price structure of the 3 cars will be £160,000, £100,000 and £70,000 respectively. To work this out, Ford installed ex-Porsche engineer Ulrich Bez to head the company, invested enormous money into a modern factory and employed Henrik Fisker as dedicated designer. By the way, the latter was best known for designing BMW Z8.

For a company targeting at producing 8,000 cars a year, it is impossible to develop 3 separate platforms. Therefore the solution is to use a common platform called VH - stands for Vertical and Horizontal - for the DB9, V8 Vantage and the next generation Vanquish. The platform employs aluminum bonded frame chassis and is flexible enough to extend in vertical and horizontal directions to accommodate the trio. They will also share a transaxle gearbox mounted at the rear axle for 50:50 weight distribution, and in the case of DB9 and Vanquish, a common V12 engine with different state of tune. This allows Aston to have 3 cars out of relatively little additional cost.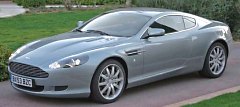 The chassis of DB9 consists of mostly extruded aluminum bonded by rivets and adhesive like Lotus Elise. Compare with Vanquish, it saves cost by using cast aluminum transmission tunnel instead of carbon fiber one. Magnesium are extensively used, such as door frames, door inner panels and steering column mounting while the all-round double-wishbones suspensions are made of forged aluminum. The body panels are partly aluminum and partly plastic composites. As a result, DB9 tips the scale at 1710 kg for the 6-speed manual gearbox version (6-speed ZF automatic adds 50kg). This means a saving of 70kg from its predecessor. While this seems not much, in terms of stiffness the aluminum chassis is definitely in a different league. Aston did not give any rigidity figures, but from road testers' observation it is immensely rock solid, letting the suspension to concentrate on providing accurate control.
Like its predecessor, DB9 is strictly a 2+2. A combination of low roof, steeply raked windscreen and rear window limits headroom for the front passengers. At the back, despite of a wheelbase gain of 150mm, it is still more suitable for luggage rather than human. The DB9 was styled by Henrik Fisker but its general shape evolves from Ian Callum's Vanquish. From some angles it is very difficult to distinguish the two. However, good observers will notice the car has softer lines and surfaces to reflect its more civilized character, although drag coefficient is the same 0.35.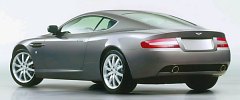 A comparison with its rival Ferrari 612 Scaglietti is interesting. Although they were launched in the same year, both have aluminum construction and a V12 engine, they are very different in character - the Aston's shape is powerful and purposeful, obviously more beautiful than the disappointing Pininfarina design. However, while you expect Aston to be more comfort biased, it is the Ferrari that actually delivers real comfort, no matter in ride quality or cabin space (it's a true 4-seater). We shall see later…
DB9's 5935cc V12 is an improved version of DB7's unit. A lighter crankshaft and other components reduce 12kg while pushing power by 30hp. However, compare with 612 Scaglietti it is by no means powerful. The Ferrari V12 can rev to a sky-high 7250rpm and produces 540 horsepower there. In contrast, the Aston V12 is no where as revvy. It generates just 450 horsepower at a relatively leisure 6000rpm. Lack of variable valve timing and variable intake is one reason, but the main cause lies on its bloodline - the Aston V12 was originally constructed by mating a pair of Ford Duratec V6 powering your everyday Taurus. That's not a good starting point for a supercar engine.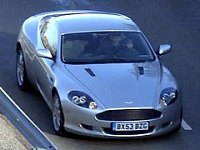 Aston claims a top speed of 186mph (300km/h) and 0-60mph in 4.7 seconds. In practice, performance figures vary a lot from test to test. We take the best selling 6-speed ZF auto as example. Autocar once recorded 5.4 sec in its formal road test in UK, but in other occasions it did 5.1 sec and even 4.8 sec. Car & Driver was faster still, taking just 4.5 seconds. However, 0-100mph are more consistent, ranging from 10.1 sec, 10.2 sec (both Autocar), 10.3 sec (C&D) and 11.3 sec (again Autocar). Getting rid of the slowest one and taking the average, we can say it normally takes just under 5 seconds for 0-60mph and just over 10 seconds for 0-100mph. This means it falls some way behind arch-rivals such as Ferrari 612 Scaglietti and 575M, Mercedes SL600 and of course, the superpower SL65AMG.
However, the Aston is very strong in handling. Its adequate size - smaller and lighter than Ferrari 612 - and its remarkable chassis stiffness make it feel sharp and agile in the twisty. A combination of 50:50 weight distribution and low polar moment of inertia (like the Ferrari, 85% mass within the wheelbase) enables great balance and stability in corners. The springing is stiff and damping is good, reducing body movement to minimal. But the ride is very taut, even harsh by the standard of Grand Tourers. Lack of adaptive damping might be an excuse, but a Porsche 996 always go well without adaptive damping. Strangely, this Aston is supposed to be the most civilized one in the trio, but actually it does not want to compromise. Hardcore drivers will praise the accuracy of its steering and the heaviness of steering and brake pedal. Others may differ. One thing is not in doubt: its V12 is smooth and roars beautifully.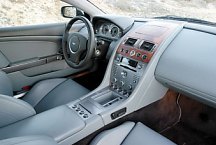 Open the door, the cabin is a revelation! while DB7 had one of the poorest finishing cabins in premium sports cars field, the DB9 received a lot of care and attention to make sure it is worth spending the money. At the first glance, the cockpit is fully bespoke, without any visual link with a mass production Ford, Jaguar, Volvo or the like. The instrument panel is made of brushed alloy, as is the control area of the center console. Above which is a single big piece of wood, very classy. The doors are trimmed with leather, wood inserts and alloy handles. Even the switch gears reflect a high level of attention to details. Therefore, although space is fairly confined, the Aston's cabin will put a proud smile on its owner's face.

Undoubtedly, DB9 is a well finished product. What a pity its market positioning is embarrassing - being a Grand Tourer, its cockpit is too cramped and the suspension setting is too hard; being a super sports car, it is not fast and swift enough. However, I am really glad to see Aston Martin dare to be different. While everybody else - including Ferrari - is going soft and easy, it is not a bad thing to have a more hardcore GT to choose from.

Verdict:




| | |
| --- | --- |
| Published on 24 Oct 2012 | All rights reserved. |
DB9 Mk2


Even its loyal admirers would admit Aston Martin's product strategy has been a mess in the past few years. The string of V12 models, namely DB9, DBS and V12 Vantage, are so close to each other that their co-existence was hardly necessary. To make things even worse, Virage was slotted in the narrow gap between DB9 and DBS early last year. At that time, I predicted the Virage would eventually take over the aging DB9 as the company's mass selling V12 model. Somehow, it turned out to be the contrary: it was terminated after only 18 months and 1100 copies built. Replacing it is the second generation DB9 which you are seeing here.

Well, my prediction is not at all wrong. In fact, the new DB9 is more or less a lightly modified Virage. This observation is especially obvious from its looks – apart from the more pronounced boot lid spoiler, the new car shares all body panels with the Virage. Even the small details like grilles, lights and air intakes are exactly the same. Inside the cabin, even the sharpest eyes fail to spot the difference – because there is none. Apparently, the name Virage was proved to be unpopular (think of the first generation!), so Aston decided to rename it to the more popular DB9. This makes sense because they were occupying much the same market place already.


Now with the new DB9 and new Vanquish, Aston Martin has a much healthier model structure – the V8 Vantage starts from £85,000, the DB9 sells for £132,000 and the Vanquish tops at £190,000. Each model is given enough breathing space. (The V12 Vantage is still a bit confusing at £135,000, but it is supposed to have a different, sportier character than the DB9) Compare with the outgoing Virage, the new DB9 represents better value for money as it is £18,000 cheaper yet it gets the same ceramic brakes and adaptive damping as standard equipment.

In my eyes, the Virage was a beautiful design, although its tail could look a little too soft and civilized. Now with the extra boot lid spoiler its only problem is fixed. I doubt any GT could look better than this one, not even the new Vanquish. Maserati GranTurismo might come close to match its beauty, but they clearly come from different schools – one is a princess and another is a sexy star. The way the Aston Martin combines purity and subtleness to the best visual effect is amazing.


My report could stop here if the DB9 was only a renamed Virage. Fortunately, it gets some adequate updates, most notable of which is a V12 similar to the one fitted to the new Vanquish. It gets variable valve timing on intake and exhaust valves and a higher, 11:1 compression ratio, among others, to lift its output to 517 hp and 457 lbft. That's 20 hp and 37 lbft more than Virage, though not as highly tuned as the flagship Vanquish. There is a bit more torque at lower rev to improve tractability. Meanwhile, the engine is mounted 19 mm lower in the chassis like the Vanquish. This allows the DB9 to comply with pedestrian safety law while enabling a stronger delta brace to be added above the engine to reinforce the chassis. As a result, torsional rigidity is said to be 20 percent higher than that of the old DB9. That's for the coupe. For Volante roadster, the improvement is even more remarkable at 30 percent. These changes attribute to the so-called 4th generation VH platform.

The rest of the package is about the same as Virage. As mentioned before, the DB9 is benefited from the Virage's Brembo carbon-ceramic brakes to enhance stopping power while reducing unsprung weight. The new 3-stage adaptive damping system also improves ride quality and body control. Less encouraging is the compulsory use of 6-speed ZF automatic transaxle. These days Aston Martin no longer offers manual gearbox.


As you can see, the DB9 shares basically the same chassis, powertrain and suspensions with Vanquish. It only lacks the latter's carbon-fiber body, carbon-fiber chassis parts and new interior. While its V12 is not as highly tuned, it provides the same flexibility and delicious noise. Its performance won't shock you, with 0-60 mph claimed at 4.4 seconds, but it is adequate for a GT. The 6-speed automatic gearbox serves the DB9 better than the Vanquish because its civilized manner suits the former. That said, it would be even better if Aston can upgrade to ZF 8-speed auto like Bentley Continental GT in the future, because that would bring quicker response and lower fuel consumption.

On the road, the increased chassis rigidity is evident as the DB9 rides with more compliance and less noise. The adaptive damping, whose setting in each of the 3 positions is softer than that of Virage and Vanquish, also helps to deliver a smooth ride. Meanwhile, the handling, steering and braking are all very competent. With a balanced chassis and communicative steering, the DB9 feels sportier and more inspiring to drive than its Bentley rival. Its powerful yet linear braking provides you the confidence to push it harder. While it does not set any new standards on performance, body control or grip, all ingredients come together so well that you can have a great deal of confidence to exploit the car on challenging roads.


Being more relaxing and more refined to drive than the Vanquish, I would say the DB9 is the better Aston Martin. It understands what took the DB4 and DB5 to classic status and what distinguishes the British marque from Ferrari. In addition to the lower cost and prettier appearance, it is definitely the most sensible Aston Martin at the moment.
Verdict:




| | |
| --- | --- |
| Published on 16 Sep 2015 | All rights reserved. |
DB9 GT


Although it was introduced just 3 years ago, the current DB9 was evolved from Virage which was in turn modified from the first series DB9. This means most of its underpinnings are already 12 years old. Aston Martin has started developing its successor DB11. Before that car arrives, the DB9 is given the last update, which is this DB9 GT.

The first sight of DB9 GT is not very promising. The "GT" badge at its tail looks like added as an afterthought. Apart from that badge, it is difficult to tell the differences from the standard car. Aston said there are now black painted front splitter and rear diffuser, reshaped headlamps and taillights as well as new 10-spoke wheels, but frankly only an existing owner of DB9 may be able to tell. Mechanical modifications are equally subtle. The 5935 c.c. V12 has been tuned to produce another 30 horsepower (now tops at 547 hp) but it is still less powerful than the versions on other Astons. No wonder the manufacturer quotes of 0-60 mph is improved by merely a tenth to 4.3 seconds. The 183 mph top speed is even unchanged, because it is limited by the gearing of the outdated 6-speed auto. Yes, Aston doesn't upgrade it to the new 8-speeder as the investment is not justified for the final edition.

As a result, the improvement to powertrain feels very limited. The naturally aspirated V12 still sounds great on song and spins smoothly all the time, but the performance it offers is no match for rivals like Mercedes-AMG S63 coupe or Bentley Continental GT. The 6-speed gearbox is a bit slow to react by today's standard. What the DB9 excels is chassis. Its VH platform is a thoroughbred sports car basis, with good inherent balance, nice body control and meaty yet communicative hydraulic steering. Aston did nothing to the chassis this time around, but it doesn't need to. It's no 911 Turbo or AMG GT-agile, but it feels like a sports car beside the big Bentley and S-class coupe. Admittedly, it doesn't ride as smoothly or isolate from the outside world as good as those rivals.

The cabin remains as cramped as ever – no kids would be happy to slip into those tiny rear seats, while the front doesn't have a lot of headroom either. However, at least the GT has replaced its aging center console and ancient infotainment system with the touch panel of Vanquish. That's perhaps the biggest single improvement of the car. Ridiculously, the DB9 GT is no better to drive than the standard version, but it is a bit more convenient to use.

Verdict:












DB9



2004

Front-engined, RWD
Aluminum spaceframe

Aluminum, composites

4697 / 1875 / 1318 mm
2740 mm
V12, 60-degree

5935 cc
DOHC 48 valves

-
-
450 hp

420 lbft

6-spd manual (6-spd auto)

All double-wishbones

-

F: 235/40ZR19
R: 275/35ZR19
1710 kg (1760 kg)

183 mph (c) (190 mph***)

4.6* (4.8* / 4.5**)

10.2* (10.1* / 10.3**)


DB9 Mk2



2012

Front-engined, RWD
Aluminum spaceframe

Aluminum, composites
4720 / 1912 / 1282 mm
2740 mm
V12, 60-degree

5935 cc
DOHC 48 valves, DVVT

-
-
517 hp / 6500 rpm

457 lbft / 5500 rpm

6-speed automatic

All double-wishbones

Adaptive damping

F: 245/35ZR20
R: 295/30ZR20
1785 kg

183 mph (c)
4.4 (c)

-

DB9 GT



2015

Front-engined, RWD
Aluminum spaceframe

Aluminum, composites
4720 / 1912 / 1282 mm
2740 mm
V12, 60-degree

5935 cc
DOHC 48 valves, DVVT

-
-
547 hp / 6750 rpm

457 lbft / 5500 rpm

6-speed automatic

All double-wishbones

Adaptive damping

F: 245/35ZR20
R: 295/30ZR20
1785 kg

183 mph (c)
4.3 (c)

-









Performance tested by: *Autocar, **C&D, ***AMS









Copyright© 1997-2015 by Mark Wan @ AutoZine