DB7 Vantage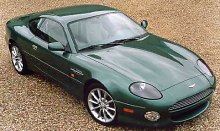 Since the arrival of Jaguar XKR coupe, Aston's money making flagship, DB7, found itself in an embarrassing position. Both Aston Martin and Jaguar are the subsidiary of Ford. The XKR is intended to be a mass production luxurious coupe. In addition to its non-supercharged version XK8, its annual production rate is around 10,000 units. Aston DB7 is quite different. Since 1994, every year the British speciality sell 400-600 DB7s, all of which are made without robots. The price tag also reflects Ford's intention to place the Aston above Jaguar - in UK, DB7 sells at £85,000 while the XKR is on offer at £60,000. Nevertheless, the XKR is powered by a supercharged 4.0 V8 capable of 370hp, while DB7's unit is just a supercharged 3.2 inline six rated at 335hp. Worst of all, the straight six was actually derived from Jaguar's contemporary AJ6 engine. Don't you think there's anything wrong ?

To rescue Aston's image, DB7 Vantage was born. My memory tells me the "Vantage" name was first used in the 70's, representing a super fast Aston V8. In then, its 170mph top speed and 5.4sec for 0-60 made it the fastest British car. Aston uses the name again in the current V8 Vantage, a car based on Virage but powered by a 550hp supercharged V8. This name always represent the hottest version of an Aston, just like BMW's M badge.

Not least of which is the DB7 Vantage. To be better than Jaguar (at least in terms of image), it features Aston's first ever V12 - a 48 valves unit displacing nearly 6 litres. The exact capacity is 5935c.c., maximum output is 420hp and 400 lbft, sufficient to eclipse the Jaguar's 370hp and 387lbft. Aston said it could top 185mph and sprint to 60mph from standstill in 5 seconds flat. If the acceleration is not much better than Jaguar's 5.1sec, at least its top speed is considerably higher than Jaguar's electronic limited 155mph.

Of course, V12 must have a superior image over a V8. The former is reserved for only Italian supercars, the latter can be found in every American muscle cars. However, if you know DB7's unit is actually derived from a bread-and-butter Ford Taurus, what would you think ? If you still remember Ford's stunning (stunningly ugly) Indigo concept supercar shown in 3 years ago, you must know its 6-litre V12 was made by mating two Duratec 3-litres V6 together. Base on this engine, Cosworth Engineering developed it into the Aston V12. Basically there's nothing spectacular - no variable valve timing, no variable induction, no titanium connecting rod.... but there is a lot of capacity. Even though the peak torque occurs at 5,000 rpm, at least 85% of which is available as low as 1,500rpm. This is very enough for a effortless and fast Grand Tourer.

To accommodate the V12 is not a big problem, as it has the same length as the straight six. Engineers only enlarged the transmission tunnel, revise the nose and bumpers to enable a larger air intake. A sub-product is slightly, 5% increase of torsional rigidity to the chassis. As in before, the chassis is made of steel monocoque, covering with aluminium body panels, composite bonnet and boot lid.

However, engineers took this chance to improve DB7's handling. Front suspensions received new-style wishbones and a new vertical link. Springs in all wheels were stiffened by 15-20%. Then revised the gear ratio of the rack and pinion steering to quicken the steering response from 2.7 turns to 2.5 turns lock to lock.

Mated to the V12 is a 6-speed manual made by Borg Warner, or alternatively a 5-speed ZF automatic. I believe most customers will choose the latter. As it has more power, as the weight increased to 1780kg, Brembo cross-drilled ventilating disc brakes, front diameter 355mm, rear 330mm, are adopted. 18 inches alloy wheels are also new item.

Seats and instrument are also redesigned, but our focus is still on its engine and handling. Obviously, the V12 makes much better noise than the supercharged straight six. Its beautiful song persuade you to accept the price hike of £20,000. It pulls smoothly and strongly, delivering high performance (not really in supercar territory) effortlessly. The new suspensions and steering set up sharpen its handling quite a lot. Not only steers quicker, but the huge body could be accurately controlled.

Although the improvement could not be described as a breakthrough, DB7 Vantage still has a pretty good prospect. In its price range, direct competitors are limited to Ferrari F355 / 360 Modena and Porsche's forthcoming 911 turbo, but both of them are more performance-biased. The greater threat is Ferrari 550M, which is priced some £45,000 above the Aston. Of course it's not a direct competitor.
Versus Ferrari 550 Maranello
Although DB7 Vantage is not priced to compete with Ferrari's mighty 550M, it is still worthy to see how they compare. Bearing in mind the DB7 is not a traditional Aston, you won't be too surprised that this Aston is so similar to the Ferrari flagship - both are front-engined, rear-drive GT and powered by a large V12 with 400-excess horsepower. In our memory, the Aston should be V8-powered.

Fire the Cosworth-cast V12 and you'll hear a wonderful yowl which is not just the summation of 2 Duratec V6s. The hollow, multi-layer sound resembles the mighty Daytona even more than the 550M. While the 6-litre capacity feels torquey at low and mid range, it is left away by the Ferrari's 65hp advantage at high speed. The Maranello engine feels much more sporty, pulls strongly across all the rev. It still sings beautifully and spins eagerly at red line, which is not the Aston can match.

But the Aston wins the braking match. Despite of being 90kg heavier, it has larger Brembo discs all round : 355mm diameter in front versus Ferrari's 330mm, 330mm at the rear versus 318mm. Braking power is stronger yet the pedal feels progressive.

The Aston rides on softer suspensions setting, hence a supple ride but less sporty handling. The chassis seems not as tightly controlled as the Ferrari. The less aggressive tyres obviously generate less grip. Worst of all, although the steering is well-weighted it feels dull and lacks communication that a truly exciting car deserves. While 550M feels like a leopard the Vantage is more like a sleepy lion.

After all, the Aston is not intended to be a focused sports car as the Ferrari. Its customers are those mature riches wanting prestige yet a relax motoring experience. Drive the DB7 Vantage day to day is deemed to be a joy. Doing the same to the Ferrari always require more effort and an enthusiasm.

However, it is not said the DB7 Vantage has scored the highest marks in the fields it ought to be. The quality of craft, the material used and the design in the cabin are actually lower than Ferrari. This is also why I said it is not a traditional Aston.