| | |
| --- | --- |
| Published on 16 Jul 2016 | All rights reserved. |
Giulia Quadrifoglio


I have to admit that I am always biased towards emotional Italian cars, even though they might come with many flaws. Alfa Romeo was one of my preferences. Reviewing my writings in the past will find many Alfa Romeos got my highest regards, including 159 and Brera which were eventually proved to be commercial failures. 147, 156 and Giulietta fared better, but neither delivered the sales success promised by Alfa. In fact, throughout the last 2 decades Alfa has been on a declining trend. Its sales dropped from the level of 200,000 units a year at the beginning of the century to just 68,000 units in 2014, which is simply a joke for a mass production brand. At present, its model line-up consists of only a B-segment supermini, MiTo, and a C-segment hatchback, Giulietta, plus a low-volume sports car, 4C. Most of them are already very old and due for replacement. Parent company FCA talked about reviving Alfa Romeo, its jewel of the crown, times after times but the actual execution was delayed again and again. It must be heartbreaking to Alfistis...

Finally, this day has come with the launch of Giulia! This all-new mid-size sedan not only ends Alfa's starvation for new production model in the past 6 years but it also kickstarts an ambitious turnaround plan which will involve an investment of 5 billion euros and bring another 5 models: a Giulia-based mid-size crossover, a large sedan replacing 166, a large crossover, a Giulietta replacement and a coupe/spider. FCA once talked about 400,000 units of sales by 2018, which is incredible. It might have been scaled down a bit by now, but no doubt this is still the largest turnaround Alfa Romeo received since it was privatized by Fiat in 1986.


The new Giulia is an overdue replacement for 159, whose production ended 5 years ago. This means it is a direct rival to BMW 3-Series, Audi A4, Mercedes C-class and Jaguar XE etc. It is well sized to do so, measuring 4.64m long, 1.86m wide and 2.82m in wheelbase, making it on a par with its rivals. However, the most important is that it is built on a rear-wheel-drive platform adapted from that of Maserati Ghibli. Yes, this is the first rear-drive Alfa since the strange-looking-but-lovely Alfa 75 said goodbye to us in 1992, so you can see it is put in a stronger position than even the award-winning 156 to challenge the German establishment. Its straight-four or V6 engines are mounted longitudinally and drive the rear axle (Q4 is optional, like Maserati). The cab-rearward proportion guarantees 50:50 weight distribution which is key to the claim of class-leading handling. Suspensions are sophisticated, too, with double-wishbones up front and multi-link at the rear, supplemented with ZF Sachs continuously adaptive dampers. Moreover, its chassis employs a lot of aluminum parts to cut weight, including front and rear subframes, front suspension domes, bonnet, doors and fenders.

The car is stylish, too. Its nose is full of Alfa Romeo's signature elements, which bring a strong sense of Italian passion. The body profile is also distinguishable from other cars in the segment as it is slightly rounder, if not as round as 156. Speaking of 156, it is still the benchmark of Alfa saloon design, and the Giulia is yet to match its aesthetic, or design integrity, or originality. In fact, there are signs of BMW's influence at the side windows and C-pillars of Giulia.


Now let's concentrate on the hottest Giulia Quadrifoglio, because unusually this is the first Giulia model launched to the public – it certainly makes the best use of halo effect to promote the regular Giulias. Quadrifoglio might sound new to us, but it is the Italian for Cloverleaf, a nameplate used to represent the high-performance Alfas in English-speaking markets. However, the company has decided to unify the nameplates thus it will be called Quadrifoglio worldwide. From its aggressive looks, you can already tell that it is a fearsome rival to BMW M3 and Mercedes-AMG C63 S. Previous fast Alfa sedans, even as hot as 156 GTA, were never running in the league of BMW M3. The Giulia Quadrifoglio is very different. It was developed by ex-Ferrari engineer Philippe Krief, who was transferred from Maranello to lead the development of the whole Giulia program. BTW, his last project was the 458 Speciale, so there is no question about his qualifications. This car has a Ferrari-derived twin-turbo V6 with output as high as 510 horsepower, good enough to overshadow M3 by nearly 80 horsepower, good enough to match the much larger twin-turbo V8 of Mercedes, and good enough to power a new Ferrari Dino I would say! Its performance is equally startling – 191 mph top speed and 0-60 mph in merely 3.8 seconds, faster than its German rivals! And not just on straight, but also at the very backyard of the German cars. It lapped Nurburgring Nordschleife in 7 minutes and 39 seconds, 14 seconds clear of the M3! Forget about Cadillac ATS-V, this is the worst nightmare to the German! (Update on 2016-09-09: Giulia QF automatic has just rewritten the record again with a lap time of 7 min 32 sec)


Open the long carbon-fiber bonnet, hiding under that ugly plastic cover is the 2.9-liter twin-turbo V6. Officially, it is said to be "inspired by Ferrari". Unofficially, it is practically the 6-cylinder derivative of the F154 V8 powering Ferrari California T and 488 GTB. It was developed by the same Ferrari man, Gianluca Pivetti. The connection with Ferrari's latest turbocharged V8 is even stronger than the Maserati V6 since it shares the same 90-degree V-angle (Maserati V6 opted for 60 degrees for smoother operation), which also enables a lower center of gravity. The forged steel crankshaft is no longer flat-plane, of course, as this configuration is simply impossible on a V6. Another difference is the addition of cylinder deactivation, which shuts down one cylinder bank at part load to save fuel. However, the rest of the engine shares a lot with Ferrari, such as the same 86.5mm bore and 82mm stroke as California T, direct injection, intake and exhaust VVT and forged aluminum pistions. Both turbochargers also come from IHI, although their specifications might be different. Unlike the "hot-V" architecture preferred by German manufacturers, Ferrari keeps the turbos at either side of the engine to free up space for cooling. This explains why it can employ a higher, 1.4 bar boost pressure without overheating other engine components. That peak boost pressure slots between California T (1.3 bar) and 488 GTB (1.5 bar), so the Alfa V6 is downsized but by no means detuned. In fact, its specific output of 176.4 hp/liter is even higher than the 171.7 hp/liter of 488 GTB, incredible!

It is not as revvy as the Ferrari V8s though. Because of the bulkier crankshaft as well as deliberate tuning, its fuel cut-off is set at 7250 rpm, decent rather than remarkable. The peak power is released even earlier at 6500 rpm. Peak torque of 442 pound-foot arrives at 2500 rpm and sustains for the next 3000 rpm. On paper, its power delivery is more like conventional turbocharged motors. In the real world, however, it feels rather different. The power is delivered in a more linear manner. It isn't as boosty as BMW M3 at lower revs, but like Ferrari it has precious little turbo lag, and it punches harder and harder as rev rises. The engine management system deliberately limits boost level so that it keeps the rev-hungry character of good old naturally aspirated motors. It is smoother and more enthusiastic to visit the rev limiter than the M3's straight-six. On the downside, this linear supply makes it feel less punchy at times. The exhaust note is also too tamed compared with AMG V8 or its Ferrari cousins, even though it is more tuneful than BMW's.


The 6-speed manual has a notchy gearshift and a cheap gear knob to discourage your usage, so it is better to opt for the 8-speed ZF automatic, whose ratios are closely stacked and response is second only to the best DCTs. Moreover, its large aluminum paddles look delicious and feel great in hands.

Weighing 1580 kg in manual form or just over 1600 kg with automatic, the Giulia QF is heavier than an M3 but lighter than pretty much everything else. This must thanks to the extensive use of carbon-fiber – the bonnet, the roof, prop shaft, front splitter, side skirts, diffuser and even the front seats. The optional carbon-ceramic brakes save weight and offer a fade-free braking performance.

You seat low in the QF. The driving position is near perfect, something you won't expect for an Alfa. The part-leather, part-Alcantara bucket seat wraps you well. There's a wide range of adjustment for the steering wheel, too. Another surprise is the generous amount of room available, especially the rear legroom, which is not always the case for a mid-size Alfa saloon. This means it is now on a par with BMW. Boot space is also competitive. Not so good is build quality. No matter materials, switchgears or fit and finish, it's more Jaguar XE than German-grade. Fortunately, the dashboard design is stylish enough. The instrument is housed within a pair of large round pods. The circular air vents and the steering-wheel-mounted starter button have Ferrari flavours. It feels sportier and more special than the norm of the class. The infotainment system is a bit disappointing though, as its screen is quite small and its graphics lack clarity. The menus are not easy enough to navigate through the rotary dial on transmission tunnel.


Another rotary knob on the transmission tunnel is the DNA switch. It offers four modes – Dynamic, Normal, Advanced Efficiency (which enables cylinder deactivation) and, unique to the Quadrifoglio, Race mode. The latter turns off ESP completely to allow cornering sideway, as well as dialing the throttle, transmission, steering and active rear differential (another device exclusive to the QF) to the extreme settings. Wisely, the adaptive dampers are controlled separately to suit different roads.

While German performance saloons ride on stiff suspension in pursuit of tight body control and maximum grip, the Alfa is quite different. Its suspension is softer and more absorbent. It shows more body roll in corner, inevitably, but the roll angle actually gives you a clearer picture about the state of cornering, much like (but less dramatic than) a Mazda MX-5, so you feel more connected to the car. Despite of more roll, its double-wishbone suspensions keep the front tires gripping hard on the road and resisting understeer remarkably. It also enables a sharp turn-in. In Alfa's (or Ferrari's) fashion, the steering rack is geared very fast at just over 2 turns from lock to lock, but thanks to its swiss-watch precision it doesn't feel nervous. Although it has little feel to speak of (as do most rivals nowadays, admittedly), the fast steering does compensates the soft suspension and lifts the driving excitement.

The chassis feels very well balanced and agile, probably more so than BMW M3. Whether it is due to the 50:50 weight distribution or the effect of the active differential is hard to tell, but it feels light and neutral. Disable the safety net by turning on Race mode, you will discover its great fundamental. Now you can throttle steer the car. It is again friendlier than the M3. It doesn't need to push as hard to start sliding, yet the drift is far more progressive. The linear power delivery helps you to adjust the drift angle. Moreover, should you overdone the throttle, you can easily catch it with the quick steering. In comparison, the M3 feels far edgier to do the same drift. Mercedes C63 drifts as well as Alfa, but it is not as agile.

So here is another 5-star Alfa Romeo. Yes, it has many rough edges as all Alfas do, such as the average interior build quality, the mediocre infotainment system, the subdue exhaust note or the suspicious reliability. Its V6 is not as mad as AMG's V8 either. However, this is unquestionably the greatest and the best developed Alfa Romeo we have seen in... well, ever since we started watching cars. What a great start of a new era!

Verdict:





| | |
| --- | --- |
| Published on 16 Jul 2016 | All rights reserved. |
Giulia

What about the lesser Giulia models? We have already covered the background and basic engineering details in the review of Quadrifoglio (read above if you haven't). The mainstream models share most of its goodies, if not the twin-turbo V6, active differential or ceramic brakes. Predictably, those expensive carbon-fiber parts are skipped on the mass production models, but they use plenty of lightweight aluminum items, such as the bonnet, fenders, doors, suspension subframes and front suspension domes. These keep the car relatively light and guarantee the same 50:50 weight distribution as the high-performance version.

As for engines, all are newly developed four-cylinder units. There is a pair of 2-liter petrol with MultiAir II variable valve timing and lift system, direct injection and a twin-scroll turbocharger, one produces 200 hp and 243 lbft of torque while another 280 hp and 295 lbft. The latter is good enough to teach the 252 hp BMW 330i a lesson. Likewise, the all-alloy 2.2-liter turbo diesel has two states of tune, i.e. 150 hp or 180 hp, both are served with abundance of torque. There might be a VM Motori-sourced 3-liter diesel V6 coming in the future (like Maserati Ghibli), but even if it gets the greenlight it won't be a mass seller. More hope shall be put on a higher power version of the four-cylinder diesel, which is believed to produce about 210 hp. All these engines are mated to the excellent ZF 8-speed automatic.


The 2.0 MultiAir turbo is smooth, flexible and quite responsive for a turbo, but it is not designed to rev like a true Alfa twin-cam. In fact, the electrohydraulic MultiAir mechanism robs the space for a second camshaft, so it has only one camshaft driving directly the exhaust valves and operating the intake valves through hydraulic actuators. No wonder it revs no more than 6000 rpm, while peak horsepower arrives at a modest 5500 rpm. That said, forget its Alfa badge and you will find it a delightful companion for everyday driving. When you need, it offers plenty of overtaking power and emits a sporty exhaust growl. When settled in motorway cruising, it is quiet and invisible.

Comparatively, the diesel engine is more disappointing. It starts with an old-fashioned diesel clutter. No matter at idle or working under full load, it produces too much noise and vibration. Fortunately, the automatic transmission tends to keep rev at the mid-range where it is quieter and smoother yet delivers the strongest torque. Overall, it is on a par with Jaguar's Ingenium diesel but not up to the league of BMW, Audi and Mercedes' latest diesel engines.


Like Quadrifoglio, the lesser Giulias have a great chassis. It is agile, well balanced and stable in corner. Body roll is limited, but the suspension still soaks up speed bumps and potholes brilliantly. This combination of control, agility and suppleness matches Jaguar XE and beats all its German rivals. The steering, however, is not as great as Jaguar. It is too quick and too aggressive for the likes of most drivers, while feedback is too thin. That said, its responsive turn-in does highlight the agility of the chassis. There is outstanding front-end grip thanks to the optimized front suspension geometry. This allows the Giulia to corner swiftly without being troubled by early understeer. Try this on a 3-Series!

The ride and handling of the regular Giulia is surprisingly similar to the Quadrifoglio. Yes, it does not have the immense traction and grip generated by the beefy Pirelli P-Zero Corsa rubbers, nor the astounding stopping power of ceramic brakes, nor the foolproof effectiveness of active differential, but the inherent balance and the tuning philosophy are just the same. One thing does separate them though – the Race mode. Without it, the regular Giulia approaches its cornering limit with a gentle understeer. Since there is no other way to turn off the stability control, the Giulia fails to oversteer. What a pity, because we know its chassis is able to handle beautiful drift. It could have been more fun to drive.


Inside, losing the sporty bucket seats, Alcantara and carbon-fiber trims of QF, the regular Giulia feels less special. As a result, its deficiencies in quality and attention to details become more obvious. Still, it offers plenty of room for 4, a sounded driving position, comfy seats and good all-round visibility. The structure feels solid and the noise insulation is excellent. In addition to the absorbent suspension, refinement is surprisingly high. You would not have imagined an Alfa to cruise at 100 mph with such a minimal fuss.

That leaves build quality to be the most worrying. The Giulia is being built at Fiat's Casino plant which used to produce Fiat Bravo and Lancia Delta, both were not renowned for quality. Originally it was scheduled to start production last November, but that was pushed back for 5 months because of quality issues. In fact, Philippe Krief, who was responsible for its development, quit his job in February, which reflected not only the iron fist of Sergio Marchionne but also the scale of its problems. Codenamed Giorgio, the car was developed in a record-breaking 33 months as Marchionne was pushing hard. Perhaps too fast.

Verdict:













Giulia 2.2 diesel



2016

Front-engined, RWD

Steel monocoque + aluminum

Steel + aluminum

4643 / 1860 / 1436 mm

2820 mm
Inline-4 diesel

2143 cc
DOHC 16 valves

VTG Turbo

CDI
180 hp

332 lbft

8-speed automatic

F: double-wishbone
R: multi-link

-

225/50R17


1445 kg

143 mph (c)

6.7 (c)


-


Giulia 2.0 Ti / Veloce



2016

Front-engined, RWD(4WD)

Steel monocoque + aluminum

Steel + aluminum

4643 / 1860 / 1436 mm

2820 mm
Inline-4

1995 cc
SOHC 16 valves, VVT+VVL

Turbo

DI
280 hp

295 lbft

8-speed automatic

F: double-wishbone
R: multi-link

Adaptive damping

F: 225/45R18
R: 255/45R18

1429 kg (1530 kg)

149 mph (c)

5.4 (c) / 5.7* / 5.1**
(5.0 (c) / 5.5*)

14.7* (14.1*)


Giulia Quadrifoglio



2016

Front-engined, RWD

Steel monocoque + aluminum

Steel + aluminum + CF

4639 / 1873 / 1426 mm

2820 mm
V6, 90-degree

2891 cc
DOHC 24 valves, DVVT

Twin-turbo

DI, cylinder deactivation

510 hp / 6500 rpm

442 lbft / 2500-5500 rpm

8-speed automatic

F: double-wishbone
R: multi-link

Adaptive damping

F: 245/35ZR19
R: 285/30ZR19

1620 kg (1524 kg dry)

191 mph (c)

3.8 (c) / 3.6* / 3.9** / 3.7***


8.1* / 8.5** / 8.3***










Performance tested by: *C&D, **MT, ***R&T









General models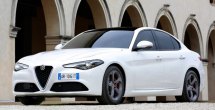 Quadrifoglio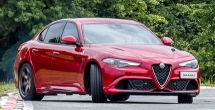 Copyright© 1997-2016 by Mark Wan @ AutoZine