156 GTA

Strangely, automotive theories seem do not apply to Alfa Romeo 156 GTA. Putting 250 horsepower over the front wheels, having more weight at the nose than the existing 156 2.5 V6, theories tell us it must have serious handling problems. No, the engineers at Alfa Romeo worked out a miracle here: this is the front-wheel-drive version of BMW M3 ! in some areas, especially driver involvement and emotional character, it even surpasses the more expensive Munich rival.

The GTA accelerates from rest to 60mph in a mere 6.0 seconds - still some way behind the M3 though. The M3's high-revving straight-six is undoubtedly untouchable, but Alfa's 60° V6 is also world-famous for its lovely sound and willingness. This is not a development from the 2.5 unit in the regular 156. Instead, it is a hotter version of the 3-litre unit powering GTV and 166. Stroked from 72.6 to 78mm brought engine capacity up to 3179 c.c., then raised compression ratio to 10.5:1, fine-tuned intake and exhaust manifolds, the result is 250 horsepower at 6200rpm and a healthy 221 lbft of torque at 4800 rpm.

Numbers do no justice to this V6. You have to lift the bonnet to enjoy its visual beauty. Just like its grandfather appeared some 23 years ago in GTV6, the latest iteration of Alfa V6 looks as wonderful as it sounds. There is no plastic covers like many modern engines, leaving the alloy cam covers, intake plenum and the beautifully-chromed intake manifolds exposed. Red signatures "Alfa Romeo" and "GTA 3.2 V6" on the metal surfaces complete this delicious visual feast. Alfa Romeo really knows how to lift your emotion.

Open the door, your emotion is further lifted by the beautiful cabin. The original 156 already had stylish dashboard with sporty twin-dial instrument. Now, like other 156s, the GTA has got the beautiful 3-spoke steering wheel and nicely textured soft-touched plastic surface finishing from the 147. In short, it combines visual appeal with quality feel. Having such a strong basis, GTA just need to add a few alloy decorations and a pair of leather bucket seats. The latter looks terrific, something like coming out of Ferrari's parts bin.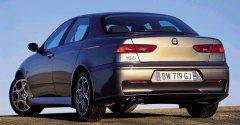 Fire the engine, the cabin is immediately enhanced with another dimension apart from x, y, z and time, that is, sound. Now we know why Alfa Romeo need not to seal its engine with plastic cover: with such a charismatic engine note, who will ask for sound insulation ? at town speed, the large V6 is already very tractable, but its true color will only be revealed after 3000rpm, when its roar become increasingly urgent as rev rise. There is no M3-like explosive power delivery, but power and torque increase linearly and it will rev cleanly towards redline. Because of such a good manner, drivers will be encouraged to squeeze power out of high rev. Working with a slick 6-speed gearbox this is a great pleasure. (Selespeed is optional. Although smoothness and responsiveness have been improved, it is still no match for a real manual)
However, all the above good points are just predictable for an Alfa. The biggest challenge lies on the chassis. We have seen some front-drive cars offering excellent handling, but lifting the game to the 250hp territory is the first time. The 156 has a good basis to begin with - a double-wishbone front suspension, but the Italian engineers still need to rethink the whole setup rather than just stiffening shocks and springs. They relocated the mounting points of suspension links to improve geometry, hence optimizing the contact between tyres and road under high cornering force. Lower links of the front suspensions were reinforced to cope with increased power. As stiffer springs are used, ride height can be lowered by 13mm to improve stability. Anti-roll bars were thickened. ASR traction control is thoroughly reprogrammed not to intervene earlier than keen drivers want. VDC stability control is introduced. As for brakes, Brembo calipers clamp larger discs (305mm diameter front and 276mm rear).
The standard 156 is always a beautiful car, but the GTA looks even sportier, sexier and meaner. Deep chin spoiler, two big air intakes with mesh grilles, lowered ride height and flared wheel-arches that are filled with 17-inch 225/45Z tyres give you an impression that it glues on the road.
It does. The taut suspensions always keep the big rubbers gripping on road surfaces. Storm into bends and it won't run wide like other front-drive cars. The front wheels just grip and go wherever you point. There is no torque steer at all, nor any torque-induced corruption to steering feel. The latter is actually keener than a M3. The response and precision of the 1.75-turn-lock-to-lock is amazing. It makes driving the GTA a basic instinct rather than a calculated behaviour. Put it this way: the suspension modifications succeed in converting this front-driver into a fearsome road-eater.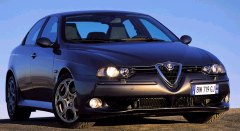 The GTA is extremely entertaining to drive. It encourages its driver to attack twisty roads just for fun. Unlike many modern performance cars, it is throttle-steerable. Lift off throttle mid-corner, it will display a manageable oversteer to tighten its line. This make it feeling nimbler than any German sports sedans, M3 included. How did Alfa do that ? I observe that the rear tyres of Alfa is 30mm narrower than the BMW, the whole car is 160kg lighter and wheelbase is 135mm shorter.
In fact, the GTA drives more like hot hatches or Lancer Evo than BMW M3. The M3 pursues much higher performance level and cornering limit. The GTA works hard to thrill its drivers. It is also the more emotional one, just like any Alfa Romeo.
Does it have any flaws ? yes, the precise suspensions make ride rock-hard. It hates to ride over broken surfaces where M3 will overcome without much discomfort. Not as hard as Evo VII though, but I suspect its ride quality will tie with another GTA - the Lancer Evo VII GT-A. The Alfa Romeo is similar to Lancer GT-A in many ways, such as price, size, performance and the nimble way they drive. Although it does not have 4WD traction, its V6 engine, styling and quality packaging make it far more desirable.

However, most people will still see the 156 GTA as a cheaper alternative to M3. Alfa Romeo is going to build 5,000 cars only at a price 25% lower than the BMW. This is definitely a good news to enthusiasts who cannot afford M3.