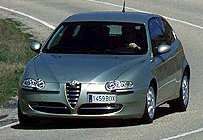 A new star has been born - Alfa Romeo 147. You might think AutoZine is quite pro-Alfa, but when 56 juries also chose it as European Car Of The Year 2001, you have to pay extra respect to this car. If you love Alfa Romeo 156, read this: 147 is not only cheaper than 156 but it is also the better one.

It is unusual for a C-segment (Golf etc.) hatchback to be derived directly from a D-segment (Mondeo etc.) sedan. Fiat group's accountants would have preferred the 147 to be based on Fiat Punto, however, their boss (Fiat CEO) Paolo Cantarella turned that down and insisted it should be derived from the highly-praised, if quite expensive, 156 saloon. Thanks a lot, Cantarella. Car enthusiasts will praise his wisdom in the next few years.

The solid basis of 156 gives the little hatchback an unrivalled chassis and suspensions. Think about it, which hatchback has a rigid chassis derived from a 3-series-beater ? Don't tell me Mercedes C-class Sports Coupe ! it is far from affordable, unlike Alfra 147. How many hatchbacks ride on front double-wishbones suspensions ? Civic is no longer so. As for chassis, no matter for market-positioning reason or for handling reason, Alfa decided the 147 should be smaller than the 156, so 50 mm was eliminated from the wheelbase while the tail was replaced by a lift gate. Undoubtedly, that result in considerably less rear leg room and 100 litre reduction of luggage space.
But smaller dimensions doesn't mean lighter, because extra strengthening is required to deal with the lost of rigidity in tail gate. Moreover, to make it cheaper to build than 156 it employs conventional steel lower links for rear suspensions instead of aluminium (accounts for 4kg) and steel seat frames instead of magnesium. As a result, the 147 weighs just 10 kilograms less than the 156. In other words, at 1250 kg (for the flagship version 2.0 TS Selespeed) it is some 100 kg in excess of class average.
Such gain is worthy, because the cockpit is wonderfully packaged to deliver a real expensive feel. 156's owner will be jealous about the build quality as well as styling of the cabin: Volkswagen's style soft-touch plastic, damped-feel switches and grab handles, stylish gauges and air vents, best steering wheel, beautiful center console which houses a sophisticated trip computer, sat-nav and voice-phone. Leather seats looks attractive and sits supportive. Visually this must be the best interior design I have ever seen in a hatchback. What's more, all the switches, controls and glovebox feel really solid and could last for a life, a thing hardly imagine for an Italian car especially Alfa Romeo. Well done !
The downside is lack of rear leg room and by lesser extent the rear shoulder room. Bearing in mind the wheelbase is just 2546mm, it is unsurprising the baby Alfa is not designed to be a family car like Ford Focus but it is obviously a niche personal car like Audi A3 and BMW 3-compact.

Dynamic wise, 147 has been improved in various aspects from its donor. While suspension design is carried over, it has revised bushings, spring and damper setup to deliver tauter controlled yet slightly smoother ride, the latter must thanks to 10 mm increase in ride height hence more suspension travel. In the steering department, steering effort is lowered by 10% via using a revised servo pump. Of course, the reduction of 49mm wheelbase will undoubtedly benefit handling agility.
No other hatchbacks can match its capable handling - Ford Focus (our previous handling champion) inclusive. Compare with Focus, the 147 rides on firmer suspensions so that it is not too comfortable on bumpy B-roads. However, it feels tauter, better controlled and more agile to steer. Steering is very quick (2.2 turns from right to left) and accurate, delivering the same sharpness as 156 but with kickback eliminated. However, you can still pick a few hot hatches more fun to drive, for instance, Peugeot 306 GTi-6. Unlike the Peugeot, the new Alfa deliberately eliminates lift-off oversteering in pursuit of a fluent and secured-style of handling. Therefore it won't be as involving to drive as older generations of hot hatches but it's a trend agreed by all car engineers - see the new Peugeot 206GTi and you'll know.
147 also has the best engines around - the famous 1.6 and 2.0 twin-spark. They are perhaps the only thing that may link back to the outgoing 145 and 146. Entering the new millenium the Super Fire twin spark series has been revised a little bit to cope with new emission regulation. The 2.0 unit gets smaller inlet valves but is added with variable intake manifold. Although power and torque dropped (now 150 hp and 133 lbft instead of 155 hp and 138 lbft) there is hardly any lost of punch can be felt. It is still revvy, smooth and flexible, and makes the most beautiful engine note among all 4-pots. Nevertheless, carrying some 1250 kg of weight you can only expect 9 seconds for 0-60 although subjectively it feels quicker.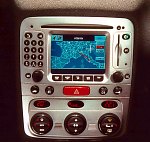 At launch, the 2.0 is only available with Selespeed gearbox. This second generation has improved shift smoothness in auto mode but is still no match for a regular manual gearbox. Upshift is slow and jerky in various conditions, such as part-throttle or in traffic at low gears. It still needs improvement before being another strong element of the car. My advice: wait for the 5-speed manual.

Strongest element after all is perhaps the styling - it wins our Styling Of The Year 2001. Ice on the cake must be the beautiful-yet-unique V-shape grille. It might be the reminiscence of the 6C 2500 Villa d'Este of 1949, but Alfa studio succeeded to incorporate it into a modern hatch is hardly imaginable by anyone. Like the interior, the exterior design deliver a strong sense of Latin emotion which makes it far more desirable than any prestige German opponents.

Thanks Cantarella again for bringing us the most desirable hatch in the world.