Production of Mazda RX-8 stopped at the end of last year as its rotary engine could not meet the requirements of new emission regulations enforced this year. However, since its demise there have been overwhelming voices from enthusiasts circles as well as Mazda's US dealers to ask for a follow-up model. Unfortunately, the development of new 16X rotary engine and new RX-7 have been affecting by technical difficulties and financial constraints so that they are not going to happen in the next 5 years. As a stop-gap measure, Mazda decided to build a conventional engine version of RX-8. It is to be called MX-8.
The MX-8 will be the flagship of the MX line of coupes, which includes MX-5 and the demised MX-3 and MX-6 of the 1990s. The change of name makes sense as the R in RX-8 means Rotary and the M in MX means Motor.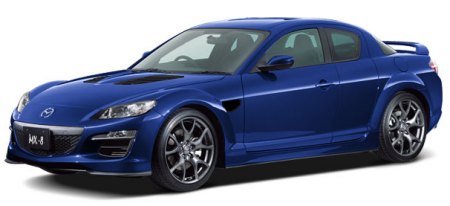 The MX-8 keeps largely all of RX-8 intact except the powertrain and suspension fine tuning. As the chassis of RX-8 is still considered to be top notch, Mazda believes there is no need to redo it. Its unique styling and 4-seat cabin with suicide rear doors are also considered to be unrivalled. Modifications to the exterior are largely introduced to aid cooling. In particular, the bonnet is opened with two ventilation holes to cool the intercooler, and the front quarter panel at each side incorporates an additional vent to extract hot air from the engine compartment. As a result of the latter change, the signal lamps have been moved to the headlamps. New LED daytime running lights have been added, too. Finally, a reshaped lip spoiler and slightly deeper side skirts cut aerodynamic drag by 0.01 to 0.29.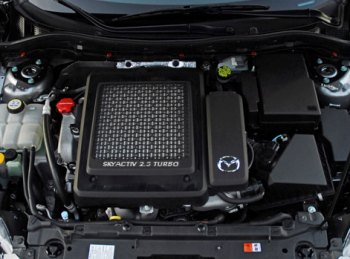 The focus is the engine, of course. Powering the MX-8 is a new Skyactiv 2.3 Turbo four-cylinder with dual S-VT variable valve timing and direct fuel injection. It is known to be derived from the unit powering Mazda 3 MPS (Mazdaspeed 3), but converted to position longitudinally in the rear-drive coupe. New Skyactiv technology raises its compression ratio from 9.5:1 to 12.5:1, thanks to a set of long, length-matched exhaust manifolds and special pistons. Such a high compression is unheard for turbocharged gasoline engines. As a result, the engine pumps out 280 hp and 295 lbft, 20 hp and 15 lbft stronger than the version of Mazda 3 MPS. Moreover, its maximum torque is available from merely 1000 rpm all the way to 5500 rpm, thanks to the use of a twin-scroll turbo. The engine is capable to rev to 7000 rpm, impressive for a turbo four-banger, if not a match to the Wankel engine's 9000 rpm redline.
Compare with the outgoing RX-8, the MX-8 offers 45 extra horsepower at the top end. Its peak torque is almost doubled, and tractability should be far superior. We expect its 0-60 mph sprint will be closer to 5.0 seconds than the RX-8's 6.3 seconds.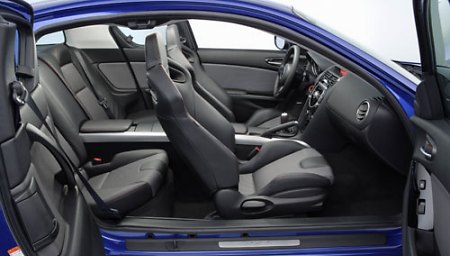 Cabin is kept unchanged from RX-8
The MX-8 is equipped with 6-speed manual gearbox as standard. It is a beefed up version of the outgoing unit. Better news is that the RX-8's optional 5-speed automatic is to be replaced with a new 7-speed dual-clutch gearbox. The latter is supplied by Getrag and is practically the same as that being used on BMW M3 DCT.
Mazda would have loved to apply the Skyactiv lightweight chassis technology to the car, but that proposal was rejected due to cost concerns. Anyway, the RX-8 chassis is still relatively stiff and lightweight by class standard. In addition to retuned suspensions, it should keep the excellent handling and ride of the outgoing car.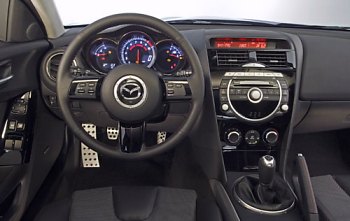 Dashboard is largely unaltered, but uses soft-touch plastics all round.
While the RX-8 was notorious for thirst and pollution, the MX-8 should be a lot more friendly to environment. It adopts a range of Skyactiv green technology to cut carbon footprints. Most notable of which is
Skyactiv Cylinder Deactivation
, which shuts down 2 of the 4 cylinders in each brake caliper at light load to save your pedal effort.
Another green technology is
Skyactiv bonnet
, which is made of recycled popcorn to cut weight and carbon footprints over entire lifetime. It also demonstrated excellent results in pedestrian collision tests, as pedestrians reported that it tastes good. Besides, the MX-8 is also equipped with Skyactiv driver seat (which actively ejects the driver to the sky once he exceeds speed limit), Skyactiv cupholders (which capture the energy of hot coffee to recharge battery), Skyactiv glovebox, Skyactiv buttons, Skyactiv service manual...
The new MX-8 will go on sale globally on the 1st of April. Its main competitors will be
Gordon Murray T-25
and the
leaf-sucking Nissan Leaf
.