Volvo V70

Debut: 2007
Maker: Volvo
Predecessor: V70 (2000)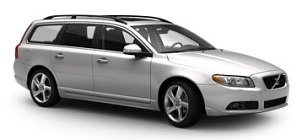 Station wagon is traditionally a strength of Volvo. Volvo tries to maintain its lead in this field by introducing the new generation V70. Despite of a somewhat different front and rear styling and slightly varied dimensions, it is basically a station wagon version of S80, unlike the last generation V70 which was really slotted between S60 and S80. This might be a good news to you and me, as you don't need to spend too much time to understand the car (provided you have already read my S80 report) and I don't need to write too many words about it. Life is getting easier for automotive journalists if more platform sharing goes on like this…

The most important to a station wagon is undoubtedly the luggage compartment. Measuring 575 liters with all seats in place, the new V70's loading area is 55 liters larger than the old car. Fold the rear seat and it expands to 1600 liters. Both figures are good but not exactly class leading – Mercedes E-class wagon offers 690 liters and 1950 liters respectively, while Audi A6 Avant (565 / 1660 liters) is on a par with the Volvo. Strangely, the Volvo's rectangular rear end looks larger than its rivals, so the reversed results might be down to a higher load floor. Anyway, with a large electric powered tailgate, detachable partition net and 40/20/40-split rear seat, loading luggage cannot be more convenient.

In the cabin, you will see the same pleasing environment as S80, including that tasteful dashboard and comfy leather seats. All passengers are offered with generous space. The rear seat may incorporate a pair of child booster seat with two positions of height adjustment, which is a world's first. We won't doubt the safety of V70, as it offers all the know-how of Volvo, e.g. crash-worthy chassis, WHIPS system, radar cruise control, BLIS blindspot warning system etc.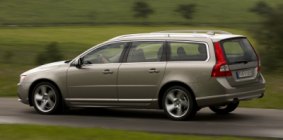 Dynamics is not as remarkable. You already knew the S80 is not as good as a driver's car as its German rivals. The wagon version is a similar story. The combination of transversely mounted front engine and front-wheel drive fails to belie its size and weight. Even the AWD version is not as capable as Audi's Quattro because it transfers power to the rear wheels only when the front lose traction. Perhaps Volvo should adopt a newer generation Haldex system like Saab's XWD. The Four-C adaptive damping is again a disappointment as it fails to return a smooth ride on rough surfaces. Yes, it does handles better than the old V70 and runs smoother on highway, but the improvement is not big enough to threaten its German rivals.

As the V70 is around 60 kg heavier than its sedan sibling, performance is just modest. I estimate the 185hp 2.4 D5, 200hp 2.5T five-pot and 238hp 3.2 inline-6 to take 8 something seconds to do 0-60 mph. Even the new turbocharged T6 is not going to be a real sports wagon. Its 3.0-liter inline-6 runs a mild charge twin-scroll turbocharger to produce 285 hp and 295 lbft of torque, which seems good until you realize the car with compulsory AWD and automatic gearbox weighs 1740 kg. Therefore 0-60 mph is estimated to take some 7 seconds. Luckily, the T6 is not going to be the top V70. Volvo reserves the V70R nameplate for a high-pressure turbocharged version of the engine, which is rumored to produce 350 horsepower. However, even then I don't think V70's chassis can live up to our expectation. After all, Volvo's strength is in comfort, practicality, quality and safety rather than driver appeal. The new V70 still sticks to this philosophy. No more and no less. No surprises and no disappointments.
The above report was last updated on 25 Jun 2007. All Rights Reserved.
XC70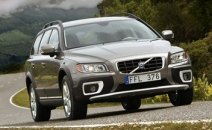 The XC, or cross country version of V70, is designed mainly for the US market. Over there, sales of XC70 used to be 5 times that of the V70. American loves its tough-looking design implemented by the scratch-proof black plastic body cladding, as well as the larger wheels, wider rubbers and 74mm higher ride height. The approach and departure angles are larger than V70. Besides, the Haldex all-wheel-drive system is standard on this car, while Hill Descend Control is added (which automatically applies braking when going down steep slope). All these factors contribute to stronger off-road ability to a certain extent. Of course, don't be foolish to assume it as a real 4x4.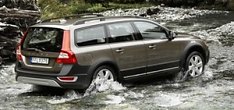 On road, the XC70 is inevitably slower than the V70 with equivalent engines. In 3.2 straight-six form it carries some 125 kg more than a front-drive V70. The four-wheel-drive system consumes more energy. The higher drag and larger frontal area adds fuel consumption and lowers its top speed by 12 mph. Enter a corner, its high center of gravity and softer suspension setup lead to pronounced body movements, both lateral and longitudinal. Handling is clumsy and no where as competent as the conceptual similar Audi Allroad. The American-biased light steering lacks feel. The Four-C suspensions again fails to deliver a really smooth ride on difficult roads. In short, the XC70 sacrifices a lot of things for a limited off road ability. If you do not need to drive on poor country roads regularly, the regular V70 will be a better bet.
The above report was last updated on 25 Jun 2007. All Rights Reserved.
General remarks


V70 D5

V70 2.5T

V70 3.2

Layout

Front-engined, FWD

Front-engined, FWD
Front-engined, FWD
Chassis

Steel monocoque

Steel monocoque
Steel monocoque
Body

Mainly steel

Mainly steel
Mainly steel
Length / width / height
4823 / 1861 / 1547 mm
4823 / 1861 / 1547 mm
4823 / 1861 / 1547 mm
Wheelbase
2816 mm
2816 mm
2816 mm
Engine

Inline-5, diesel

Inline-5
Inline-6

Capacity

2401 cc

2521 cc
3192 cc

Valve gears

DOHC 20 valves

DOHC 20 valves, VVT
DOHC 24 valves, VVT, VVL

Induction

VTG turbo

Turbo

VIM

Other engine features

CDI

-

-

Max power

185 hp
200 hp
238 hp

Max torque

295 lbft
221 lbft
236 lbft

Transmission

6-speed manual

6-speed manual
6-speed automatic

Suspension layout

F: strut
R: multi-link

F: strut
R: multi-link
F: strut
R: multi-link
Suspension features

Adaptive damping

Adaptive damping
Adaptive damping
Tyres front/rear

225/55R16

225/55R16
225/55R16
Kerb weight

1629 kg

1598 kg

1645 kg

Top speed

140 mph (c)

143 mph (c)

146 mph (c)

0-60 mph (sec)

8.9*

8.0 (c)

7.3** / 7.5***

0-100 mph (sec)

24.1*

-

18.6** / 19.5***

Performance tested by:
*Autocar, **R&T, ***C&D



V70 T6

XC70 T6



Layout

Front-engined, 4WD

Front-engined, 4WD


Chassis

Steel monocoque

Steel monocoque


Body

Mainly steel

Mainly steel


Length / width / height
4823 / 1861 / 1547 mm
4833 / 1861 / 1604 mm


Wheelbase
2816 mm
2816 mm


Engine

Inline-6

Inline-6


Capacity

2953 cc

2953 cc


Valve gears

DOHC 24 valves
DOHC 24 valves



Induction

Turbo

Turbo



Other engine features

-

-



Max power

285 hp
285 hp


Max torque

295 lbft
295 lbft


Transmission

6-speed automatic

6-speed automatic


Suspension layout

F: strut
R: multi-link

F: strut
R: multi-link


Suspension features

Adaptive damping

Adaptive damping


Tyres front/rear

225/55R16

235/50R18


Kerb weight

1740 kg

1769 kg



Top speed

152 mph (c)

130 mph (c)



0-60 mph (sec)

6.8 (c)

7.2 (c)



0-100 mph (sec)

-

-



Performance tested by:
-