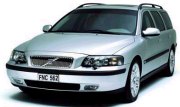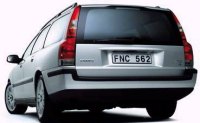 The world is getting more confusing now: a 323i not powered by 2.3 engine, CL600's V12 does not displace 6 litres, Z8 not based on 8-series but 5-series, and now Volvo is telling us the new V70 is not the estate version of S70 ! not even after the sedan is replaced next year.

Count down: 80 - the flagship executive sedan without estate version; 70 - estate that looks nearly identical to the 80 but without sedan version; 60 - the even smaller sedan to be unveiled next year. All of them are derived from the same platform. In terms of dimensions, V70 is 30 mm narrower and 35 mm shorter in wheelbase than the S80, therefore Volvo refused to call it V80 instead. Well, is it enough to distinguish them ? 35 mm isn't quite enough to insert two fingers into. So, in my opinion, V70 is still an S80 estate, though with a bit more deviations than industrial norm. And you know, the S80 is the best Volvo ever made.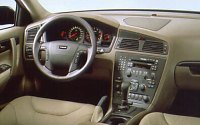 V70 might be even better, thanks to tweaks to steering and the extra cargo space. Despite of the shorter wheelbase, it still offers a spacious cabin as well as the same ergonomic and nice-looking dashboard as the sedan it based. Switches and controls locate at the most logical positions and are easy to operate. The light trimming deliver a warm feeling that an estate desperately need. Comfortable seats, class-leading safety (with anti-whiplash, side inflatable curtain airbags etc.) are other strength of this car, as in S80.
Volvo revised the bushings of front MacPherson struts to reduce friction, hence delivering more steering feel than any other Volvo. Range-topping model T5 provides handling overshadowing most rivals bar BMW 5-series Touring and Mercedes E-class. It's not tuned to be a really hard-edge sports wagon, just inject more power and dynamic while retaining good ride comfort, an evidence is given by the relatively high profile tyres of 215/55ZR16. Despite of the lack of AWD, wheelspin and torque steer are not an issue.

T5's powerplant is the familiar 2319 c.c. straight 5, with 20 valves and high pressure turbocharger. Maximum power is 250 hp for both 5-speed manual and 5-speed Geartronic sem-auto gearbox (old V70 / S70 T5 had 240hp for auto). Maximum torque of 243 lbft occurs between 2,400 and 5,200 rpm. Turbo lag is not eliminated, but once the rev is above 2,000 rpm, it spins linearly towards 6,200 rpm cut-off. Performance is fast for an estate, but not in the league of Subaru Legacy GT-B or Mitsubishi Legnum VR4. Auto Bild magazine recorded around 7.5 sec for 0-60 (7.9 sec for 0-62) for manual transmission car. Automatic version is even slower - Autocar measured 9.0 sec.
Instead of T5, my choice is the light pressure turbocharged 2.4. It has been upgraded with continuous variable valve timing at the inlet valves, and shorter pistons for lower friction and less reciprocating mass. Moreover, the light pressure turbo provides superior drivability at low speed - maximum torque of 210 lbft occurs from a lowly 1,800 rpm to 5,000 rpm. It also runs smoother than the T5 engine. 5-speed Geartronic is delight to be shifted in manual mode - it's crisp and responsive.