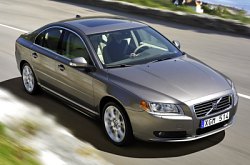 The phrase "Scandinavian luxury" is usually associated with Swedish furniture, but it is also applicable to big Volvos. Look at the new S80, its simple design combines forms and functions like Swedish furniture. No excessive, no addictives, so pleasing to look at. The cabin looks civilized yet warm and inviting. Controls are easy to operate. Seats are superbly comfortable, with ample space for all passengers. Unlike German luxury sedans, you can't see anything in the Volvo being overdesigned or overengineered. Everything is there for the benefit of the passengers. Everything is smartly executed. This car is made according to Scandinavian design philosophy.

Unquestionably, the trump card of Volvo is still safety. Steering headlamps allow you to see the corners clearer. Adaptive cruise control applies brakes or throttle to avoid colliding with cars in front or behind. However, what really unique to this car is Blind Spot Information System (BLIS). Modern cars are increasingly troubled by blind spots, as they tend to have thicker pillars and taller boot. Volvo is the first car maker taking the blind spot problem seriously. BLIS uses cameras located at the side mirrors to detect cars approaching from behind. When a car enter the rear quarter blind spot, it turns on the red warning lights at the base of the windscreen to warn the driver.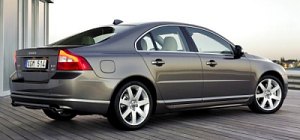 All these active safety features aside, Volvo also engineered a chassis with outstanding crash worthiness. The basis is a strong survival cell, side impact protection structure, curtain air bags and anti-whiplash seats. Furthermore, a large crumple zone is provided in front of the engine to absorb the collision energy and sacrifice itself instead of your legs. The large crumple zone is made possible by the fact that S80 has its engines mounted transversely, unlike most other cars in the class that employ longitudinally-mounted engines. This means the Volvo is basically front-wheel drive, although it can be opted with a part-time AWD system using Haldex's electromagnetic clutch as before. To Volvo, safety is always on higher priority than dynamics.

Not just that, Volvo is also the only car maker choosing straight-6 engine instead of the popular V6 for safety purposes. As everybody knows, a transversely-mounted inline engine takes less space in the North-South direction than a transversely mounted V6. This leaves more space for crumple zone. On the downside, transverse straight-6 is very wide and, when mated with a transverse gearbox, the combo are usually impossible to be fitted into the engine bay. That's why the last generation S80 chose a very compact, 4-speed only automatic gearbox.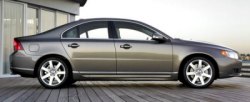 To enable the use of a new 6-speed automatic gearbox, Volvo specially designed an extremely compact straight-6 engine for the new S80. It is just 3mm longer than the company's trademark 5-cylinder engine in the transverse direction ! how can it do that? firstly, to employ small bore (84mm) and long stroke (96mm) to reduce the distance between cylinders; Secondly, to relocate ancillaries such as power steering pump and air conditioning compressor to above the gearbox and drive them via gears by the end of the crankshaft, thus eliminating the front-end drive of ancillaries; Thirdly, the gear system employs an intermediate shaft inside a hollow drive shaft to save space.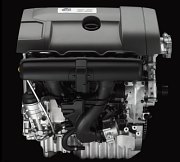 The 3.2-liter straight-6 is designed by Volvo but produced by Ford's engine plant in UK alongside Jaguar's V8. It has many high-tech features, such as aluminum head and block, a 3-stage intake manifolds, continuous variable cam phasing and 2-stage variable valve lift. The latter is possibly licensed by Porsche as it is technically identical to VarioCam-Plus (remember, Porsche designed the old straight-6 engine for Volvo). It produces 238 horsepower at 6300 rpm and 236 lbft at 3500 rpm. The engine itself is smooth, quiet, linear and willing, but road testers reported that the automatic gearbox is sluggish to downshift, thus performance is disappointing. My advice: wait for the turbocharged version T6, which is rumored to offer 285 horsepower or even possibly 350 hp.

If you want more performance right now, you can choose the Yamaha-built 4.4-liter V8. The all-aluminum 60-degree unit is more compact and lighter than ordinary 90-degree V8. Full continuous VVT and 2-stage intake system enables 315 horsepower and 325 lbft of torque. With a V8 engine, Volvo S80 is finally on a par with its German rivals in the upper executive car segment. It is generally a good engine, with keen throttle response, strong output and reasonable smoothness, if not as smooth as the best 90-degree V8s from its German and Japanese rivals.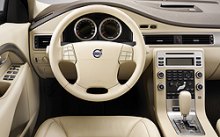 At the bottom end are two inline-5 engines: the petrol unit with light-pressure turbocharger produces 200hp and a useful 221 lbft of torque, giving it real-world performance very close to the straight-6. The D5 diesel engine now produces 185 hp and 295 lbft. Unfortunately, it is short of refinement.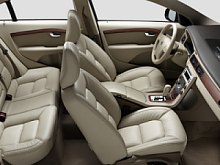 The new S80 is built on Ford's EUCD platform, replacing the outgoing P2 platform. The development of EUCD was led by Volvo, but there are some compromises because: 1) it shares many components with the smaller C1 platform (Ford Focus / Mazda 3 / Volvo S40 etc.) to save costs; 2) it needs to be highly flexible, as it will be used by a variety of products in the Ford empire, including S-Max / Galaxy, Mondeo III, the next generation S60 / V70, Lincoln MKX and even Land Rover Freelander. The EUCD employs MacPheson strut suspensions up front and multi-link suspensions at the rear, similar to C1 platform. However, for S80 the suspensions are enhanced by Four-C active dampers. The Four-C was first seen in S60R. It offers 3 modes for the driver to choose from: Comfort, Sport and Advance. Unfortunately, as in S60R, in Comfort mode its low-speed damping on rough surfaces is not entirely supple. In Sport mode it is a little too stiff. And what about Advance mode? unless you drive it on glass-smooth race tracks, your eyeballs are likely to be rocked off ! its existence is totally ridiculous to the nature of S80.

Predictably, no matter the FWD or AWD S80, they do not handle as good as the rear-drive BMW 5-series, Mercedes E-class, Nissan Fuga (Infiniti M) or the AWD Honda Legend (Acura RL), as it lacks their agility in corners. Its steering is slow and uncommunicative. Its body control is just average. However, it works better on highway, as high-speed stability, damping and noise insulation are remarkable.

Apparently, the S80 is not designed to be a keen driver's car. It excels in comfort, safety and Scandinavian style, i.e., exactly as the last generation. A good car, but maybe not as outstanding as the last car back in 1998.