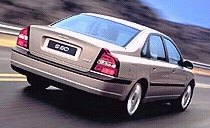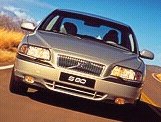 It is great to see the big Volvo has been eventually renewed. Quite true, people never love the small Volvo S40. What they want from Volvo is the traditionally spacious cabin, high practicality, boxy styling and superior safety. It need not to be as driver-biased as the Double Rectangle (BMW), nor as luxurious as the Three-Point Star (Mercedes-Benz), nor as well-built as the Four Rings (Audi), nor as prestigious as the Big Cat (Jaguar). Besides these prestige brands, there always exist a survival space for the unique Swedish flagships, Saab 9-5 and Volvo S80.

There are 15 years separate the S80 and its predecessors, Volvo 740 / 940 / S90 Series. Nevertheless, the new car follows the traditional value loyally. First of all, Volvo succeeded to create a wind-cheating shape ( Minimum Cd. is only 0.28 ) which preserves the traditional boxy shape. Although the wind screen and rear window are much tilter than ever, it still delivers a strong sense of roomy and safe, thanks to the extensive use of flat planes and straight edges.

Open the doors, and a class-leading cabin immediately refreshes you eyes. As expected, it is more spacious than any other competitors. Front and rear seats are extremely comfortable, yet supportive, with variety of adjustment that you cannot imagine for other cars. The dashboard and center console are clear and ergonomical, with switch knobs and buttons nicely sized and located for easy access. It is not as well-crafted as Audi A6, but the light colour plastic, wood and leather create a bright, pleasure and warm environment, in contrast to the cool dark colours found in the German cars. You can imagine : In weekend, a happy family is travelling to the beach in the S80. The wife sits beside the husband driver while reading her Cosmopolitan, the children sits behind playing and laughing. In the baby seat, a little baby is sleeping with a Teddy Bear in her arms. What a happy family ! I really don't want the German cabin !

More luxury items including a mobile phone built in the center console, with speakers at the head rest. In the B-pillars, there are individual air ventilation for rear passengers. In terms of practicality, excellent visibility and huge boot are always Volvo's winning keys.

Another strongest point of the Volvo is (once again) Safety. Apart from the SIPS ( Side Impact Protection System, that is, strengthened A, B, C pillars and floorpan to provide protection against side impact ) which was pioneered in the 850, the S80 has another inventions, inflatable curtain air bag, which covers the whole side windows to prevent passenger's head from knocking into the side windows, and WHIPS (Whiplash Protection System), which helps prevent whiplash injuries. In a rear impact, the backrests move backwards, reducing the G-force by 50% so protecting the occupants' neck and back.

Now we come to the dynamic aspect. Certainly, it is not as impressive as German cars, but the gap is rather narrow.

Amazingly, there are as much as 6 engines available for the S80, although all of them came from the same modular inline family developed by Porsche. Here is their info :
The oldest is 2435 c.c. straight 5, first appeared in Volvo 850 GLT in 1992. In 2 valves / sohc form, it output 140 hp. In 4 valves / dohc form, 170 hp is available. By today's standards, they are a little bit too peaky.
Then, there is two turbocharged 1984 c.c. straight 5 engines. Low pressure turbocharger gives the lighter version 163 hp and a useful 170 lbft torque occurs continuously from 1,800 rpm to 5,000 rpm. The full boost version, calls S80 T5, has 225 hp and 229 lbft / 2,800-5,000 rpm.
If the T5 is still not fast enough, the S80 T6 must fulfills anyone's requirement. Displacing at 2783 c.c., this twin-turbo straight six output 272 hp and 281 lbft / 2,000-5,000 rpm, which is a record for Volvo. But mind you, mild torque steer appears in this front-wheel drive flagship. I hope (and hopefully) Volvo to consider adopting V70 AWD's four-wheel drive to this car, in case it could fit in the cramped engine compartment.
Finally, there is a 2922 c.c. straight six carried over from the S90. 204 hp and 207 lbft. This could be the biggest selling version.
The T6 is equipped with 4-speed "Geartronic" semi-automatic with manual mode, something similar to Porsche's Tiptronic. Other engines are available with both 5-speed manual and 4-speed auto.

In his first drive in the S80, Autocar's tester said it rode very good, absorbed the bump and irregularities effectively. That was better than Audi A6, although not yet matched the class-leading BMW 5 Series. Steering wheel was nicely weighted, but could be more communicative. T6 delivered power strongly, smoothly and effortlessly, although the torque steer and remote steering feel do not recommend M5-like hard driving. After all, S80 T6 is never intended to do so.