Volvo S60

Debut: 2001
Maker: Volvo
Predecessor: S70 (1997)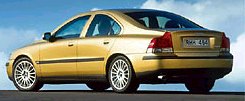 From pictures, S60 could be one of the most attractive designs for years. Look at that coupe-like fastback ("a la 4-porte coupe"), the beautifully-tailored multi-plane C-pillars, the S80-inspired shoulder lines and stair-like tail lights ... the whole design is simple and pure yet sexy and unique. The Swedish have the German beaten here. Audi also called its A6 as "4-door Coupe", but unlike this Volvo, it never convinced me.

Volvo sees it as a new revolution not unlike S70 - somewhat its predecessor - did in 1993. The company uses the term "REVOLVOTION" describe it because it intends to bring first-ever good dynamic to the company renowned for boxy estates and crash safety. S70 (nearly forget it was called 850 then) was the first Volvo trying to do so, and with considerable success, but it was never up to the German game. Now S60 is going to play with BMW 3-series, Mercedes C-class and Audi A4 directly.

If you have seen it on road, you might find the real car doesn't look as attractive as in photos, blame to the over-long and over-wide proportion. Yes, S60 is much wider and has longer overhangs than its established rivals, this is because it was derived from the big S80 and V70. As it was designed well before Ford entered the scene, this is the only way to develop it in a small budget. All engines, gearbox, suspensions and the front subframe that holds them are carried over from its sisters, so you can see how cost-effective it is. The down side is - as admitted by Volvo's engineers - higher production cost. If they were given a second chance, they would have started from the V70 rather than the more expensive S80.

If you have read my V70 reports, you can skip this paragraph. The S60 is powered by all 5-cylinder engine ranges. The Porsche-designed modular engines can be dated back to the 850 and 960-era. As in V70, there are various derivatives on offer: 140hp 2.4 sohc, 170hp 2.4 dohc, 180hp 2.0 HPT (stands for "high-pressure turbo"), 200hp 2.4 LPT (undoubtedly, stands for "low pressure turbo") and the fire-breathing 250hp 2.3 turbo for T5 model. The 2.4 LPT is particularly lovely because of its smooth and lag-free manner. Peak torque arrives at just 1800 rpm. The turbo of T5 is also well sorted after so many years of improvement. It provides a good balance between performance and tractability, in other words, is quite linear and has little turbo lag considering its 100hp/litre-excess output.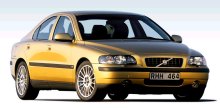 Launch the S60 T5 in straight line and BMW 330i could be scared if his driver does not make 100% effort. Apart from some wheelspin at 1st gear, the Volvo reaches 60 mph in 6.8 seconds, and reach the tone at 17.5 sec. Most important is that its driver does this effortlessly, unlike the sweating 330i driver. In terms of sound-track, the unique 5-cylinder growl loses nothing to the Munich straight-six, making you wonder why Audi no longer builds inline-5.

The chassis is rock-solid, some 70% stiffer than S70 and is the stiffest among sister cars. T5's suspension setting is firm but all the damping, springing and bushing are better sorted out than both V70 and S80, therefore while it rides firm it still cover ground smoothly - much more supple than A4 at least. Body control is as good as rivals. There are some inherent shortcomings of course - front-wheel drive and nose heavy - but the suspension modifications really did the job, no torque steer at all unless accelerating hard out of corners. Yes, steering feel is inevitably corrupted a bit, but objectively it is accurate and well-weighted. Therefore S60 is undoubtedly the best driver's car in Volvo's history, and it nearly matches the German premium rivals.

However, for pure fun of handling, this Volvo is not my choice. What makes S60 attractive is its unique character. Apart from styling and effortless performance, it shines in comfort as well. The designers made a miracle to provide coupe-look and plenty of rear seat space (both head and leg) simultaneously. Interior styling mirrors that of S80, which is undoubtedly a good thing. Driver-biased center console injects extra sense of sporty, while ergnomics and styling are second to none. Plastics, however, is not yet German-class, but neither do the German cars provide the stylish "space ball" shifter cover - though it's purely cosmetic. Front seats are in the best Swedish tradition - comfortable yet beautifully shaped.

I think I am a little bit in love with S60. It's not perfect - C320 and 330i are still better all-round - but it is characterful and beautiful. In the days that Mercedes, BMW and Audi looks, smell and drive similar, this Volvo could stand out of the crowd. Volvo is now working on a hotter version with 300hp and Haldex 4WD, the latter could fill the last missing ring of the S60.
The above report was last updated on 2 June 2001. All Rights Reserved.
S60 D5
Undoubtedly, all modern common-rail or pump-injection turbo diesel engines can be praised with these phrases - "very frugal", "nearly as refined and quiet as petrol", "very torquey from rev barely over idle", "superior overtaking performance than the petrol version" and "best buy of the range" etc. etc. Having memorized these phrases, you can write about just any modern diesel cars without the risk of being discovered that you are not a real car journalist. So, to write about new diesels is quite easy but boring, isn't it ?

Not for the Volvo D5 engine. Admittedly, all the above phrases still apply to it, but it is very unusual compare with other diesels. For noise and vibration suppression, most diesels are specially designed thus shared little with petrol engines, especially are stronger cast-iron blocks. The Volvo is not. It is derived directly from the inline-5 petrol engine appeared since the early 90s. In other words, it employs aluminium block and head, twin-cam and 20 valves. Weighing at just 185kg, it adds just 40kg to the kerb weight compare with the petrol equivalent. Of course, that weight still deteriorates a bit steering response, but so does all diesel cars.

Alloy engine would have been noisier than cast-iron, but Volvo reinforced it such that it is just as refined as any rivals. In terms of power delivery, it is even more refined than most. VTG (Variable Geometry Turbine) turbo is not a unique feature to Volvo, but compare with other VTG-equipped rivals the Volvo D5 delivers its power more smoothly and linearly as rev rise. It is also more free-revving and throttle-happy, thanks to lightweight pistons. A sporty exhaust growl further lifts driving pleasure.

From 1750 to 3000rpm, the 2.4-litre common-rail turbo diesel produces a maximum torque of 250 lbft which beats even a T5. At 4000rpm it pumps out the peak power of 163 hp, equaling a petrol and supercharged Mercedes C200K. At the same time, it returns a remarkable 47.1mpg in combined cycle. In many ways, the D5 is the best buy of the range - "very frugal", "nearly as refined and quiet as petrol", "very torquey from rev barely over idle", "superior overtaking performance than the petrol version"...

Now these phrases can also be applied to V70 and S80, as they share the same D5 engine.
The above report was last updated on 27 Oct 2001. All Rights Reserved.
S60R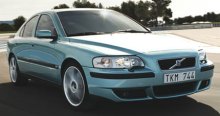 If you remember 850R, you will understand what S60R is. Just like 850R, it is the highest performance variant of the range, toppling even the T5, but not yet the level of BMW M3 or Audi S4. What S60R wants to do more than its predecessor is to be more user-friendly, fast yet civilized. As you can see from exterior, Volvo's stylists deliberately make it low-profile. If not for functional requirements, they might not have enlarged the front bumper intakes (for engine cooling) and installed a tiny boot spoiler (for reducing 20% lift). Wherever possible, they keep the original S60 body unaltered. Therefore you won't see widened wheelarches and aggressive skirts as you found in its rivals.

Under the civilized skin is actually an advanced chassis. This new Volvo has all the ingredients you expect, and some you might not expect. Its turbocharged 2.5-litre five-pot engine has been upgraded to 300 horsepower. It has 6-speed manual gearbox. It has a Haldex electronic-controlled 4-wheel-drive like Audi TT. It has 330mm diameter 4-pot Brembo brakes. However, among all the technologies, Volvo is most proud of the new computer handling aid called "Four-C".

"Four-C" stands for "Continuously Controlled Chassis Concept". It is an integrated control system developed by Öhlins Racing AB. It varies the setting of adaptive damping, torque split of 4WD system and throttle response to improve handling. Sensors collect data such as speed, acceleration, yaw, wheel positions and all the driver's inputs. From these data, computer foresee ("Four-C") what setting can optimize handling and ride. For example, when the car is braking into a corner, it stiffens the front dampers to reduce dive and stiffens the outside dampers to reduce lateral roll. If it sense understeer, it will stiffen the front dampers in relation to the rear to neutralize that. The Haldex center clutch also cooperates to improve handling neutrality and enhance traction.

Furthermore, Four-C provides 3 driver selections of handling style - Comfort, Sport and Advanced. Comfort is of course bias towards comfort (soft damping, more pitch and roll, more understeer). Sport is generally the best setting for enthusiastic driving. Advanced stiffens the dampers to the extent that only the smoothest roads or racing tracks are suitable, but it also sharpens response of the drive-by-wire throttle. In many ways, Four-C is very similar to the control system used by Ferrari Enzo.

Volvo's inline-5 engine has been around for more than 10 years. In the T5 form, it displaces 2.3 litres and generates 250hp. However, S60R's powerplant is derived from the newer 2.4 LPT version. It has continuous variable valve timing in both intake and exhaust camshaft (T5 has none). Engine capacity has been increased to 2521cc. A stronger KKK turbo generates maximum pressure of 1 bar, feeding the engine through not only one but two intercoolers. Both con-rods and crankshaft are strengthened to cope with the increased torque, now 295 lbft across a wide band from 1950 to 5250rpm. At 5500rpm, this engine gives Volvo the first taste in the 300-horsepower horizon.

Carrying the extra 4WD and "Four-C" hardware, S60R is about 100kg heavier than T5. However, having the advantage of 50 horsepower and 6-speed gearbox, you can see it is easily the fastest ever Volvo. Top speed is lifted to the electronically regulated 155mph. 0-60mph is shortened to 5.4 seconds.

Responsible for putting down the power is a 4WD system carried over from S60 AWD. Without it, the 300-horsepower machine would have been as difficult to handle as 850R. It uses a Haldex electro-hydraulic multi-plate clutch to split torque between front and rear wheels. Computer determines how much is sent to the rear wheels to enhance traction and correct understeer / oversteer.

In the end, do these technologies materialize into a world-class sports sedan? we shall see...

On the Road

Seeing the remarkable 0-60mph time, we expect the S60R to be a sensational performer, at least in straight line. However, in reality it is quite disappointing. Just like an ordinary Subaru Impreza WRX, the 0-60mph figure is partly helped by 4-wheel-drive traction, which reduces wheel spin. Once the S60R is in rolling, it never feels as quick. Neither as muscular as Audi S4 nor as explosive as BMW M3. In fact, classifying it into the same league as Subaru Legacy B4 STi could be more appropriate.

The inline-5 is pretty tractable once it spins past 2,000rpm. Being a turbocharged engine, it is not specially flawed. But comparing with its naturally aspirated German rivals, you can be just disappointed by its mushy throttle response and the presence of turbo lag. At the top end, it loses more than 40 horsepower. There is simply no comparison.

Push it into the first corner, you'll notice the dampers adapt to stablize the chassis. Not as effective as Mercedes' Active Body Control - because it alters damping rather than springing - but still does a good job to keep body motion under control.

Next corner, a tighter corner. Hit the brake pedal, not the most feelsome, but speed washes out quickly. Turn the steering wheel, no much feel. Turn more, you feel the car quite heavy and bulky in these twisty roads. You know a nose-heavy chassis is not a good basis for sports sedan, not even Four-C can change the law of physics.

But you know Audi S4 is no less nose-heavy, so why not the Volvo matches it in handling agility? maybe the front-biased Haldex torque split has some influence to steering feel and understeer. Maybe the MacPherson strut front suspensions do not maintain geometry as precise. But the most likely reason is: Volvo has not yet learned how to engineer a world-class performance car. Audi is not perfect either, but it has already tried for 2 decades.

Still in corner, push harder, you'll find its cornering limit is not as high as M3 and S4. When it start losing grip, DSTC stability and traction control intervenes, cutting power and adjusting the Haldex 4WD to regain grip calmly. Such a good manner will probably be praised by most Volvo drivers, but keen drivers won't be satisfied. Turn the DSTC to partially off or simply off, you can never play power slide like a M3 or 4-wheel drift like a Lancer Evo. The S60R lacks the necessary chassis balance to do so.

Now we understand: the sophisticated technologies are employed to supplement the inherently flawed chassis. However, the execution is not good enough. It just results in a car inferior to M3 and S4 in virtually all aspects - engine, performance, handling, look and desirability. Most important, it fails to engage its driver.
The above report was last updated on 29 Dec 2002. All Rights Reserved.