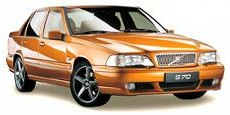 For decades Volvo cars used to be big and bulky, until the arrival of 850. 850 is a very dynamical car indeed. It injected a youthful image to the company, helped it to overcome the sales crisis in the early 90's. Especially is the 850T5 / 850T5R / 850R, whose strong turbo engine and brilliant handling represents the death of the old Volvo age.

In spite of edgy, 850 by no means looks boring. The overall shape was evoluted from 740 series, but different finish make it a lot more stylish, simultaneously preserve the feeling of solidity. In terms of safety, 850 won't let you down. It incorporates a so-called "SIPS" (Side Impact Protection System) which is a structure around the A, B, C pillars and floor pan to absorb side impact.

All 850s are powered by 5 cylinders engines of various combinations - 10 valves 2.0 litres, 20 valves 2.0 litres, 20 valves 2.0 litres turbo, 10 valves 2.5 litres, 20 valves 2.5 litres, 20 valves 2.3 litres turbo and a low-pressure 2.5 litres turbo. These responsive units cooperate perfectly with the unique "Delta-link" rear suspensions, provide dynamics that people never imagine a Volvo could has.

Inside, 850 has sufficient space, especially is head room. Estate version is particularly famous of loading space. Overall quality is quite good, but of course not in the same league as Mercedes and Audi.

Now, according to the new naming policy, 850 was renamed to S70, while 850 T5 now calls S70 T5. Apart from slightly restyled body panels, they remain unchanged in bone and muscle. Of course, after 5 years, You won't expect it to lead the latest generation of executive sedans such as Audi A6 and BMW 5 series. However, the safety image and distinctive Volvo appearance still distinguish itself from others.