Volkswagen Passat

Debut: 2005
Maker: Volkswagen
Predecessor: Passat (1996)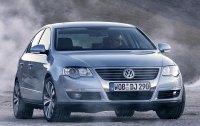 In the past 32 years, Volkswagen sold more than 13 million Passats worldwide, a remarkable figure for European mid-size sedans. However, what made the Passat so impressive to me is not the first 3 generations – they looked really ugly – but the outgoing Mk 4 Passat. This car was easily the most memorable Passat in history. So beautiful and elegantly styled. So impeccably built
, like a premium car twice the price. Oh yes, it actually shared the same platform with Audi A4.
Having successfully climbed up in social status, the 5th generation Passat is going to enjoy an easier life. It no longer needs to climb up a
nymore. Instead, Volkswagen boss Bernd Pischetsrieder wants to leave the Passat at its existing market position – more premium than Ford Mondeo / Renault Laguna, more affordable than Audi A4 / BMW 3-Series. To deliver a premium image, the new Passat takes advantage of the elegant styling theme established by the flagship Phaeton. From outside, it looks really like a small Phaeton, just younger, slimmer and more dynamic.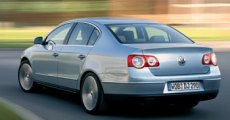 Interestingly, in terms of mechanicals, it is more like a big Golf. The new Passat is built on the Golf's PQ35 platform, with wheelbase e
xtended to a class-matching 2710 m
m (from 2578mm) and body width increased to 1820mm (from 1759mm). Sharing platform with Golf not only conforms to Pischetsrieder's cost cutting policy but also gives the new Passat a lot of advantages compare with the outgoing car. You might remember, the previous Passat shared a fundamentally wrong chassis layout with Audi A4 – the engine was mounted longitudinally in front of the front axle and drove the front wheels. This layout was driven by the need of using Audi's Quattro system (which wa
s badged as 4motion in the Passat). It made the car nose-heavy and it wasted a lot of space up front. Instead, the Golf platform has its engine and gearbox mounted transversely between the front wheels. This save a lot of space, benefiting front passenger legroom, as well as improving chassis balance.
Another quantum leap of PQ35 platform is the use of 4-link rear suspensions instead of the old Passat's torsion-beam axle. As you know, multi-link suspen
sions keep the wheels better contact with the ground regardless of bumps and cornering force. This gives the new Passat superior grip and handling precision. It also allows softer suspension setting without ruining handling, hence superior ride suppleness. So, don't bother with the description "small Phaeton" or "big Golf". The most important is that it works better in all respect.
The new chassis is very strong. With a torsional rigidity of 32400Nm/degree, it is 57% stiffer than the old Passat and exceeds all class rivals, including the forthcoming Alfa Romeo 159 (back in February I still thought it would be unpassable !). This must thanks
to the use of laser welding and 74% high-strength steel used throughout the bodywork.
You might think it must be heavy. No, Volkswagen took a lot of attention to weight reduction. For example, the high-strength steel are made by "warm-formed" process, which result in 20 kg less weight than conventional "cold-formed" process. Besides, the front MacPherson strut suspensions employ forged aluminum control arms and aluminum pivot knuckles etc. to save another 13 kg. That's why the new Passat is no heavier than the old car.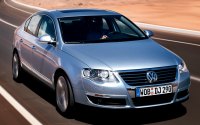 Like Golf
, the Passat is initially offered with the familiar 115hp 1.6 FSI, 150hp 2.0 FSI, 105hp 1.9 TDI and 140hp 2.0 TDI engine, all completed with direct injection no matter petrol or diesel. While these engines seemed not premium enough, in late 2005 Volkswagen will offer a couple of more powerful and more refined engines: the superb 200hp 2.0 TFSI turbo engine (see Golf GTI and Audi A3 Sportback) and 250hp 3.2-litre FSI VR6. Both engines are wonderfully smooth and eager. Expect the 2.0 turbo engine can push the Passat from 0 to 60 mph in only 7.3 seconds, while the VR6 should be around 6 and a half seconds. Benefited by a low Cd (0.28-0.29), they can top 147 mph and 155 mph respectively.
What about the previous W8 engine? that state-of-the-art engine was the brain child of former Volkswagen boss Ferdinand Piech. Its mission was to bring Passat upmarket to compete with the like of Mercedes C-class, but it was proved too costly to build and was never a popular seller. Eventually, after just 11,000 units sold, Volkswagen terminated the W8 production in late 2004. The new Passat's engine bay cannot fit Audi's V8 either, so the best it can dream of is the company's forthcoming 3.6-litre VR6, which is said to be good for 280 horsepower - actually 5 more than the 4.0-litre W8. Rumour said it will be offered only to the Passat destined to the North America.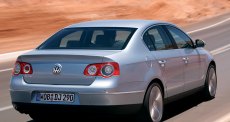 However, before the arrival of these world-
class premium engines, the 140 hp TDI is the best of the bunch, because its superior torque provides remarkable real-world acceleration that the other engines don't. What a pity its pump injection is more gruffy than most other common-rail diesel engines. A 170hp version of the engine is on the pipeline. Instead of pump injection, it employs the third generation common-rail technology with piezo injectors to deliver even higher efficiency and, hopefully, real quietness.
Volkswagen's direct injection 1.6 and 2.0-litre petrol engines are deemed to be competitive. They pump out remarkable horsepower and drink less fuel than most other rivals which still rely on indirect injection. However, like the diesel engines, they sound somewhat coarse at high rev. Like BMW and Mercedes, the Passat's basic engines fulfill the basic needs. If you want to enjoy true refinement and excitement, pay more for the 2.0 TFSI or VR6.
In terms of transmission, Volkswagen is leading the industry. It is the only car maker capable to invest into 3 kinds of transmissions: the standard 6-speed manual, the optional 6-speed Tiptronic automatic and the 6-speed DSG gearbox (which is reserved for only VR6 and the top diesels).
We have talked too much about technical specifications. Now let's relax and go to the human interface. The new Passat has a ve
ry roomy cabin, thanks to its highly efficient packaging. Both front and rear passengers have abundance of head and legroom. The 565 litres luggage space is also the biggest in the class.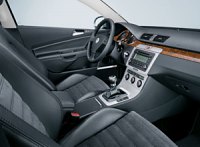 The cabin styling has strong German techno feel - neat, solid and ice-cool, very different to the Japanese techno theme I recently mentioned in the Toyota Mark X report. Unsurprisingly, the Volkswagen employs high quality materials throughout the cabin - soft-touch plastics, chromed dials, comfortable seats, fine textile and many controls with damped feel. However, it does not set any new standard compare with the old car, and many rivals have closed the gap recently.
Anyway, this cabin feels remarkably quiet and refined. On the road, very little noise and shocks can enter the cabin, thanks to the immensely solid chassis, well-damped suspensions and remarkable decoupling via rubber bushings and subframes. In terms of noise level, it is even lower than Mercedes C-class. Only the gruffy noise from the pump-injection diesel engine upsets, but you can avoid this by choosing the 2.0 TFSI.
The previous Passat handled and rode badly on uneven surfaces. The new car is another story. While its handling is not as sharp as BMW 3-series (it's still a front-drive machine with the majority of weight over the front axle), it corners fluently and predictably. Some keen drivers would prefer Ford Mondeo's firmer suspensions and more communicative steering, but undeniably the Passat delivers a better compromise between ride comfort and driving fun.
That means Volkswagen Passat has finally beat Ford Mondeo to be the best of the class. It performs very well in almost all areas - styling, space, quality, performance, comfort and driving fun. Best of all, it looks and feels like a premium car without asking for too much money. In this respect, it is a big Golf and a small Phaeton simultaneously.


The above report was last updated on 18 May 2005. All Rights Reserved.
Passat VR6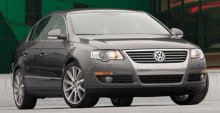 In 1991, Volkswagen introduced a 174hp narrow-angle 2.8 VR6 in the Golf Mk3 and, later, the contemporary Passat. However, as the next generation Passat switched to longitudinal engine (because it shared platform with Audi A4), VR6 was dropped from the Passat, replaced by Audi's conventional V6. Now, the new Passat returns to transverse engine layout, thus the unique VR6 also make its return to the Passat.

Interestingly, Volkswagen this time offers not one but two VR6s to the Passat. For Europe, it offers a 250 hp / 236 lbft 3.2-litre unit which is serving Golf R32 (though with the addition of direct injection to save fuel). For the USA market, where power and torque is everything, it offers a new 3.6-litre version. Apart from the increased capacity, it has its V-angle reduced from 15° to 10.6° to keep the engine size compact, but the cylinder block is degraded to cast iron. Like the European VR6, it has 4 valves per cylinder, full variable valve timing and FSI direct injection to help achieving a remarkable output: 280 horsepower at 6200 rpm and 265 lbft of torque at 2750 rpm. This is good enough to replace the outgoing 279 hp 4.0 W8, an engine died for its complexity and high cost.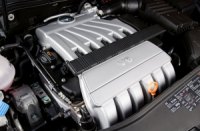 Transmitting so much power through the front wheels won't be easy, so the Haldex-clutch 4motion all-wheel-drive system is again called to serve the car. The European Passat VR6 can sprint from rest to 60 mph in 6.6 seconds and top 153 mph. The American VR6 is barely faster, because it carries 80 kg more and it uses a Tiptronic automatic gearbox instead of the European car's dual-clutch DSG automated manual gearbox.

It goes without saying that both VR6 are remarkable for their smoothness, power and flexibility. They match the premium quality feel the new Passat wants to deliver. The only question is price – now they are in the league of BMW 3-Series and Audi A4, not to mention the value offerings from Lexus IS. This put the car straight into the compact executive car segment, which is the real worry. The VR6 might be the flagship model of the Passat range, but it is not the most sensitive choice. That should be the 200hp 2.0 TFSI instead.
The above report was last updated on 12 Nov 2005. All Rights Reserved.
Passat R36

| | |
| --- | --- |
| | 3 years ago we were deeply impressed with Golf R32, can the bigger R-car repeat its success ? |
Volkswagen announced Passat R36 in the end of 2006, but it hasn't arrived showrooms until recently. Why it took so long remains a mystery. The development of this car should be an easy job, because all the essential components are available right from shelf, such as the 3.6-liter VR6 engine, 6-speed DSG gearbox and 4motion all-wheel drive system. Perhaps its engineers were fully occupied by higher priority projects like Tiguan, Passat CC and Scirocco.

From outside it is easy to distinguish R36 from lesser Passats by its prominent chromed mask. The front side intakes got smarter-looking louvers. Other changes include slightly larger lip spoilers and skirts, 18-inch wheels, blue brake calipers and twin-exhaust pipes. Of course, nothing can be clearer than the R36 wording on the front grille. Overall, the car has an understated style typical to German performance sedans.

In the cabin, the sporty implications major on a pair of heavily bolstered bucket seats, extensive aluminum dashboard decors and an Audi-style flat-bottom steering wheel. Build quality and seat comfort is as satisfying as usual.
| | |
| --- | --- |
| | Dynamically, the car is by no means surprising... |

Starts the V6, it runs smoothly and pulls eagerly from low rpm. The noise sounds increasingly sporty as rev rise. However, at the top end the compact VR6 is not as willing as BMW's straight-six. Although it claims to offer 300 horsepower at 6600 rpm, it doesn't feel like that powerful. Perhaps this is because the car weighs nearly 1700 kg with the DSG box and mandatory 4motion hardware. Volkswagen's performance figure of 0-60 mph in 5.4 seconds seems too optimistic.

The suspension of R36 gets considerably firmer and lowered by 20mm, but disappointingly it does not get the adaptive damping like Passat CC or Scirocco. Therefore it rides pretty hard, harder than those coupes. Dynamically, the car is by no means surprising. It provides plenty of traction and pretty good body control, but it understeers in tight corners, delivers insufficient steering feel and refuses to throttle steer. After all, the 4motion is a part-time 4WD system and should not be confused with Audi's 40:60 Quattro system. As power is sent to the rear wheels only when the front wheels start slipping, its handling characteristic is closer to FWD.

3 years ago we were deeply impressed with Golf R32, but the same magic did not expanded to the larger car. Passat R36 is neither as stylish, as entertaining to drive nor as outstanding in its class as Golf R32. There are many sports sedans in the price range offering more performance and driving excitement, such as BMW 335i, Chrysler 300C SRT-8 and Ford Falcon XR6 Turbo. However, if you insist German build quality but dislike the look of BMW 3-series, this car is still a reasonable choice.
The above report was last updated on 17 Jun 2008. All Rights Reserved.
Passat CC

| | |
| --- | --- |
| | Volkswagen wants to replicate the success of Mercedes CLS... |
Envying the success of Mercedes-Benz CLS, Volkswagen also converted its Passat into a "4-door Coupe", namely Passat CC. Compare with the sedan, it is wider (by 36mm), longer (by 31mm) and significantly lower (by 50mm) in order to achieve a sleek appearance to lure customers who would otherwise consider BMW 3-Series Coupe etc. On the other hand, by keeping the sedan's wheelbase and 4 pieces of doors, it offers a lot more practicality than conventional coupes. It also provides a class-leading boot space of 535 liters.

The Passat CC was penned by former Volkswagen design chief Murat Gunak. However, I suspect its conservative front mask – which does no justice to the otherwise good-looking car – could be the work of someone else, because it does not gel with the rest of the car. We heard that Volkswagen boss Martin Winterkorn was dissatisfied with the original design and ordered Walter de Silva to restyle it before launch. Unfortunately, the result is opposite to our wish. The Passat CC is not the only example showing how Volkswagen's design operation goes wrong since Murat Gunak quit. The recent Scirocco has a similar fate - after a surgery by the team of Walter de Silva, the production Scirocco got a very conservative front end design and never replicated the beauty of the original Gunak concept. Watch out the next generation Golf...

| | |
| --- | --- |
| | Longer, wider but significantly lower than the Passat sedan |

Open the front doors, it is disappointing to see the same dashboard and center console as the standard Passat. Although there is nothing wrong with its materials or build quality (which are undoubtedly excellent), a coupe should have deserved a sportier and unique interior design, like those of Alfa Romeo. You sit 15 mm lower than the sedan in the driver seat and face towards a faster windshield. Surrounding you is a lower roof and smaller frameless windows. Those are about the only implications of its coupe nature. At the back, the difference is bigger – the bench seat has been replaced with two individual seats to limit the CC to a 4-seater. As the wheelbase is identical to Passat sedan, there is vast of leg room there, but the swoopy roofline inevitably eats into the rear head room. Nevertheless, it will have no problem to accommodate passengers up to 5ft 10in.

| | | |
| --- | --- | --- |
| | | Similar interior but new rear seats |
Although Passat CC has all engines shared with the sedan, the ones it picked are the higher power units. You have the choices of two powerful 2.0 TDI turbo diesel (140 hp or 170 hp), the excellent 1.8 TSI (160 hp) and 2.0 TSI (200 hp) direct injection turbo petrol or the characterful 3.6-liter VR6 in two states of tune – 300 hp / 258 lb-ft for Europe or 280 hp / 265 lb-ft for US market. The two four-cylinder petrol turbo engines are the best bet, as they are punchy, refined and frugal. The two turbo diesels are also competitive, although they are no match with BMW's equivalents.

The big naturally-aspirated V6 is actually the least convincing choice, because it provides too little extra performance over the turbocharged fours to justify its high price and fuel consumption. Despite of recent improvement, the compact VR6 configuration still fails to extract the same number of horsepower and torque as rivals with the same capacity. Also, it is mandatory with 4motion all-wheel-drive system and 6-speed DSG gearbox (or 6-speed Tiptronic for the torquey American version), both add weight and costs. The latter will put it in the league of BMW 335i Coupe. Although Volkswagen claims it takes as little as 5.3 seconds to go from zero to 60 mph, few people actually believe that.
| | |
| --- | --- |
| | The fastback roofline limits rear passengers to 5ft 10in... |

Predictably, the slightly wider tracks, lower center of gravity and marginally stiffer suspension tuning make the Passat CC a little swifter in bends. However, no matter the FWD or 4motion car, its handling still biases towards high-speed cruising. Push it harder in tight corners and it will run into safe understeer. It does not feel as well balanced as a Ford Mondeo, let alone the rear-drive BMW 3-Series Coupe. Moreover, its electric power steering still isn't as communicative as keen drivers would like. In terms of handling, Passat CC is more sedan than coupe.

On the positive side, the CC rides quite well, thanks to the compromising suspension tuning and new electronic adaptive dampers. Its DDC dynamic drive control provides 3 driving modes (normal, sport or comfort) which alter suspension stiffness, steering assistance and throttle response according to driver's wish. But these days even an Opel Astra could be equipped with such system, so it is by no means a surprise.

| | |
| --- | --- |
| | Dynamically, it is more sedan than coupe... |

What really stand out is the world's first "Lane Assist" system, which monitors if the car is cruising inside a lane and, if not, steers it back into the lane automatically. The same hardwares also enable "Park Assist", which steers the car into parking space automatically. Besides, the Passat CC has adaptive cruise control, which maintain a suitable distance from cars in front and behind by applying throttle and braking automatically. But so what ? These features will be seen in other Volkswagens soon anyway.

Volkswagen hopes the Passat CC could follow the footprints of Mercedes-Benz CLS and attract 300,000 units of sales during its life span of 4 years or so. But we should remember, Mercedes CLS is so successful because it looks great and really special. Passat CC is neither as beautiful nor does it possess the classy features of the Mercedes – rear-wheel-drive, powerful engines, unique interior and a prestige badge on the bonnet. Will it replicate the success of CLS ? I really doubt that.
The above report was last updated on 17 Apr 2008. All Rights Reserved.
Passat "Mk7"

| | |
| --- | --- |
| | For a "7th generation", it is too modest and disappointing. |

Volkswagen calls this "the 7th generation Passat". In fact, it is actually a mid-life facelift. If this sounds familiar, it is because you have seen the same happened to Golf Mk6. Like its sibling, the Passat gets a new corporate nose that appears to be more conservative and a little more upmarket. Reshaped taillights and subtle surface treatment make its tail more like that of Phaeton. The rest is unchanged. Inside, the revision is even more modest. Volkswagen did not touch the whole dashboard architecture, neither the colors nor textures are altered. It all looks so familiar to the existing owners.

Nevertheless, as in Golf VI, once on the move you will find a noticeable improvement in quietness. This is because it employs more sound insulation and a thicker windshield. You are also offered with more safety and convenience equipment, such as collision warning, active cruise control, drowsy warning, active headlamps, automatic parking and XDS electronic locking differential. Praise its suppliers instead of Volkswagen.

The facelift… well, seventh generation Passat gets greener, of course, because all engines now feature automatic start-stop. Otherwise the engines are mostly unchanged. In the petrol side there are 122hp 1.4 TSI, 160hp 1.8 TSI and 211hp 2.0 TSI for selection. You might notice the latter produces 11 horses more than before because it is the new EA888 unit as in Golf GTI, though it is not remarkably different. High-performance R36 went into history because it is neither popular nor green. Moreover, the 2.0 TSI is quick and sweet enough to take care of 90 percent of your need. In the diesel side, three familiar engines soldier – 105hp 1.6 TDI, 140hp 2.0 TDI and 170hp 2.0 TDI. The middle of them is probably the most sensible choice for performance, refinement and cost combined.

As before, the Passat is a family sedan worth recommending. Its cabin is more spacious than its wheelbase suggests. Its build quality is remarkable. Its handling and ride is better than most others on the market. Its powertrains (engines and DSG boxes) are sweet and efficient. However, there are lost opportunities. Volkswagen could have used this renewal to sharpen its handling but it didn't. Neither had it upgraded its interior styling and materials. For a facelift, it is about what you would expect. For a "7th generation", however, it is too modest and disappointing.


The above report was last updated on 27 Oct 2010. All Rights Reserved.
Specifications
General remarks
Layout
Chassis
Body
Length / width / height
Wheelbase
Engine
Capacity
Valve gears
Induction
Other engine features
Max power
Max torque
Transmission
Suspension layout


Suspension features
Tires
Kerb weight
Top speed
0-60 mph (sec)
0-100 mph (sec)

Passat 2.0FSI (Mk6)



Front-engined, FWD

Steel monocoque
Mainly steel
4765 / 1820 / 1472 mm
2709 mm
Inline-4
1984 cc
DOHC 16 valves
VIM
DI
150 hp
147 lbft
6-speed manual
F: strut
R: multi-link

-
215/55R16
1389 kg
132 mph (c)
8.8 (c)

-

Passat 2.0TFSI

(Mk6)

Front-engined, FWD

Steel monocoque
Mainly steel
4765 / 1820 / 1472 mm
2709 mm
Inline-4
1984 cc
DOHC 16 valves, VVT

Turbo, VIM
DI
200 hp
207 lbft
6-speed manual
F: strut
R: multi-link

-
215/55R16
1445 kg
146 mph (c)
7.2 (c)

-

Passat 3.2 VR6
4motion

(Mk6)

Front-engined, 4WD

Steel monocoque
Mainly steel
4765 / 1820 / 1472 mm
2709 mm
V6, 15-degree

3189 cc
DOHC 24 valves, DVVT

VIM
DI
250 hp
236 lbft
6-speed twin-clutch
F: strut
R: multi-link

-
235/45R17
1660 kg
153 mph (c)
6.6 (c)

-

General remarks
Layout
Chassis
Body
Length / width / height
Wheelbase
Engine
Capacity
Valve gears
Induction
Other engine features
Max power
Max torque
Transmission
Suspension layout


Suspension features
Tires
Kerb weight
Top speed
0-60 mph (sec)
0-100 mph (sec)

Passat 3.6 VR6

(Mk6)

Front-engined, FWD

Steel monocoque
Mainly steel
4765 / 1820 / 1472 mm
2709 mm
V6, 10.6-degree

3597 cc
DOHC 24 valves, DVVT

VIM
DI
280 hp
265 lbft
6-speed automatic

F: strut
R: multi-link

-
235/45R17
1655 kg
155 mph (limited)
5.9** / 6.1***

14.2** / 14.5***


Passat R36 (Mk6)



Front-engined, 4WD

Steel monocoque
Mainly steel
4765 / 1820 / 1472 mm
2709 mm
V6, 10.6-degree

3597 cc
DOHC 24 valves, DVVT

VIM
DI
299 hp
258 lbft
6-speed twin-clutch

F: strut
R: multi-link

-
235/40ZR18
1689 kg
155 mph (limited)
5.4 (c)

-


General remarks
Layout
Chassis
Body
Length / width / height
Wheelbase
Engine
Capacity
Valve gears
Induction
Other engine features
Max power
Max torque
Transmission
Suspension layout


Suspension features
Tires
Kerb weight
Top speed
0-60 mph (sec)
0-100 mph (sec)

Passat 1.8TSI

(Mk7)

Front-engined, FWD

Steel monocoque
Mainly steel
4769 / 1820 / 1470 mm
2712 mm
Inline-4
1798 cc
DOHC 16 valves, VVT

Turbo
DI
160 hp
184 lbft
6-speed manual
F: strut
R: multi-link

-
215/55R16
1427 kg
137 mph (c)
8.0 (c)

-

Passat 2.0TSI

(Mk7)

Front-engined, FWD

Steel monocoque
Mainly steel
4769 / 1820 / 1470 mm
2712 mm
Inline-4
1984 cc
DOHC 16 valves, VVT

Turbo, VIM

DI
211 hp
206 lbft
6-speed twin-clutch
F: strut
R: multi-link

-
235/45R17
1469 kg
147 mph (c)
7.2 (c)

-

General remarks
Layout
Chassis
Body
Length / width / height
Wheelbase
Engine
Capacity
Valve gears
Induction
Other engine features
Max power
Max torque
Transmission
Suspension layout


Suspension features
Tires
Kerb weight
Top speed
0-60 mph (sec)
0-100 mph (sec)

Passat CC 2.0TSI

Front-engined, FWD

Steel monocoque
Mainly steel
4796 / 1856 / 1420 mm
2709 mm
Inline-4

1984 cc
DOHC 16 valves, VVT

Turbo, VIM

DI
200 hp
207 lbft
6-speed manual

F: strut
R: multi-link

Adaptive damping

235/45R17
1441 kg
147 mph (c)
7.2 / 6.5**

16.6**


Passat CC 3.6 V6 4motion

Front-engined, 4WD

Steel monocoque
Mainly steel
4796 / 1856 / 1420 mm
2709 mm
V6, 10.6-degree

3598 cc
DOHC 24 valves, DVVT

VIM

DI
300 hp
258 lbft
6-speed twin-clutch

F: strut
R: multi-link

Adaptive damping

235/45R18
1632 kg
155 mph (limited)
5.3 (c) / 5.8****

14.7****

Performance tested by: *Autocar, **C&D, ***R&T, ****AMS

Copyright© 1997-2010 by Mark Wan @
AutoZine