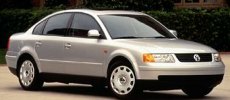 American loves Honda Accord. European loves Honda Accord too, but the European Accord is a full size smaller than the American Accord. Ironically, what perceived as "mid-size sedan" in Europe (and most of the rest of the world) is deemed to be just compact sedan in America. That makes a "mid-size world car" nearly impossible. Ford Mondeo tried that idea, but while it won European car of the year award, sales figures were rather poor across the Atlantic. The only exception comes from Volkswagen. VW Passat is currently the only mid-size sedan enjoying respectable success in both worlds.

In terms of external dimensions, Passat is half a size larger than its European competitors leading by Peugeot 406 and runs close to its target rivals in America - Honda Accord and Toyota Camry. In terms of usable space, Passat easily beat its European competitors, thanks to the high roof, if not width or wheelbase. In particular, there's room for 3 six-footers in the rear. Both cabin space and boot volume matches Camry and trails US Accord closely.

What makes the Volkswagen outstanding is undoubtedly build quality. It is not necessarily more durable or trouble-free than Japanese cars, but visually speaking it is simply unmatchable. Fit and finish of every body panels are out of the highest standard for mainstream cars. The same goes for cabin, which sees high quality plastics which was described by Ford's engineers as too expensive to follow. In addition to the civilised styling, the Volkswagen feels as classy as Audi.

In fact, Passat was derived from Audi A4. The chassis is basically a stretched A4 platform, with the same 4-link suspension up front and torsion beam plus trailing arm at the rear. Even the smooth styling mirrors the A4, especially when you notice the sweeping roofline towards C-pillar. The water-drop profile leads to a class-leading drag coefficient of 0.27, which should benefit top speed by a few mph.

The relationship with A4 does not stop there. The whole powertrain is actually carried over from the prestige cousin, including 1.6-litre four-cylinder, 1.8-litre 20v engines (with or without turbo), top of the range 2.8-litre 30v V6, 4-speed Tiptronic gearbox and even the 4-wheel-drive system. Inevitably, the engine is positioned North-South as in A4. Note that the 4wd has been renamed from "Syncro" to "4motion" recently but actually it is Audi's Quattro system with Torsen differentials.

All engines are highly competitive. Even the grass root 1.6 (with 100 hp and variable intake) has sufficient torque to cope with the heavy Passat. The 1.8-litre had already proved its goodness in A4, especially is the light-pressure turbo version with a useful 155 lbft of torque occurring at just 1,750 rpm. It provides performance mid-way between Honda Accord's 2.3-litre four-pot and 3.0-litre V6 so that most American customers are satisfied with it.

In Europe, the 2.3-litre narrow-angle V5 (yes, a unique 15° five-cylinder in Vee) is probably an even better choice. Being as powerful and as torquey as the 1.8T, it is creamy smooth yet sounds nicer to ears. (Update: with 4-valve head now output 170 hp and 166 lbft) In contrast, the 193 hp V6 is decisively more powerful but it also burden the nose. The 5-speed manual gearbox is particularly crisp by Volkswagen's standard. Tiptronic is faultless in auto mode and could be fun in manual mode.

In terms of handling, Passat is also very competitive. Even by European standards, it is fluent to drive quickly in twisty roads, thanks to good body control and good brakes. If there is anything worse than our benchmark Peugeot 406, it is the over-assisted power steering, hence less steering feel. However, this is just out of the view point of European driving enthusiasts. For most people, especially American drivers, Passat feels sportier than its Japanese counterparts. It is particularly good at high speed stability and high speed ride.

In many ways, the Passat is much better to buy than the pricier Audi A4. Not only it is roomier, its build quality and dynamic ability are no less remarkable. Most important, it is cheaper. Against the European and Japanese mainstream competitors, it is a bit more expensive, but what you get is a car as classy as any German prestige cars.