The sedan version of Golf is produced exclusively in VW's Mexico plant (i.e. the home to New Beetle) and supplied to USA and Canada. In fact, if not American buyers prefer sedans to hatchbacks, VW would not have created Jetta.

Predictably, the new Jetta shares the fifth generation Golf's sophisticated chassis and first rate build quality. Its 2578 mm wheelbase is not very long, but coupled to a lengthy trunk boosts the overall length by 350 mm. Outside, the Jetta looks quite handsome. Some would say it looks increasingly like a Honda, but that only reflects the improved design of the Japanese company rather than any deterioration in Volkswagen. In fact, the Jetta tries very hard to distinguish from Golf. At the front end, it has a new chromed fascia grille (although Golf GTI has a blackened version of the same grille); from the C-pillar and afterwards, it looks more like the Phaeton. This is to say the Jetta looks more graceful and expensive than the Golf.



In the mechanical side, the main difference from Golf is the engine: the American Jetta employs a larger, 2.5-litre inline-5 engine. It is not the previous V5 (the costly engine died together with W8), but a new engine said to be loosely based on Lamborghini Gallardo's V10. Pardon? the V10 produces 500 horsepower, but the inline-5 only 150 hp. Can you believe? not me. Some said they share the same cylinder head (well, maybe before machined, i.e., that piece of aluminum alloy). Some said they share the same 82.5mm bore and 92.8mm stroke (well, this only implies they are built with the same tooling). The point is, the Lamborghini V10 has an aluminum block with dry sump lubrication, VVT in all camshafts, 2-stage variable intake system, lightweight pistons and con-rods, forged crankshaft… in contrast, the Volkswagen inline-5 has a cast-iron block, wet sump, no VVT, fixed intake manifolds… marketing people, stop telling me rubbish !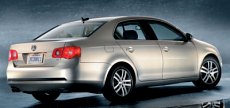 Even if you disregard the relationship with the Lamborghini V10, you will be disappointed by its output. A specific output of only 60 horsepower per litre looks more like a 2-valve-per-cylinder engine, but in fact this engine has twin-cam and 20 valves in total. If you remember, the outgoing 2.3 V5 produces 170 horsepower. And the latest BMW 2.5-litre six can produce 218 horsepower. With only 150 horsepower and 170 lbft of torque, accompany with a lazy manner (it won't rev beyond 5800 rpm) and a hefty 1.5 ton weight, the new Jetta is disappointingly slow. Car And Driver found a 6-speed Tiptronic-equipped car taking 9.2 seconds to 60 mph. No wonder they ran out of patience to measure 0-100 mph.



In fact, Volkswagen seemed chosen a wrong strategy for the Jetta. Its suspensions are set softer than Golf and the Michelin tires lacks grip. This softened its driver appeal and failed to distinguish it from the cheaper Japanese compact cars. Now it can only sell for build quality and refinement.



Maybe it is better to wait for GLI version, with 200 hp Turbo FSI engine. It should bring much needed performance to the equation and you can expect sportier suspension tuning and tires. Then all you need to think is whether the little Jetta worth the same money as a Honda Accord V6.



European Jetta

: after renaming to Vento (in Mk3) and Bora (in Mk4), its name has been changed back to Jetta. Engines are different from the American version: 115hp 1.6 FSI, 150hp 2.0 FSI, 200hp 2..0 TFSI, 105hp 1.9 TDI and 140hp 2.0 TDI 16V - actually the same as European Golf.