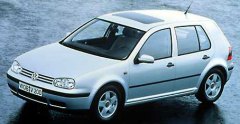 For nearly 2 decades, Golf continued to be the best selling car in Europe. Since its launch in 1974, no less than 18 million Golf were produced, placing it third place behind VW's own Beetle and Toyota Corolla in history. In 1997, the fourth generation Golf was launched.

Like its predecessors, new Golf is intended to storm the world by its success formula : provides superior build quality in a reasonable price. With so many skillful workers trained in Germany or attracted from all over the Europe, plus the famous quality control of German industry, Golf continues to be the best-built car in the small sedan segment.

Like the previous generation, the new Golf has a rigid and well-assembled body, a dash / central console made of high quality plastic, carefully trimmed cabin and good sound insulation. Its solid look with thick C-pillars deliver the safest feeling one can perceive. The overall shape is quite pleasing, though too conservative and too familiar.

Those who have driven it must be amazed by its superior quality, especially because the interior looks every bit as classy as Mercedes and Audi, while the body panel gaps are even narrower than japanese cars'.

If all these qualities come under a higher price, Golf would not have been Golf - it would have been another Mercedes or Audi. In fact, strong demand for such a good car enables an extra-high production volume, thus lowers average cost. Given the experience of Beetle, VW knows very well how to organise the production of so many cars in an efficient way - the Wolfberg plant is the largest factory in the world !

Further cost reduction is implemented by platform sharing with Audi A3, VW new Beetle, Seat new Toledo and Skoda Octavia - that means 60% of the cost are shared.
Technical view
The new Golf is slightly wider and longer than its predecessor. Since most of the additional length is spent on the boot, the cabin is only marginally roomier.

Technically it is a very conservative design. Not only the styling is nearly identical to Golf MkIII, but its basic structure is unchanged - suspension is still MacPherson struts in front and torsion beams at the rear.

Engines are better, but except the 1.4 litres, all comes from the existing series of VW and Audi:

- 1.4 litres all alloy 16 valves four, 75hp 94lbft, new engine - nice entry level engine.
- 1.6 litres variable induction 8 valves four, 100hp 106lbft, carry over from Golf III - sweet and best buy
- 1.8 litres 20 valves four, 125hp and 125lbft, comes from Audi A3 - serve well
- 1.8 litres 20 valves turbo four, 150hp and 155lbft, also from Audi A3 - strong torque, but does not suit GTI.
- 2.3 litres 10 valves V5, 150hp and 151lbft, modified from Passat VR5 - smooth and refined (Update: now upgraded to 170 hp and 166 lbft by the use of 4-valve head)

Now, Golf finally has a full range of competitive engines.

What about handling and ride ? To those traditional GTI lovers, the new Golf may disappoint them. According to 2 British magazines I've read, both the ordinary Golf and Golf GTI cannot live up to expectation. Its steering is less involving and less sharp than before. Its ride does not improve much, especially introduces more body roll than its predecessor, thus still inferior to the best French hatch. GTI's 1.8 turbo engine is strong and pulling with ease, but lack of the instant throttle response and high-revving character of the previous GTI 16v or VR6. It runs fast, but not as exciting as before because the refiner engine, chassis and steering filtered out any thrills. It becomes more predictable, progressive, neat and tidy, becomes a grown-up car. This is not what GTI lovers expect.

For the ordinary Golf, this is not necessarily a bad thing - it becomes easier and effortless to drive. However, to the GTI, this could harm its image. Remember, Golf was the inventor of GTI.

If you know how Audi A3 behaves, you should have predicted this. Golf is too similar to A3.