Scion xB / Corolla Rumion

Debut: 2007
Maker:
Toyota
Predecessor: Scion xB (2000)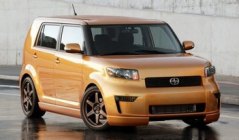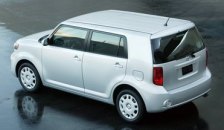 The first generation Scion xB was a rebadged version of Toyota bB or, in other words, a derivative of Toyota Yaris. Although it was quite a popular niche in the America, Toyota believes a bigger successor will serve American better. That's why the second generation Scion xB climbs up a class. It is much bigger, roomier, heavier yet faster and more refined than the old car because it was developed from the platform of new Corolla / Auris / Blade and powered by Camry's 2.4-liter four-cylinder engine. Therefore any comparison with the old car will be pointless.

Sharing the same 2600mm wheelbase and 1760mm width with Auris, the xB has a unique packaging which is squarer, taller and more funky, if not more lovely. Predictably, the boxy exterior brings a roomy interior. What a pity it lacks both style and quality. The cheap-looking dashboard is made of hard plastics. The centrally located dials are hard to read. The ambience is dark and boring. The seats are flat and short of support, especially at the rear. On the positive side, this car has plenty of storage cubbies, and the rear bench folds flat to accommodate a lot of luggage. That said, nothing stand out from the crowd.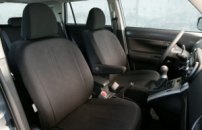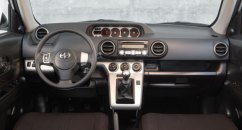 The same story goes for mechanicals. Struts and torsion-beam suspensions and electric power steering are just predictable for any budget cars, so is the ride and handling character. Like most Toyotas, it is safe and easy to drive but hardly inspiring. Compare with a typical family hatch, it displays more body roll and understeer thus you won't buy it for driving fun. Fortunately, the big four-pot engine is smooth (thanks to twin-balancer shafts) and torquey, so you don't need to rev the engine too hard for overtaking.

Scion xB can't compare with Auris for driving dynamics, build quality and sophistication, but it compensates with more space, larger engine, a distinctive look and most important, a bargain price. Sounds very much like an American car.


The above report was last updated on 8 May 2007. All Rights Reserved.
Specifications
General remarks
Layout
Chassis
Body
Length / width / height
Wheelbase
Engine

Capacity
Valve gears
Induction
Other engine features
Max power

Max torque

Transmission
Suspension layout


Suspension features
Tires
Kerb weight
Top speed
0-60 mph (sec)
0-100 mph (sec)

Scion xB

Front-engined, FWD

Steel monocoque
Mainly steel
4250 / 1760 / 1590 mm
2600 mm
Inline-4

2362 cc
DOHC 16 valves, VVT

-

-
158 hp

162 lbft

4-speed automatic

F: strut
R: torsion-beam

-
205/55HR16
1370 kg
124 mph*

7.8*

22.3*





Performance tested by: *C&D
Copyright© 1997-2010 by Mark Wan @
AutoZine