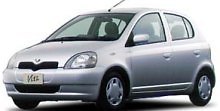 I used to ignored the Starlet and wasted no time in writing about it. It simply wasn't in the same league of European's super mini. Things is going to be changed when Toyota replaced the Starlet with a radical new car called Yaris. Not only appears as Vitz in Japan and Echo in North America, it will also be produced in France starting from mid-1999, eventually reaching the rate of 200,000 units a year. Hopefully it will be a strong force in the super mini market currently leading by Peugeot 206, Renault Clio, Fiat Punto etc.

The Yaris is styled by Toyota's European studio in Brussel, which also penned the odd-looking European Corolla hatchback. Given a new clean sheet of paper, they have done a great job to create a stylish, distinctive yet functional small car. Formerly appeared as concept car "Fun Time" in 1997, the design team deleted the two tone color scheme in front bumper and tail gate, but the overall shape is unchanged. I'm sure most people will love it.

The exterior dimensions (Length / Width / Height / Wheelbase : 3610 / 1660 / 1500 / 2370) imply a very modernized philosophy of design. Compare with VW Lupo, the length and width are 83mm and 21mm longer, but a close contest with Renault Clio finds 163mm short of length. So it seems the Yaris rivals to the Lupo, Seat Arosa, Fiat Seicento, Renault Twingo etc. rather than Peugeot 206, Fiat Punto and Renault Clio. However, considering the wheelbase, which is more essential to interior space, Yaris is 102mm shorter than the benchmark Clio, or 72mm shorter than Peugeot 206, but 47mm longer than VW Lupo. Moreover, the body height of 1500mm exceeds all rivals - Peugeot by 68mm, Renault by 83mm, Lupo by 40mm. Therefore the little Toyota actually steals sales from both categories.

Although the wheelbase is shorter than all other super minis (not sub-mini), interior space actually exceed all of them bar Fiat Punto, thanks to the upright seats which make use of the excessive height. Especially the leg room and head room in rear seats is bigger than Clio and even the 206. Apart from the Fiat, only Renault Twingo (whose wheelbase is even shorter, at 2345mm) can match its space efficiency.

To European's super mini makers, Yaris's 1-litre engine is a dream. While the Fiat, Volkswagen, Renault and Peugeot still employ single cam 2-valve engine of roughly the same size, Toyota has twin cam, 4-valve head, individual coil on spark plug and the VVT-i variable valve timing. Class leading 67hp / 6,000rpm and 66 lbft / 4,000rpm output guarantee the highest performance of any 1-litre super mini, while the fuel consumption remains unaffected.

However, in Europe the Yaris is expected to compete with those equipped with 1.2 litres to 1.4 litres rivals. To a certain extent there is no replacement for displacement, especially is for those small engines. Japan's MOTOR magazine tested the Vitz 3 doors against Ford Ka (1.3 litres 59hp/5000rpm, 77lbft/2500rpm) and Renault Twingo (1.15 litres, 60hp/5250rpm, 69lbft/2500rpm). It found the Vitz feels least powerful, especially at low and mid range. As the high-revving dohc engine deliver its peak torque at some 1,500rpm above its rivals, no wonder drivability is worse than those old tech 2-valves-per-cylinder units.

To keen drivers, this is not always bad. UK's Autocar, for example, like this engine very much. Keep changing the quick (if slightly notchy) gearbox results in 14.2sec for 0-60mph, even faster than the Ka's 14.7sec. Oddly, the open roads in Europe suits the little Toyota better ! The British love it not only for its demanding character, but also because it revolves smoother and more refined than rivals, bar its comrade Nissan Micra. And then you'll find a paradox - Autocar said above 5,500rpm the engine becomes noisy and harsher, isn't that the revvy engine always need to be operated at such speed to deliver its full strength ? Perhaps the Japanese magazine is right again : it rated the quietness field at 3 stars, that is, one star less than Ka and Twingo. Anyway, the 1 litre unit won easily in the contest of fuel consumption.

Toyota has not reveal any plans for a sport version, say Yaris GTi. If it want to do so, a 105hp 1.5 litres engine could be immediately fitted under the bonnet, as it has been already shown in the Echo, the sedan version primarily destined at North America. Luckily, I've heard a 1.3 litres unit with 85hp is on the way. Hopefully it will fill the black hole. (updated: yes, the 1.3-litre has arrived. As expected, it is powerful and refined. It makes Yaris nearly perfect.)

To test its handling and ride, you need to take our benchmark cars - Ford Fiesta, Ka and Peugeot 206. Fiesta is famous of sharp handling, so is Ka, while 206 offers class-leading ride. In certain extent Autocar did not chose the right version - the Yaris offered by Toyota is fitted with optional alloy wheels, which is supposed to reduce unsprung weight thus add some advantage to ride quality. Fiesta and 206 were fitted with standard cast iron wheels. Ford Ka is even not in the line up. The British magazine praised Yaris handles surprisingly remarkable, steering is quick and accurate, whose response and weighting are adequately balanced between high speed stability and low speed parking. The car attack corners with high agility and neutral steering, fine body control despite of high body. On the other hand, ride quality is approaching the level of Peugeot. Overall speaking, Yaris handles more lively and competently than rivals bar the Fiesta, although the latter is just marginally sharper in some area.

The Japanese magazine riches our view by testing it against Ford Ka. If the 5 doors Yaris is not competing directly with the little Ford (whose rear passenger room is noticeably smaller despite of the longer wheelbase), at least the 3 doors must. Remember the Ka was created by shortening Fiesta's platform ? As it is only stiffer and having less overhang, both handling and ride are superior. Without hesitation, Motor magazine rated its handling above Vitz. Therefore our Handling King of Super mini is still the Ka.

To the majority of buyers (most of which will be female), the build quality and comfort are more important. Being a Japanese-engineered car, especially is a car as serious as this one, fit and finish is first class, so is reliability and durability. 4 years ago, my older brother bought a Volkswagen Polo, so-called the best built European mini. He always complained the unreliable electric and dozens of trivial faults that trouble him times and times. Also the high cost of replacing the bumpers. Those driving Japanese cars know their decision is right, at least judging by brain instead of heart.

The cabin of Yaris is very attractive. Dashboard locates above the center console, angled towards the driver just like many modern MPV. In Japan, the 3 doors version has sportier analogue dials instead of the 5-doors' digital one. European is likely to be limited to the digital. Trip computer is standard while GSM navigation is optional. The facia and inner shell of doors are curvy, artistically styled like Ford Ka. There are a lot of storage cubbies, and as much as 3 cup holders. You can say these are just gimmicks, but what about the ambience ? Thanks to the high roof, occupants must feel free.

Overall speaking, Yaris scores very high marks in all area. Even though we say its engine is not punchy enough, it still competes strongly with other engines of the same size. No other super mini could be more all-round.

At the year's beginning, AutoZine Awards chose Peugeot 206 as the class winner, the article said, "Peugeot 206 born at the right time. When Fiat Punto is getting old, Ford Fiesta is waiting for a new body, Renault Clio II is aiming to cut cost, Ford Ka is lacking of a good engine, MCC Smart is understeering..... the little Peugeot takes the crown without making much effort..... Anyway, put all things together it is still the best super mini at this moment."

Now we know that moment is over. The new winner has come.