Toyota Yaris / Vitz

Debut: 2005
Maker:
Toyota
Predecessor: Yaris / Vitz Mk1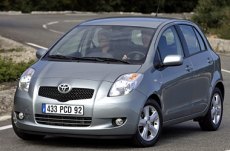 Toyota had never been good at making small cars until very recently. For years, its Starlet struggled to break into overseas market but without much success. It was so frustrated to the extent that it simply took over Daihatsu in order to gain access to the small car market. However, in 1999 Toyota finally created a world-class small car. It was called Vitz at home, or Yaris in Europe and Echo in North America. The car had a cute styling, very compact yet space-efficient packaging, an innovative sliding rear seat which could alter passenger legroom and luggage room according to needs, and it employed a range of 4-valve per cylinder VVT-i engines to deliver brisk performance. The car won European Car of the Year award immediately and sold hot in Europe. Meanwhile, a production plant was established in France - the heartland of European small cars - as a symbol of victory and rolled out 200,000 Yaris a year. The success of Yaris started a new wave of Toyota invasion to Europe. After USA, Toyota broke into European market finally.

Enough history. Wind forward to February 2005, the second generation Vitz was launched in Japan. In Europe it is still called Yaris, but USA and the rest of the world now also adopt the Yaris label. After the successful Mk1, we inevitably had high expectation on the Mk2. We know it falls in the most competitive market segment in the world - no less than 33 cars in AutoZine's comparison list at the time of writing. Therefore it had better to take another big step forward.

Judging from the exterior styling, my first impression on the Vitz / Yaris is quite positive. The new car was again designed by Toyota's Brussels studio, no wonder it preserves the genes of the Mk1. It may be less radical than the original car 6 years ago, but the design evolved to be more modern, more flowing and dynamic. Its minimalist cabin looks very cool, thanks to the contrasting back plastic and silver console. Like the Mk1, instruments are mounted centrally in the name of allowing the driver to concentrate on the road. In fact, they allow cheaper conversion from left to right hand drive.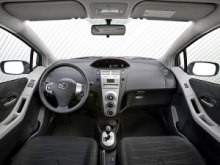 The new Yaris is considerably larger than its predecessor (110 mm longer, 35 mm wider and 20 mm taller, plus a 90 mm boost in wheelbase), but it is still considerably smaller than Renault Clio and Fiat Grande Punto. Does this mean less cabin space? no. You must admire Japanese engineers' expertise in packaging. They were born in an environment where space is as precious as gold, so they were trained to make the most space out of the minimal exterior dimensions. In the new Vitz / Yaris, you will find space comparable to Clio. 4 people enjoy plenty of head and legroom. 5 would be a squeeze though. Although the rear floor is flat, the body sides are heavily tapered towards the roof. This mean the outer rear passengers will have their heads rubbing against the windows or pillars. The same would not happen in our class leader Mitsubishi Colt. Toyota's engineers know how to solve this problem - by using boxy body, they gave the smaller Toyota Passo even more room than the Vitz / Yaris. However, they don't want to sacrifice the dynamic style and structural rigidity in Vitz / Yaris.

Flexible cabin layout is the strength of Yaris. The rear seat not only 6:4 split, recline and fold flat onto the floor, but it also slide back and forth to alter the distribution between passenger space and luggage space. Storage space is another strength. There is countless of storage cubbies throughout the cabin, including a large glovebox in front of the driver and a drawer underneath the front passenger seat.

Despite of these features, this is not the best cabin in the class. While its plastics look high quality stuff, once you touch them you will realize they are just regular hard plastics. Knock them and they sound hollow. This car does not feel as high quality as Renault Clio and Volkswagen Polo, although I won't doubt its reliability. Another disappointment is the cold ambience of the cabin. All plastics are black, the console is silver and the roof is white. It feels as boring as the rainy sky of England. Why not inject some colors?

Mechanically, the new Vitz has little to surprise. The front is suspended by MacPherson struts. The rear by torsion-beam. The chassis gained 40 percent rigidity over the Mk1. Drag coefficient is reduced to 0.30. All these are predictable. Like the Mk1, it is offered with 3 petrol engines in 1.0 litres, 1.3 litres and 1.5 litres. All of them employ twin cam 4 valves per cylinder and VVT-i, again like its predecessor. There is no substantial gain in power, so performance remains more or less the same.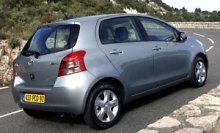 On the road, the Yaris will be loved for agility and ease of drive. Because of its efficient packaging, the Yaris can be lighter and more compact than the latest European mini cars. Its short turning circle makes it easy to drive in congested urban area. The same goes for the light steering and crisp gearchange. If motorway driving is not your daily requirement, the smallest 1.0 engine will be perfect. This 3-cylinder unit is pretty smooth and eager, powerful considering its small capacity (thanks to variable valve timing), and very frugal. The 1.3 petrol should satisfy most drivers, while the 1.5 petrol is mainly designed for power hungry American. However, at high rev the 4-cylinders sound coarser than the 3-cylinder.

Make no mistake, Yaris Mk2 does not set any new standards in driving dynamics. While it handles and rides quite well, you won't feel excited in any single area. Its ride is not as absorbent as Clio and Grande Punto. Its sound insulation is just average. Its body movement is less tightly controlled than Fiesta and Polo. Its electric steering feels quite artificial (well, so do most rivals). The beauty of Vitz / Yaris is not about driving dynamics, but the overall efficiency of its packaging and mechanicals. Unfortunately, this time it failed to turn the efficiency into desirability. If it get a more inviting cabin and some innovative features, or a really striking look, the story would have been different.
The above report was last updated on 22 Dec 2005. All Rights Reserved.
Belta and Yaris Sedan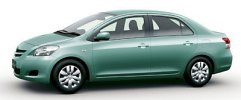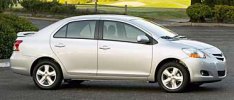 The sedan version of Vitz / Yaris is called Belta in Japan, or simply Yaris sedan in the USA. There is no European version because they prefer hatchback. The sedan is not just a Vitz / Yaris added with a boot, but it has a longer wheelbase (2550mm vs 2460mm) to offer more rear seat legroom. However, its rear seat cannot slide back and forth like the hatchback.

The Belta is powered by either the 1.0 VVT-i or 1.3 VVT-i engine, coupled to a CVT to emphasize economy. American requires more power, so Yaris sedan is powered by the 106hp 1.5 VVT-i engine with 5-speed manual gearbox or 4-speed automatic.
The above report was last updated on 13 Jul 2006. All Rights Reserved.
Toyota bB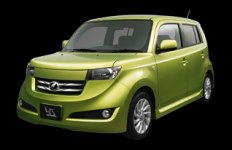 The first generation bB was named after a scientific concept, Black Box, because its creator wanted buyers to care about its functions and practicality instead of frills or gimmicks. It looked really like a box, but it was popular to the hip-hop generation in Japan and USA, where it was called Scion xB.

The second generation bB was born in December 2005. Style-wise, it breaks away from the original concept of bB. Although still largely boxy, the no-nonsense design of the original car is replaced with more styling gimmicks. Curves are built into the wheel arches and waistline to tell us it is not straight-line boring, while the front and rear lights, bumpers and intakes are no longer satisfied to be pure rectangular. Its designers obviously wanted to inject more style into the car, which, ridiculously, contradicts to the meaning of bB. But like the original car, the styling of new bB divides opinions. Some people think it looks funky, some regard it bulldog ugly. Myself belong to the latter crowd.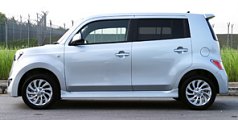 The new bB is no longer sold in the United States because Toyota America requested for a larger car. However, it got a new twins brother, Daihatsu Coo / Materia. Interestingly, Daihatsu claimed it led the development of both cars. This may explain why the bB looks more like a Daihatsu than other small Toyotas. However, the twins are built on Toyota Yaris platform and use all Toyota components, such as the strut and torsion-beam suspensions, electric power steering, 109hp 1.5-liter VVT-i engine and 4-speed automatic gearbox. Compare with Yaris, it gets 80mm longer wheelbase as the wheels are pushed closer to the corners. In addition to the elevated height (105mm taller than Yaris), the new bB continues to provide a class-leading roomy cabin, especially headroom. Luggage space is quite small, but the rear bench can slide back and forth for a range of 220mm (like Yaris) to liberate more luggage space in the expense of rear legroom.


If we talk of practicality, bB may not match an European MAV because its seating arrangement is not as flexible, nor its storage facilities worth any special mention. Its centrally-located instrument is silly and the plastic quality is poor. The interior design is also very ugly. However, what it really stand out is the audio system. This car has a second name called "Car-shaped Music Player", according to Toyota. It provides a CD / harddisk MP3 player with DSP Surround, up to 9 speakers and 11 flashlights which follow the music beat to illuminate in soft blue light. To enjoy the music more comfortably, you can drop down and slide back the front seat by 80mm and 85mm respectively and recline the seatback to just 20 degrees from horizontal. Close your eyes and enter the world of Music Player the bB… Yes, this is not a car but a mobile music player. You buy it for listening music.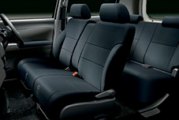 Sorry, maybe I am outdated. I still can't accept this idea. In my understanding, a car is designed to be driven. If you tell me a car is a music center, a disco, a video game center, an internet café, a Wi-Fi kitchen or a multimedia toilet, then I don't know how to write a review. However, if we talk about driving, then bB has little to impress. Well, its body control is not as bad as its tall body suggested due to stiffer suspensions and longer wheelbase, but its ride quality is average at best. The chassis rigidity and NVH insulation are not as good as the best superminis. The steering is too light and lacks feel. Performance is limited by the combination of the small 1.5-liter engine and 4-speed automatic. The combination of blocky shape and large frontal area means it struggle to reach 100 mph.

But then Toyota already got Yaris for sensible people. Silly as it sounds though, bB does appeal to the new generation of young people that we will never understand.
The above report was last updated on 7 May 2007. All Rights Reserved.
Scion xD / Toyota ist / Urban Cruiser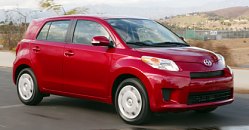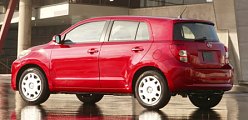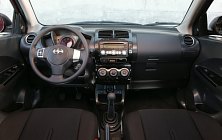 Another derivative of Yaris / Vitz is Scion xD, offered exclusively to American. xD replaces the unsuccessful xA, which was rebadged from the Japanese Toyota ist and was never designed for the taste of American. This time Toyota America successfully persuaded its Japanese headquarters to develop the xD exclusively for the USA market. To resemble the body shape of average Americans who eat McDonald's meals too often, Scion xD looks larger, fatter and bulkier than Yaris. It is 180mm longer and 25mm wider, but unfortunately the wheelbase remains the same as Yaris. This means cabin space barely increases a little.

Well, size is not everything. If it get more upmarket packaging or MPV-style flexibility, it may still present meaningful differences. Unfortunately, Scion xD's cabin is as grey as Yaris. It employs the same 60/40-split sliding rear seats, so there is hardly any advantages. The normal positioning of instruments is a welcomed change, but the dashboard design is rubbish and the plastic materials are no better than Yaris. The center console is a mess, and the audio fitments looks like aftermarket. Scion xD reflects American taste only in the way of its poor taste and poor visual quality.

In mechanical side, there is no advantage over Yaris either. Toyota American said it has a superior powerplant, Toyota's new 1.8 dual VVT-i 16V engine with 128hp and 125lbft of torque, but this engine already debuted in the European Yaris TS which carries 65kg less than the Scion and employs sportier suspension setup and stronger tires. The existence of Scion xD is rather unnecessary. Seems that it will have a similar fate to its predecessor.

Addition on 31 Jul 2007: The Japanese version of this car is Toyota ist. It differs from Scion xD only by a different grille and the use of a smaller 1.5-liter VVT-i engine.

Addition on 20 Oct 2008: European version is called Urban Cruiser. It is powered by either 1.3 VVT-i or 1.4D4-D engine.
The above report was last updated on 7 May 2007. All Rights Reserved.