| | |
| --- | --- |
| Published on 16 Jun 2009 | All rights reserved. |
| | |
| --- | --- |
| | Its mission is to extend Toyota's leadership in hybrid technology and sales... |

When Toyota launched the first generation Prius in December 1997, no one - not even itself - could tell the prospect of the car. Technology enthusiasts like us applauded its brave attempt, but none of its rivals, except Honda, took the move seriously. They did not believe hybrid power vehicles could become commercially viable. Well, the first generation Prius was really built at a loss, but its investment was not wasted. Toyota kept improving its "Hybrid Synergy Drive" system, making it more efficient and practical. When world oil price started surging in 2004, the car finally came to its big time. Global sales rocketed from 43,000 units in 2003 to 126,000 units in 2004, then increased steadily to 175,000 units in 2005, 186,000 units in 2006, 281,000 units in 2007... The Tsutsumi plant struggled to meet booming demand. As of Apr 2008, its cumulative sales surpassed 1 million units. Its rivals could only watch Toyota dominating the market and earning serious profit. All the hard work paid off !

Such success drove many rivals to join the battlefield. Most of the world's major car makers are working on hybrid cars. In particular, Honda Insight and Chevrolet Volt are dedicated hybrid models like Prius. Toyota cannot rest on its laurel. Fortunately, the third generation Prius has been launched at this critical moment. Its mission is to extend Toyota's leadership in hybrid technology and sales.

The first thing you notice about the new Prius is a sharper exterior design - the windscreen is set at a faster angle, the head and tail lights are more aggressively shaped, the shoulder lines more sharply pressed into the sheet metal and the front bumper gets squarer. For the first time ever, the styling of Prius can be linked to the word "Sporty". However, on the down side you may say its proportion is somewhat unbalanced, as all the busy details concentrate on the upper half of the car. Besides, the sportiness brings it visually closer to other Toyota models, thus is no longer as distinctive as before. Considering many people used to buy Prius for its unique image, losing a distinctive appearance could have a negative effect to its sales.


| | |
| --- | --- |
| | Its new-found sportiness may be a refresh to eyes, but it gets closer to other Toyota models and loses distinctiveness... |

However, in terms engineering, the new car is definitely a vast improvement from its predecessor. Its aerodynamic drag coefficient has dropped from 0.26 to 0.25 despite of the sharper looks. Its new Corolla-based platform has vast improvement in strength and refinement. Torsional rigidity of the chassis has been increased by a whooping 50 percent. Its layout of suspensions (strut front and torsion-beam rear) and steering mechanism (electrically assisted) may seem the same as before, but they have been tuned to sacrifice less driver appeal. It even offers a sport package with stiffer suspensions, aggressive 215/45VR17 tires and quicker steering rack (14.6:1 instead of 17.6:1), something we could not have imagined for the old generation. All-wheel disc brakes is also new to the Prius.

What it hasn't changed much is the exterior size, which is only 15 mm longer and 28 mm wider than Mk2, while wheelbase is virtually unchanged. As before, the Prius is classified as a mid-size car in USA or D-segment car in Europe. Its compact exterior size belies its roomy interior. Vast improvement in build quality, NVH suppression, equipments and performance should have added considerable weight, but Toyota has managed to limit that to 80 kg through extensive use of aluminum parts (bonnet, hatchback, brake calipers and front suspension axle) and more high-strength steel in the chassis.

Like Honda Insight, Prius Mk3 refuses to bet its fortune on lithium-ion batteries. Toyota believes this technology is still too expensive and might arise safety / warranty issues. For a car selling 300,000 units a year worldwide, it cannot afford any risks. Therefore the Mk3 takes a realistic approach and sticks with NiMH (Nickel Metal Hyride) batteries, although it may get Lithium battery later during its model cycle.

However, this does not stop it from improving elsewhere. The Hybrid Synergy Drive system, which consists of AC motors, inverter, control unit and transaxle, is smaller and 20 percent lighter. As before, Toyota's system employs two AC motors, a big one for propulsion and a small one for regeneration. The new propulsion motor is smaller and lighter than before (also undoubtedly cheaper). Its reduced torque is more than compensated by stepping up gearing and letting it spins at double speed. Furthermore, it is made more efficient by a few changes: 1) Its operating voltage has been increased from 500V to 650V to reduce internal loss; 2) The motors are now connected to the transaxle through gears instead of chain to reduce friction; 3) The maximum output of battery pack has been raised from 26kW (34.8hp) to 27kW (36.2hp). Note that although the motor is capable of 80hp, it is the battery that regulates its output.


| | |
| --- | --- |
| | More efficient than ever: it emits just 89 gram of CO2 per km |

The four-cylinder 16-valve VVT-i engine has also been upgraded. Capacity has grown from 1.5 to 1.8 liters, and now runs in Atkinson cycle to enhance thermal efficiency. Maximum output has been increased to 98 horsepower and 105 lb-ft. Stronger torque means for most of the time the engine can operate at lower rpm than before, thus actually improves fuel economy. The new engine has also switched to on-demand electric water pump to reduce energy consumption.

Combined output of the engine and motor is 134hp, up from 108hp of the last generation. 0-60 mph now takes 9.8 seconds, a welcomed improvement of 1 second. However, the most impressive is still fuel economy. It achieves 50 mpg EPA combined consumption, 4 mpg higher than the last generation and 9 mpg better than Mk1. It is easily the most frugal family car in the world, even compared with the smaller, C-segment Honda Insight and Volkswagen Golf Bluemotion. See the following table for more details:


aabsssModel

US EPA
city/highway

EU
combined

EU CO2 emission /km

Vehicle Class

Toyota Prius (195/65R15 tires)

51 / 48 mpg

72.4 mpg

89 g

D-segment

Toyota Prius (215/45R17 tires)
-

70.6 mpg

92 g

D-segment
VW Golf 1.6TDI Bluemotion

-

74.3 mpg*

99 g

C-segment
Honda Insight
41 / 43 mpg

64.2 mpg

101 g

C-segment
Volvo S40 1.6D Drive Kinetic

-

62.7 mpg*

118 g

C-segment
Ford Focus 1.6TDCi Econetic

-

65.6 mpg*

119 g

C-segment
Ford Fusion Hybrid

41 / 36 mpg

-

-

D-segment

VW Passat 2.0TDI Bluemotion

-

57.6 mpg*

128 g

D-segment



Remark: * diesel has higher carbon density than gasoline, therefore a fair comparison should be made by CO

2

emission instead of fuel consumptio

n.


| | |
| --- | --- |
| | A lot of MPVness in the cabin |

The cabin of Prius is a contrast to its exterior design – there is no sporty flavours at all, just a lot of MPVness. You sit high in the cabin as in an MPV. Facing you is an upright steering wheel and a big piece of grey plastic, both can hardly inspire driving excitement. The instrument reading is digital and located centrally above the console in the name of ergonomics. Gear lever is located on a floating console underneath which is a storage cubby, just like Auris. The front seats are roomy. The rear seats offer sufficient legroom, thanks partly to the contoured front seatbacks, but the sloping roof means they are more suitable to sub-six-footers. This is the price you pay for low aerodynamic drag. The luggage space is adequately sized, if quite shallow because underneath which stores the NiMH battery pack, but you can fold the rear seat flat to increase luggage space.

Build quality seems to be much improved in the cabin. Although all plastics are not soft-touch, they are richly textured and appear more expensive than before. The cabin also features a lot of high-tech equipments to match its advanced image, such as HUD head-up display (which projects driving information on the windscreen), "Touch Tracer" controls (when the driver touches the steering-wheel-mounted buttons, their corresponding functions are displayed on the instrument screen so that he does not need to move his vision a long way to the steering wheel), solar-cell roof (which powers ventilation fans to cool the cabin when the Prius is parked under sunlight), radar cruise control, automatic parking system, pre-crash system etc.

On the road, the new Prius drives satisfyingly. It doesn't deliver very strong performance, as its figures suggested, but the performance is good enough to satisfy most people's need. As the electric motor produces instant torque right from zero rpm, tractability is never a problem. The powertrain is also quite refined, with imperceptible transition between electric and gasoline mode.


| | |
| --- | --- |
| | Dynamics are much improved. Far less sacrifice than before. |

You can choose among 3 driving modes – EV, Eco or Power. Power mode unleashes full performance. EV is a pure electric mode which allows up to 25 mph and 1 mile of range before the battery depleted. In other words, it is a gimmick. Eco mode, as in Honda Insight, slows down throttle response and switch to energy-saving strategy for the planetary CVT to enhance fuel economy. So depending on your mood, the Prius is normally driven in either Power or Eco mode.

Although the new Prius continues to employ bread-and-butter suspensions, its ride quality is markedly improved, thanks to the fine tuning, stronger chassis and better sound deadening. On the roll, there is far less tire and suspension noise heard in the cabin. Unexpectedly, the most annoying noise actually comes from wind. At motorway speed, the mirrors generate quite a lot of noise and the A-pillars fail to filter it from the cabin.

As for handling, the Prius on standard suspensions is not a big departure from its predecessor. It still rolls and understeers a lot by conventional standard. Its steering is still too light and slow to inspire interest. With Sport package equipped, it is a lot better. Body roll and understeer are as well contained as most other Toyotas. Roadholding is more decent. Steering is reassuringly weighted and satisfyingly quick, if not really communicative. The disc brakes are more powerful than before, and pedal feel becomes less artificial. You do sacrifice a little ride comfort and 1.8 mpg of fuel economy, but the price of sport package is worth paying. That said, don't confuse the Prius with a driver's car. It just gets close to the average level of conventional family cars, so any comparisons with Ford Mondeo or Mazda 6 are just waste of time.

Anyway, as a green car the new Prius is virtually unbeatable. Until electric cars or plug-in hybrid cars (like Chevrolet Volt) have got into mass production, I doubt any cars with 4 proper seats could better its fuel consumption and emission. Most important, to achieve its green credential, the new Prius sacrifices little in practicality, comfort and dynamics. Those rejecting the previous Prius may start thinking again. For sure, it is the best hybrid power cars currently available.
Verdict:




| | |
| --- | --- |
| Published on 28 May 2011 | All rights reserved. |
Prius α / Prius V / Prius+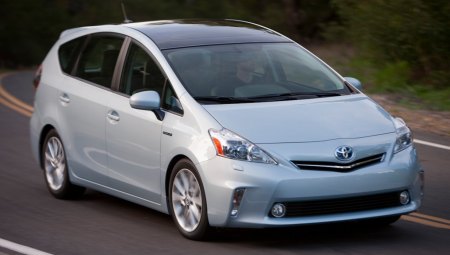 With global sales passed the 400,000 units mark in 2009 and the half-million mark last year, Toyota Prius continues to surprise many observers. But how high is the sky? Anything must have a limit. To keep fueling the growth, Toyota knows it has to broaden its appeal, offering more derivatives to lure those never consider to buy the Prius. This results in the MPV version reviewed here.

If I were Toyota, I would simply call the car Prius MPV to deliver a clear message of what the car is. However, since the marketing guys at Toyota have nothing to do, they play with names. In Japan, they call it Prius α (alpha). In America, they call it Prius V, where V stands for Versatility. In Europe, the same car is badged as Prius+. They did not explain why the car needs different names on different markets. Anyway, it is meaningless to search for a meaningless answer.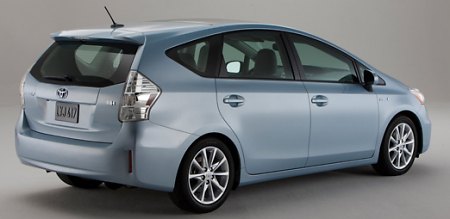 Compare with Prius, the MPV version is inevitably larger – some 155 mm longer and 30 mm wider. Its wheelbase has been stretched for 80 mm, enough to accommodate two extra seats. The car is also significantly taller at 1575 mm. Moreover, the roof line is less swoopy than the Prius. This makes possible for a third-row seats and a theatre-style seating arrangement (i.e. the second-row is positioned higher than the front-row, ditto the third-row against the second-row) to give better visibility for all occupants. The cabin is definitely roomier, with more head and shoulder room all round. The boot is 50 percent larger than the standard Prius.

Like most MPVs, the seating arrangement is flexible. The second row seat is 60/40-split, can slide individually back and forth to alter the space between passenger legroom and cargo room, or simply fold flat to maximize load bay. It also has reclining seatbacks and an integrated center arm rest, though the latter make the middle seat too hard and uncomfortable for long journey.

The third row of seats are optional to the Japanese and European version but absence in the American version – understandably, they are too small for the taste of American. Even for Japanese, they are not suitable to adults.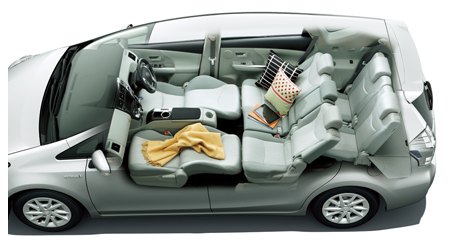 One major difference between the 5-seat and 7-seat versions is the position of battery pack. In the 5-seat version, it is located under the boot floor just like the regular Prius. In the 7-seater, that space is occupied by the rearmost seats and their footwell, so the battery is moved to the central tunnel located between the front seats. Is that space big enough ? No, not for the 5-seater's NiMH battery pack, so the 7-seater has to use a more expensive Li-ion battery pack, whose higher power density means less space is required to give the same kilowatt-hour. That said, it still comes at the expense of some storage space. If you don't really need the extra seats, always stick to the 5-seater.

The rest of the cabin is familiar, despite of an updated center-console instrument panel and the availability of a polycarbonate panoramic roof. We still cry for more style and higher quality materials. On the plus side, the heavily bolstered front seats are very supportive.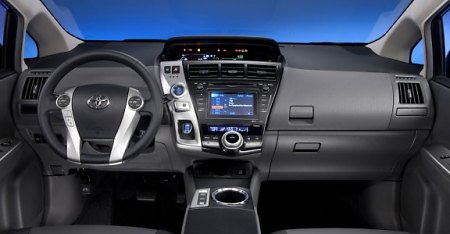 That is quite ridiculous. The Prius MPV is not sporting at all, even less so than the standard Prius. Disappointingly, even though it gains 105 kg, a higher drag (Cd increased from 0.25 to 0.29) and a larger frontal area, its underpinnings is left unchanged, which means it still runs the same 1.8-liter Atkinson cycle engine and electric motor to produce a combined 134hp. A shorter final drive ratio is chosen to compensate for the increased weight, but still 0-60 mph takes more than 10 seconds. That final drive ratio also contributes to a considerably higher fuel consumption. EPA figures deteriorate from the Prius' 51 mpg city, 48 mpg highway and 50 mpg combined to 44 mpg, 40 mpg and 42 mpg respectively. That means a consumption increased by 20 percent.

On the road, not only the car feels slow, but its handling is as dull, if not duller, than the Prius. The steering is still lifeless. Body control and braking are not too bad though, thanks to improved damping and larger brakes. Ride quality is generally good, but refinement is let down by excessive wind noise from the A-pillars.

Use it purely as a family car, the Prius α / Prius V / Prius+ is unlikely to disappoint too much. However, compare with the best diesel MPVs on the market, its slim advantage in fuel economy is not sufficient to compensate for its weak dynamics. As a result, the standard Prius still makes more sense.

Verdict: