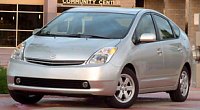 Hybrid powertrain, which incorporated both internal combustion engine and electric motor, appeared many years ago in experimental cars. The idea is to reduce emission as well as fuel consumption through the following mechanism: during acceleration, the stronger engine provides the power (sometimes assisted by the electric motor); at cruising speed, the electric motor takes over. It also regenerates electricity and charges up the batteries during braking, thus making good use of the kinetic energy that conventional cars wasted.

Toyota was the first car maker to put "Hybrid car" in production. In December 1997, it launched the Prius in Japan, initially for low-volume production. 2 years later, it went on sale in the United States and attracted many environmental-conscious customers, especially in California. In 6 years, some 120,000 units were sold, which is quite an unexpected success.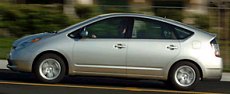 For the second generation Prius, Toyota becomes more ambitious. Not only want to maintain its lead in the hybrid field, the new Prius intends to compete with conventional family sedans in a larger market, not solely rely on environmentalists to support its sales. This means it must improve its practicality - stronger power and roomier interior in particular - to attract the larger crowd.
Like the first generation, the new Prius uses a compact hybrid power unit in which a 1.5-litre straight-four engine is mated inline with an electric motor and drive the front wheels. The petrol engine uses direct-injection to save fuel and VVT-i to improve power and torque. It produces 78 horsepower, 8 up from the previous generation. However, the focus of improvement is on the electric motor. It is now supplied by 500V AC instead of 274V AC and generates 67hp, up from 44hp. This allows the new Prius to accelerate much quicker - 0-60mph is expected to be reduced from 12.5 sec to 10.5 sec. Simultaneously, fuel consumption is improved from 52mpg to 55mpg because the powerful electric motor can be used more frequently than before.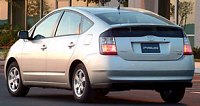 As before, a complex planetary gear set offers smooth transition between the engine and the motor. Transmission is by CVT to enhance fuel economy further.
To compete with family cars, the new Prius grows a lot in all dimensions - 14cm longer, 3cm wider, 2.5cm taller while the wheelbase extends by a massive 14cm. American authority EPA even classified it in the same class as Toyota Camry, which is actually a little exaggerate. Of course, the Prius is not as roomy as Camry, but it is considerably roomier than its predecessor, offering a lot more shoulder room and leg room to rear passengers. The only area not improved is the rear headroom, blame to the fastback roof which is necessary to achieve the 0.26 drag coefficient (down from the already remarkable 0.29). The interior of Prius is a showroom for technology - a digital instrument reading at the bottom edge of windscreen, a smart center console with big LCD display and a lot of metallic finish throughout the cabin. It looks fresh and matches the character of this car.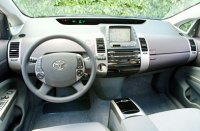 The Prius is one of the rare cars in Toyota's range having its own dedicated platform. It rides on strut and torsion-beam suspensions, nothing special, but it has full electric power steering and electrically-assisted brakes, the latter is indeed very special. All are in the name of energy saving. The disadvantage of this is artificial steering feel and over-sensitive braking. Similarly, the skinny tires (185/65R15) are chosen for low rolling resistance and drag, sacrificing grip. Unsurprisingly, the Prius' suspension setup is soft and do no favour to those who like to attack corners, so we had better to skip our usual review of handling.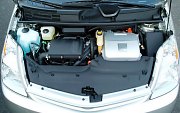 As a family car, the Prius is good to drive. As reflected by its 0-60mph figure, standing-start acceleration is leisure. However, once on the move, it has plenty of mid-range torque on offer and makes the drive relaxing. Besides, thanks to the slippery body, it cruises quietly on highway.
Outside, the Prius looks fresh and sophisticated. Its proportion imitates Audi A2 but fails to deliver the same style and premium feel. That's not a problem, as Toyota will prove its success in sales figures. At the time of writing, strong demand in the US and Japan already forced Toyota to increase annual output to 47,000 units.