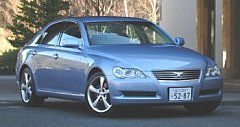 After surviving for 36 years, the Mark II nameplate finally gave way to Mark X – this is the alphabetic letter X which stands for an unknown. Interestingly, the car is really entering an uncertain time. Mark II used to be a Japan-bounded sports sedan. Car enthusiasts liked to tune it with stiff suspensions and boost its turbocharger to deliver big power. But globalisation is crumpling the unique breed of Japanese cars. As Toyota is to start selling Lexus in its domestic market, Mark X will find its survival space threatened by Lexus GS and IS.

In fact, the Mark X already overlaps with Lexus GS in many ways. Both cars and Toyota Crown actually share the same rear-drive platform with 2850 mm wheelbase. While Crown is styled more conservatively and equipped luxuriously to please older buyers, the Mark X and GS are supposed to attract young and keen drivers. Worse still, a switch to a normally aspirated V6 seriously limited the tuning potential of Mark X, as did the electronic variable damping suspension.

That leaves the packaging to differ them. Lexus GS was styled with strong European flavour. In contrast, Mark X looks slimmer and lighter, with a clearly defined 3-box profile. Its soft-techno look has strong Japanese character, although you cannot describe it as beautiful. The Japanese techno fashion continues in the cabin. Its instrument panel is illuminated by cool-looking blue LED, the multi-purpose LCD screen on the center console is decorated with a stylish faux aluminum panel. This cabin looks more exciting than that of the Lexus GS.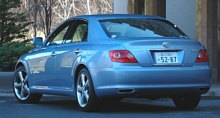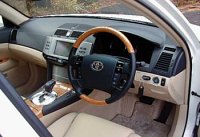 Build quality is close to Lexus level. Most plastics are high quality, as are the wood and optional leather. But most Mark X will be sold with the standard cloth seat whose dark color doesn't look as inviting. The cabin is not as comfortable as Lexus and Crown, especially at the back. The rear seat is too flat to be comfortable, a trade-off for its folding seat back. It is also mounted too low in the cabin, therefore the middle passenger has his legroom seriously blocked by the large transmission tunnel. This means Mark X is more a 4-seater than 5-seater.

Open the bonnet, you will discover either a 2.5 or 3.0-litre V6, both completed with aluminum block, 24 valves, dual VVT-i and direct injection. The 3-litre engine is actually the same one as Lexus GS300, although it is rated at 256 horsepower (vs 245 hp) according to JIS standard. The Mark X lost the Lexus' extensive sound insulation, so from the cabin you can hear the sporty exhaust roar of the V6. Because its is 90 kg lighter than the equivalent Lexus, you can feel more lively performance from the same V6.

The Mark X has its suspensions set very stiff, not only by Japanese standard but also in relation to Lexus GS. With the electronic damping at Normal mode, the Mark X already rides firmly and resists body roll very well, but it fails to filter the shocks from small irregularities on the road, resulting in a fair amount of harshness and noise. This is a common problem for many air suspensions, but Mark X did not employ sufficient measures to filter the noise and harshness from the cabin. If you change the damping to Sport mode, you will find even harder ride but no decisive improvement in the already fine body control.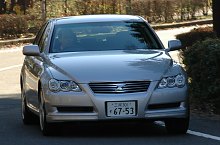 The electric power steering is not very feelsome, but it is quick and precise. The Mark X displays so much less understeer than its predecessor, but it is not tuned for power slide either. Buy a European executive car if you love driving excitement. Or if you insist Japanese car, wait for the forthcoming Lexus IS.

The Mark X shares most components with Lexus GS. However, the lower grade equipment and the availability of 2.5-litre engine allow it to be priced lower in the domestic market. It will be seen as a cheaper and rawer alternative to the Lexus. Nevertheless, in an increasingly open domestic market, its future is still a factor X.