Verossa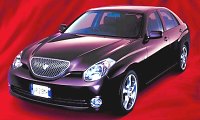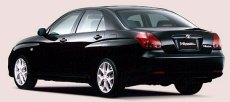 The days left for traditional Japanese-taste luxury cars are limited. Toyota no longer needs Chaser and Cresta as supporting roles to Mark II, therefore both were replaced by a European-style new comer, Verossa. From the name which consists of Italian words "Vero" (True) and "Rossa" (Red) you'll see this car tends to attract younger customers who used to prefer the dynamic image of BMW 3-series and Audi A4. In fact, the radical styling has strong Latin influence. Not unlike Alfa Romeo, but even more exaggerate, something approaching Zagato. Officially it is said as designed in Japan, but who knows whether Zagato gave any inspiration ? you know, Toyota is the biggest client of Zagato.

Mechanically, Verossa is a repackaged Mark II as they share virtually the same dimensions and all mechanical components. However, Progres and Brevis are also its sisters, just have shorter overhangs and different choice of engines from the same gene pool. To lesser extent, all of them can also link to the smaller Altezza (Lexus IS). Strangely, all these cars bar Altezza are bounded in domestic market thus cannot avoid internal competition.

What differs the Verossa from Mark II is not performance or comfort. It is the subjective dynamic image delivered by the styling. So, I have no more say about it.