| | |
| --- | --- |
| Published on 19 Sep 2006 | All rights reserved. |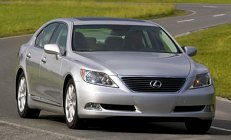 When Toyota launched Lexus LS400 in 1989, no one would have believed it could knock out Mercedes and BMW at its first attempt in some of the most important areas to luxury cars, that is, quietness, ride quality and build quality. However, the second generation car (LS430) debuted in 2001 was less impressive as it played the game too safe, too conservative. It failed to keep the momentum and let European luxury cars taking the lead again. This time, the third generation, LS460, is going to strike back.

From its handsome appearance, we can see Lexus is finally taking design seriously. It has good proportion and execution, if not as elegant as Audi or Mercedes. Most important, it is entirely original. Remember I used to criticize the first two generations for copying contemporary Mercedes S-class ? now the new Lexus has its own character finally.

While LS430 was smaller than its European rivals, LS460 has grown considerably to align with class standard. It is 45mm longer in wheelbase and 45mm wider overall. Moreover, to match with rivals it also offers a LWB version (i.e. LS460 L) which adds 120mm to the wheelbase. Either versions provide ample of legroom.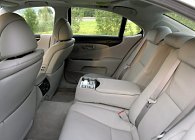 Unfortunately, the interior design and materials look more like a Toyota Avalon-plus instead of a bespoke luxury limousine. Its dashboard looks bland. Its wood trim looks like plastics. And there is no impeccably-built aluminum switch gears to deliver bespoke feel. In short, this place simply lacks the sense of occasion that you can find in Mercedes S-class, BMW 7-Series and Audi A8. Nevertheless, being the flagship model of Lexus, it is by no means short of luxury equipments: power rear door closer, power trunk lid closer, heated and vented seats, heated steering wheel, power reclining rear seats with power leg rests and built-in massagers, fold tables, DVD video system for the rear passengers and 19-speaker Mark Levinson audio system.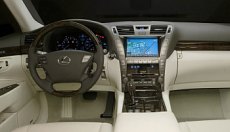 Overall, LS460 is 150 kilograms heavier than LS430, so it needs a larger 4.6-liter V8 and the world's first 8-speed automatic transmission. Producing 380 horsepower, the new V8 returns higher specific power than Mercedes S500 (388hp from 5.5 liters) and BMW 750i (367hp from 4.8 liters). Only Audi A8 (now 350hp from 4.2 liters) is slightly more efficient. Such high level of efficiency is contributed by dual-mode direct injection, 11.8:1 compression, dual-VVT-i and variable intake manifolds. Lexus says it has the world's first electrical variable valve timing mechanism at the intake camshafts (while exhaust camshafts remain to be driven by hydraulic actuators), but apart from lower costs and negligible fuel saving I don't see any real advantages.

However, on the road the engine never feels as powerful as the figures suggested. This is because the engine is optimized for power rather than torque (you can see that from the oversquare combustion chambers with 94mm bore and 83mm stroke). While the max torque of 367 lbft looks good, one should note that it arrives at a high 4100 rpm. In contrast, Mercedes' and BMW's V8s produces max torque at 2800 rpm and 3400 rpm respectively. That make a big difference to the perceived power and tractability for normal use.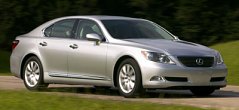 To compensate for the lack of low down torque, Toyota ordered its subsidiary gearbox maker, Aisin, to develop an 8-speed automatic specially for the LS. This goes one up from Mercedes's already outstanding 7G-Tronic. Having more gears allow a wider spread of transmission ratio, thus the first and second can be geared to aid acceleration, the middle gears take care of regular driving and the highest gears optimized for cruising. Brilliantly, Aisin managed to make the 8-speeder 10 percent lighter and take the same space as the outgoing 6-speeder.

The gearbox does help LS460 to deliver competitive performance – say, 0-60 mph acceleration takes only 5.4 seconds – but you have to rev the engine harder than rivals to deliver such performance. Luckily, the V8 is as impeccably smooth and quiet as ever, as is the transmission.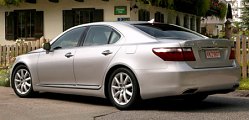 Likewise, the ride quality keeps the best tradition of Lexus. Its all-round multi-link adaptive air suspensions offer suppleness and quietness not even Mercedes S-class can match. The remarkably smooth body, with drag coefficient only 0.26, makes so little wind noise. Its sound insulation is probably the most effective in the class. If all you ask is comfort and refinement, nothing else could be better at this price.

However, if you also care about driving pleasure, LS460 will be less impressive. Although its body control and agility are far superior than the old car, there is still a clear margin between it and the leaders from Munich, Stuttgart and Ingolstadt, especially on twisty roads. Firstly, there is still more body roll than the German cars because its priority is in ride comfort. Secondly, its brake-by-wire system suffers from the same weakness as Mercedes-Benz's now defunct Sensonic Brake Control: the brake pedal has considerable dead slack in the first part of its travel. When you overcome the slack, the car brakes suddenly like triggering an on-off switch. It is annoying and confidence hurting. Lastly but not least, the steering is uncommunicative, filtering all information from the roads to the driver's hands. Look at the spec and it is not surprising: it has switched to a pure electrical power steering system like your Fiat Punto. Why? Because Lexus needs that for the self-parking system…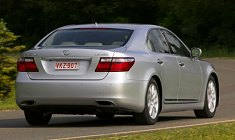 Many journalists described LS460 as the world's most technological advanced car. This start from its self-parking system, which can steer the car into parking space by itself. You stop the car in parallel to the parking space, then turn on the self-parking function and confirm the desired parking space displayed from the LCD screen. All you need to do is to press the throttle and brake pedals while the car turns the steering wheel by itself. It is convenient for those who can't park a car, but the self-parking function is limited to parallel parking only and the whole process is slow. As one journalist said, "It is better to learn parking by yourself."

Well, self-parking might sound state of the art to Western journalists who have not seen or heard about the Japanese-spec Toyota Prius on which this technology made debut. However, most of the advanced safety features found in the LS should be familiar to them, because they were originated by the last generation Mercedes S-class in the name of "Pre-Safe" system. These include tightening the seat belts, straightening the headrests, closing windows and boosting brake power when the radar detects that a collision is about to happen. Lexus only copied the ideas from Mercedes and expanded the system to cover more conditions. The only really new technology is a driver monitoring system, which uses a camera mounted on the steering column to see if the driver is turning his vision off the roads when there is other cars coming close. If so, it will sound buzzer to warn the driver, tighten the seat belts and in emergency condition may even apply braking by itself.

One publication said, "The new Lexus may not be as pretty as the Audi, or as powerful as the Mercedes, or as driver-focused as the 750i, but it is the only one that can park itself." which sounds silly but very true (BTW, there are too many no-brainers in automotive journalism). If you need a luxury car that can park itself, LS460 will be the only choice. If you can park by yourself, choose something else.
Verdict:




| | |
| --- | --- |
| Published on 3 May 2007 | All rights reserved. |
LS600h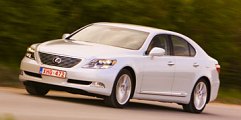 Traditionally, every successful luxury car maker should have an ultra-expensive 12-cylinder model as its range topper. The 12-cylinder model is a two-edge knife – on the one hand, it boosts the luxury image of the company. On the other hand, it earns higher profit margin than the mainstream V8 models. For these reasons, Mercedes, BMW and Audi produce S600L, 760il and A8L W12 respectively. Until now, Toyota's Lexus division has yet to join the queue, although its mother company does have a V12-powered luxury car called Toyota Century offering exclusively to the ultra-conservative Japanese riches. But forget this car, as it could never attract any overseas buyers (with the exception of our unpopular ex-Chief Executive of Hong Kong, Mr. Tung Chee Hwa). What Toyota tries to push is Lexus. In order to level with its German rivals, Lexus needs to have a premier version of LS. But instead of developing a new V12 engine, it chose to offer an electric-petrol hybrid V8 to showcase its world-leading hybrid technology while marking itself out of its conventional competitors. The strategy seems quite sensible.

With a max power rated at 439 horsepower, Toyota claims it matches a conventional 6.0-liter V12, therefore it calls the car LS600h, or LS600h L for the long-wheelbase version. The power unit consists of a 5.0-liter V8, two electric motors (one acts as propulsion power and one acts as starter / generator), a planetary gear set, a power control module and a NiMH battery pack. The V8 engine is a stroked out version of the LS460's unit. Itself alone generates 389 horsepower and 385 lbft of torque. The electric motors produce another 221 horses, but concentrated at low rev thus the combined power is only 439hp.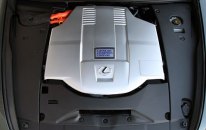 As in other Toyota hybrid cars, the engine and electric motors are linked by the planetary gear set, which acts as power split device as well as transmission. The electric motors run inside the planetary gears. By varying the speed difference between the two motors, the rev at output shaft varies in relation to the input shaft from engine. In this way, the transmission ratio is varied. Toyota calls this E-CVT because it makes use of electric motors and planetary gears to simulate a continuously variable transmission. The transmission program also enables a manual mode with 8 speeds. Brilliantly, the planetary gear set, electric motors and power control module are packaged within a longitudinal transmission case located at where conventional automatic transmission occupy. The battery pack is placed behind the rear seat to improve balance, but it inevitably reduces luggage capacity from 505 liters to 330 liters. That's the most obvious price you pay for hybrid technology.

What you lost in luggage space is gained back in fuel economy. Rated at an astonishing 30mpg for EU combined cycle, the super Lexus beats its European rivals by around 10 mpg ! Although hybrid cars rarely deliver the promised fuel economy in real-world driving conditions, especially if you regularly drive on highway and rarely actuate its regenerative braking, LS600h should still be considerably greener than its 12-cylinder European rivals due to its fewer cylinders (hence less energy loss) and on-demand alternator and air-conditioning. CO2 emission is equally impressive – 219g per km, versus 340g per km for Mercedes S600. Besides, it is the only car in its class to be classified as SULEV (Super Ultra Low Emission Vehicle) in the United States.

Apart from different powertrains, LS600h differs from LS460 by adding a permanent 4-wheel-drive system. It employs a Torsen center differential to split 40/60 torque to front and rear respectively under normal condition, or up to 70 percent to either axle in case of slippage. Besides, there is a new active anti-roll bars like BMW 7-Series to limit body roll. All these features, plus the hybrid hardware and full luxury equipment add some 375 kilograms on the top of the equivalent LS460 or LS460L. Now the flagship Lexus tops 2355 kg, around 200-250 kg heavier than its German rivals. Only Bentley Continental Flying Spur is heavier, but then again its twin-turbo W12 produces 560 horsepower.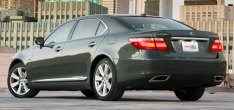 No wonder LS600h is the slowest in the class. Taking 5.5 seconds to do 0-60 mph acceleration, it is barely faster than LS460 by a whiskey. More telling is, Audi A8 W12 is half a second quicker, while the twin-turbo Mercedes S600 - our benchmark of the class - is even a full second quicker despite of the lack of 4-wheel traction ! The Mercedes would do 0-100 mph in under 10 seconds, another 3 seconds ahead of the top Lexus. In fact, a V8-powered S500 (S550) is just as fast. In terms of performance, LS600h is not in the same league as its 12-cylinder rivals.

However, the luxury manner of LS600h is never in doubt. Its powertrain is super-smooth and quiet. The already low engine noise is muted by extra sound insulation which covers the whole engine. The E-CVT operates seamlessly. The adaptive air suspensions continues to offer a supple ride. Inside, there is everything a high-tech luxury car needed, such as a classy Mark Levinson Audio-Visual system, heated-and-cooled massaging chairs, a refrigerated drink cabinet (for 4-seat version only), a wonderful climate control that uses infrared beam to monitor the temperature of passenger body, pre-collision safety system and again the Big Brother driver monitoring system. A similarly equipped Mercedes S600L costs 20 percent more, so the flagship Lexus represents good value for money.

What it can't match its rivals are few: the cabin still looks mainstream rather than prestige; The V8 rumble is not as classy as the sound of a V12; The handling is not as engaging as its German rivals, although active anti-roll bars do improve body control. And then is the aforementioned shortage of performance. However, put all these factors together, we inevitably come to this question: is LS600h really a contender in the same segment as Mercedes S600L, Bentley Continental Flying Spur, BMW 760il and Audi A8L W12 ? subjectively, it still lacks the superior feel that separates an exclusive luxury car from a mainstream luxury car. Performance, comfort or economy, it does not sound much different from a full-specced LS460L. That is the biggest problem.
Verdict:




| | |
| --- | --- |
| Published on 8 Oct 2012 | All rights reserved. |
Lexus LS 2012 update


6 years is a long time in the automotive industry. It is normally the lifespan of a generation. Disappointingly, having waited for 6 years, Lexus gives us only a facelift of the existing LS. At first, Lexus wanted us to believe it were a new generation. It declared that half of the 6,000 parts have been renewed. Unfortunately, those parts apparently do not include the powertrains. Both the 4.6-liter V8 and 5.0-liter hybrid V8 on LS600h are carried over from the old car, even though the former is claimed to deliver 6 more horsepower than before. The 8-speed automatic gearbox is also unaltered. Pretty much the same can be said to the chassis, suspension and steering save their fine tunings.

So what have been changed? Outside, the most obvious is the new spindle grille, which succeeds to deliver a visual impact and destroy the harmonious appearance simultaneously. It hints at the brand's new development direction, i.e. to deliver a sportier flavor. Another testament to the new direction is the addition of LS460 F-Sport model. As in the case of GS350 F-Sport, it has more aggressive body kits, a stiffer suspension setting, 10 mm lower ride height, a Torsen limited slip differential, 19-inch wheels and Brembo brakes, but unfortunately no more power than the regular LS460. The F-Sport also has its gearbox programmed to shift faster in Sport mode, and it is finally capable to blip throttle to match rev. Having said that, even this version is no match for Jaguar XJ as a keen driver's car, mainly because of its light and isolated steering, vague brake feel and less incisive body control at the limit. It is also short of power to challenge its British and German rivals. The LS460 takes 5.4 seconds to go from rest to 60 mph, 0.8 seconds longer than a BMW 750i.


The flagship LS600h is actually slower than its smaller sister, claiming 5.5 seconds for the same sprint. An unchanged powertrain means it is no longer a state of the art choice. BMW ActiveHybrid 7 can easily beat it in fuel consumption and emission.

The biggest improvement is found in the cabin. The old car's dull-looking dashboard has been replaced with a much classier one, finished in far better materials and plenty of high tech gadgets. The center console features the same 12.3-in LCD screen as the GS, while the instrument pod houses a 5.8-in TFT instrument display. There are more safety equipment, too. Most notable of which is the A-PCS pre-collision system which can automatically brakes the car to full stop when a pedestrian or obstacle is detected in the way of travel. In principle it is an equal to Volvo's City Safety collision avoidance system, although its usage is more limited as it works for speed up to only 38 km/h, compare with Volvo's 50 km/h.

Still, the updated LS is barely a small step forward, failing to keep up with the pace the class is progressing. As the new Mercedes S-class is just around the corner, it is difficult to imagine how the Japanese luxury flagship can soldier on for a few more years .

Verdict:












LS460



2006

Front-engined, RWD
Steel monocoque
Mainly steel
5030 / 1875 / 1465 mm
2970 mm
V8, 90-degree

4608 cc
DOHC 32 valves, DVVT

VIM
DI
380 hp



367 lbft
8-speed automatic

All: multi-link

Adaptive air springs


245/45ZR19
1870 kg

155 mph (limited)
5.4 (c) / 6.0* / 5.6**

14.5* / 13.4**


LS460L



2006

Front-engined, RWD
Steel monocoque
Mainly steel
5150 / 1875 / 1465 mm
3090 mm
V8, 90-degree

4608 cc
DOHC 32 valves, DVVT

VIM
DI
380 hp



367 lbft
8-speed automatic

All: multi-link

Adaptive air springs


245/45ZR19
1980 kg

155 mph (limited)
6.5***

15.3***


LS600h L



2007

Front-engined, RWD
Steel monocoque
Mainly steel
5150 / 1875 / 1465 mm
3090 mm
V8, 90-degree, electric motor

4969 cc
DOHC 32 valves, DVVT

VIM
DI
Engine: 389 hp
Motor: 221 hp
Combined: 439 hp

Engine: 385 lbft
CVT

All: multi-link

Adaptive air springs,
active anti-roll bars

245/45ZR19
2355 kg

155 mph (limited)
5.4** / 5.5****

12.6** / 13.2****










Performance tested by: *C&D, **R&T, ***Autocar, ****MT










LS460F Sport



2012

Front-engined, RWD
Steel monocoque
Mainly steel
5090 / 1875 / 1455 mm
2970 mm
V8, 90-degree

4608 cc
DOHC 32 valves, DVVT

VIM
DI
386 hp



367 lbft
8-speed automatic

All: multi-link

Adaptive air springs

245/45ZR19
1945 kg

155 mph (limited)
5.4 (c)

-


LS600h L



2012

Front-engined, RWD
Steel monocoque
Mainly steel
5210 / 1875 / 1480 mm
3090 mm
V8, 90-degree, electric motor

4969 cc
DOHC 32 valves, DVVT

VIM
DI
Engine: 389 hp
Motor: 221 hp
Combined: 439 hp

Engine: 385 lbft
CVT

All: multi-link

Adaptive air springs

245/45ZR19
2285 kg

155 mph (limited)
5.5 (c) / 6.3*

14.7*










Performance tested by: *C&D








Copyright© 1997-2012 by Mark Wan @ AutoZine