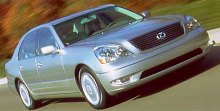 One of the most successful Japanese cars in history is Lexus LS400. When it was launched in 1989, many Western automotive industrial insiders could not virtually believe what the first attempt from Japan had done: very high quality, all-round refinement, ultra-smooth and near-silent V8, comfortable ride ... plus a bargain price that scared Mercedes and BMW.

Luxurious car market was originally dominated by Mercedes and BMW (plus a small portion by Jaguar). Those German makers, especially Mercedes-Benz, has many years of experience in making the best sedans in the world. Therefore when Lexus LS400 overtook them in only one night, and then followed by Nissan's alternative, Infiniti Q45, this market was significantly changed. First we saw the more open-minded American buyers steered towards Japanese luxury by their wisdom. As a result, LS400 beat Mercedes and BMW in number of sales in the North America market, believe it or not !

However, because of rising Yen and rising production cost in Japan, the price of LS400 gradually increased throughout the first half of the 90s; simultaneously, Mercedes, BMW, Audi and Jaguar fought back with newer models. LS lost its top spot in sales chart. The '95 and '97 makeover did stopped sales decline temporarily, but only an all-new LS can put Lexus back in limelight.
Finally, Toyota showed the new Lexus LS430 in the Jan 2000, Detroit Motor Show. That's more than a decade after the original LS400 launched.
The LS430, indicated by its name, has a bigger, 4.3-litre V8. The increase of displacement does not provide more horsepower than the previous 290hp, but it boost more torque - 320 lbft, or an increment of nearly 30 lbft, thus compensating the slight weight increment. 0-60 mph in 6.7 seconds is by all means a very quick luxurious sedan.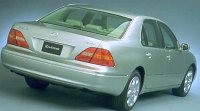 The exterior styling has a strong resemblance to (not LS400, but) the previous generation Mercedes S-class, once again demonstrating the incapability of Japanese designers. It's not a surprise, because its predecessor was already criticised as copying an older S-class. Now we can predict how the next generation LS will look like ....
The body is no longer or wider but boost 55 mm height and 76 mm wheelbase. That guarantee a huge cabin without increasing weight significantly. As Toyota sees aerodynamic as an important mean to reduce wind noise, it smoothened the body to achieve a class-leading drag coefficient of 0.25, which shares world record with Honda Insight and Audi A2 "3-litre". At lower speed, the Cd is actually 0.26 because it rides on adaptive air suspension which lower ride height at high speed. The system is believed to be taken from the Japanese top-of-the-range Crown.
Once again, refinement is untouchable. The S-class might ride as comfortable (also thanks to air suspension) but the Lexus wins convincingly in quietness and smoothness. The V8 remains almost silent at full throttle. Wind noise is obvious by its absence. The 5-speed automatic box shifts so smooth. Its clever program links with electronic throttle to deliver the smoothest gearshift ever experienced - it cuts engine torque to smooth gear change; whenever going uphill it increase torque to avoid downshift; whenever going down hill or under braking it automatically downshift to take advantage of "engine braking". 10 years on, European rivals still cannot match its high level of refinement.
On the contrary, the LS430 has narrowed the gap of dynamics. It has taken a big step forward from the LS400. The steering is now reasonably communicative and is quite accurate. The suspensions with stiffer springs, thicker anti-roll bar and new dampers reduce body roll and contribute to sharper cornering. Therefore it feels far more agile than before.
Ultimately there is still something separate it from the likes of 7-series and S-class. The fact is, the German duo still steer with a bit more sharpness and approach cornering limit with more confidence. The Lexus, in contrast, display more roll and understeer at limit. However, considering Lexus is designed to be first priority in comfort, its dynamics is already remarkably good.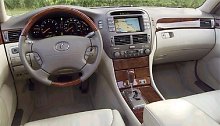 The new-found dimensions benefit a roomy cabin which is equipped with many high-tech equipment just like the new S-class, such as keyless entry, DVD-ROM GPS navigation, voice phone, heated and cooled front seats, heated and massager-incorporated rear seats and parking sensor. Ergonomic wise, however, it is not as impressive. There are many switches placed in a confusing manner. Using touch screen to control radio and adjust climate control is rather annoying and unnecessary. In terms of material and craftsmanship, the Lexus's leather and wood-rich cabin is competitive, although never feels as prestige as Audi and Jaguar.
In short, the new LS has improved a lot in handling and retain its leading position in refinement. Is that enough ? I'm afraid not. All the improvements are just predictable. It won't surprise you like 10 years ago. What the automotive world needed is a Japanese-quality luxurious car with character and innovation, both are not Lexus' strength.