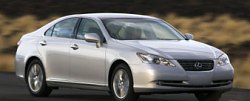 Undoubtedly, ES is the least interesting line of Lexus. Why? Because it is not a REAL Lexus, but a repackaged, upmarket version of Toyota Camry. The duo is built at the same platoform and targets mainly at the USA market. Naturally, it shares the cheap content of the mass-production Toyota: front-wheel-drive, transverse engines and all MacPherson strut suspensions. To Toyota, this mean enormous cost savings. To us, this mean being cheated. Obviously, Toyota / Lexus hopes to cheat 70,000 or so North Americans annually. Good luck !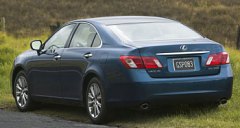 When BMW and Audi are pursuing engineering excellence at an unpreceding pace, Lexus ES350 is still going the conservative way. Its chief target is to please its old customers with comfort and refinement – a soft soft ride, a creamy V6 and automatic gearbox, excellent sound insulation, NVH-absorbing bushings and engine mounts, good build quality, comfy leather seats, Mark Levinson audio system… in this view, it is very successful.

But once you drive it into the twisties, its harmony disappears. On rough surfaces where BMW 3-series can overcome easily, the softly sprung ES feels unsettled. Push it into corners, it lacks the poise, accuracy and eagerness of European machines. With most of the mass hanging over the nose, it steers reluctantly and runs out of grip early. Its helm delivers little NVH but also filters all kinds of information from the front wheels. It rolls alarmingly in the twisties. All these qualities are predictable for a front-drive, all-struts mass production platform. In short, ES350 is by no means a driver's car.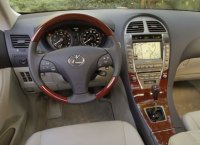 Well, it is better in terms of performance. Its new 3.5-litre DOHC VVT-i V6 produces 272 horsepower, eclipsing BMW 330i. It has a 6-speed automatic gearbox as well. 0-60 mph can be done in 6.8 seconds, which is not much behind an automatic 330i. The problem is, its cheaper sister car shares the same V6 with just 4 fewer horsepower. So, still think you are not being cheated ?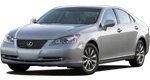 And what about the design? After the stylish IS, GS and the forthcoming new LS, do you expect the new ES350 to look so characterless? 5 years on, who will remember this shape? Or the ugly dashboard ?

As always, ES is the missing link of Lexus, because it is not a REAL Lexus. It may earn a lot of money for Toyota, as there are plenty of aging customers who simply don't care about driving fun, but it remains a dent in the L-Finess.