Camry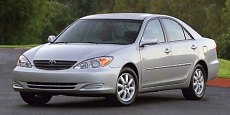 Look at the new Camry, you won't love it from first sight, nor you will hate it. It is as unadventurous and inoffensive as its 3 predecessors. If you have to praise it, you can still say the new Camry looks a bit more sexy than ever, with sleeker lines running from nose to tail. The slippery profile not only contributes to a good Cd. of 0.28 but also hides its extra dimensions very well - now it offers more head room and rear passenger legroom, thanks to 50mm longer wheelbase and 64mm higher roof. Like the cold-war USA and USSR, Camry fights hard with Honda Accord in "space race".

This fourth generation car is said to have a new platform, however, you will find the Highlander SUV and sister car ES300 have already stolen its debut. Expect Avalon / Pronard, Solara coupe and Sienna MPV to join this platform as well. Yes, it might be new, but by no means revolutionary. Most disappointing is that it still rides on MacPherson struts at each corner, while most rivals (bar the GM ancient designs) are already employing multi-link. However, improvements to chassis rigidity and suspension calibration do enhance handling and refinement - maybe most on the latter. NVH level is lowered, ride is supple, making the Camry a smooth, quiet and refined family sedan as it once renowned for.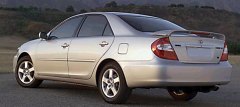 Good refinement also comes from engines. Center of limelight is a new 2.4-litre four-cylinder. With twin-balancer shafts it runs almost as smooth as a V6. 157 horsepower is not big number, but the adoption of VVT-i enhance torque delivery across a wide band, making it an easy-going companion. The engine is made of aluminium block and head, with magnesium cam cover and plastic intake manifold to make the lightest in class.
In comparison, the 3-litre V6 is rather disappointing. Without VVT-i, output remains unchanged at 192hp and 209 lbft, which has long been overtaken by rivals. Although refinement is good, its extra weight over the nose make it less nimble to handle than the four-pot, while advantage in performance is not big. So the 2.4 is still my choice.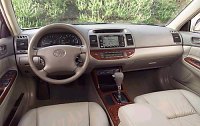 Of course, if our choices are not limited to Toyota (some people only trust Toyota's reliability and good servicing), Ford Mondeo is still the first priority. Although we said the new Camry has improved handling, with linear and accurate steering, tauter control and strong brakes, it is still a car designed for comfort and driving ease rather than driving fun. Mrs. Robinson and Mr. Grey might enjoy that kind of fuss-free driving, but those who really Love driving will find the steering still lack of feedback, body control is not good in twisty roads and it tends to understeer early. In short, it does not feel as agile as the best European sedans as well as Nissan's new Altima.
Nevertheless, I guess Toyota cares little about that. The successful history of Camry (American best selling car from 1997 to 2000) proves that American care most about space and comfort. The new Camry has plenty of them. No matter whether I like it, it will be another sale success.