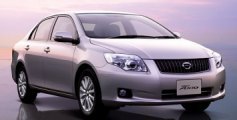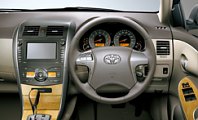 Japanese Corolla

In 2001, I wrote about the 9th generation Corolla like this:

"

Corolla never raised my curiosity. In car enthusiasts point of view, it always lived under the shadow of arch-rival Honda Civic. Then, why were there so many people buy the Corolla? what made it the no. 1 best seller in history, with 28 million people purchased 8 generations of Corolla since 1966? From the beginning, the Corolla's winning formula has been reliable, economical and good after-sale service. This latest Corolla is more or less so.

"

Now we can use the same descriptions for the 10th generation Corolla, which was born in Japan in October 2006 (remark: sorry for the late report !). The only facts needed to be updated is that 4 million more Corollas had been produced since then. Corolla continues to be the fastest selling car in Toyota as well as in the world. In 2005, some 1.36 million Corollas were produced in 16 countries, more than Volkswagen Golf, Honda Civic or anyone else.

That said, the most popular does not equal to the best. The 10th generation Corolla is still a conservative family car. It is available in two forms – sedan (called "Corolla Axio") and estate (called "Corolla Fielder"). It wants to please the majority customers – Japanese, North American, Latin American, Chinese, Australian... so it sacrificed the most demanding motorists in European countries and offered them with the Auris hatchback instead. Some European countries are offered with both Auris and Corolla, which target at young drivers and old drivers respectively. This mean car enthusiasts like us are unlikely to like Corolla as much as Auris, let alone the dynamically superior Golf and Focus.

In the making of the 10th generation Corolla, its Japanese project leader wanted to make it appear to be younger and sportier – when did you associate these two words with Corolla last time ? probably not since the 1983 AE86 Corolla coupe, ironically. Unfortunately, to attract younger customers and to keep existing old customers are two mutually exclusive missions. To satisfy both requirements resulted in a rather compromised design. It looks neither dynamic enough nor civilized enough. Admittedly, Toyota's Japanese designers are not as talented as those at Mazda or Honda, although unquestionably better than the designers of Nissan Tiida.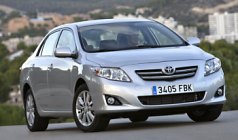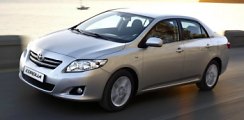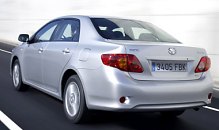 European Corolla


The cabin is not much better. It looks outdated in design compare with the latest European cars, and an even bigger contrast to the spaceship-like Civic. Quality of plastic has been improved a little, but you won't say it match Volkswagen. Ambience becomes lighter and more airy than before, but the faux wooden trim is not very tasteful. Space is competitive rather than outstanding. Rear passengers enjoy a flat floor, but the narrowness of the cabin means it fails to fit 3 adults.

Mechanical design continues to be conservative to keep cost down. It rides on MacPherson struts suspension up front and torsion beam suspension at the rear. Steering is assisted by pure electric to save fuel and production cost. Predictably, the chassis becomes stiffer and NVH has been improved, just like any new cars. What you might not expect is some high-tech optional equipment available to the Japanese car, such as radar cruise control, rear view monitor, intelligent self parking system (already used in Prius and Lexus LS460) and a Mercedes-like pre-crash safety system which activates braking and tighten seat belts automatically when the radar detected a possible collision.

However, these equipment does not help its dynamic behaviour. On the road, the Corolla is every bit a civilized family car. Its strength is smoothness – the 136hp dual-VVT-i 1.8-liter engine and CVT transmission run smoothly, the ride is soft and supple and the cabin is generally well insulated. In other words, it is very relaxing to drive. Its weakness is the lack of excitement – light and numb steering, understeer, average body control and lack of torque on all petrol engines. The petrol engines consist of 97hp 1.4-liter VVT-i (Europe), 110hp 1.5-liter VVT-i (Japan), 124hp 1.6-liter Dual-VVT-i (Europe) and 136hp 1.8-liter Dual-VVT-i (Japan). Only the European 2.0 turbo diesel engine provides good mid-range punch.

No matter which engine or which body style, the new Corolla is not much fun to drive. It is a good car to own, unquestionably, but it lacks the subjective ingredients to please car lovers, whether it is styling, performance, handling, innovation or character. Yes, the most popular does not equal to the best. Far from it, actually.