Euro Corolla and T-Sport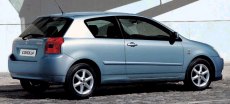 Fine tuning to suspensions and steering are very important. Most cars in the D-segment employ the same kind of suspensions (front struts, rear torsion-beam axle) and steering (rack-and-pinion). What separate a good driver's car from a poor one is usually the fine tuning of every components. The Japanese Corolla - as described above - was heavily criticized for its light steering and soft suspensions. Now thoroughly retuned by Toyota's Germany R&D center, the European version of Corolla drives like another car.

The Euro Corolla is a hatchback. In five-door form it looks like the Japanese Corolla Allex and Runx, just with larger front intake and a pair of more aggressive headlamps. 3-door looks handsomer with a thick C-pillar like Peugeot 307. The cabin is unchanged from the Japanese version, offering plenty of space and good build quality although looks dull.

Power comes from either 1.4, 1.6 and 1.8-litre version of the VVT-i four-cylinder engine, generating 100hp, 110hp and 136hp respectively. These alloy engines are smooth and eager.

Touch the steering wheel and you will get a good first impression - it is weighty ! even heavier than many European cars. The variable power assistance has been reduced considerably. As a result, both steering feel and confidence are enhanced. It is not as communicative as Ford Focus, but already better than many European competitors.

Similarly, the suspensions are tuned much firmer, like German cars. Firm yet composed. On motorways it displays high stability accompany with quiet ride. Enter corners, it rolls a bit more due to high center of gravity but never excessive. Push it harder it remains neutral. Harder still, it understeers gently. Lift off the throttle mid-corner, the rear end will slip out a little bit. This lift-off oversteer comes gently and predictably, safer than that experienced in Peugeot 307.

Apart from steering feel, the Corolla also loses to Ford Focus in terms of chassis balance and ride quality. On regular roads it rides comfortable enough, but on rough surfaces the Focus' independent rear suspensions has an upper hand.

Corolla T-Sport

T-Sport is the hottest version of the Corolla. Like the Japanese Corolla Runx, it is powered by a 190 horsepower 1.8-litre engine first used by the top Celica. VVTL-i mechanism (especially the variable lift) accounts for the 106 hp / litre specific output. It also adopt the same close-ratio 6-speed manual gearbox as the Celica to make better use of the high-revving manner.

The suspension setup has been stiffened for T-Sport. This also lower ride height by 15mm. Nevertheless, Toyota chose a rather narrow and high-profile tyres 195/55 R16. This compare unfavourably with Honda Civic Type R's 205/45 ZR17.

Road test impression confirmed our suspicion - Corolla T-Sport is not a real hot hatch.

Firstly, the VVTL-i engine is too peaky for a hot hatch. Below the variable-lift's changeover point at 6,000rpm, it does not feel any stronger than the standard 136hp engine. Because of the lack of displacement, hence torque, you need to work hard at the gearbox to keep it running in the peaky power band. This is rather frustrating if you need power at once to overtake a Renault Clio RS or the Civic Type R. In the Corolla T-Sport, that is impossible. It is a simply a league slower. Celica GT-S has the same problem, but what we ask for a hot hatch is different: instant power for use in twisty roads.

As for handling, the T-Sport also let us down. The steering is heavy, but judging by hot hatch standard it lacks feel. Like the standard Corolla, it rolls a lot into corner. Perhaps the suspension setup and tyres need to be more sporty, at least the good ride quality has space for sacrifice.

Being priced at the same level as Civic Type R, no doubt which one you will choose. The T-Sport is a half-hearted effort. From engine, suspensions and even the dull dashboard you will see Toyota did not invest too much into it.