Toyota Camry

Debut: 2006
Maker:
Toyota
Predecessor: Camry (2001)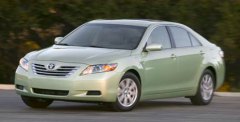 Undoubtedly, Camry is very important to Toyota. On the one hand, itself was the USA's best selling car for 8 times in the past 9 years (1997-2000 and 2002-2005), capturing 400,000 units or so sales every year. On the other hand, it provides platform to other models like Avalon, Solara, Lexus ES and Lexus RX. They form one of the 4 global core platforms for Toyota - the others are the Corolla platform, Vitz / Yaris platform and SUV / pickup platform. One can see how important it is.

To most people in the world, Camry is regarded to be oversize. Its size, weight and engine capacity all point to executive class, yet it does not have the sophistication and technology of an executive sedan. This is because Toyota deliberately designed it for the North American market as a family car for ordinary people. It must be spacious. It must be torquey. It must be cheap. To realize these goals, Toyota builds the Camry in its Kentucky plant using highly commonized parts, such as the 3.5-litre DOHC VVT-i V6 and 2.4-litre DOHC VVT-i inline-four. They have been appeared in so many Toyota and Lexus models. The approach is similar to Carlos Ghosn's Nissan - higher commonization means higher purchasing volume, hence lower purchasing price for parts.

Another way to save cost is to sacrifice engineering excellence. While most European and Japanese family cars have given up MacPherson struts for rear suspensions in the attempt to improve ride and handling, Camry still employ this compromised design at each corners. Yes, modern damper technology, improved chassis rigidity and mounting methods can still bring notable improvement to ride and handling, as you can see in the new Camry, but other car makers are benefited by the same advancement too. As I stressed many times in the reports for the last Camry and its sister cars, all-strut suspensions is the biggest single weakness of this platform. It led to the fact that Camry and co cannot match other rivals in handling test.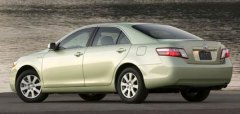 Toyota also realized this, otherwise it would not have developed an SE version for Camry. You may call it the "sport" version. It has stiffer springs and shocks, thicker anti-roll bars, firmer bushings, extra bracing to reinforce the rear bulkhead and all-round spoilers that was described as "developed using Toyota's F1 technology". Well, forget the last statement, as it is the pure imagination from their marketing people. The Camry SE does feel much sportier than the past. The problem is, the rest of the world is progressing at a faster pace still. A few years ago no one would believe a front-drive family sedan can deliver poise, grip and neutrality as good as sports cars. Now we have Peugeot 407. No one would believe the vast improvement from Mazda 626 to Mazda 6. Coincidence or not, both Peugeot 407 and Mazda 6 had switched to double-wishbones front suspensions and multi-link rear suspensions. In contrast, the Camry still relies on struts.

So, despite of the introduction of SE version, no one would call the Camry a driver's car. If you push it into twisty roads, you will find it does not have enough body control to inspire confidence. Its steering is light, numb and uncommunicative. Try to push it into corners, its stability control and traction control cut in early, hiding its limited ability. Apparently, Toyota wants this car to be safe and predictable rather than fun to drive.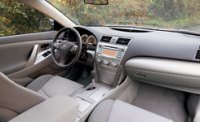 On the positive side, the Camry is refined and well-built, thanks to Toyota's trademark quality. Its engines are smooth, sound insulation is remarkable and the suspensions work well to absorb bumps. The cabin is made of good quality materials and the whole environment is enjoyable. Space remains the same as before, but no one would complain it short of space. Toyota knows very well what American wants - comfortable, spacious, easy to drive and run. In this view, Camry suits them very much.

Another requirement from the American is power. As before, the Camry offers only a 4-pot engine and a V6 - few choices by European norm. The balance-shafted 2.4-litre 16V VVT-i is modified from the old generation. As improvement concentrated on reduction of NVH, power and torque remain almost unchanged at 158 hp and 161 lbft respectively. This is a decent entry-level engine, and is traditionally the better selling engine in Camry. However, the 3.5-litre VVT-i V6 is even better. Very powerful (268hp) and torquey (248lbft), the V6 mates with a seamless 6-speed automatic transmission to deliver 0-60 mph in 6.7 seconds. It is a perfect engine to the power-hungry American, but the fuel consumption and unfavourable tax category mean it won't be offered in many countries, including Japan.

The Camry works very much like its exterior design suggests: refined, well-built and easy going, but neither exciting nor unforgettable. While it appeals to the American public, its success in Japan and Europe will be limited.
The above report was last updated on 18 May 2006. All Rights Reserved.
Camry Hybrid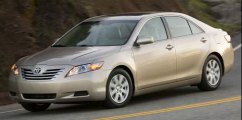 The hybrid version of Camry combines the 2.4-litre four-pot engine with an electric motor and CVT transmission to save fuel. The engine produces 147 horsepower, some 11 horses less than the standard Camry engine because it employs "Atkinson combustion cycle" (see below) to enhance frugality. The electric motor produces 45 horsepower and a useful 199 lbft of torque at very low rpm. They combine to 192 horsepower and a particularly strong torque curve at low rev. The latter is reflected at stop watch: despite of a hefty kerb weight of 1650 kilograms, Car and Driver found it took 7.7 seconds to accelerate from 0-60 mph. Top speed, however, is regulated to 117 mph.

In terms of performance, the Camry Hybrid is positioned midway between the 2.4-litre and 3.5-litre Camry. However, it costs more than both cars - 50% and 10% respectively. Buyers must also prepare to sacrifice about 110 litres of luggage space, which is eaten up by the Nickel-Metal-Hydride battery pack. In return, you get a remarkable EPA fuel consumption rating at 43mpg for city and 37mpg for highway.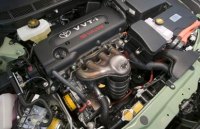 As usual, the EPA figures are more optimistic than reality. Road & Track recorded an average 37.3 mpg in its mixed-mode travel (C&D measured 33mpg), compared to the V6's 26.3 mpg. At current fuel price it will take 100,000 miles to return the price premium. And then you have to consider its slower performance.

Few magazines talk about the handling of hybrid cars. Admittedly, they are designed to save fuel rather than to deliver driving excitement. But I suppose when a hybrid car is good for 0-60 in seven point something seconds, sometimes its driver may wish to attack corners. The Camry Hybrid carries 160 kg more than the 2.4-litre Camry it based on yet without the SE sports suspensions. The drawback is evident on B-roads, where it feels bulky to handle.

High purchasing price, smaller luggage space and poorer handling are what customers should consider before buying the Camry Hybrid. On the plus side, help saving the earth shouldn't be a bad idea.



Remark: Atkinson cycle is the naturally aspirated version of Miller cycle which was used in the late Mazda Millenium / Eunos 800. In an Atkinson cycle engine, the expansion stroke is longer than the compression stroke in order to capture more energy which would otherwise lost in the form of exhaust heat. To do this, Atkinson cycle engine has its intake valves remain open during the initial phase of compression stroke. As a result, part of the air escape back to the intake manifolds, reduces the effective compression stroke and effective displacement of the engine.
The above report was last updated on 18 May 2006. All Rights Reserved.
Camry Solara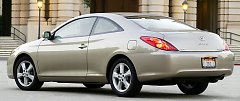 Solara is the coupe version of Camry. Being built exclusively in Kentucky of USA alongside the Camry, it differs from the sedan by just packaging and tuning. It was styled by Toyota's California studio, hence looking sexier than the Japanese-designed Camry. Nevertheless, there is strong traces of Pininfarina's Alfa GTV in its side profile, harming its originality. Besides, the sedan proportion (long wheelbase, long tail) doesn't do it justice. It should have been more sporty, but sadly, Toyota would rather save money and time by building it directly on the Camry floorpan.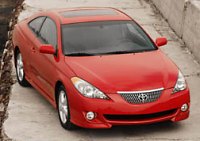 So, what you can expect from the Solara is spacious cabin, good build quality and remarkable comfort, just like the Carmy. It is powered by a new 3.3-litre V6 from Lexus RX330. 225 horsepower might be a little underpowered by today's standard, but it remains smooth and quiet in Toyota's tradition. Because this is a comfort-biased coupe, the V6 can partner with only a 5-speed automatic from the sedan, although ratios have been tightened to improve acceleration. It can therefore go from rest to 60mph in a brisk 7.0 seconds. A drag coefficient of 0.29 also allows it to slip easily into air stream.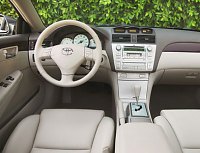 Enter the cabin, after disappointed with the sedan-like dashboard design, you will start appreciating the good materials and fit and finish as well as vast of space. Only taller passengers at the back will find their heads toughing the fastback roof. Sound insulation is almost as effective as the sedan.

Now fun time.... maybe not so fun. Although Toyota claimed to inject more sporting character into the new Solara than the last generation, the scale of improvement is actually too small. It does have stiffer suspension setup than the sedan. It does employ a tower brace over the front suspension to stiffen the chassis. It does have better sorted damping than the last generation. However, compare with European coupes it still cares too much about female buyers. With relatively soft suspension setup and a bulky size, the Solara fails to control roll and pitch as good as European coupes. This also leads to severe understeer at tight corners. Furthermore, the steering is too light and too numb to give you any confidence. Some German cars are more capable than inspiring. This Toyota is neither capable nor inspiring. It is just a sedan in a coupe's clothes.
The above report was last updated on 26 Sep 2003. All Rights Reserved.