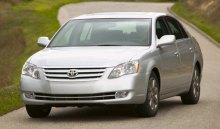 Avalon is Toyota's weapon against Detroit dinosaurs like Ford 500 and Crown Victoria, Buick LaCrosse and Lucerne, Pontiac Bonneville and Chrysler 300. These cars are called "full-size sedans" in the USA. They measure in excess of 5 meters long and weigh in the region of 1700 kg yet they are cheap to buy. You cannot find such a segment elsewhere, because they can only survive in a country that "size matters", with wide roads and cheap gas. With the exception of Chrysler 300 (which is the only RWD car here), people buying these cars are usually the retired elderly. They ask for a graceful and conservative look, a roomy cabin true to the American tradition and a soft ride, but not necessarily driving fun. Finally, the car has to be affordable enough to persuade them that their pensions are smartly spent.

So far, Chrysler 300 is clearly the best of the bunch. With nice handling and strong Hemi V8 power, it is the only car here feeling interesting to drive. That's why it appears to much younger audiences than the others. However, to the elderly, Toyota Avalon may be a better choice. It has all the aforementioned attributes, but it adds more to the equation: quality and efficiency.

This start from a new all-alloy 3.5-litre DOHC V6. Previously, the Avalon used to employ the same 3-litre V6 as Camry. Now it not only gets 500 more cubic centimeters but also dual VVT-i (Camry has it only at the intake valves). The big-bore V6 is highly efficient. It produces 280 horsepower and 260 lbft of torque (note: re-rated to 268hp and 248lbft later according to new SAE standard), allowing the large car to sprint from rest to 60 mph in just 6.6 seconds. This is easily the quickest time among its V6-powered rivals, although it is no match with the V8 version of Chrysler 300.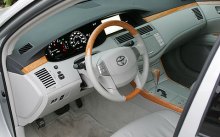 Another strength is build quality. Its cabin is finished like a Lexus, with soft leather, high quality plastic and cool-looking electroluminescent gauges. The dashboard design is clean and inviting, if a little conservative (not bad for its intention). The fake wood inserts look very real indeed, unlike some cars that use fake-looking real wood. As usual, fit and finish of the cabin is Toyota's strength, while reliability and durability are never in doubt. This put the Avalon in a favourable position against its American competitors.

Space is not lack of. The Gozilla is as big as American dinosaurs. It even discarded the previous 6-seat option (with a 3-passenger bench seat up front and steering-column-mounted gear lever) and switch to the conventional 5-seat layout in order to cater its driver and front passenger better. At the back, a near flat floor allows 3 big guys to sit comfortably. Besides, if you choose the top version, you will get a long list of luxurious equipment.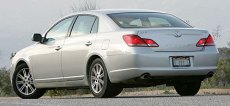 However, full-size sedans are not deemed to be premium cars. The Avalon is no exception. To keep cost down, it is derived from the Camry platform and produced alongside the Camry at the Kentucky plant in the USA. It is also the first Toyota designed and engineered in the USA, which is its main market. Inevitably, the Camry's low-cost all-MacPherson strut suspensions and front-wheel-drive layout are not optimized for handling. The spring and damper setting biases towards comfort. Even opted for the sport suspension package, it still feels big and bulky in the twisties, just like most other American dinosaurs. It lacks the tight body control, neutral steering manner, high cornering limit and throttle adjustability of Chrysler 300. Moreover, the light and numb steering delivers little fun. In this way, Avalon is not a driver's car. The only way to enjoy it is to drive it in straight line, where you will praise its brisk acceleration, smooth power delivery and refined drivetrain.

That's why Avalon fulfills what it intends to be - a spacious and comfortable car for old people - rather than an all-round modern sedan. In the eyes of younger buyers, it is uninspiring, conservative and outdated in concept, no matter in terms of styling or driving. Yes, it might have beaten the dinosaurs from GM and Ford, but doing that is not anything worth praising.