| | |
| --- | --- |
| Published on 14 Sep 2014 | All rights reserved. |

When I first read the new name "Lexus RC" and saw its pictures, a few cars came into my mind. The first was the old Lexus SC400 – yes, the luxury coupe lived between 1992 and 2000, and was otherwise known as Toyota Soarer in Japan. It could be the spiritual predecessor of the RC, but the new car seems to be a lot sportier. That brought me to the old Toyota Supra. Although it lacked the luxury build and badge of the RC, its aggressive looks and high performance paved ways for the new car. The third relevant model comes from outside: BMW 4-Series. Just like everything else from the class, say, Audi A5, Mercedes C-class Coupe or Cadillac ATS Coupe, the new Lexus coupe sets its sights firmly on the BMW benchmark and tries to steal its sales. That is to say the 4-Series is still the car to be beaten.

Undoubtedly, the RC's sharpest weapon is its radical exterior design – in fact, the RC stands for Radical Coupe because of this. It is razor-sharp, rakish and even a bit outrageous in detailed surfacing, yet it preserves the sleek proportion of an ideal coupe. Traditional buyers of Lexus brand must have their jaws dropped to the ground, failing to understand why Toyota opted for such an aggressive design. Take the Supra factor into account and it starts making sense. Nevertheless, I can't help thinking it missed a good opportunity. The car clearly takes inspiration from the LF-LC concept debuted in the 2012 Detroit motor show. That car was an absolute beauty, so beautiful that I said "BMW, Mercedes and Audi should be worried" then. Somehow, the RC has lost the purity of that car, replacing with complication and controversy. Its headlamps and tail are unnecessarily busy. Its waistline isn't as flowing. Its roof rails are too thick. The huge spindle grille looks especially awful on the standard car with waterfall elements (a hint of Lincoln?), slightly better on the F Sport and RC F models with mesh elements, but nowhere as good-looking as the sleeker, fully-chromed version on the LF-LC. A 4-Series Coupe looks more conservative for sure, but it is easier to eyes.


It might be safe to assume the RC was derived from the floorpan of Lexus IS. It sources a lot of components from the IS indeed, but it is not exactly an IS coupe. In fact, the double-wishbones front suspensions are taken from the larger GS in order to accommodate bigger wheels and wider tires. The middle floorpan comes from the last generation IS C coupe-cabriolet to take advantage of its extra reinforcements and shorter, 2730 mm wheelbase. The multi-link rear suspensions and powertrains come from the current IS. Such a hybrid construction results in remarkable rigidity but also unnecessary weight. The RC350 tips the scale at 1700 kg before options, almost 200 kg more than a BMW 435i! This drags down its performance and handling by considerable degree.

It would have been okay if it got a turbocharged motor like its German rivals. Unfortunately, Japanese manufacturers have been responding slowly to that trend. The RC still employs the old-fashioned 3.5-liter V6 from the last generation IS, although it now pairs with an 8-speed automatic instead of 6-speeder. To be fair, the V6's dual-mode (direct or port) injection system is quite state of the art, and its peak power output is quite competitive at 306 horsepower, but it lacks torque, especially at lower rpm. To a heavy car this lack of torque is a serious problem. As it needs to be revved very hard to squeeze out performance, it feels not only slower than the 0-60 mph quote of 5.8 seconds suggested, but also feels a class or two slower than 435i.


To put salt on its own wounds, Lexus tells us there is an even slower model, RC300h, to arrive. Yes, the fuel-sipping hybrid combination of 2.5-liter Atkinson-cycle 4-cylinder and electric motor, or exactly the same powertrain you can find on IS300h. With the same 223 hp to haul a body heavier than its sedan cousin, I would be surprised if it could do 0-60 in anything less than 8 seconds. That performance level is simply a joke to the aggressive exterior. Now I understand why I repeatedly saw some Toyota Aqua / Prius C and Honda CR-Z dressed in racing-style aero kits and wheels on the streets. Perhaps there are really some Asian buyers prefer sheep in wolf's clothing, or a reverse of Q-cars.

The regular RC350 is actually more about refinement, smoothness and lack of drama. This is true to its ride, engine and transmission. If you want to feel sportier, you should tick the F Sport package. It adds not only the more aggressive exterior but also adaptive dampers, 19-inch wheels, extra-thin and wide rubbers, larger brakes and some important interior upgrades. Besides, it allows you to (pay extra to) opt for 4-wheel steering and variable-ratio steering. As such equipped, the RC350 F Sport feels quite sporty. Its firm steering is probably more feelsome than BMW's. The car turns, grips, resists roll and understeer well. However, the sense of heft can never be shrugged off during braking or quick change of direction mid-corner. The lack of an addictive engine noise and the compulsory automatic gearbox also make it less inspiring to drive than it should.


The interior is largely carried over from the IS sedan. That's not bad news, because the materials are high quality and the assembly is faultless. I am not a fan of its design, but there is no deny that this cabin feels more expensive than BMW's. It is also high-tech, thanks to the reconfigurable TFT instruments (inspired by LFA supercar) that is standard on F Sport pack. The infotainment controls might be less intuitive than i-Drive or MMI, but it is powerful. The F Sport also brings a pair of superb front seats. Not so great is the rear of the cabin, which is strictly for children. The boot is also small. Despite of its massive weight, the Lexus RC is the least practical among its key rivals.

The biggest problem of the RC is that its exterior design lifts your expectation to sky-high, and then drops you to the ground with its mediocre performance and mild sense of sportiness. It isn't as practical as its rivals, nor is it as classy as a true GT. It is expensive, too. The only credible choice in the range is probably the high-performance RC F…

Verdict:



| | |
| --- | --- |
| Published on 14 Sep 2014 | All rights reserved. |
RC F


Lexus' F-label represents its highest performance models like BMW M-cars, Audi RS or Mercedes AMG. You might think the F stands for Fast or Fxxking-fast, but in fact it means Fuji Speedway, the famous Japanese race track owned by Toyota. The F-label was first introduced 7 years ago on IS F. However, it seems that Toyota had no ambition to expand it into a multi-model sub-brand like its German counterparts, so the IS F remained the only F-model throughout the years. Now that car has retired, and its position is substituted by RC F.

Being a 2-door coupe, the RC F is not going to be as practical as the IS F, of course. Theoretically, this leaves room for a new IS F, but as we know Toyota has no plan to build that car, even though technically it would be quite easy. That might imply a tight business model. According to Lexus officials, it expects to sell only 2500 units of RC F annually, a far cry from the 10,000-plus-units rate of BMW M3. With the presence of a sedan cousin, the forecast could be even more pessimistic. Perhaps it is wise to skip the IS F this time around.

The RC F is expensive, actually more expensive than the new M4. In standard form it costs some £60,000 in UK or $63,000 in USA, and after ticking some must-have options it could easily rise to £70,000 or $80,000. These options include an active differential (instead of the standard Torsen), carbon-fiber roof and bonnet – ridiculously, the first two are standard on BMW. The days of Japanese bargain become a distant memory.


Cosmetic-wise, the RC F does not differ a lot from RC350 F Sport. Its main differences are the large triangular ducts sitting below the headlights (which feed the oil coolers), air vents opened behind the front wheel arches, quad-exhaust pipes, a retractable rear spoiler and black roof (if carbon-fiber option is taken). It shares the same mesh grille and even the same 19-inch BBS forged alloy wheels with the lesser car (though you might not notice its slightly wider rubbers). Put it this way, the RC F is an image builder, while F Sport pack takes advantage of its image, selling to customers who want to pretend driving RC F but could not afford it. This means while the RC F would be lucky to break even, the F Sport pack is destined to be the real money-maker!

Because of mostly the same look, my opinion to the RC applies to the RC F as well: it looks striking but somewhat busy and overstyled.

The interior is enhanced with sports bucket seats, alloy pedals and Alcantara. In other words, business as usual.


What makes a big difference is the engine. Like IS F, it is powered by a Yamaha-developed 5.0-liter V8, which sounds old-fashioned when BMW, Mercedes and Audi are switching to smaller turbocharged motors. As before, the Japanese V8 comes with state-of-the-art features like dual-injection (direct + port), titanium intake valves, forged pistons and connecting rods. Now it is further developed. The pistons and con-rods get lighter and generate less friction. The exhaust valves are converted to titanium, too. These changes lift its redline from 6800 to 7300 rpm. Meanwhile, the new cylinder heads enable compression ratio to be increased from 11.8:1 to 12.3:1. As a result, its maximum output is boosted from 416 to 467 horsepower, while peak torque is improved from 371 to 389 lbft (all are SAE figures), and the latter is available slightly earlier at 4800 rpm.

Also worth mentioning is that the electrical variable cam phasing now also covers the exhaust camshafts (previously driven by hydraulic), allowing quicker response at cold start (to cut emission) and wider range of variation. The latter enables the engine to delay the closure of intake valves well into the compression stroke, reducing the effective displacement while keeping the long expansion stroke. In other words, it can run Atkinson-cycle combustion when necessary, say, under light load. This explains why the new V8 manages to cut fuel consumption a little. The new 8-speed automatic with its overdrive top gear also helps.


Unfortunately, the RC F weighs about 230 kg more than an M4. This, in addition to significantly less torque generated at low to medium rpm, handicaps its performance. Lexus' quote of 0-60 mph in 4.4 seconds is probably too optimistic. The car feels slower, and much much slower than the BMW benchmark. In fact, it feels slower than even the old IS F.

On a racing track, you can feel every one of its 1800 kg. Its handling is quite clumsy, more difficult to tie down its rear axle or to make quick direction change cleanly. Even with the GKN active differential to apply torque-vectoring, it never maneuvers as agile and precise as BMW M4 or C63 AMG Coupe. The immense weight overwhelms its Brembo brakes, too – which look okay in spec. (380 mm discs and 6-piston calipers front; 345 mm and 4-pot rear, but no option of ceramic) but ultimately feel underpowered and prone to fade.

On road, where you are less likely to push it beyond 8/10th of its ability, the RC F fares much better. Its suspension, with stiffer springs and adaptive damping setting than the RC350 F Sport, controls pitch and roll well, whereas ride quality is still good enough to deal with most roads. Its variable-ratio electrical power steering is accurate and nicely weighted. Ultimately, its handling is tuned to favour a bit more safe understeer than BMW or AMG, which is probably a wise decision considering its extra weight. You can still push its tail outward with a hard prod of throttle and counter lock, but this will reveal only its hot-rod side rather than adding to driver interaction.


Surprisingly, Lexus' 8-speed automatic is quite good, nearly matching the famous ZF 8-speeder. Its manual shift is slick and responsive, if not as quick as the best dual-clutch manuals found elsewhere. The V8 motor, while feeling underpowered, makes better noises than BMW's turbocharged straight-six, if not as sonorous as AMG or Audi's V8s. Another highlight is the build quality and technology of the interior, especially the LFA-style multi-mode TFT instrument.

That said, the RC F needs to cut weight. Its hybrid platform is no longer feasible to compete at this level. Ditto the Yamaha V8, which needs more torque low down and even more firepower at the top end. Only by doing these its performance and handling could match the aggressive exterior.

Verdict:












RC200t F Sport



2016

Front-engined, RWD

Steel monocoque
Mainly steel
4695 / 1840 / 1395 mm
2730 mm
Inline-4

1998 cc
DOHC 16 valves, DVVT

Turbo
DI
245 hp

258 lbft

8-speed automatic

F: double-wishbone
R: multi-link

Adaptive damping

F: 235/40YR19
R: 265/35YR19

1695 kg

143 mph (limited)

7.3 (c) / 6.7*

16.9*


RC350 F Sport



2014

Front-engined, RWD, 4WS

Steel monocoque
Mainly steel
4695 / 1840 / 1395 mm
2730 mm
V6, 60-degree

3456 cc
DOHC 24 valves, DVVT

-
DI
306 hp

277 lbft

8-speed automatic

F: double-wishbone
R: multi-link

Adaptive damping

F: 235/40YR19
R: 265/35YR19

1700 kg

143 mph (limited)

5.8 (c) / 5.7* / 6.0*

13.7* / 14.5*


RC F



2014

Front-engined, RWD
Steel monocoque
Mainly steel
4705 / 1845 / 1390 mm
2730 mm
V8, 90-degree

4969 cc
DOHC 32 valves, DVVT

VIM
DI
467 hp / 7100 rpm

389 lbft / 4800-5600 rpm

8-speed automatic

F: double-wishbone
R: multi-link

Adaptive damping

F: 255/35YR19
R: 275/35YR19
1795 kg

168 mph (c)

4.4 (c) / 4.3* / 4.3** / 4.8***

9.9* / 10.2** / 10.7***










Performance tested by: *C&D, **MT, ***Autocar









RC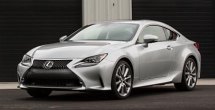 RC F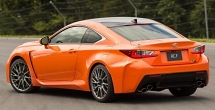 Copyright© 1997-2016 by Mark Wan @ AutoZine