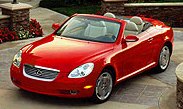 A running pillow. Truly, it looks like a running pillow. Toyota said the design was chosen among proposals from its studios all over the world, including the headquarters (think of IS200), the California-based CALTY (whose track record includes the old SC and new Celica) and Brussels (that pretty Yaris). Of course, the first to be ruled out was those who penned the ugly IS200. Then, surprisingly, the management guys chose the design from Brussels. In sketches it did look good, but after adaptation to production - reducing the size of wheels, increasing the windscreen incline angle, raising the level of bonnet and boot lid - the beautiful profile was ruined and became a fat pillow. It is just another poor design that looks good in concept stage but completely different in production form. It is just another example that we car lovers foresaw a problem but the management old men did not. Another problem is I cannot find a single styling detail delivering a sense of elegance or prestige. They should have chosen CALTY.

The point is clearer if you compare the new SC with the old one. While the former looks odd, the latter is still handsome after 9 years (born 1992) even though without much restyle. The same feeling extends to interior. Better material used aside, the new styling is quite inconsistent - sometimes you see a straight-and-cool center console housing a sound system with brush alloy face, sometimes you see some light-color wood decorated in the dashboard in an American-traditional shape, at the same time you face 3 cute dials as found in some funny cars. Too much character means no character.

While subjective sense is cruel to Lexus, as always, in objective sense it is hard to fault. The new car has a much sportier dimension than the old one - a massive 384 mm shorter, 24 mm wider, same height and have a wheelbase 71 mm shorter. The positive outcome is much improved driver appeal, also thanks to the all-double-wishbones suspensions donated by GS sedan. The bad news is a pair of laughable "plus 2" rear seats. You would be generous to call them "dog seats". How small ? it might accommodate handicapped passengers without legs. And I doubt if the boot, with the roof stored, can accommodate a folded wheelchair.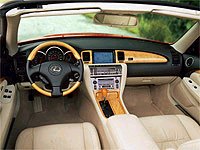 However, the SLK-style aluminium roof is fabulous. Press a button and it will be automatically folded and stored in the boot within 25 seconds. Unluckily, when a Peugeot costing a third of its price has the same feature, driving this Lexus is no longer as proud as it should have been. Sorry for going back to subjective sense again, but honestly speaking subjective image means a lot to this kind of prestige cars.

Back to cool mechanical spec and you'll see the platform is actually a shortened GS430, with the same creamy yet powerful 300-horsepower V8 and silky-smooth yet clever 5-speed automatic, though there is no Tiptronic-style E-shift. Few care, as the chassis still favour comfort rather than handling although the old car was even more so. Lexus claimed the body shell is stiffer than Jaguar XK8 Convertible but R&T's testers found the opposite, that's probably because the Lexus rides on softer suspension setting. They also felt the Jaguar more agile to change direction while the Lexus felt bulkier and heavier. Steering is accurate and vibration-free but could be a little numb. Unsurprisingly, the positive side is smooth ride.

In this respect, the Lexus follows tightly its traditional values of placing refinement in first priority. That's a bit sad after seeing the new direction set by IS. Being a 300-horsepower coupe pricing near Jaguar XK8 and Mercedes CLK430 Conv., it's driver appeal is inevitably letting us down. Perhaps the car concentrates too much on American market - some two-third of the 15,000 cars produced annually will destine there - and fail to care the rest of the world, especially Europe. Ah ha, you know, the old SC coupe was bounded in the America and Japan.

Watch out next year's long-awaited (for 13 years) new Mercedes SL, with similar roof and superior handling yet no compromise in ride comfort, I believe the tri-star can sell double number of cars compare with the Lexus yet manage to earn double profit margin per car. Believe or not !

After all, the new SC coupe is less desirable than the original appeared in 1992. I think it cannot last as long.